A look back at the week that was as we move towards the final tournaments of the regular season.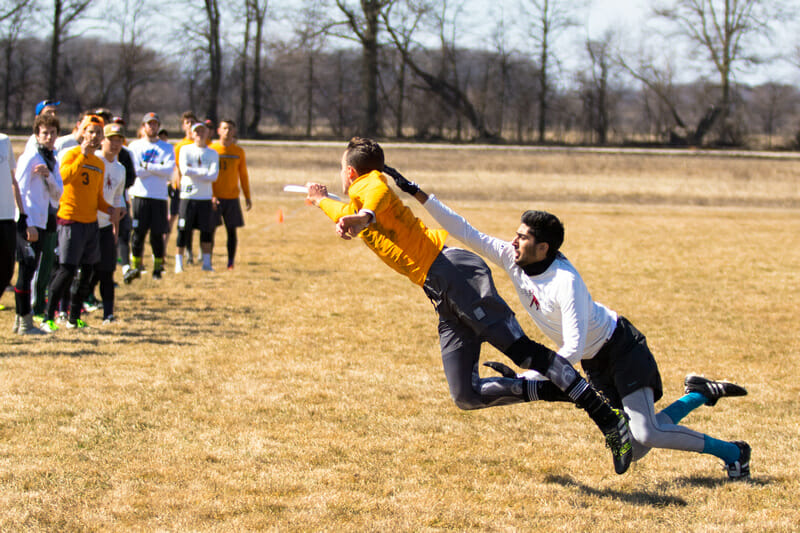 College Update is presented by VC & Spin Ultimate; all opinions are those of the author. Please support the brands that make Ultiworld possible and shop at VC Ultimate and Spin Ultimate!
During the spring season, we will publish a bite-sized weekly recap of the action across the College Division. This will serve as a supplement to our standard tournament reporting and will offer a high-level look at the latest happenings and the biggest stories of the week.
Want your tournament listed here? Submit a recap of what happened right here.
Men's
William & Mary Takes Down Oak Creek Invite, Semifinal Upsets
The top two seeds at Oak Creek Invite, no. 1 Connecticut and no. 2 Maryland, were undoubtedly the favorites going into the weekend. While currently unranked, they were the only two D-I teams in the field to earn any recognition in the top 25 this season. And while both advanced through pool play without duress, the bracket offered them no such comfort. Of the seven championship bracket games, only two were decided by three or more points. In the end, neither of those favorites made the final, while no. 3 seed William & Mary claimed the crown.
The Atlantic Coast, the clear deepest region in the men's division, looks even scarier following Oak Creek. William & Mary survived Cornell in quarterfinals by a 14-13 count, took care of Maryland 13-10, and then fended off no. 4 seed James Madison in the final, 15-14. After going up 5-2 and taking half 8-5, W&M let JMU back in, eventually holding on double game point to earn the victory. JMU settled for second, but bounced UConn in the semifinal, their best win of the season. William & Mary improved to 18-4 on the season, an impressive record. Both will look to steal a bid at AC Regionals.
Quick Hits
D-III Update: Air Force Wins D-III Midwestern Invite, Oak Creek Invite, and College Southerns
Air Force Solidify Top Ranking at D-III Midwestern Invite
In the biggest D-III tournament of the year, #1 Air Force Afterburn solidified their status as the top team in the country, going 7-0 and dominating all competition at D-III Midwestern Invite. Combining a fast horizontal stack offense with relentless person defense, Air Force didn't play a close game all weekend, capping things off with a 15-11 win over the #4 Whitman Sweets in the final. The Sweets also had a strong weekend, only losing in the final and confirming their status as a potential semifinals team at Nationals.
The biggest surprise from the weekend came from Michigan Tech DiscoTech, a team who was not on our radar until this weekend. Starting with a 13-7 win over #20 Brandeis Tron in a Friday night showcase game, DiscoTech rode the hot hand of star handler Brendan McCann to an impressive 6-2 record and 3rd place finish on the weekend. Right on the edge of the bid picture after this past weekend, McCann and crew will be looking for another strong showing at Old Capitol Open this weekend to try and earn the North Central a second bid to Nationals.
The rest of the field is made up of teams who failed to convince when faced with high level competition. The Oberlin Flying Horsecows finished 4th, going 4-3 and suffering blowout losses to Air Force and Michigan Tech. The #8 Wheaton Mastodons made their season debut, finishing 5th with a 6-1 record. Their record is deceiving, however, with several wins against mediocre competition coming in much closer games than expected. The Mastodons will need to clean up their offense significantly if they hope to make a run in the bracket at Nationals.
Mary Washington Solid at Oak Creek Invite
Coming off a tournament win almost a month ago at Oak Creek Challenge, all eyes on the east coast were fixed on how #3 Mary Washington Mother of George would perform in their second tournament of the season against stiffer competition. MoG waltzed through Oak Creek Invite pool play before getting smacked in the face by Maryland in the final round, losing 13-5 in a game that was somehow even more of a blowout than the score suggests. This set Mary Washington up for a quarters match up with top seeded UConn. Despite MoG's best efforts, they came up short, losing 15-13.
Mary Washington responded admirably, notching a comeback 13-12 win over Penn State and an end-to-end 13-9 win over Cornell to take 5th place. However, this tournament should serve as a nice reality check for MoG. Their offense was sloppy at times over the weekend, and the best teams they faced were able to punish Mary Washington for being careless with the disc. Still, when they played their best ultimate, MoG looked like a team capable of making the semifinals of Nationals.
Elsewhere at the tournament, #21 Williams WUFO looked solid, finishing with a 3-3 record and wins by good margins over Johns Hopkins, Villanova, and #16 Davidson DUFF. Davidson's weekend was, to put it bluntly, brutal. Their four point loss to Williams on Saturday was only made worse by a five point loss to Bates Orange Whip, who had a nice weekend for the NE, on Sunday. The defending national runner-ups looked sloppy on offense and lacked the tenacity they showed in 2017 on defense.
Carleton GoP, Georgia College Have Strong Showings at Southerns
Gusting winds and intense heat were the tale of the weekend down in Statesboro, GA at College Southerns. While #5 Carleton GoP finished third and had the stronger weekend, a strange format saw #11 Georgia College Disconnected actually make it to the championship game, where they fell to the University of Chicago.
Despite the two teams not crossing paths over the weekend, it's fair to say GoP emerged with the stronger resume. A 5-2 record with five dominant wins and revenge for one of their losses brings an end to a strong regular season for the Hawaiian shirt-clad boys from Minnesota. After a lackluster 2017, Carleton GoP has to feel good about the regular season they put together and has strong momentum going into the Series.
The big story for Georgia College was their ability to succeed this weekend without Nathan Vickroy. For unknown reasons, Vickroy wasn't playing on Sunday, but Disconnected still managed to grind out back-to-back double game point wins to make the championship game. While they would certainly rather have Vickroy on the field with them, the confidence Disconnected can take from performing so well without their superstar should give them the confidence to handle any adversity they might see in the series
Women's
Penn State Dominates at Bonanza
It was a very strong weekend for Penn State Crisis, who went 6-0 at Bonanza, rumbling past Georgetown 13-3 in the final. Georgetown proved to be there stiffest competition, coming within 10-7 in pool play. The rest of the field crumbled before Crisis, averaging just four goals a game against the eventual champions. After a rocky start to the season in a winless effort at QCTU, Penn State has rebounded nicely, going 11-1, with their only loss coming 10-8 to #18 NC State. They should remain competitive in the second tier of a strong Ohio Valley Region.
Quick Hits
D-III Update: D-III Midwestern Invite, Capital City Shootout
As some of the division returned (and recovered) from their spring breaks, there were a handful of D-III Women's teams playing this past weekend. A few of the teams, like Brandeis Banshee, got their first sanctioned play in the books and reminded the rest of the division there's still a lot more ultimate to be seen.
The most concentrated play came at D-III Midwestern Invite, which teams from four different regions attended. Grinnell had the best weekend, finishing second overall and collecting wins against all of the other D-III teams present. Not far behind, Air Force had a respectable showing, losing their game to Grinnell by a single point and beating Wheaton once and Cedarville twice along their way to end the tournament third. Cedarville went 3-4, but did notch a win against Wheaton who did not take any games over their divisional rivals.
On the East Coast, Capital City Shootout was a bit unusual, as D-III teams outnumbered the lone D-I team in attendance. Brandeis Banshee cleaned up, going 4-0 on the weekend for their first sanctioned tournament of the season. Banshee snagged those wins over William & Mary, Mary Washington and Christopher Newport. Mary Washington split the weekend 2-2, and Christopher Newport went home empty handed.
Quick Hits
Looking Ahead
The final weekend of the regular season is fast approaching, but it's a hugely significant slate in front of us, particularly in D-I Women's. But with 20 tournaments, every division will have something to key an eye on.