The most competitive tournament on the calendar of the D-I women's division is here, and there's lots of late season storylines to look at.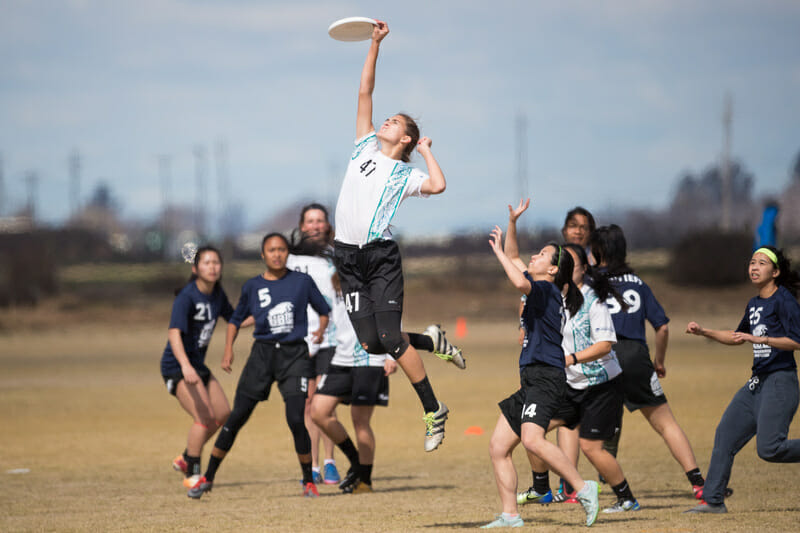 Coverage of NW Challenge is presented by VC Ultimate as part of their season-long support of our women's coverage. All opinions are those of the authors. Please support the brands that make Ultiworld possible and shop at VC Ultimate!
Welcome to the last gasps of the regular season. Bitter, rainy January preseason tournaments have given way to bitter, rainy final tournaments for the division's best. 14 of Ultiworld's Top 25 teams will be in Seattle1 this weekend to fight for bids, pride, and Nationals seeding, including all of the top five teams.
Many of the faces here are familiar, but the stakes feel different. Dartmouth is largely an unknown this season; UCSD is the big kid on the playground; and fresh faces like UNC and UCSB are no. 2 seeds in their respective pools. Teams that did well last year are absent this weekend, such as Notre Dame, Pittsburgh, and Virginia. More than in any year before, it feels like NW Challenge will make or break teams' postseasons. NW Challenge is throwing a connectivity party, and you're all invited.
A Reminder About the Format
NW Challenge lets women's teams choose between two formats in Tier I: a three-day schedule or a two-day schedule. 10 teams – Pool A and Pool B – are in the 3-day format, and the remaining 10 teams – Pool C and Pool D – will only play Saturday and Sunday. While the format gives more flexibility to teams who want to compete in NW Challenge, it does result in less regional diversity during pool play. Pool C (two day format) features three Southwest teams, while Pool A and Pool B (three day format) have more local, Northwest teams.
All pool play takes place on Friday and Saturday, and then Sunday is bracket play for everyone2. This format mirrors last year's formatting, but heavy rain interrupted the structure last season.
Tournament Profile
Date: March 23-25
Location: Seattle & Burlington, WA
Weather: Lows in mid-30s, with rain anticipated on Friday & Saturday. Sunny and low 50s on Sunday.
Top 25 teams: 14
Major Storylines
Can Dartmouth Afford to Keep Trolling the NW Challenge?
In 2016, #1 Dartmouth lost most of their games at NW Challenge with Verzuh and Zhu on the sidelines with injuries for much of the weekend. Then they surged past Northeastern at New England Regionals, entered Nationals as a no. 18 seed, and upset team after team to end in 5th place.
Last year they rested Verzuh for several games throughout NW Challenge, and they went 3-3. Then they won the College Championships. They could follow the same pattern this weekend, and they could possibly lose the NE a strength bid because they have so few games. But Dartmouth doesn't need a strength bid when they can bring their full firepower to Regionals and Nationals. Dartmouth can work on their depth at the same tournament where most teams are pushing at 110 mph.
This year is a little different for Princess Layout since their Queen City Tune Up weekend was truncated, and they didn't travel to Stanford Invite. Dartmouth has only played five sanctioned games this season. Jaclyn Verzuh, the 2017 POTY, has yet to take the field. If the weather is particularly uncooperative, they could potentially not hit their 10-game minimum. Nobody knows Dartmouth's full potential this season except Dartmouth, and they have given themselves very little breathing room to prove it now.
Then again, they still have Jaclyn Verzuh. She's the ace card Dartmouth has up their sleeve every year, and until she graduates, they've got a winning hand.
Will UCSD continue their utter dominance?
The #2 UC San Diego Psychos are almost pitching a perfect game. Their only two losses are to regional rival Stanford so far this season. Their aggregate score is 234-132 across their three tournaments so far. They looked composed and dominant in every other game they've played. The Southwest upstarts are the recent victors of Stanford Invite where they handled UBC to win 13-7. Buoyed by a large returning class and the talent of their top seven, the Psychos are on a hot trajectory upward into semifinal and even final conversations.
The Psychos rely on a tight rotation of women who are accustomed to playing heavy minutes. Their star, Dena Elimelech, plays most points of most games. If her play in the Stanford Invite final is any indication, it will take more than a weekend of ultimate to fatigue her. Kelli Iwamoto is a trickster with the disc, Leanne Go is an agile offensive intiator, and players like Avery Jones, Samantha Wool, and Rebecca Ellis are role players who would star on other teams.
UCSD is only the tournament's no. 3 seed because they're on the 2-day format. Last year, UCSD went 0-3 in Saturday pool play's rain and mud without Elimelech. This year, they're a comfortable pool no. 1 seed with a trail of wins behind them already.
Can UBC recover?
The #3 British Columbia Thunderbirds follow a similar trajectory to that of Dartmouth: they stay north for most of the regular season and travel only to attend Stanford Invite, NW Challenge, and Regionals, where they excel.
UBC is one of the strongest programs year after year because of their thriving youth pipeline and their throwing consistency. They don't have the division's best or flashiest throwers, but players 20-26 on their roster can throw better passes than any other roster's comparable players.
Then there's the speed. Beyond the motors in Ellen Au-Yeung and Naomi Morcilla, players like Kaitlyn Harper, Brianne Wager, and Esther Au have bested their defenders with quick cuts and movement.
British Columbia's loss to UCSD, however, revealed several key weaknesses in their game. They didn't adjust on defense to challenge UCSD's best throwers, and their O-line faltered against the cup. UBC should count on seeing more zone this weekend, particularly with Vermont in their pool. If they win their pool and their quarterfinal, they'll get another crack at UC San Diego in the semifinal as well. And hopefully they'll try some force backhand.
Could UNC Break into the Upper Crust?
The #7 North Carolina Pleiades are traveling west for the second year in a row to take their shot at the top tier of the division. They played with polish at Queen City Tune Up despite the weather, and their Commonwealth Cup tournament win makes them the Atlantic Coast favorite and ranked #5 in the USAU rankings.
The one-two punch of Jenny Wei and Elizabeth Parker would be enough to make this year's UNC team good. But the depth and endurance their roster shows behind these two make this the best UNC team in years. Players like Julia Zwierzynski, Rebecca Fagan, and Mary-Catherine Adams make them more versatile, while Wei commands the skies in the deep space, and Parker's deep shots and disc movement keep the UNC offense moving.
The Bid Picture
According to the latest USAU rankings and our own bid guru Cody Mills, this is the current bid allocation:
4: NW
3: OV, SW, NE
2: SC
1: SE, AC, GL, ME, NC
This distribution will shape the stakes of the weekend. Here's a brief breakdown of what each region stands to gain or lose.
Northwest
Current Bids: 4
The small army of Northwest teams competing this weekend are relying on four bids, but it will be up to #16 Washington and #17 Western Washington to play well enough to keep their hold on their strength bids.
Most of #25 Whitman's ranking will be determined this weekend since they have so few sanctioned games coming into NW Challenge, but they are unlikely to make a big bid impact since they're just below Washington and Western Washington at 20th.
Southwest
Current Bids: 3
The Southwest earned four bids last season, and they still had a deep pool of strong teams vying for those. As of NW Challenge, the Southwest is facing only three bids, which sets the region up for a brutal postseason. California and Cal-Poly SLO are the big names who currently sit just outside a strength bid, but either team would need a stellar, legend-making weekend in order to shoot up the rankings.
New England
Current Bids: 3
#12 Tufts, Dartmouth and Vermont are the three top-ranked New England teams, but Dartmouth and #13 Vermont will have to work hard at NW Challenge to keep their earned strength bids safe. Dartmouth is the most vulnerable since over half of their overall ranking will come from these games. Vermont could hold seed in their pool and play close enough games to hold on to their bid, but the weekend will be a nail-biter for NE teams not named Dartmouth.
South Central
Current Bids: 2
Colorado College Strata is the only South Central team competing on the west coast this weekend, while most of their region is cleating up in Austin, TX at Centex. Like the Southwest teams, Colorado College could earn a strength bid this weekend if they played out of their minds and earned consistent brand-name wins. But at 27th in the rankings, they're pretty far out of striking distance this late in the season.
Atlantic Coast
Current Bids: 1
North Carolina is sitting pretty at the top of the Atlantic Coast pile. With their sights set on bigger fish than bid earning, they're in no danger this weekend.
Great Lakes
Current Bids: 1
There's only one bid in the Great Lakes so far this season, but that's not #21 Michigan's problem anymore. They're the strongest team in the region this year, and they don't have to play for bids in Seattle this weekend.
North Central
Current Bids: 1
#6 Carleton seems like the easy favorite for the auto bid yet again this year, and Minnesota isn't competing this weekend.
Player of the Year Watch
Jaclyn Verzuh (Dartmouth)
Verzuh hasn't yet played a point of the regular season for Dartmouth Princess Layout, yet her dominance last year was so utter and astounding that it changed the sport. Her absence so far this season makes her POTY candidacy a tougher sell, but it's hard to discount the best player in the division if she tears the seams out of the NW Challenge.
Dena Elimelech (UC San Diego)
I rest my case. If you haven't already, memorize this woman's name. You'll be hearing it a lot for the rest of the season.
Ellen Au-Yeung (British Columbia)
UBC doesn't use Au-Yeung as much as they could due to their depth. Yet every time she opens up the jet pack in her legs, it's a reminder that she's faster than anyone else at the tournament. Her speed, agility, and determination to win matchups makes her a not-so-secret weapon on UBC's offensive line.
Julia Butterfield (Stanford)
Same name, different team. Butterfield was the 2017 OPOTY runner-up, and she continued to dominate so far this season in her last year of eligibility at Stanford. She adds force and firepower to Stanford's already stacked squad, proving that she's a weapon that will fire no matter what jersey she is wearing.
Jenny Wei (North Carolina)
Jenny Wei has been a one-woman highlight reel for UNC for a long time, but this season she's working on new levels to pull UNC into elite conversations. Wei's masterful throws, her field IQ, and her deep dominance make her a late-season POTY contender. If UNC exceeds expectations at NW Challenge and beyond, look first at what Wei did to get them there.
Julia Kwasnick (UC Santa Barbara)
Julia Kwasnick is a new name to our POTY shortlist, but her versatility and playmaking style has helped UCSB earn a strength bid, a #15 Ultiworld ranking, and a real place in the spotlight this season. Teammates count on her casual hammers and her fearlessness downfield to do whatever it takes to win a point for the Burning Skirts.
Ella Hansen (Oregon)
Hansen is the linchpin of Oregon's game this year. She's the secret sauce in their zone defense, and her touch and accuracy with the disc have earned her the nickname "One Throw Ella" that we are desperately trying to make happen. All eyes should be on her performance against Dartmouth in pool play.
---
Okay, and Burlington ↩

3-day teams play their quarterfinals on Saturday ↩