With the regular season wrapped up, let's look at the top D-I candidates for this year's Rookie of the Year Award in the men's and women's divisions.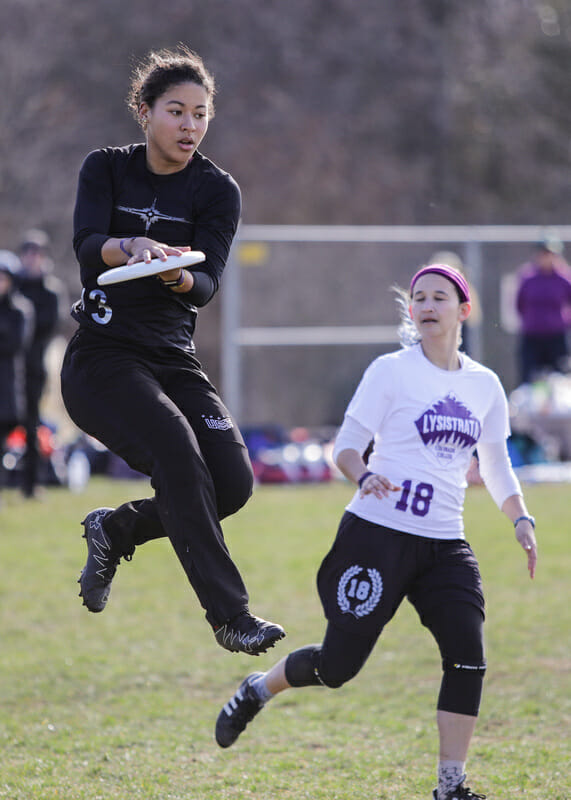 Coverage of the 2018 Rookie of the Year Award is presented by Spin Ultimate; all opinions are those of the authors. Please support the brands that make Ultiworld possible and shop at Spin Ultimate!
This season produced a strong crop of rookies who are making waves and scoring goals for their college teams. This weekend is the first time that cohort will cut their teeth in the College Series, with the lofty dreams of reaching Milwaukee in late May. Below are the top players we're watching in each division who have already made names for themselves during the 2018 regular season.
Women's
Claire Trop (Dartmouth)
Yet again, #1 Dartmouth gained a rookie who is anything but. Claire Trop joined Dartmouth from the Seattle youth scene, where she competed for Lakeside and was a 2017 practice player for Riot. She was second in goals scored for the U24 women's team in Perth this year, and she's set to compete on the 2018 WJUC team this summer as well. Trop is well-acquainted with the big stage, and she hasn't even played in college Conference Championships yet. This is the new reality of college ultimate; welcome.
Her resume is backed by her play so far in the college division. Dartmouth hasn't played a wealth of games so far, but Trop is already a leading goal scorer and a major part of their offense, particularly with Piper Curtis on the injured list. Trop simply flies downfield. She plays fast and smart, and she's usually headed to the end zone. Watch her hustle as she steps out, delivers a gainer to space, and flies to the end zone to catch a layout goal.
Trop truly shines on defense, often assigned to one of the best offensive pieces in the opposition's toolkit. Regardless of whether they operate behind the disc or in front of it, Trop's athleticism and intelligence make her a tough obstacle to overcome. And she can outgrind even elite offensive players by running them all over the field after the turn.
As she is on the field, Trop is way ahead of the pack in the race for Rookie of the Year. She's a rookie on the defending National Championship team, and she's already on their universe line. Her ceiling is incredible, even more so when you consider she's not the first freshman to follow this path for Dartmouth.
Isabel Arevalo (Carleton)
Isabel Arevalo is one of those rookies who you may catch a glance of and assume she's a junior, or even a senior. She plays with the field awareness and grace of a much more experienced player… which is not far from the truth. Arevalo hails from the Paideia High School program, and she competed on the 2016 U20 National Team. Arevalo is already a multi-tool player for #13 Carleton, and her speed has added gasoline to Syzygy's game. Her hucks — like the one featured in the clip below — make her an even more potent piece in Carleton's offense.
But much like the system in which she plays, Arevalo's level of execution and consistency are what make her effective. She has slotted right into their deep and active handler group, frequently taking on a high volume of touches calmly and intelligently. She is also the quickest of the team's handlers, and is aggressive with using give and go's to gain yardage, field position, or both. Her backhand is a strength, able to attack with beautiful lengthy step outs or on medium and long range throws.
Rachel Hess (Oregon)
#4 Oregon only took a handful of new players this season, and it only takes a few points to see why Rachel Hess made their short list. Hess, who hails from the Arlington, VA youth scene and played YCC with DC Rogue1, is an agile handler who holds her own in Oregon's well-known handling core. And here's why:
That saucy throw cements Hess as one of the division's most promising throwers and as a true Fugue player. Her speed of release, power, and quickness are already shining in Oregon's unique system, and she's only a handful of months in. Her presence has opened up opportunities for Hayley Wahlroos to operate as a cutter and for them to continue to attack aggressively after every single turnover.
Nariah Sims (Carleton)
Sims is our second Rookie of the Year contender to come from Seattle's Lakeside, where she co-captained with Trop. Sims' cutting in Carleton's offense is a thing of beauty. Sims moves on the field with grace and strength, always ready to explode and make the play:
Sims is already an anchor on Carleton's D-line. Unlike many younger players, Sims understands that great defense means more than gluing yourself to your mark's shorts. She plays defense in space, often getting uncontested blocks because she could see the play develop.
That sense of anticipation and field awareness is one of Sims greatest strengths. She does a lot of little things well, whether its consistent adjustment on downfield defensive positioning, transitioning from active cutting to setting the stack, or timing effective continue cuts. While she's capable of big plays like the one above, it's the throw by throw quality that keeps her in the conversation.
Honorable Mentions
Alexandra Diaz (UC San Diego)
Vail Dark (Western Washington)
Miranda Kosowsky (Pittsburgh)
Cidney Weng (California)
Camille de Guzman (Western Washington)
Katherine Jordak (UCLA)
Josie Veal (Georgia)
Men's
John Randolph (Brown) & Dylan Villenueve (Brown)
The breakout star of Florida Warm Up, John Randolph was the early frontrunner to take home this award. Randolph's wealth of high level experience coming into #9 Brown is astonishing, rivaled in this class only by Liam Searles-Bohs. A veteran of the U20 National Team, Seattle Voodoo, and the Seattle Cascades in the AUDL, Randolph was able to step onto Brown's D-line and immediately have a significant impact. He's developed potent chemistry with Eli Motycka, and the two play off of each like an old (happy) married couple. If Motycka gets an under on the break side, Randolph is more often than not booking it deep.
The taller, lankier Villenueve, while also on the D-line, more often than not operates from behind the disc, using his length and some tricky release points to break the mark. He's often matched up against the opposition's big man on defense, and after a turn likes to use his agility to get easy unders against his slower marks.
But perhaps the best evidence for their impact came from Brown's Warm Up final against Carleton. Randolph and Villenueve were given arguably the two most difficult defensive assignments: Randolph on Dillon Lanier and Villenueve on Henry Fisher. Both did admirable jobs in an otherwise losing effort. The rookie duo has been chief among the reasons why Brown's defense has gone from a weakness to one of its greatest strengths. Both have well-rounded toolsets, play with defensive intensity, and are only going to get better.
Liam Searles-Bohs (North Carolina)
What does it say about Searles-Bohs that he sat out for half the season, and is still a favorite for this award?
The hype surrounding the incoming freshman was unprecedented. There simply hasn't been a recruit with Searles-Bohs' clout in recent memory. And for the most part, he's been as good as advertised. As a starting O-line cutter for #2 North Carolina, Searles-Bohs can do it all. He's big, fast, and already has the gamut of throws necessary to compete at an elite college level. His backhand in particular is razor sharp, and he's able to put flat hucks out to Darkside's speedy receivers without hesitation.
Take away his unders and Searles-Bohs can kill you deep. His potent combination of size and speed demands one of the oppositions best big defenders, often leaving fellow bigs Kai Marcus and Thomas Williams with better matchups.
Perhaps the most impressive part of Searles-Bohs' admittedly short season is the lack of growing pains. Most rookies, no matter how good, take some time getting used to a college team's systems and playing with new, better players. But Searles-Bohs has looked like a multi-year Darkside veteran from the moment he stepped on the field at Stanford Invite. Whether it's due to his familiarity with many of his former Carolina Friends teammates, or perhaps his well-developed ultimate IQ, Darkside has themselves an immediate (and future) difference-maker.
Ted Schewe (Wisconsin)
With such a talented exiting class, #5 Wisconsin needed to reload for 2018. They've done so in the form of a trio of extremely talented freshman: Jacob Rubin Miller, Sam Radack, and Ted Schewe. In particular, Schewe has had a significant impact as a freshman as a starting O-line cutter. He didn't really have an option, as it was sink or swim for the Hodag rookies at Warm Up, after numerous injuries to key personnel had them looking like the Toon Squad. Without so many of their stars, Schewe stepped up, using precise throws, lanky breaks, and lethal deep cuts to keep the Dags in games.
While the Hodags have healed (for the most part), Schewe remains an essential part of their offensive unit. He's a problematic assignment for most teams because he's long enough to demand a big defender, but more than happy taking unders and picking apart defenses with his throws.
And like most of the others on this list, Schewe can also hurt your deep, where his big frame and playmaking ability can be lethal.
This might not be the year the Hodags win it all, but they're in good hands with Schewe and the rest of their talented rookie class.
Cole Feltman (UNC Wilmington)
While perhaps not as multi-faceted as some of the others on this list, Feltman has been an integral part of the #17 UNC Wilmington O-line this spring. Playing alongside accomplished throwers like Kevin Mateer, Grayson Sanner, and Connor Russell, Feltman isn't asked to break the mark or put up hucks; all he needs to do is catch the disc in the end zone. And he does. A lot.
Feltman is an athlete, first and foremost. He's fast, agile, and can jump with the best of them, making him a tantalizing deep target. He and Kevin Huerta make one of the fastest cutting duos in the college game, a whirlwind of fierce disc movement that can be incredibly difficult to stop. It also helps that Feltman is a dynamo in the air, with a knack for making the big play.
If you squint a bit, you might even see a bit of–dare I say–a young Jack Williams. As far as UNCW goes, is there any higher praise?
Honorable Mentions
Will Hoffenkamp (Pitt)
Johnny Malks (William & Mary)
Harry Wolff Landau (Carleton)
Sam Hammar (Colorado)
Tyler French (Georgia Tech)
Matt Freeburgh (LSU)
Trevor Lynch (NC State)
---
DC Rogue beat the Seattle U20 girls' team last year, the first time the Seattle girls' team has ever lost a game in 13 years ↩