UNC made program history by winning Atlantic Coast Regionals, while many other streaks were broken.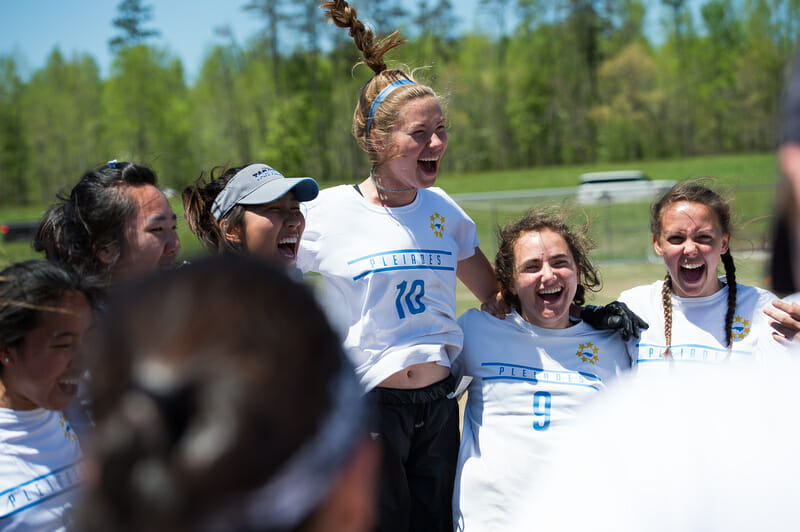 Coverage of D-I women's regionals is presented by VC Ultimate as part of their season-long support of our women's coverage. All opinions are those of the authors. Please support the brands that make Ultiworld possible and shop at VC Ultimate!
In the women's division at Atlantic Coast Regionals, things went as expected. #6 North Carolina Pleiades dominated the field and, in their final game against NC State Jaga, proved to be the more consistent team. UNC pulled away in the second half and never looked back, finishing off Jaga 15-10, with a throw from Jenny Wei to Erika Naeve securing their Regional title. Despite a program with a rich history, this marks the first time Pleiades has ever won the Atlantic Coast, despite appearing in 8 of the last 10 Regional finals. After ending a four-year Nationals drought in 2017, UNC can now officially claim to be the best team in the region for the first time.
#18 NC State protected their bid in the backdoor game to go against Clemson by a 15-11 count. Ashley Powell and Alix Robbins were particularly impressive, with Robbins proving to be very reliable deep for State. NC State had already defeated Clemson that morning, 15-12, in the first place semifinals. Earning a Nationals berth was a thrilling moment for a team that clawed their way to securing a second bid during the regular season in what had been a one bid region for most of their careers. It's the first time the program has qualified since 2005.
"The last couple of years we've been close to winning that important game. That was the big step we took this season," said State's coach Eric Martin.
Virginia Hydra, whose streak of six consecutive Atlantic Coast titles had already ended, did not reach the backdoor game, losing to Clemson in the semifinals. The loss was a disappointing end to the season for UVA, terminating their streak of seven straight Nationals appearances. Clemson finished third, the highest finish in program history, although they noted they were disappointed to finish a few points away from their first Nationals qualification.
North Carolina's dominant run through the tournament saw them shaking off the funk they showed at Conferences, with the Regional final being easily the best game they've played during the Series. Jenny Wei looked impressive this weekend in the wind, pulling shifts on offense and defense for Pleiades when necessary. A Regional title checks another box for UNC's goals this season.
"We still have a lot of work to do," said captain Elizabeth Parker, "But I think we have a very good foundation of knowing that we can play our best in the games that matter."