Michigan was challenged, but ultimately undefeated, at Great Lakes Regionals.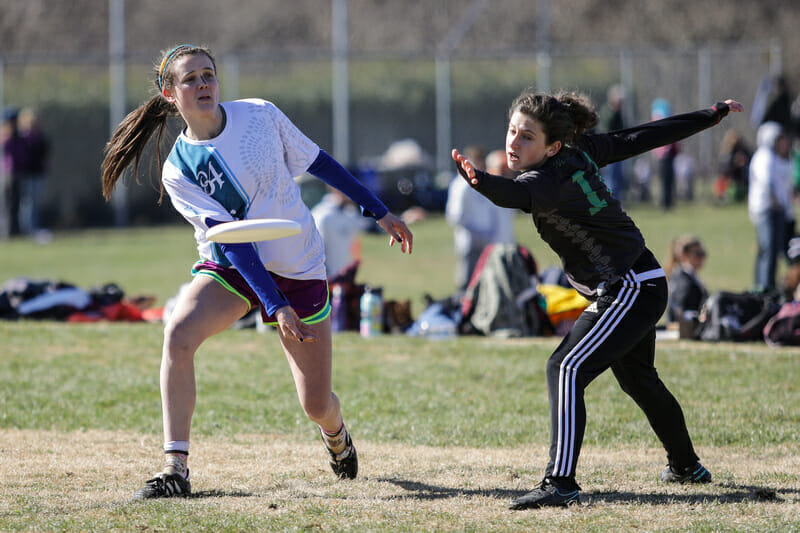 Coverage of D-I women's regionals is presented by VC Ultimate as part of their season-long support of our women's coverage. All opinions are those of the authors. Please support the brands that make Ultiworld possible and shop at VC Ultimate!
The Great Lakes bid was anyone's for the taking this year, but #19 Michigan Flywheel managed to earn the title yet again this season, beating Northwestern 15-11 in the final. Pool play featured a couple of close games and a Chicago upset over Notre Dame, but the nature of the formatting meant every team was automatically in the bracket anyway. Pool play just determined what side of the bracket teams fell on and if their path to the game to go would be more or less difficult.
In pool play, Michigan's first game against Illinois was too close for comfort, but Flywheel still closed the game out 11-8. The tighter score may have come from Michigan's depleted Saturday roster: at least three of Michigan's strongest players, including captain Brittany Wright and Mary Boyd, were at Michigan's graduation ceremonies that morning. Michigan would have a near full roster to take on Northwestern in their last pool play game, which they won narrowly 11-9. The game would foreshadow the tournament final.
In Pool B, Notre Dame and Chicago were the other strong contenders in the region. Chicago upset Notre Dame in the last pool play game of the day winning 11-8, with the help of the wind, the desire to win and a strong first half. Notre Dame was missing Sarah Lipscomb, who did not cleat up Saturday due to an uneasy ankle, which left their efforts and energy low in the cold weather. Notre Dame rallied in the second half, but Chicago's handler Jenny Wang and deep cutter Madison Moore helped solidify their lead in the second half.
Bracket Play
The first round of bracket play went entirely to chalk with large margin wins. The exception on Sunday morning was Kentucky: two of Kentucky's players collided with one another during their quarterfinal game, resulting in a trip to the hospital and a forfeiture of their game. Kentucky was only competing with eight players, so losing two women was enough to end their bracket run.
This meant Chicago was free to practice and scrimmage and keep their legs fresh for their semifinal game against Northwestern, who had just beaten Purdue 15-3. Northwestern would start the game with Chicago down 2-1, but they took half 8-5 after relentless systematic flow. Every cutter knew how to cycle in as the fill handler once they were thrown to, and handler cuts were timed and practiced.  The game would essentially stay on serve after half, and Northwestern would win 11-8 to advance to the final.
Because they were upset in pool play, Notre Dame faced Michigan in the semifinals, an echo of the 2016 Great Lakes Regionals. While these teams played a close game at Conferences, Michigan took control of their semifinal game early, taking half 8-2. Even with Lipscomb playing, Notre Dame couldn't close out their offensive points because Michigan had built a special defense solely to shut down Lipscomb. They worked it down the field time and again, only to just miss their end zone chances. Michigan quickly worked it down to punch in goals. Michigan won in a 15-5 landslide.
The Great Lakes Regional final was proof that the region's lone bid was not set in stone. Northwestern went up 5-2, capitalizing on drops from Michigan and taking risky throws like full field swings in the wind. They had Michigan on their toes, forcing them to grind and throw some more complicated defensive plays. However, Michigan's men's team, who had lost to Chicago in the quarterfinal, came to support their women's team, and their energy helped shift the game. Their cheers fired Flywheel up, and Michigan broke once and then stayed on serve. Another Flywheel break sent the game to half 8-7.
Out of half, Michigan's focus continued, and they lead 11-7 before Northwestern would score their first point of the second half. Northwestern was relentless with their effort, featuring many layouts by Hindeke Tewodros to save points and keep their skin in the game. Ultimately, Michigan won 15-11 off of a one throw play and layout in the end zone by senior cutter Amy Stoddard.
Despite a tougher path, Michigan Flywheel returns to Nationals again. This is their fourth Nationals appearance in five seasons.
All-Tournament Team
Sara Gnolek (Northwestern)
Sarah Lipscomb (Notre Dame)
Jenny Wang (Chicago)
Brittany Wright (Michigan)
Hindeke Tewodros (Northwestern)
Colleen Scott (Notre Dame)
Amy Stoddard (Michigan)