For the first time ever, Northwestern is going to Nationals, ending years of dominance by Michigan and Illinois.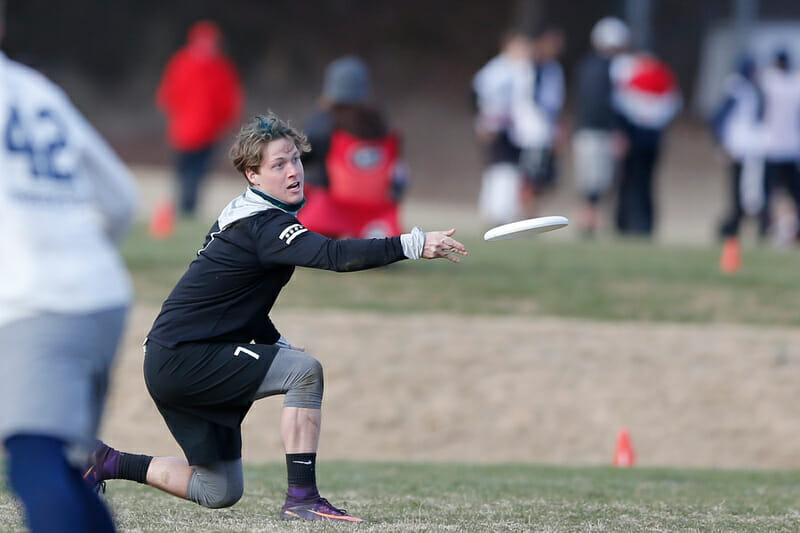 Coverage of D-I men's regionals is presented by Spin Ultimate; all opinions are those of the author. Please support the brands that make Ultiworld possible and shop at Spin Ultimate! 
For the first time in over a decade, a team other than Illinois or Michigan took home the lone bid at Great Lakes Regionals. That was decided after the quarterfinals concluded, with Chicago, Northwestern, Illinois State, and Notre Dame remaining. Notre Dame reached their third game to go in four seasons, and again fell short. Coach David Hoffman has done a good job bringing Notre Dame to the top of their game, but he's had to coach against the likes of 2015 coach of the year former Illinois coach Matt Stupca, 2016 COTY Michigan's Tyler Kinley, and now 2018's likely COTY Northwestern's Kevin Yngve. The latter's charges, Northwestern NUT, claimed the region's one bid for the first time in team history.
Northwestern Qualifies for First Nationals
Northwestern NUT earned the Great Lakes title with a 15-13 win over Notre Dame Papal Rage. It was a showdown between two do-it-all stars: Northwestern's Kyle Rutledge and Notre Dame's Luke Brennan.
Northwestern started out with a 3-0 lead. They traded points to half, with Northwestern up 8-5. Notre Dame started to make their move after giving up a break out of the half, with a hold and break to bring it to 9-7. Brennan found support in handler William O'Brien (4 assists in the final) and downfield target Austin Walter (5 goals, 2 assists). After two more breaks for Papal Rage, the game was tied at 10-10.
Rutledge was at his best (6 assists, 1 goal), connecting with Keith Bohrer for five goals. Rutledge was playing both ways for NUT and any time he had the disc, Notre Dame tried to lock in on their offender. Somehow, Rutledge always found Bohrer in the end zone. At 13-13, the pair attempted to link again, except this time Notre Dame was prepared and made the first contact with the huck. But Bohrer laid out after the deflection and snatched it before it hit the ground. The up vs. down debate is probably still going on among spectators, but the observer ruled it up and the goal stood.
Notre Dame received down 14-13. After some stifling defense, Brennan threw a scoober swing to the break side that fell short of his intended target. Northwestern made quick work of it, connecting with a huck to Jeff Holm for the win and their first ticket at Nationals.
They couldn't have done it without the help of giant slaying from Illinois State Gnomes and Chicago.
Chicago Takes Down MagnUM in Quarterfinals
Michigan MagnUM was on pace to repeat their stellar performance last year, with pool play wins over Indiana and Illinois State. MagnUM grad students Wesley Chen, Daniel Lee, and Parker Howard did a good job holding down the fort while their seniors were at graduation on Saturday. With their seniors back by the last round of pool play, Michigan was firing on all cylinders and ready for the quarterfinals on Sunday.
Fun fact: Chicago was undefeated in the first game of the day this postseason. There's a reason for that? Judah Newman, Jeff Zhao, and Jeffrey Weis (all seniors, all captains, all previously Second Team All-Region selections). Jason Vallee also did a great job providing extra firepower. With well-rested legs, Chicago took a 5-1 lead and didn't look back to win 14-10. MagnUM couldn't stop Newman's great throws and agility, while Weis had his way with the Michigan defense. Unable to match up person to person, Michigan tried some of their mixed downfield defenses, like their clam junk look, but the Chicago trio carved through it.
Chicago didn't have enough legs to keep up with a NUT team that had a much easier game against Purdue. Northwestern walked through semifinals, 15-7.
ISU Gnomes Eliminate Illinois
In a reprise of an in-state rivalry, Illinois State Gnomes played Illinois in quarterfinals. Illinois had beaten ISU twice at Conferences, but ISU knocked out Illinois at last year's Regional tournament. Illinois lived and died off hucks from Kevin Lin (6 assists in quarterfinals) and Ben Sabourin and, with a clear height advantage, Illinois was living.
Illinois contained ISU's star Jack Shanahan, but that didn't stop the other Gnomes from showing out. Specifically, Karl Beck, Alex Jacobson, and Joe Cacciatore stepped up to the plate. Jeremy Burril and Cameron Powers continued to be huge scoring threats for Illinois State, with eye-popping athleticism and great throws. Illinois State took half 8-6.
Freshman of the Year candidate Reid Martin played inspired ultimate for Illinois. He had limitless energy and was arguably the most intense defender and most relaxed with the disc. He registered a huge layout block that sparked back-to-back breaks to take the lead at 9-8. Illinois got the lead up to 13-11 with three second half goals from Jacob Cuthbert before Illinois came back to force double game point at 14-14.
Illinois' O-line moved up the field before a timeout on the goal line. Lin had the disc but couldn't convert a floaty pass to Cuthbert. Illinois State had a second life and worked it up, ending the game with a huck to Burril.
Like Chicago, Illinois State didn't have the depth to catch up with Notre Dame's hot start and lost 15-10 in the semifinals.
Other Stories
Indiana upset no. 2 seed Michigan State in prequarters and then took no. 1 Notre Dame to double game point in quarters. Freshmen Connor Henderson came down with a full field huck to win the MSU game, but against Notre Dame, he threw a huck to space on double game point with no one cutting. Notre Dame set up and scored on the next possession. Tough break for a double-digit seed led by some good freshmen.
The second best greatest of the weekend1 happened in the semifinal between Notre Dame and Illinois State. ISU's Sam Gesessew made a great play from the back of the end zone to get the disc to Powers. When nearby camera holders were asked if they got it, they shook their heads in disappointment.
All-Tournament Team
Kyle Rutledge (Northwestern)

Luke Brennan (Notre Dame)

Keith Bohrer (Northwestern)

Austin Walter (Notre Dame)

Jeffrey Weis (Chicago)

Cameron Powers (Illinois State)

Jacob Cuthbert (Illinois)
---
Obviously after Georgetown's miracle. ↩