Carleton and Wisconsin cruised through North Central Regionals, while Minnesota overcame some struggles.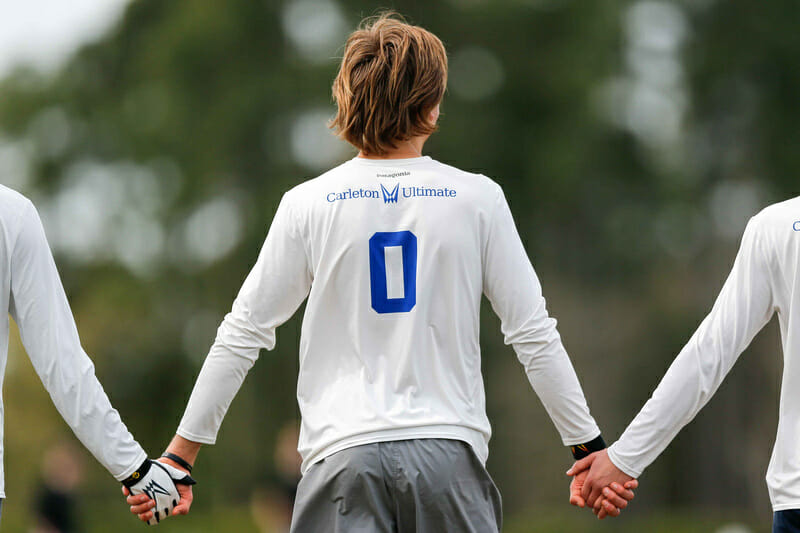 Coverage of D-I men's regionals is presented by Spin Ultimate; all opinions are those of the author. Please support the brands that make Ultiworld possible and shop at Spin Ultimate! 
North Central Regionals felt destined to go to the favorite, #1 Carleton CUT. We have seen surprises at this tournament before, but this iteration of Carleton looked poised to dominate. And dominate they did; the most any team scored on them was six goals, and even that was in the final. Even if there wasn't some sort of divine design for Carleton this past weekend, they still crushed all who opposed them. An embarrassment of depth, experience, and a healthy Joe White has the reigning champions peaking at the right time (although this whole season seems like it's been one long peak). The only teams that could have hoped to challenge them, Wisconsin and Minnesota, didn't, although for different reasons.
For the 19th straight year,1 the #5 Wisconsin Hodags qualified for Nationals, and took care of business at Regionals. They blew out the teams they should've blown out and upset the no. 2 seed Minnesota in the semifinals. While both games against CUT weren't close, the Hodags elected to play open lines and, in the final, sat some of their top players. With a de-cleated David Yu and Nick Vogt, plus an injured Chris Wilen (ankle) and Tommy Gallagher (hamstring), Carleton made mincemeat of the Hodags in an ugly game that was over before it started. Putting aside those two losses, Wisconsin looked fast, experienced, and dangerous throughout the weekend. Vogt, back from injury, is sliding back into a featured role on offense, while Yu did it all. Assuming they get healthy, they could certainly contend for a spot in the semifinal round at Nationals.
#10 Minnesota Grey Duck, on the other hand, has to be a little disappointed with their weekend. Grey Duck, like CUT, trounced their pool on Saturday, not allowing more than six points to any team and getting plenty of playing time for their rookies. Sunday, however, was a different story. In their semifinal matchup against Wisconsin, a series of miscues and upwind breaks led to Grey Duck facing an 8-6 deficit at halftime. The gap proved insurmountable and the Hodags, despite losing captain Tommy Gallagher to injury in the first half, took the game 14-12, forcing Minnesota to work through the backdoor bracket.
Perhaps it was lingering disappointment over their semifinals loss, or maybe it was the classic trap of overlooking a lesser opponent, but Grey Duck started slow and struggled throughout their third place semi versus Marquette Bird House. Marquette was actually leading late, but a desperate Grey Duck managed to string together multiple late breaks to salvage a victory. They wouldn't make the same mistake in the game-to-go, drubbing Iowa IHUC 15-7.
While there's plenty of things Grey Duck can point to for their lackluster performance–an injury to top cutter Cole Jurek certainly didn't help their offense and there was a significant upwind/downwind on Sunday–but their mental lapse against Marquette has to concern coach Tallis Boyd. Captain Tristan Van de Moortele, however, remains confident. "We've got almost a month of hard work left in the season and we'll be ready to bring it come Friday morning," he said. There's no denying that Grey Duck remains an extremely talented team. If they're clicking, Minnesota can hang with just about any team in the country. But that's a big if, and it only got bigger in Ames.
---
Now the longest active streak in the men's division, with Colorado going down in South Central. ↩