Competition and spirit will be on full display in the Girls' Division of Paideia Cup.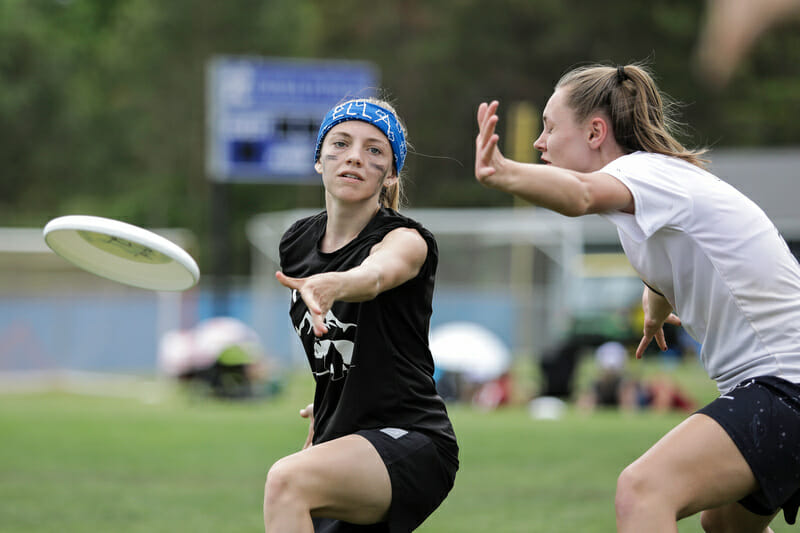 Ultiworld's coverage of Paideia Cup is presented by CUT Camps; all opinions are those of the author. Please support the brands that make Ultiworld possible and check out CUT Camps!
This preview was contributed by Charlotte Laseter of The Paideia School.
For the 13th year running, some of the top high school teams around the country will gather in Atlanta, GA for the Paideia Cup. Rankings vary widely throughout the division, but matchups will be dynamic and brimming with high level play, without exception. While Paideia Cup prides itself on being a highly competitive tournament, spirit is valued above all else. Some of the women's teams have already gone head to head in this 2018 season, but this tournament will be chock full of rematches, new battles, and hard fought games out in the blistering Atlanta sun.
There is no doubt that the high-intensity, high-spirit environment of Paideia Cup will produce some fantastic games.
Paideia Cup XIII will follow a round robin format to allow for every team to play each other once. The only bracket game will be a final between the top two teams after round robin play. Due to space constraints at the field site, playing fields will be slightly narrow. In years past, this has led to the proliferation of zone defense.
Tournament Profile
Date: May 11-13
Location: Atlanta, GA
Weather: Low 80s, dry, and light wind
Top 25 Teams: 4
Lone Peak (UT)
The #3 Lone Peak Knights, are rolling in to Pi Cup on an 85-game winning streak and a 1st place finish in the  2017 national rankings. Last year, Lone Peak dominated the fields at Python Park, with a 5-0 record for the tournament.
Something to keep in mind with the Knights, however, is the fact that this team does not play games on Sundays, so their round robin play on Friday and Saturday will be crucial to how they finish. The top players–Lydia Bunderson, Autumn Saunders, and Nikki Merrill–are all dynamic in their own way and will be a privilege to watch work the field this weekend.
Though this 16 player team has triumphed over every competitor they have come across in nine different states, the team strives to win in the most important way: having fun. Coach Dave Kroupa says that a goal for the Knights is always to be the team that has the most fun and keep improving every game. These athletes are not only extremely competitive and seemingly unbeatable, they also comport themselves with an extremely high level of spirit, making every game enjoyable to both watch and play. Lone Peak will bring nothing but high level ultimate done right to Atlanta.
East Chapel Hill (NC)
#7 East Chapel Hill Eclipse is champing at the bit to show their stuff at Pi Cup. Eclipse will be bringing somewhere from 16 to 20 athletes on their team to Atlanta and that group will be fiery. The team sports many players that have participated on the YCC teams in North Carolina and, though they graduated a couple seniors last year, their ranking is proof enough that this team is stronger than it was in the 2017 season.
A goal for the team this year is to be competitive against every top team they play and they are not shying away from any competitor. At States this year, Eclipse pulled in a big win against their cross-town rival Chapel Hill High Ember. Eclipse's senior captains, Dawn Culton and Beth Manturuk, dominate the downfield cuts and handler space, respectively. Some other handlers to look out for on offense are Ellie Cubrilovic and Jennifer "JQ" Quian. Eclipse came in 4th at Paideia Cup 2017 but will truly be a force to be reckoned with this time around.
Neuqua Valley (IL)
#14 Neuqua Valley eNVy has had an extremely successful 2018 season so far. Though they graduated four seniors in 2017, the team play is still comparable to that of last year and has they have been fighting themselves into gritty wins this season. Last year, the team won the Illinois State Championships and came in 4th at the High School National Invite. Against Paideia Groove at Neuqua Knockout a few weeks ago, eNVy pulled out a 9-5 win, reaching 7-0 in the first half. A game to watch at Pi Cup will be a rematch between those two teams, especially considering how the matchup ended at eNVy's home tournament.
The team has experience playing against both high school and college teams, having played in the college divisions at No Wisconsequences and the Windy City Invite. Though NV has depth to spare, captains Ally Alford, Maddie Galvin, and Grace Freehan will definitely lead the team through each of their matchups. Standout player Allie Swiatek is also in line to continue her strong run of play. Neuqua Valley has the capability to put together a successful weekend.
Paideia (GA)
#15 Paideia Groove is raring to go for Pi Cup this year. The team graduated 13 seniors last year, but have nothing short of a full roster, thanks to the fact that 7 of the new players on Groove have been develoepd by Paideia's JV program, DemiGroove, led by India Stubbs. The other 5 rookies are overflowing with athletic experience and field awareness from having previously played on the varsity soccer team at Paideia.
The team has been focusing on rules knowledge and spirit of the game in particular this season, in addition to fitness, skill, and commitment to the team. Another key characteristic of this 23 player team is its ability to be protean. Be ready to see almost any defense imaginable from Groove, many of which are fine tuned in between–or even during–points on the field. Their defensive sets will be modified to deter the most dangerous threats and adjust to the conditions of the field at that time. It is hard to find a team deeper than this one and the level of play has done nothing but improve exponentially throughout the season. Their home tournament will be Groove's chance to really show what its 2018 team is made of.
Grady (GA)
Unlike last year, Paideia Cup will welcome another local team to the fields and what better team to join the fun than Grady Gauntlet, from just down the street in Atlanta. Gauntlet have had a strong presence in Georgia and in the southeast region over the years, pulling in 3rd at High School Terminus, 2nd at States, and 5th at Southerns in 2016. Last year, Gauntlet took 2nd at Terminus, 3rd at States, 4th at Deep Freeze, 6th at the Southern Region Invite, and won River Campus.
Though they graduated 7 seniors last year, Grady Gauntlet welcomed back 13 returners and have filled their roster back to 20 women for the 2018 season. The team has been practicing since the fall and hopes to continue showing their fierce, spirited play throughout the entire spring season. Liliana Chanler is a player to look out for, a smart and reliable handler who commands the field. Very recently, Grady Gauntlet lost 12-1 to Paideia Groove in the State semifinals. Revenge might not be in the cards, but Grady is sure to bring a well played game with a spirited atmosphere to the fields of Pi Cup.
University School of Nashville (TN)
Last, but most certainly not least, is University School of Nashville Brutal Grassburn. This team has long been a solid competitor in the south. Last year the team was focusing on rebuilding, but this year is anything but. Out of the team's 18 players, 16 of them are returning with plenty of play time from years prior and a fall season in 2017. Of this well-versed team, Hanna Reuyters and Phoebe Stern are definitely two high impact athletes, commanding the field with their throws.
They have been trading wins all season long with their in-town rival, Independence Flight, and have already faced up against Paideia twice earlier in this season, with Paideia winning both by large margins. It will be interesting to see how USN faces up against the hefty competition this weekend, especially since the team has been focusing on improving their cohesion all season long. It would not be surprising to see deep hucks and gritty defense out of this team at an event this late in the season.