East Chapel Hill capped off their season with a monumental weekend and some electric individual performances.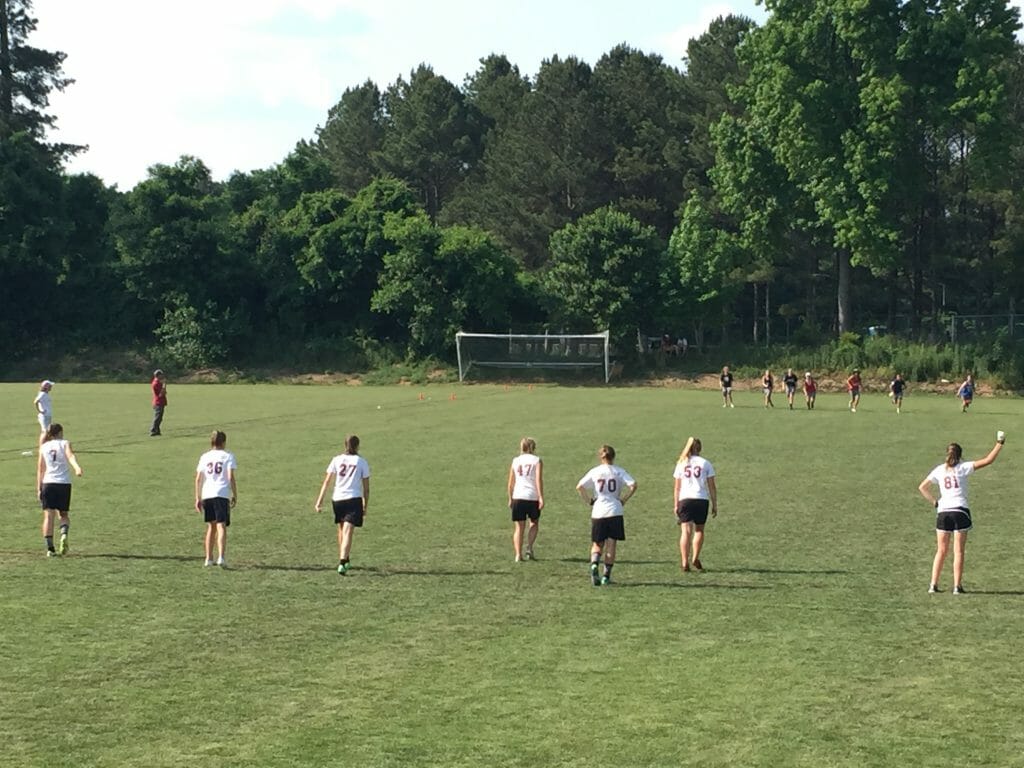 Ultiworld's coverage of Paideia Cup is presented by CUT Camps; all opinions are those of the author. Please support the brands that make Ultiworld possible and check out CUT Camps!
ATLANTA — A season removed from a year full of growing pains, East Chapel Hill (NC) capped off an excellent campaign with an undefeated run through Paideia Cup. Not only did they defeat host team Paideia in the final in a confident 10-8 win, but they also are the first team in 89 tries to best Lone Peak. During pool play, they ended Lone Peak's lofty win streak with an impressive second half comeback.
East Chapel Hill Turns Early Lead Into Cup Win
Efficiently converting holds can be difficult to do against arguably the best zone defense at the tournament, but #7 East Chapel Hill Eclipse's ability to do so early in the final earned them a lead that helped them hold up during the game's later long points. #15 Paideia Groove (GA), known for their litany of zone and junk looks, had been clogging lanes and overwhelming handlers better than any team at the tournament. But ECH took the field and claimed a hold and back to back breaks, all without a turnover. Senior Beth Manturuk was perhaps the most effective handler at the tournament, and along with Jennifer Qian and Ellie Cubrilovic, Eclipse's handlers kept the disc moving until opening up big holes in the cup to attack with punishing throws.
"Zone has been our Achilles' heel all year. We've struggled rushing, getting several passes and then missing one," said East Chapel Hill coach Josh Hartzog. "We've spent the past few weeks working on that with a lot of mini games and throwing to try to work through that. It paid off today."
On the other side, Eclipse utilized fiery person defense to clamp down on Paideia's offense. Groove's most successful offensive point came on their first hold, when ECH went zone and Paideia dashed through it effortlessly to make it 3-1. While sophomore Sierra Petrash nearly engineered a break for Groove when she skied Dawn Culton for a block and later seemingly found some room up the line for a goal, Culton made a spectacular layout block to protect her end zone. The athleticism of Eclipse often proved too much for the intelligence and discipline of Paideia, who struggled to create separation in the cutting lanes for much of the first half. The visiting team went into the half time break up 7-2.
"Honestly, when we got down by a bunch, the pressured lifted. We were like, 'Oh, okay, I guess I have nothing to lose, so I'm just going to run the offense.' And then we got back into the game," said Paidiea coach Miranda Roth-Knowles.
East Chapel Hill's offense declined a bit in the second half, allowing Paideia's to find some rhythm moving the disc between the handlers. Groove mixed up the defenses, even trying a creative five-person zone with Culton and Manturuk each tailed by a defender. When ECH got the disc moving in the second half, it was mostly due to the gravity of Culton and Manturuk creating space for their teammates. They began to move even more aggressively despite seeing fewer touches.
"That created space for other players. We tried to use it against them. We were pretty successful. They obviously did get some breaks in the second half, but we were able to navigate through that," said Hartzog.
While Paideia closed with a 6-3 run in the second half, the hard cap came on in time for East Chapel Hill. They claimed the cup for Eclipse, just a season after narrowly avoiding a last place finish.
Young Lone Peak Team Surrenders Streak
The facts are clear: #3 Lone Peak's (UT) 88-game winning streak concluded at the hands of East Chapel Hill Saturday afternoon. The Knights gave up a 6-1 run to end the game. Nobody on the team had ever lost before.
And while all that's true, for those watching, it was hard to feel like there was much to be done differently in the losing effort. There were some miscues to be tidied up, some decisions and red zone possessions that could have gone the other way. But Lone Peak simply ran into Dawn Culton and Beth Manturuk at their finest, and the Chapel Hill stars dismantled Lone Peak with insane play after insane play.
In the early portion of the game, Lone Peak junior Nikki Merrill was exceptional. Merrill played with heaps of confidence and pace, demonstrating the athleticism and skill necessary to match up with ECH. Junior Autumn Saunders was also instrumental in the Knights' success, coming up with big plays on both offense and defense. The pair led Lone Peak to a 7-5 halftime lead.
But the game turned on a great point from Culton. She rose up for a monstrous grab that got Eclipse to the goal line. However, it was sent back on a contested foul against Culton. While the point continued on, making it a long and hard fought one, Culton's speed and activity helped drive Eclipse to a goal to make it 10-9. On the next point, Ella Brandford got a layout block on a swing. ECH took a timeout with a short field, setting up Culton on the open side isolated. Manturuk stepped out and delivered a lovely around forehand to space and Culton was the first one there to tie the game. Over the next four points, Culton added two gargantuan aerial grabs over defenders, tallying a goal and two assists (after those skies got her to the red zone). She even nearly had a block to prevent Lone Peak's lone goal in the run, but it was tracked down for the second effort catch.
"They just pulled down a lot of big hucks. [Manturuk] was throwing them, [Culton] was pulling them down. We were sending back help with an extra girl and she was just skying over two girls at a time," said Lone Peak coach Dave Kroupa after the loss. "It was impressive, have to give her credit for that."
Kroupa and the Knights brought it in for one more game, their first as a team coming off of a loss. They managed to collect themselves and take care of business against Neuqua Valley, earning a 13-7 win. Outside of their stumble against East Chapel Hill, Lone Peak won all of their games fairly comfortably, including 13-9 over Paideia on Friday evening. They brought a big and strong team that understood how to create opportunities for one another, and were clearly one of the best two teams at the tournament.
Paideia Rides System to Spot in the Final
The host team earned a berth into the final after taking down both Grady and USN 13-1, and topping Neuqua Valley 13-7. With Lone Peak leaving after Saturday, Paideia's 3-2 record was enough to get the job done.
All weekend, Paideia ran out myriad defensive looks, rarely opting for vanilla person to person. While the narrow fields increased the frequency and appeal of zone defenses, Paideia looked extremely comfortable setting up and forcing teams to solve a puzzle to score. Groove's variety and versatility were the obvious signatures, but there was a commitment from the players to execute. For young players, it's easy to lose focus in zone defense, but the young Atlanta women displayed advanced dedication to doing their job on defense.
Against Neuqua Valley, their defense simply wore down the offense. Neuqua wanted to attack deep and wasn't about to give up on that just because the defense wasn't matching up one to one. Paideia got blown out by NV in the first half of their last matchup, and turned the tables a bit this time around with an early 6-3 lead built on forcing short field turnovers. The score tightened up early in the second half, but Paideia pulled away, led by junior Ali Beskind's activity level in the deep space.
"We have 23 people on our roster that play meaningful points," said Paideia coach Miranda Roth-Knowles after the final. "…I was really proud of the depth of my team."
The team did use the whole roster, a helpful tool in the brutal heat. Their chant of "How strong are we?" "Twenty-three!" demonstrated the pride the team itself took in having a multitude of contributors. While Beskind, Fridkin, and Petrash all stood out, the team was not reliant on any individual. They turned to the system.
"This is the privilege of coaching at Paideia–and it's a huge privilege, obviously–is that my athletes are really smart," said Roth-Knowles. "We've embraced this word I've learned for the first time this year: protean. It means to be really extra flexible, like your superpower is flexibility."
It's a compliment to both the coaching staff and players that they were able to employ such complex options. Paideia used their strengths to try to mitigate their weaknesses, to impressive effect.
Quick Hits
#14 Neuqua Valley (IL) sent out a power-packed squad with relentless aggressiveness. Tessa Kucharski embodied this playstyle with long hucks and a willingness to attack the disc in the air regardless of the matchup. Allie Swiatek showed many of the same attributes, and was even more effective winning aerial battles. A lack of execution hurt them a few times over the course of the weekend, particularly when rushing to execute a quick series of passes.
The level of competition and the heat made it a challenging weekend for University School of Nashville (TN) and Grady (GA). The pair, who both looked a bit green compared to the rest of field, played an intense game Sunday morning that went to USN, 12-8. The younger players dotting their rosters grew a lot over the span of the tournament.