Favorites, stars to watch, exciting games, hot takes, and predictions for every pool at the D-III College Championships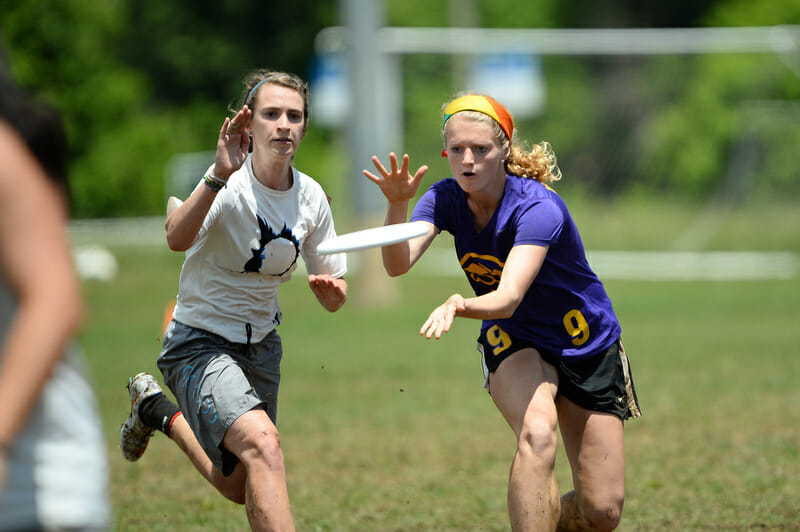 Coverage of Women's Division of the 2018 D-III College Championships is presented by VC Ultimate as part of their season-long support of our women's coverage. All opinions are those of the authors. Please support the brands that make Ultiworld possible and shop at VC Ultimate!
The D-III College Championships in Rockford, IL are unique in a division where connectivity is at a premium. The best from each region will gather to crown a singular champion in a celebration of the division. While rosters fluctuate due to graduation, the lack of clear seeding, and the general parity of the division often lend themselves to wild swings and defied expectations.
Pool A
The Teams
Favorite to Win the Pool
There's a clear favorite here, and it's the powerhouse team out of New England, Williams LaWUFA. They've got the speed, the throws, and a huge roster of 25 ready to go. The real question is if they can start hot from the first game on Saturday. This is the third year in a row they've nabbed the no. 1 seed at Nationals, but in both 2016 and 2017 they failed to win the pool, as well as the Championship. This year, they have all the ingredients to make a serious run and will be closely watched by the other teams throughout the tournament.
If we do see Williams falter in a very unfortunate 3-peat, it's likely the pool win could go to either Georgia College Lynx Rufus or RPI Strut. Lynx Rufus is bringing a heavily underclassmen roster of 18 bolstered by the talents of Cheyenne Balliew, Olivia Eck, and Melissa Escudero, whereas RPI will be playing with an older, smaller roster of 13. Notable is that Strut will be missing Donovan nominee and senior Tamar Austin on Saturday due to graduation, which might give Georgia College and the disc-launching cannon that is Katherine Yost the edge in pool play to surprise the rest of Pool A.
Players to Watch
Keep your eyes on Donovan nominees Haley Lescinsky (Williams) and Katherine Yost (Georgia College), both players on our Player of the Year watchlist. Lescinsky is known for her ability to do whatever Williams needs, from carefully dismantling a zone on offense to playing all out defense, and a strong field sense. In comparison, Yost is known for the massive power of her throws, flicks that cover an entire field, partnered with the speed with which she gets separation to get the disc. Sophomore Makayla Wahaus from RPI is smaller handler who has had an excellent season. Her ability to break cups has forced more than one team to adjust their defense strategy this season. From Claremont Greenshirts, watch for the precision of Nancy Karreman's throws paired with the improvisational cutting of Sharon Huynh to make things difficult for opponents.
Game to Watch
The first round game of Williams vs. Georgia College looks very exciting (part of why Ultiworld will be filming). This will give us a sense of which Williams team has shown up to Nationals; it'll also set the tone for the rest of the day, and very well might end up as a reminder that anything has and can happen in D-III ultimate.
Pool A Hot Take
With a smaller roster at Nationals than the other squads (Claremont is bringing 23, of which a whopping 10 are freshmen), RPI may run out of legs sooner than other teams. It'll be a precarious balance of saving their strength for the final match of the pool against Williams and making good on their effort to take Pool A, and not tumbling too far down in championship bracket seeding.
Pool Prediction
Williams
Georgia College
RPI
Claremont
Pool B
The Teams
Favorite to Win the Pool
Pool B is going to be even feistier than Pool A, with Bates Cold Front and St. Olaf Vortex sitting in the 1st and 2nd seedings. Both are programs with strong trajectories in recent years, built up and strengthened in depth and in the development of franchise players like Josie Gillett and Tulsa Douglas. The edge here goes to Bates though; St. Olaf struggled to get wins in the start of the season, although they look much more consistent and execute their game the way they want to now. Bates on other hand has only lost a single game this season, to #1 Williams, while trouncing the rest of the New England region, and have been grinding for their run to a Championship under the coaching pair of Chase and Mohdis Baker. Regardless of which team squeaks out the win, Pool B will have fireworks.
Players to Watch
Bates' Josie Gillett is another one of our watchlist players for POTY, known for her versatility and wealth of talent. Along with Gillett, expect Olivia Gomez to dominate on defense and constantly find the disc. From St. Olaf, Tulsa Doulgas, a name everyone should know by now, will also be ready to bring the game to opponents as a killer deep in zone defense, and throwing assist after assist on offense. Out of the Northwest, Pacific Lutheran captain and Donovan nominee Genny Boots is adept at forcing turnovers along with fellow captains Liz Holm and Krysia Davis playing both sides of the disc unrelentingly. And almost local to Rockford, North Park will be bringing standout players of their own: Maggie Johnson has been a solid handler in the nasty Midwest wind and can put discs easily into the always ready hands of cutter Kajsa Meyer.
Game to Watch
Bates vs. St. Olaf in the final round of the day will be the match to catch (and another one we'll be filming this weekend). How will one of the most consistent teams of the 2018 season face off against the deep roster and individual talents on Vortex? Even better is that Pool B has a third round bye, meaning that both teams will be relatively fresh and ready to face off to, most likely, determine the pool winner.
Pool B Hot Take
North Park has the ability to make a strong showing and make the bracket in this group. They're from the Midwest, and could perform better in the wind and weather if it arrives in Rockford. After the 20mph+ gusts at Meltdown 2018, Allihopa knows what it needs to do to score those vital upwind points.
Pool Prediction
Bates
St. Olaf
Pacific Lutheran
North Park
Pool C
The Teams
Favorite to Win the Pool
This pool is almost certainly going to be locked up by Puget Sound Clearcut; they've had a respectable season, and took home the Northwest Regional title. They've also got a full roster of 22 ready to take on the rest of the pool, of which 17 return from last year's semifinal run, and are coached by Spencer Sheridan for the 6th season. Expect them to use the depth of their roster to run other teams through the gamut, and play a loud sideline game as well.
While nothing's ever a given in D-III ultimate, it's more than likely that the remaining three teams of Amherst Sparkle Motion, Lehigh Gravity, and Rice Torque will be jostling for positioning. The trio is composed of a dangerously underseeded Rice–thanks to the limited number of games they played this season, none against other divisional rivals until Conferences–a Lehigh team that has strong wins and respectable losses all season, and an Amherst squad that will be missing a few seniors thanks to graduation. The possibility of Sparkle Motion losing the second spot will be almost as intriguing as other teams attempting to knock Clearcut from their perch.
Players to Watch
Clearcut has a deep and talented roster, but senior Sarah Davidson has become a star in the division, last year's Defensive Player of the Year and still a powerhouse producer of turns for Clearcut. Teams will also have to work to shut down Mickela Heilicher and Neeyati Johnson, their handling duo. While Amherst may be depleted in seniors, junior Logan Deming is a talented cutter that will give defenders fits, and classmate Julia Pike has a dangerous high release flick that will make more than one appearance this weekend. From Lehigh, Juliet Chung will be a force to reckon with in the backfield and downfield as teammate Madison Cannon skies her opponents without mercy. Rice benefits from similar utility Donovan nominee Sam Paulsen partnered with Rebecca Lopez's handler movement.
Game to Watch
As we haven't seen too much of them this season, any game that gives us Rice against their D-III competition will be an intriguing one. The first round matchup between Rice and Amherst will give the division a better sense of what the team from Houston has been putting together down in Texas, especially contrasted against the ladies from New England.
Pool C Hot Take
This pool is the most likely to go topsy-turvy in final seeding. While Rice has a small roster with only 12 players, that's not far off from where they've been all season, including their 7-0 run at Conferences. As discussed on the 7500 Club, Rice is the best looking 4th seed, with a solid chance to win a game in pool play. Lehigh also shouldn't be disregarded; any team that makes that mistake could find themselves being rudely awakened. None of this is to knock Amherst, a team which has gone up repeatedly against the incredibly strong New England region and snagged the second to last bid to Nationals. Pool C will be interesting not for the top seed, but the rest of the field once the dust has settled on Saturday.
Pool Prediction
Puget Sound
Lehigh
Rice
Amherst
Pool D
The Teams
Favorite to Win the Pool
Pool D is another instance of the top two gunning to be No. 1; the classic "Pool of Death" thanks to the no. 4 and no. 5 pairing. Those respective teams–Oberlin Preying Manti and Wesleyan Vicious Circles–will certainly be neck and neck and put on a show for spectators this weekend. Each won their respective regional championship and both teams are bringing similarly-sized rosters heavy on the upperclassmen. For Wesleyan, this includes returning a good portion of last year's team that left Nationals as the runner-ups; Oberlin brings with it a coach in alumna Ally Fulton. These two teams are extremely well matched, but the team with the edge will be Oberlin. With the strength of their season, Preying Manti have overcome large deficits and not given up a game, and that grit and determination will serve them well against the rest of the pool, including Wesleyan.
Pool play will also be the chance for Catholic Nun Betta and Mount Holyoke Daisy Chain to add new chapters to the still young stories of their teams. The pair will be attending Nationals for their second and third times respectively, and looking to bring home as many wins as they can on Saturday at the last tournament of the year.
Players to Watch
If you're not paying attention to Emma March, Oberlin's Donovan finalist, just wait to catch her lefty break hucks and handling work with rising star and freshman Zoe Hecht. Elsewhere in the pool, the backfield-downfield combination of Katrina Meserve and Hannah Finn-Erb from Mount Holyoke will damage defenses. Catholic Nun Betta will field the talents of Donovan nominee Grace Castro, with a penchant for both well-placed throws and a well-timed poach, working alongside fellow captain Christine Tomasic, who goes where she is needed to make the plays happen.
Game to Watch
While the Oberlin vs. Wesleyan match may well determine the pool, the Oberlin vs. Mount Holyoke game will also be intriguing for it's inter-regional flavor. Oberlin has gone all of 2018 without facing off against a team from New England, and Mount Holyoke will be a good benchmark of a game for how Oberlin could fare deeper into the tournament if they come up against teams like Williams or Bates.
Pool D Hot Take
Not only does Wesleyan have the skills and practice of playing for high stakes games with an older roster on their side, but they also have the hunger to go beyond where they ended last year. But in the end, that desire can put the pressure on, and hurt a team's ability to play one game at a time. The Vicious Circles we see throughout pool play, and especially Oberlin, will need to stay strong against their own personal pressure, no small task to ask at Nationals.
Pool Prediction
Oberlin
Wesleyan
Mount Holyoke
Catholic