RPI, Mount Holyoke, Puget Sound, and St. Olaf advanced to quarterfinals.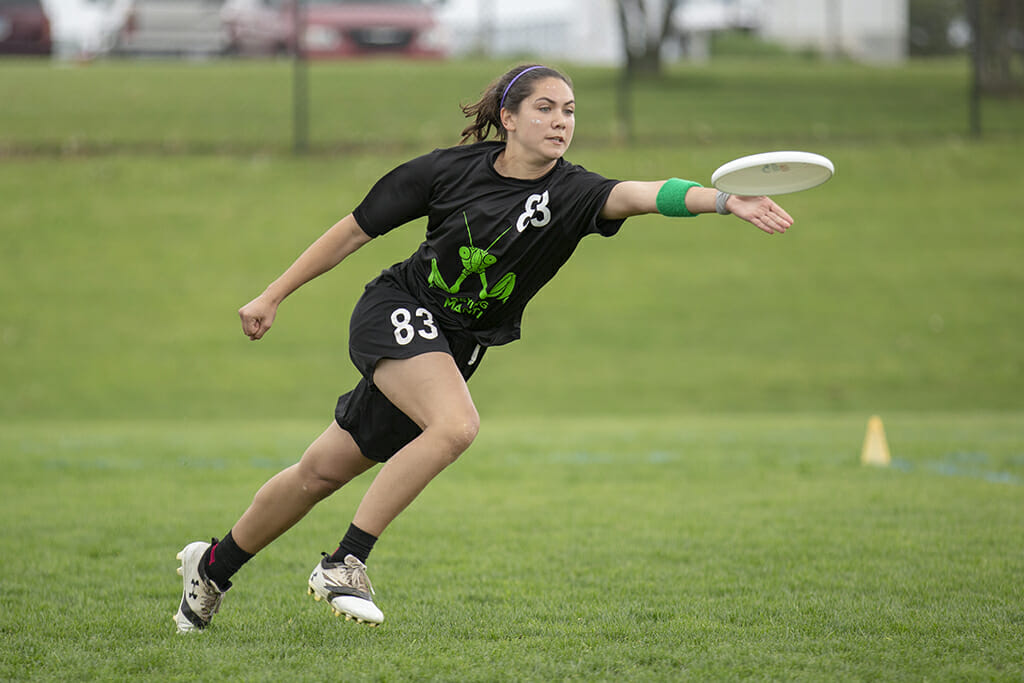 Coverage of the Women's Division of the 2018 D-III College Championships is presented by VC Ultimate as part of their season-long support of our women's coverage. All opinions are those of the authors. Please support the brands that make Ultiworld possible and shop at VC Ultimate!
Eight teams entered elimination play in the women's division, knowing only half of them would return Sunday still in championship contention. With seasons on the line, teams were forced to step up or be sent packing.
RPI Upsets Oberlin with Austin's Return (via Keith Raynor)
RPI took an early lead on Oberlin riding their top players and held on to win 11-8. Going into the 4th game of the day, most teams are fighting to get energy and to find a way to get better when your endurance is tested. For RPI, they got to add their Player of the Year candidate, Tamar Austin, who had missed pool play for graduation. She lended a boost of energy, on top of her talent, to the team when they needed it most.
"It was mostly a spiritual, energetic impact. She's always upbeat and positive, and keeps us out of our heads when we get down and give up a couple of breaks," said RPI coach Garrett Clay.
While Austin offered an uplifting presence, it was Makayla Wahaus and Candy Zhang who stole the show. Zhang tallied 2 goals and 3 assists, while Wahaus collected 6 assists to go with 1 goal. Oberlin's inability to stop Wahaus's break throws was a significant factor in their ability to ever take the lead.
"People look to her on the field," said Clay. "They know if we can get it in her hands, she can get it to the break side."
RPI also utilized a junk defense they've had great success with throughout the tournament. They match up five players, put Nancy Bush deep, and Wahaus or Austin in the open side lane. Oberlin struggled to find the open players on the break side, with only Emma March showing the ability to do that with any consistency. The team's throwing capacity was hurt by missing handler Helen Samuel, out with a concussion.
Additionally, RPI relied on a tight rotation, with six players playing nearly every point. Oberlin mostly stayed in the same two lines, with offensive powerhouses Zoe Hecht and Emma March frequently separated. After they fell into a 7-3 hole, Oberlin mixed things up a bit, and had some second half success with the duo together with cutters Abby Cheng and Linnea Fraser. But eventually, they went back to more evenly distributed playing time. Simply put, the team preferred to give everyone on field opportunities to relying on their most talented individuals.
"Going into this tournament, we wanted to play a little more even than we did at Regionals, because our goal was to make Nationals. Our goal was not to win Nationals, necessarily." said Oberlin coach Allison Fulton. "It was really important to us as a team to make sure that we, as a team, were playing and succeeding in our games."
RPI fought off a comeback from Oberlin, when RPI's small rotation began to fail to execute, with handlers missing each other and dropping open throws. It was as close as 9-8, but RPI's zone clamped down and they continued to attack the break side.
"We planned on being here all year," said Clay.
"We knew if we could get to prequarters, Tamar would be here, and that would give us that leg up."
St. Olaf Spreads the Offensive Wealth against Feisty Amherst (via Sam Echevarria)
St. Olaf Vortex utilized their large, deep roster and largely played a smooth and clear game in their showing against Amherst Sparkle Motion. The first half was a tale of domination by Vortex, with Amherst down 8-4 as the occasional wind gusts and depleted energy resulted in turnovers. St. Olaf looked strong by using the combination of undercut catch, reset to Tulsa Douglas, and huck for the score. Douglas assisted on 11 of the 15 scores, spread out among ten different St. Olaf players. St. Olaf also benefited from Marit McQuaig's quick thinking, and her ability to create action when their offensive line became stagnant, and Aidan Zielske playing tight, effective person defense. Although they only put a few points on the board in the first half, Amherst's Mackenzie Stein found the disc on a spacious throw by Krya Wortley. Going into the half, it was clear that Amherst was struggling with the sun coming out from behind the clouds, heating up the field.
With cheers and a recentering the team's spirit, Amherst came out determined to play their game to the best of their abilities with the 11 players available. They broke for the first point out of half, rekindling their team fire. Later in the game they went on a 3-0 run to shorten Vortex's lead to 12-10. Wortley and Carly Drost made serious plays on both sides of the disc to get the disc back into Amherst hands for their scores. The pair of Drost and Wortley accounted for 15 assists and goals collectively across the game. In the end however, Amherst's outscored St. Olaf 8-7, but it wasn't enough. As St. Olaf Vortex coach Sean Pritchard noted, a combination of St. Olaf "letting up, a little bit of us not doing the positioning that we know we should do" forced Vortex to clean up their act and put away the game against Sparkle Motion.
St. Olaf will play Williams, the winner of Pool A, in the quarters matchup tomorrow morning.Their depth will be matched and tested by a Williams team with a variety of contributors.
Puget Sound Pummels North Park in Prequarters (via Daniel Prentice)
Puget Sound blitzed through their prequarter matchup with North Park to remain in the bracket going into Sunday. UPS was too deep and too efficient on offense for North Park to hang with them, and the result felt inevitable after the first handful of points. An early 3-0 lead turned into an 8-4 count at the half for UPS, and the second half was more of the same story as they outscored their opponents 7-3 after the break.
Emma Piorier was Puget Sound's top performer statistically, posting a game high 7 points (4 goals, 3 assists.) 11 other players registered at least one goal or assist for UPS.
North Park looked a little tired, particularly in the second half of the game, and they were unable to make any run back into the game. "This team know it's deep and that plays to our advantage," Puget Sound co-head coach Corinne Pingul observed.
With the win, Puget Sound advanced to a quarterfinal matchup with Wesleyan. It was the team's third straight win after losing their opening game to Lehigh. "It was a real funky game in that first game. But the resilience of this team, we love," said co-coach Spencer Sheridan. "We put ourselves in a weird position, we don't care…We're in the quarterfinals. We went the hard way. But we're there anyway and we're gonna work our ass off there."
Mount Holyoke Controls Prequarters Matchup with Georgia College (via Jonathon Alton)
Mount Holyoke Daisy Chain quickly took control of their match up with Katrina Meserve and Hannah Finn-Erb leading the way. Holyoke led 8-4 at half after two straight breaks. The wind was on and off in the first half, but it didn't affect Meserve. Katherine Yost and Georgia College had a harder time going upwind, allowing Holyoke to convert the upwind/downwind break for Holyoke to take half.
Daisy Chain coach Evan Johnson broke out of the huddle saying, "This is the biggest half of our lives."
Daisy Chain lived up to the moment by not letting their margin dip below three. At least one of Meserve (11 assists, 1 goal in the game) and Finn-Erb (5 goals, 2 assists) were involved in every point scored. Mount Holyoke switched up between zone and man regardless of wind to keep the pressure on Yost and Morgan DeMell for Georgia College. Yost started taking advantage of some late game mental miscues and drops from Daisy Chain, but Georgia College's two second half breaks weren't enough to get them closer than 13-10.
Mount Holyoke will play Bates in the quarters, for an intraregional matchup, though they haven't played each other this season. This is the furthest Mount Holyoke has ever made it at Nationals, but Johnson is excited for his young team, which only sports one senior.