Championship Sunday!
Live updates of all the action from Rockford throughout the day! You can follow our livestreams, twitter feeds, articles, as well as our liveblog updates, on ultiworld.com/live. Our coverage is presented by VC Ultimate and Spin Ultimate
Live Updates – Men's & Women's Final
4:15 PM (Men's): Bryant holds to make it 9-9, game to 11. Unfortunately, Cameron Jack has a noticeable limp he picked up at some point. He's critical as the team's deep deep in their zone and primary deep cutter on the turn. If he's limited, going to be hard to cover ground and make plays on deep shots.
4:12 PM (Men's): This insane game of the runs continues. Air Force now up 9-8 on Bryant, but the Craze zone defense is making them work for it.
4:10 PM (Women's): St. Olaf wins! Douglas backhand to Zielske up the line! They don't even know they won! St. Olaf wins over Bates, 11-8. Douglas magnificent! St. Olaf Vortex wins the women's division at the 2018 D-III College Championships!
4:08 PM (Women's): Douglas rips a hammer to the back of the vert stack and finds Sami Petersen. Soft cap is on and St. Olaf is up 10-8 in a game capped at 11. She plays with a ton of confidence, love to see the playmaking.
4:04 PM (Women's): St. Olaf gets another break when Douglas around backhand breaks Gillett for an assist. On the next point, Gillett gets poached downfield and she easily get its and hucks it for a score. No idea what the defense was doing.
It should really be a priority for both teams to keep the opposing thrower off of their backhand.
3:57 PM (Women's): St. Olaf in need of a bucket, so they dial up Douglas to Mulhern. Tried and true. St. Olaf up 8-7 on Bates.
3:56 PM (Women's): Wow, Gillett on Douglas seems to be slowing down St. Olaf's offense. Her mark forces Douglas's around break backhand a little wide, Gillett picks it up and rifles a low forehand 30 yards into the end zone. Bates breaks twice to tie it up 7-7 out of half!
Again, the game has been shortened because some players on Bates have flights soon. Both team's agreed to shorten the game.
3:53 PM (Men's): Air Force trying to make really difficult throws against the Bryant zone, and Villanueva and Chun-Moy are not getting done. Bryant's staying in the zone for the full length of the field.
3:51 PM (Women's): The livestream is back up, half time is over, and GILLETT IS ON DOUGLAS, I REPEAT, GILLETT IS ON DOUGLAS! And of course, Bates breaks. St. Olaf up 7-6. Game to 13, 80 minute round.
3:45 PM (Men's): UNBELIEVABLE! Bryant with a 6-0 run to come back from a 5-1 deficit to a 7-5 lead over Air Force. We haven't seen them reel like this maybe all year.
3:40 PM (Men's): Bryant making a run! Justin Kunkel catches and throws back to back breaks to make it 6-5, Bryant. These were the two favorites and they've got a lot in store for one another.
3:38 PM (Women's): Douglas to her #1 target, sophomore Kaitlyn Mulhern with another textbook around backhand. Douglas's ability to throw arounds have been devastating, particularly in the wind today, giving St. Olaf more backhand opportunities.
Mulhern's been racking up goals as the top red zone and deep target for St. Olaf. They lead 5-4 now.
3:35 PM (Women's): The matchup we're tantalized by is between super-throwers Tulsa Douglas (St. Olaf) and Josie Gillett (Bates), but so far, they haven't gone toe to toe. They didn't in their pool play matchup, either. In fact, Gillett isn't really getting run on D-lines; Douglas has played every point. Both have been on absolute tears today with the disc in their hands.
3:34 PM (Women's): After rain this morning, and two rounds of play, fields are soggy and muddy. Players have been slipping all day while trying to make sharp cuts. In the women's final, there have been quite a few foul calls already; not malicious or unfair, but slowing the pace of the game.
3:32 PM: Coming in hot! Air Force up 5-3 on Bryant in the men's final. Bates up 4-3 on St. Olaf in the women's final.
Men's – Semifinals
Air Force Soars Past Middlebury in High Flying Semifinal Shootout (via Michael Ball)
Air Force built an 8-4 first half lead and rode their offense to a 15-11 victory over Middlebury to earn their program's first ever trip to the National final.
The game opened up with a break from Air Force, and Middlebury appeared to struggle with adjusting to the Air Force's speed at all seven positions. In the blink of the eye, the Pranksters were down 5-2 and reeling. Middlebury called a timeout to compose themselves, and coming out of the timeout, went back to the combination that has worked best for them all weekend. Dylan Salzman hit Kai DeLorenzo in stride with a perfect flick huck, breathing a burst of energy into Middlebury. Both teams turned the disc multiple times on the following point, and Middlebury capitalized on the sloppiness by punching in a break to make it 5-4. That would be the Pranksters' last goal of the first half.
Air Force scored a quick hold, then rattled off three straight breaks to take half. The run was fueled by incredible pressure from the Afterburn defense, including a pull that pinned Middlebury in the back of their own end zone and multiple turnovers forced in the handler space to create short field break opportunities. Alan Villanueva hit a streaking Trevor Browning on a strike cut out of a timeout to take half, and Middlebury visibly dropped their heads as they walked to their sideline, looking deflated after maintaining a high level of energy all weekend.
While half the goals in the first half were breaks, only one break was managed in the second. Both offenses hit their stride, and Middlebury could never bring the differential closer than three. The Pranksters couldn't find a way to slow down Afterburn's offense, particularly deep cutter Matthew Moshea. DeLorenzo took the matchup and managed a couple of blocks, but Moshea largely dominated the duel, scoring 7 goals and coming down with multiple 50/50 discs.
Salzman put in a heroic effort, working relentlessly to get open for his teammates and fighting past the exceptional defense of Noa Chun-Moy. In a game filled with tremendous athleticism and big plays from both sides, perhaps the two best catches came on layout grabs from Salzman for the last two Middlebury holds. Unfortunately, the Middlebury defense that had generated waves of breaks all weekend couldn't come up with the blocks the Pranksters needed in the second half, and Air Force cruised to a 15-11 win and a spot in the championship game.
Women's – Semifinals
St. Olaf Vortex Long Game Unmatched by Puget Sound (via Jonathan Alton)
St. Olaf earned their chance at the National Title with a 12-9 win over Puget Sound. Tulsa Douglas continued to dominate the field with her high release flicks and backhand hucks, tallying 8 assists. The first half was close, with Puget sound holding on at 7-6. Douglas found one of her favorite targets in Mulhern off a high release flick to take half 8-6.
St. Olaf came out on half and Douglas found Mulhern once again on a floaty forehand. St. Olaf was in control 9-6 and didn't look back. Douglas connected with Mulhern one more time, this time with a hammer to take the lead 11-9. St. Olaf held on to win in softcap 12-9.
Puget Sound's Jane Marie Gunn had the task of containing Douglas, and had several blocks on St. Olaf handlers trying to reset to Douglas. Gunn also stepped up on offense with Neeyati Johnson and Abby Mayo. Puget sound had their chances to keep the game close, but struggled to convert near the goal line. Emma Piorier had a big layout off a huck to bring the game to 11-9, but with soft cap on they didn't have the time to come back. St.Olaf finished off with a hold, a huck from the other stand out, St. Olaf handler Sami Peterson to a streaking Marit McQuaig.
St. Olaf celebrated briefly and booked it to the championship field where they will be playing Bates for the National Championship. St. Olaf will be making their first National Championship game appearance in their program's history.
Men's – Semifinals
Bryant Craze Overwhelms GoP (via Hugo Sowder)
Bryant continued their stellar defensive performance in the semifinals against Carleton GoP, claiming a 14-9 victory. After going up two breaks to start the game, GoP rallied to get back on serve 3-2. It would ultimately prove to be GoP's last lead of the game. GoP didn't necessarily look uncomfortable against Bryant's zone, but they could not execute at the same level as Cameron Jack and Bryant's atheltic receivers.
Bryant's Alex Kenworthy notched the play of the game to kick off the second half with a massive layout goal. Bryant's lead grew larger as errors mounted for GoP. Carleton's high energy never faltered until the final point was scored but it was not enough to fuel a comeback. Bryant cruised to a 14-9 victory and their first ever program appearance in the final.
"We graduated nine seniors last year and were not expecting to even be a semis team this season," said Cameron Jack. "After the fall I think we realized that we'd be a decent team. At Lobster Pot we bet a pretty good Harvard team and lost a close game to Northeastern. That was the point when we realized how good we could be. Everybody has slowly been building up their confidence."
Women's – Semifinals
Bates Fends Off Lehigh (via Daniel Prentice)
Bates clinched their spot in the final by surviving a strong showing from Lehigh, winning 13-10 in their semifinal matchup. A Bates break to make the score 3-1 was shortly matched by Lehigh, tying the game at 4-4. Bates went into the half leading 8-7, on serve for the first time since their opening game of the weekend.
Bates had a bit more depth and were cleaner on offense in the second half. They were able to break on the first point of the second half for just that bit of breathing room down the stretch. Lehigh was never able to get the game back on serve, and they were broken one final time on the final point of the game to seal the victory.
Josie Gillett wasn't quite as efficient as she'd been through most of the weekend. Indeed, she had the lowest percentage of her team's assists she's had all weekend, throwing a mere 9 of the team's 13. Cameron Johnson impressed again downfield and the team's defense as a whole did a nice job of applying pressure to Lehigh even when they weren't getting breaks.
A great run from Lehigh, the No. 10 seed coming into the tournament ended with a strong showing in semis. No team has pushed Bates like they did since the opening round of play. Bates, though, moves on to the final for the first time in program history. They'll matchup there with St. Olaf's, a team they beat 15-10 yesterday.
Women's – Quarterfinals
Puget Sound Survives Wesleyan and Their Own Mistakes (via Jonathan Alton)
Puget Sound Clearcut won over Wesleyan on double game point by a score of 8-7. In a game where Puget Sound was issued a blue card for having eight players on the field and called a timeout they didn't have for a turnover, Clearcut pulled it out. The game was dominated by strong wind, but the Clearcut offense was connecting on their downwind hucks and converting. Wesleyan Vicious Circles had a lot more trouble scoring. However, it seemed the longer the point went, the more likely Wesleyan was going to end up with goal.
The top seven for both teams carried the bulk of the weight. Puget Sound had huge offensive games from freshmen Bethany Llewellyn and Emma Piorier, as well as senior Jane Marie Gunn. Puget Sound made up for the mental mistakes with some athletic, smothering defense and quick offense.
For Wesleyan, Eileen Connor continued to lead the offensive and defensive efforts, and found offensive help from Laura Bither and handler Sydney Taylor-Klaus. Wesleyan wasn't without their own mental mistakes, throwing two hammers on the goal line that fell incomplete.
The Puget Sound timeout turnover came at a terrible time, with them up 7-6 in soft cap. Taylor-Klaus was able to convert the goal for Wesleyan to force double game point. UPS continued their downwind dominance when they received on DGP, and though they had some turnovers, Wesleyan couldn't get the disc past midfield. Llewellyn was able to punch in the game-winner after a few chances on the goal line to send Puget Sound on to the semifinals.
Women's – Quarterfinals
Bates Buries Mount Holyoke (via Daniel Prentice)
Bates, as they have all weekend, got off to a hot start and never looked back in the quarterfinal against Mount Holyoke, which they won 15-6. Josie Gillett again racked up the assists, this time posting 12 helpers and adding 1 goal, but as she has all weekend she was really just finding open receivers. Bates has done an excellent job of providing Gillett with multiple options as well as getting their primary thrower into favorable throwing positions. Her mountainous assist totals have been more a result of solid team play than is immediately obvious.
That trend continued against Holyoke, as evidenced by their nine different goal scorers on the game. Freshman Cameron Johnson led the way in that statistic, though, with 5 scores. She excelled at finding any open space, particularly in the red zone, and Gillett is as good as any player in the division at hitting open receivers.
With the dominant win, Bates advances to semis for the first time in program history. Their also now the highest remaining seed due to Williams' loss in quarters, and their performance in quarterfinals and all weekend makes them the favorite to win the title.
In fact, the biggest speed hump for Bates on their path to win a Championship may be flights home. The team would have to leave the fields at 4:00PM (the championship game is scheduled to start at 3:00PM) in order to make their flights back home to Maine. The team hasn't yet decided what they'll do if they do make the final. They play Lehigh their semifinal before they have to worry about that, but it would certainly be an unfortunate development as the team seeks to continue their already best-ever postseason run.
Men's – Quarterfinals
Bryant Crushes Bowdoin in 15-2 Blowout  (via Hugo Sowder)
Bryant was absolutely remorseless in their 15-2 beatdown against Bowdoin. Bryant went on an unchecked run of breaks until midway through the second half, capitalizing on a combination of short field turnovers and drops by Bowdoin.
The trademark four-person cup that Bryant has always preferred to run was perfect in the windy conditions.
"Our defense is consistent and adapts to our players and the conditions perfectly," said Bryant coach Jim Bishop.
Cameron Jack dominated the assist board for Craze, hitting Alex Kenworthy and Austin Kelson with crisp throws in the wind. Bryant's dominance was unmatched all game and reflected just how deadly they can be when the conditions match their systems. Bryant's appearance in the semifinals was not something they expected after turning over nine seniors in 2017. With a quick and decisive win against Bowdoin under their belts, Bryant has plenty of confidence and legs to face Carleton in the semifinals.
Men's – Quarterfinals
Carleton GOP Rides Strong Offensive Performance Into Semis (via Charlie Eisenhood and Hugo Sowder)
In a cold, windy, and wet quarterfinal round, Carleton GOP delivered a strong offensive performance to top Whitman 13-10 and advance to the semifinals in the Men's Division.
The teams traded breaks early with impressive early plays from Whitman's Robbie Farwell and GOP's Abe Eichner. As the wind intensified midway through the first half, there was a lid on the upwind endzone, and both teams struggled to move it past half field on break chances.
But Carleton's Arthur McCray got a big layout block on an under before Noah Robiner took over the point and scored an upwind goal to put Carleton up 6-5. GOP tacked on the downwinder as well to extend the lead to two.
After a Whitman hold, Carleton's offense slightly overthrew a pass in the red zone and the Sweets took advantage as Sam Huston bombed an upwind huck to Nate Raphael to tie it up at 7.
Carleton's offense, staring down an upwind point, didn't blink. They hucked upwind as well, and Jarrett Arakaki got a huge sky to take GOP into half up a break and set to receive going downwind.
Whitman capitalized on another Carleton red zone turnover to tie it eight, but the GOP O-line again went upwind with confidence and held to go back in front, 9-8.
The break that would put the game out is reach for Whitman game on the subsequent point. Will Yetvin got Carleton a deep block on Robbie Farwell and Carleton went up 10-8 on a big second effort layout score by Arthur Macray.
Smooth offensive possessions allowed Carleton to ride out their lead until the final point of the game, when Yetvin secured another block for GOP on a shallow huck. Carleton called a timeout at midfield and during the subsequent possession won the game on a tipped disc that was blocked by Whitman but reeled in by a line toeing Abe Eichner.
Carleton will face Bryant in the semifinals.
Women's – Quarterfinals
Lehigh Grinds Out a DGP Win over RPI (via Sam Echevarria)
Lehigh Gravity won a nail biting quarters matchup against RPI Strut, scoring on double game point for a final score of 12-11. With changing winds and the teams antsy after a three hour lighting delay, the match was close from the very beginning. Points were traded back and forth until Lehigh found the first upwind break.
The Lehigh offense on Sunday looked similar to Saturday, running through the immense lefty hucks and aggressively confident handling of Juliet Chung and Dana Waxenberg, who threw 6 assists and scored 2 goals combined. Madison Cannon continued to make catches to keep their drives alive, coming up with the disc even as defenders sat right on her hip and bringing in three goals. She regularly matched up with RPI's Tamar Austin, an entertaining pairing as both cutters bid and cut their hardest. Austin ended the game with 6 of the 11 scores put on the board by RPI. While both teams had more miscues and dropped passes than Saturday, both teams stayed engaged on the field and the sideline in claiming the matchup as a win for themselves.
RPI answered the first Lehigh break, and continued trading points with Lehigh behind the defense-shredding hucks of Makayla Wahaus and Candy Zhang; Wahaus threw 6 assists and Zhang threw 1 of her own. RPI also capitalized on their team's ability to hit the break side, stringing together multiple looks to Lehigh's detriment. Nancy Bush also consistently put the pressure on Lehigh, working as one of the deep spots in the zone defense and punishing some of Chung and Waxenberg's looks. Over the course of the game, neither team ever led by more than two points, but Lehigh went on a four point run when it mattered most, changing the tide from an RPI 9-7 lead to an 11-9 Lehigh advantage. In the end, Lehigh put it away, and improved their weekend record thus far to 4-0. As Lehigh coach Matt Lubitz said, "It comes down to a competitive will and a love for our teammates…this is a heck of an RPI team, and I'm so proud of the fight and the family that we have."
Lehigh's next test on the way to a potential Championship title is a semifinal match against the no. 2 seed, Bates Cold Front. They will need to bring the same level of energy, and have a game plan ready for the talents of Josie Gillett if they want to make it to the final.
Women's – Quarterfinals
Douglas and St. Olaf Dominate Wind and Williams (via Keith Raynor)
St. Olaf jumped out to an early lead, controlling their quarterfinal against Williams in a 14-7 win. Vortex star Tulsa Douglas was involved in every single St. Olaf score, posting 13 assists and 1 goal in a unflappable and dominant performance. The windy conditions clearly favored the Midwestern team. The loss is the third straight year Williams lost in quarterfinals as the no. 1 seed.
After the morning's delays and rain, teams were eager to get on the field, but the change in conditions didn't faze Douglas or her teammates.
"We came in knowing the wind was not something we could control," said Douglas after the game. "But we could control getting to the break side so we could throw more backhands into the wind."
The strategy played out perfectly, particularly for Douglas, whose break backhands were a mystery left unsolved by the Williams defense. Louisa Goss was tasked with defending the POTY shortlister, with some sagging poaches to help, but she couldn't stand up to Douglas's prowess. St. Olaf got two early breaks to go up 3-0, and led by as much as 9-3. Along with Douglas, Sami Peterson played an excellent game, delivering quality throws in the wind, while Kaitlyn Mulhern hauled in 6 assists, including the game winner. Williams never gave up or got too down, and their effort was highlighted by a Caroline Weinberg layout score that ranks among one of the best plays of the weekend, but they could never generate enough defensive pressure to climb back into it.
Men's – Quarterfinals
Nathan Vickroy Puts on a Show, But Can't Overcome a Star-studded Air Force (via Zakk Mabrey)
After a 3 and a half hour weather delay, Air Force and Georgia College finally got their star-studded matchup underway. Air Force fought off Georgia College and Nathan Vickroy for a 13-10 win.
"The break probably hurt us more than anything," said Noa Chun-Moy. "Not being able to get a full warmup kind of hurt our throws a bit, and the skinny area between the two soccer fields wasn't really enough.
Despite the quick warmup, Air Force got off to the races early, and took charge. Nathan Vickroy put on a show for Georgia College. Vickroy made big plays time and time again. On their first possession, Vickroy busted open an Air Force zone look with a big blade to the middle of the field. It was the first of multiple astounding plays by the Southeast star.
On the back of a strong game from Alan Villanueva and Noa Chun Moy, Air Force stole a quick 3-1 lead. They rode their lead until just before halftime. A huge surge from Georgia College, which included a Vickroy assist and an interception on a huck in a crowd of Air Force players. Georgia College tied the game at 7-7, before Alan Villanueva caught an upline throw past a bidding Vickroy to take half 8-7.
Vickroy stole the show for much of the first half, doing most of the major moving of the disc for Georgia College. He used a variety of throws and upline moves to successfully advance the disc.
Coming out of half, Air Force stole a break that Georgia College could never recover from. With Alan Villanueva matching up with Vickroy for much of the second half, Noa Chun-Moy stepped up to take control. The second half saw him come away with 3 goals and 2 massive D's, that pushed Air Force to a 13-10 win over Georgia College.
"I think our team was just ready for this game," said Noa Chun Moy. "We're just going in with the mindset that we can beat anyone."
Men's – Quarterfinals
Middlebury Punishes Sloppy Mary Washington to Cruise to Semis (via Michael Ball)
Middlebury jumped out to an early 3-0 lead on Mary Washington, and Mother of George couldn't overcome self-inflicted mistakes, losing 15-8 to an energetic and efficient Pranksters team that never took their foot off the gas.
It was a tale of two halves for Middlebury. In the first half, Kai DeLorenzo imposed his will on the game, making multiple big plays on offense and preventing MoG from getting anything going in the deep space. His impact on the game was best captured by the points to make the score 5-3 and 6-3; on the first, he threw an upwind backhand huck on a rope to hit his receiver in stride for the hold. On the next point, he picked up the disc on a turn and threw a 20 yard lefty backhand to his receiver in stride again, inches past a bidding defender. DeLorenzo finished the half with 5 assists and 1 goal, and Middlebury held a comfortable 8-4 halftime lead.
In the second half, it was a collective team effort from Middlebury that shut Mary Washington down. Impressive defensive efforts from Connor Hanify, Asher Lantz, and Ian Hanson created turn after turn from MoG's O-line, and they were ruthless in converting those turns into breaks. Hanson in particular was especially impressive; he took the Norrbom matchup all game, and he notched multiple blocks on the Donovan finalist.
Norrbom and Mary Washington's offense struggled mightily. Whether facing zone or person defense, MoG failed to string multiple passes together, scoring most of their goals on contested deep shots. Middlebury's defense allowed no easy passes, and the Mary Washington cutters just couldn't create viable throwing windows for Norrbom and the other handlers. The frustration was visible across Mary Washington's roster, and it was a sad conclusion to an otherwise impressive season for the first-time Nationals qualifiers.
10:40 AM – Lightning Delay Update
We are set for an 11:30 AM Central quarterfinals start, barring any further rain (which is not in the immediate forecast). Rounds have been shortened to 90 minutes (soft cap at 7o minutes, hard cap at 90 minutes). Halftimes are being trimmed to five minutes.
Consolation games will be played. Updates on scheduling are forthcoming.
The planned bracket schedule is:
11:30 AM – Quarterfinals
1:15 PM – Semifinals
3 PM – Finals
~4:45 PM – Awards Ceremony (including the Donovan Award, presented by the National Ultimate Training Camp
10:21 AM – Lightning Delay Update
Mercifully, the rain has stopped. The facilities manager is assessing the fields now. Another update coming in 15 minutes.
10:09 AM – Lightning Delay Update
The lightning has moved out of the area. However, due to heavy rain, the facilities manager here at the Sportscore 2 complex will need to assess the fields and determine their playability. There is likely going to be at least an hour of further delays as they wait for fields to drain and select fields for competition.
It is possible that consolation games will be canceled. It is also possible that the finals will end up being played indoors in the new fieldhouse. More updates to come. There is currently no timetable for the resumption of play.
#LightningDelayThings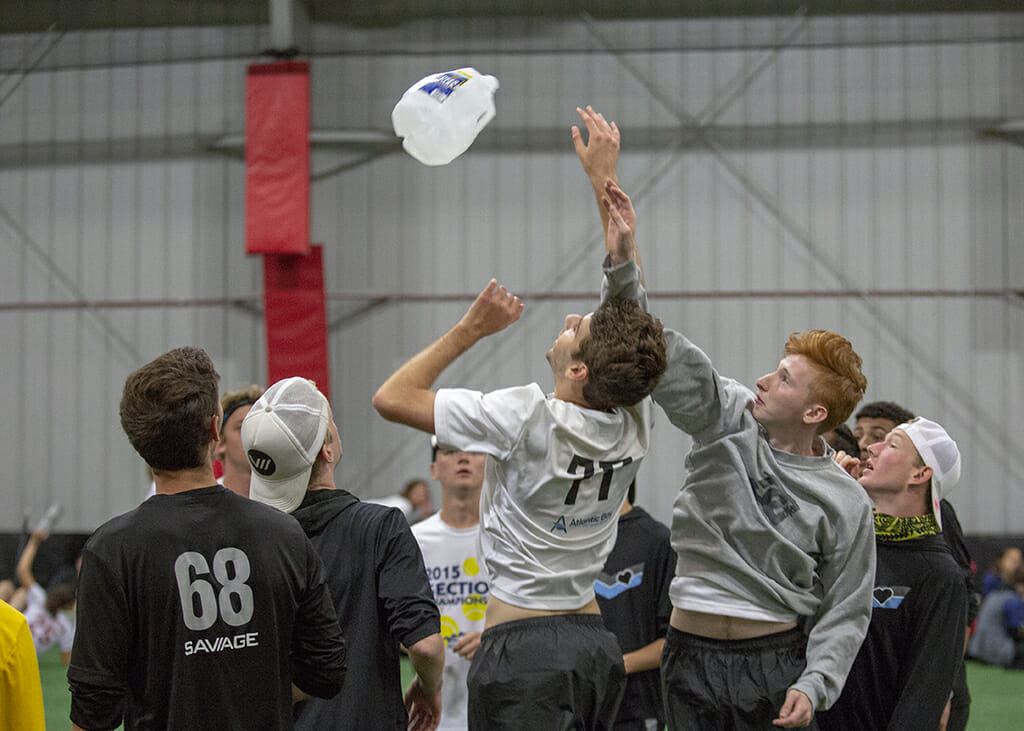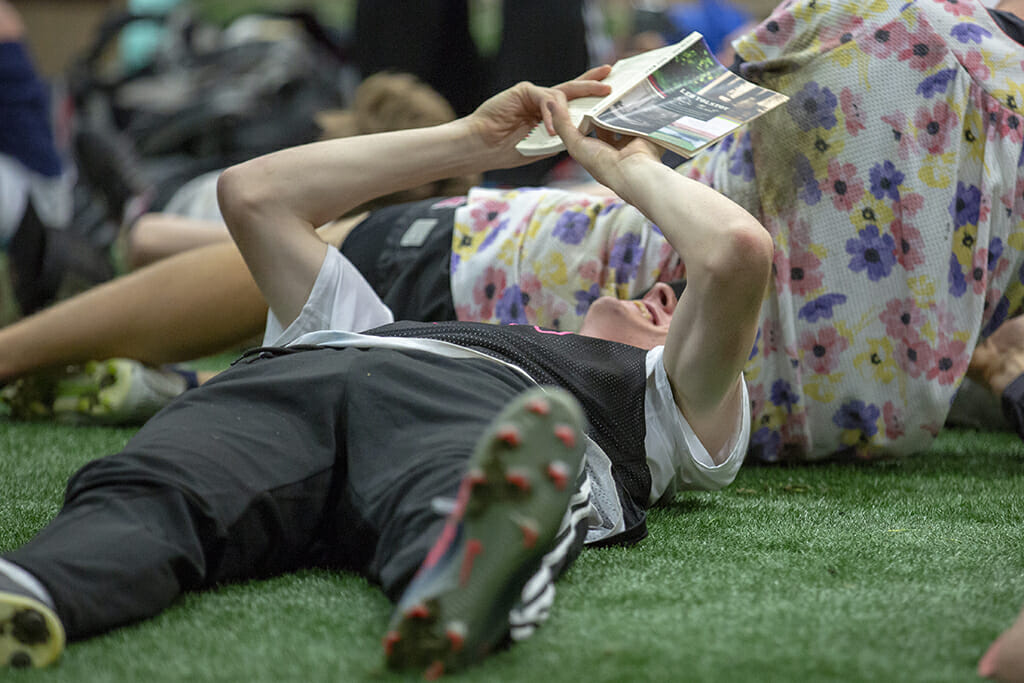 Along with plenty of fun and games, some teams have also broken out into groups to discuss gender equity.
9:38 – Lightning Delay Update
10:30 is now the earliest teams can retake the field. Heavy rain is inundating the fields.
9:16 AM – Lightning Delay Update
9:45 is now the earliest teams can retake the field.
John Brown and Richmond Sock Wrestle For Pull
John Brown and Richmond decided to play 5-on-5 indoor mini for their consolation game. To determine who got to pull, they sock wrestled (a game where you have to remove both of your opponent's socks before they remove yours).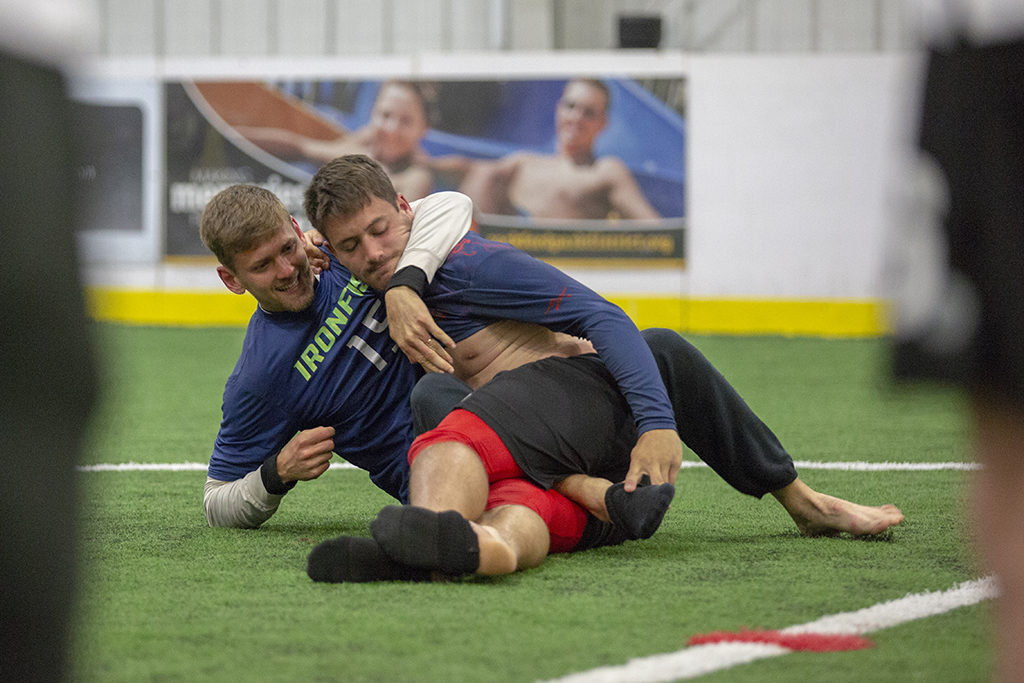 9:03 AM — Lightning Delay Update
The latest: the soonest players can take the field is 9:30 AM, with a tentative 9:45/9:50 start time.
USA Ultimate has altered their streaming schedule: they will now stream a women's quarterfinal (St. Olaf v. Williams), a men's semifinal, and the women's final.
The men's final is no longer staggered and will take place concurrently with the women's final. The game will be filmed by Ultiworld and made available for subscribers tonight.
Lightning Delays To Start
A band of thunderstorms started rolling over Rockford and the field complex at around 7:45 AM. As of 8:30 AM, we are still in the midst of a delay. The earliest possible start time for the games is 9:05. Unfortunately, the radar is not promising.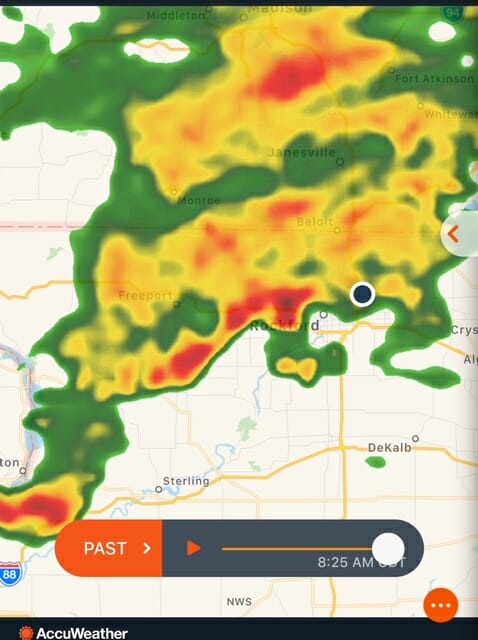 The storm system is moving to the east, and the band of heavy storms (dark red) appears to be poised to cross over our position (the blue dot).
We will keep you apprised of the latest as more information comes in.