Four teams drafted from the best players at Nationals!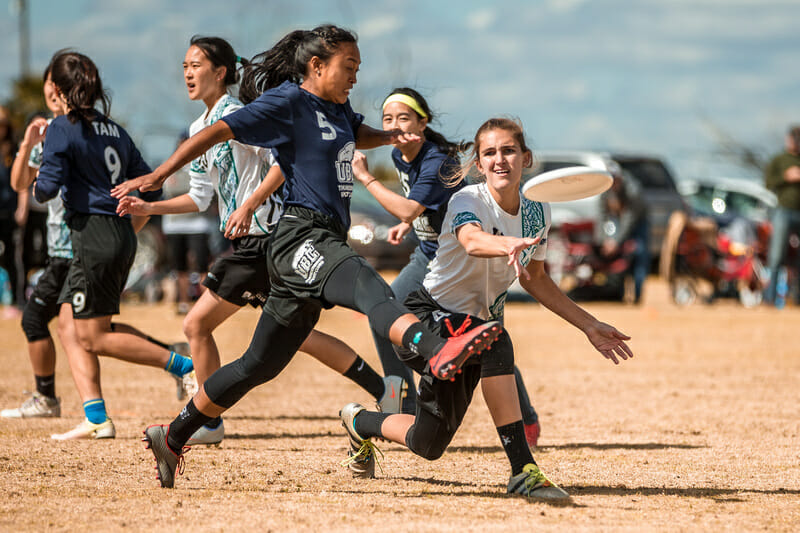 The Ultiworld College Nationals Fantasy Draft is back, bigger and better than ever! The core idea is still the same: draft from the pool of players attending the D-I College Championships in an attempt to form the best functioning team. That means drafting nothing but handlers, no matter how good they are, probably isn't the best strategy.1
The big difference this year is that we've expanded from two teams to four. That's double! Mostly that means that fans of the players we snubbed will be even more incensed than they were a year ago, but it did require us to dig a bit deeper for strong role players to fill out our respective rosters, which we think added some depth to this silly exercise. The lucky four this year were Daniel Prentice, Keith Raynor, MK Andersen, and Charlie Eisenhood.
Just like last year, your job is to chop it up in the comments and tell us why everyone's2 team is terrible, and vote for which drafter you think selected the best team. Oh, and be sure to check out the draft for the men's division we did, as well.
Rules
This is another place where we mixed it up from last year. Rather than drafting two full lines for offense and defense, and drafting them separately, we picked 12 players per team all in one draft. Two players for each team will be two-way players, and ten players will be assigned to specific lines (five O-liners and five D-liners). Any and all of those roles could be filled with any pick in the draft, though everyone's two way players naturally tended to go pretty high.
We did a snake style draft, meaning the draft order reversed every round. The draft order was set randomly to give Charlie the first pick of odd rounds and last pick of even rounds, Keith the second pick in odd rounds and third pack in even rounds, MK the third pick in odd rounds and second pick in even rounds, and Daniel the last pick in odd rounds and first pick in even rounds.3 Other than that, the only rule was to assemble a team that would have the best chance at beating everyone else's.
The Draft
| | Charlie | Keith | MK | Daniel |
| --- | --- | --- | --- | --- |
| Round 1 | (1) Jaclyn Verzuh, Darmouth | (2) Carolyn Normile, Pittsburgh | (3) Julia Butterfield, Stanford | (4) Dena Elimelech, UC San DIego |
| Round 2 | (8) Sadie Jezierski, Ohio State | (7) Julianna Werffeli, Dartmouth | (6) Jenny Wei, North Carolina | (5) Ella Hansen, Oregon |
| Round 3 | (9) Ellen Au-Yeung, British Columbia | (10) Maddie Gilbert, Western Washington | (11) Domenica Sutherland, Texas | (12) Nhi Nguyen, Colorado |
| Round 4 | (16) Danielle Byers, West Chester | (15) Naomi Morcilla, British Columbia | (14) Caitlyn Lee, Dartmouth | (13) Shayla Harris, Stanford |
| Round 5 | (17) Caitlin Go, Stanford | (18) Claire Trop, Dartmouth | (19) Hallie Dunham, Stanford | (20) Hayley Wahlroos, Oregon |
| Round 6 | (24) Linnea Soo, Whitman | (23) Ashley Powell, NC State | (22) Lindsay McKenna, West Chester | (21) Laura Gerencser, Texas |
| Round 7 | (25) Julia Kwasnick, UC Santa Barbara | (26) Alissa Soo, Whitman | (27) Naomi Price-Lazarus, Carleton | (28) Michelle McGhee, Stanford |
| Round 8 | (32) Liz Hart , West Chester | (31) Kelli Iwamoto, UC San Diego | (30) Hani Pajela, UC Santa Barbara | (29) Piper Curtis, Dartmouth |
| Round 9 | (33) Sarah Russek, Pittsburgh | (34) Elisabeth Parker, North Carolina | (35) Megan Wilson, Tufts | (36) Janelle Siwa, British Columbia |
| Round 10 | (40) Marissa Land, Texas | (39) Hannah Crowley, Tufts | (38) Brittany Wright, Michigan | (37) Margo Urheim, Tufts |
| Round 11 | (41) Kelsey Bennett, Colorado | (42) Naomi Johnson, British Columbia | (43) Lien Nguyen, Florida | (44) Valerie Willocq, Tufts |
| Round 12 | (48) Isabel Arevalo, Carleton | (47) Kaitlyn Harper, British Columbia | (46) Annelise Peters, Ohio State | (45) Corinn Pruitt, Ohio State |
Highlights:
Hayley Wahlroos was one of the most controversial players taken. There was a reluctance to take her from some due to the risk that comes from her aggressive throwing style. Daniel, however, was happy to have a player of her natural talent and playmaking ability fall to him at the end of the fifth round.
Keith's sixth, eighth, and ninth round picks were all players Daniel hoped to take with his ensuing picks. Some unkind words may or may not have been spoken with each of those picks. No blue cards were issued.
Charlie was on hold with AirBnB for much of the draft (our house didn't have internet). His phone was on speaker, so the hold music was the soundtrack of the draft for the three of us who were all drafting together. In a stunning upset, the song was a banger.
MK led the group in terms of surprising picks. Hani Pajela, Brittany Wright, and Lien Nguyen were three players that weren't on anyone else's draft board at the time.
Dartmouth, Stanford, and UBC all had five players drafted. Cornell was the only team to have none. Keith had the most players from a single team on his squad, with three players from UBC.
The Teams
Two way players in bold
Charlie's 
O-line: Sadie Jezierski (Handler), Kelsey Bennett (H), Isabel Arevalo (H), Jaclyn Verzuh (Cutter), Danielle Byers (C), Liz Hart (C), Marissa Land (C)
D-line: Jezierski (H), Caitlin Go (H), Julia Kwasnick (H), Verzuh (C), Ellen Au-Yueng (C), Linnea Soo (C), Sarah Russek (C)
Daniel: Charlie got such a head start by getting the first pick. Verzuh is so far and away the best player in the division that it's tough to make up that ground, even over the 12 rounds. He then followed that up by getting two superb support players for the game's biggest stars. Jezierski is one the division's most electric throwers, and Au-Yueng is a near-perfect complementary cutter to Verzuh. So is Danielle Byers, for that matter. Both are supremely fast and quick with elite downfield throwing ability to boot.
Keith: Even if you somehow dimmed Verzuh's brightness, Charlie's team would still be rich with height. How many teams have defenders for one of Byers or Kwasnick when you're already dedicating resources to Verzuh? Liz Hart and Marissa Land will happily dice up weaker defenders. On defense, his squad is going 100 mph, too. Does he have too many shot-takers though? Perhaps with so much size downfield, they can shift those percentages in their favor, but he's got some aggressive throwers who won't always be hot.
Keith's
O-line: Julianna Werffeli (H), Ashley Powell (H), Elisabeth Parker (H), Carolyn Normile (C), Alissa Soo (C), Hannah Crowley (C), Naomi Johnson (C)
D-line: Carolyn Normile (H), Julianna Werffeli (H), Kelli Iwamoto (H), Maddie Gilbert (C), Naomi Morcilla (C), Claire Trop (C), Kaitlyn Harper (C)
Daniel: About half of Keith's players are ones that I wanted, so it's not surprising I like this squad. At the time it felt like he drafted too many handlers4 but having Normile as a cutter on your O-line is such an intriguing twist. She's arguably the best handler in the division, but she's definitely athletic enough to be used as a weapon further downfield. That said, I actually think your D-line might be more dangerous than your O-line. But breaks win games, so maybe that was optimal strategy.
Keith: I agree with you and I adore this defense. It's malleable. Gilbert and Harper give me height, while all of Normile, Morcilla, and Trop can play above their size. Everybody here is a grinder, too, so there's a lot of toughness. The offense surrounds throwers with a lot of speed. It isn't quite as versatile as some other offenses, but Soo and Normile mitigate some of that with their throwing experience. Crowley and Johnson drawing 6th and 7th defenders? Yes, please!
MK's
O-line: Domenica Sutherland (H), Hallie Dunham (H), Annelise Peters (H), Lindsay McKenna (Flex), Julia Butterfield (C), Jenny Wei (C), Caitlyn Lee (C)
D-line: Naomi Price-Lazarus (H), Hani Pajela (H), Megan Wilson (H), Julia Butterfield (C), Jenny Wei (C), Brittany Wright (C), Lien Nguyen (C)
Keith: Yikes, MK's D-line is huge and athletic. That's a defense that can beat you up in matchup defense, but also could throw some big zones that swallow up throwers. On the other side, I love the dynamism of this offense; a defense simply cannot afford to give McKenna, Butterfield, Wei, or Lee a clear North-South option, because they can all hurt you both ways. I have some concerns about the handler group gelling. All good players, but finding the roles will be difficult. Also, I don't see how you can put a bulldog of a defender like Sutherland on offense. I'd switch her and Price-Lazarus, whose offensive patience and versatility would fit with her offense.
Daniel: For similar reasons, I'd probably also switch Megan Wilson and Hallie Dunham. In general I think MK could have done with another cutter on the O-line instead one of those four handlers she has back there. Butterfield and Wei make up a truly frightening downfield duo, though, so maybe they don't need any help down there.
Daniel's
O-line: Ella Hansen (H), Janelle Siwa (H), Laura Gerencser (F), Dena Elimelech (C), Nhi Nguyen (C), Shayla Harris (C), Corinn Pruitt (C)
D-line: Dena Elimelech (H), Michelle McGhee (H), Valerie Willocq (H), Shayla Harris (C),  Hayley Wahlroos (C), Piper Curtis (C), Margo Urheim (C)
Keith: It's hard to say how jealous I am of having Shayla Harris; the whole Southwest crew here is terrifying. McGhee is one of the smartest defenders in college ultimate right now, and along with workhorses like Elimelech, Harris, Curtis, Urheim, and Willocq, she's going to get to use her field IQ well. For the offense, this is an interesting combo. Siwa and Hansen share a lot in common, and Gerenscer has developed into a deft cutter from the backfield. Does this offense go handler driven, letting those three get the legs churning to gain yards and create holes while the cutters set up continues? Could be effective.
Daniel: I have to say I love my defense, I think maybe even more than you love yours. But I agree there's some intrigue in my offense. I was hoping to get a handler a little more complementary to Hansen in terms of style, but you stole all of the ones I was hoping to pair with her. Not sure if you remember that or not.5 Still, getting the twin cannons back there in Hansen and Siwa is a pretty nice consolation prize. Gerencser can be the workhorse in the backfield alongside those two or use her speed and length to create matchup problems downfield. Elimelech, Nguyen, and Harris are a nightmarish trio for any team to have to cover, and Pruitt is the perfect fourth cutter for a team like this.
Who Would Win?
Daniel: It's so difficult to see a way in which Charlie's team wouldn't win. Verzuh is the kryptonite to the rest of the division. I think MK's team is best built to mitigate Verzuh's impact, but I'm not sure she has the offensive firepower to match Charlie's. I really like how my squad is constructed, but I need Elimelech and Harris to have the defensive games of their lives in order to have a chance. They're both great defenders, and relatively good players to matchup on Verzuh, but I definitely would have liked to get a third athletic big I could rotate onto her. Keith's team is an intriguing one; his D-line is especially strong. But again, I just don't think Charlie messed up enough picks to squander that instant head start the fist pick gave him. It pains me to say it, but I think Charlie takes the cake here, though I would love to see all of these teams actually play each other.
Keith: It's extremely boring to just say "The team with Verzuh wins." It's right, but it's boring.
I'm happy to have Gilbert, Trop, and Harper try their hands again Verzuh. All three are very familiar with her: Gilbert from practices with Riot and U24, Trop from both of those and Dartmouth, and Harper from going toe to toe with Verzuh last season. Harper was actually one of the most effective defenders against Verzuh all year, forcing her to work a bit harder and be a little less efficient, and has discovered a stronger offensive game, and that's part of why I picked her. Butterfield and the combo of Elimelech and Harris will probably draw the assignment for MK and Daniel's teams. Strong options.
On the whole, I like my team the second most after Charlie's, and would rank Daniel's a close third and MK's an even closer fourth. There's a lot of talent to choose from.
---