The Darkside Way vs. The Program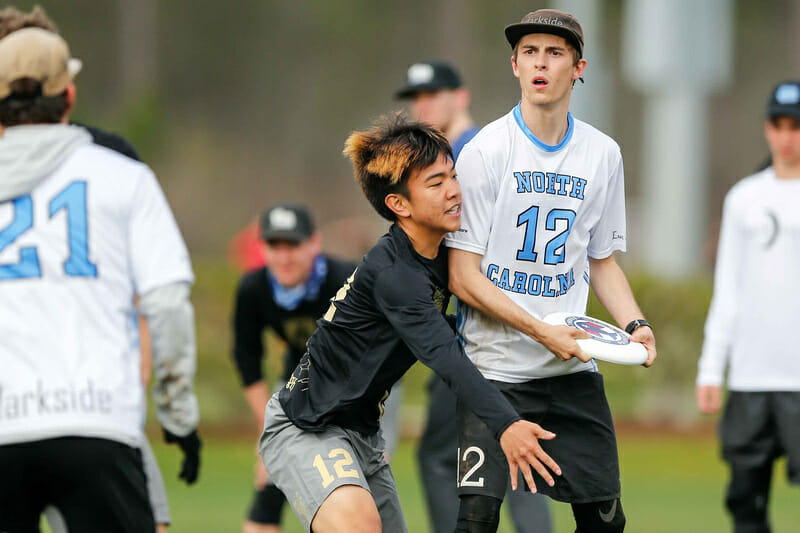 Coverage of the men's division at the 2018 D-I College Championships is presented by Spin Ultimate; all opinions are those of the author. Please support the brands that make Ultiworld possible and shop at Spin Ultimate! 
All season, we were preparing for an epic North Carolina v. Carleton clash in the championship game at Nationals. It was supposed to be inevitable, the rest of the season just a husk to be peeled away. Pittsburgh must not have been listening.
In the surprise of the tournament, ninth seeded Pittsburgh En Sabah Nur stunned the ultimate world by taking down #1 Carleton with authority in the semifinal round. It was the kind of win that only a team with no fear can pull off, a team that is only concerned with executing their own gameplan and not the pedigree of their opponent. They'll need that kind of focus if they are going to take down the other half of the UNC/CUT duopoly.
North Carolina Darkside will enter the game this afternoon as the favorite to take home the title, but yesterday's games give some reason for pause. The two teams are coming to the final from opposite directions. Pittsburgh peaked against Carleton, while North Carolina's season was almost derailed in their semifinal against Oregon. "It was probably our worst stretch of the year," said UNC coach Mike DeNardis. North Carolina went from being up two breaks early to fighting for their lives in the second half after playing an hour of ultimate they would like to forget. For the first time all weekend, North Carolina looked mortal.
UNC were able to dig themselves out of the hole they had made for themselves, but the problems that put them behind in the first place seem particularly relevant to today's final. The early stall huck turnovers, sloppy break throws, and a defense that lost its tactical advantage by letting the other team's offense use its plan A were the same problems that led to UNC's only loss of the season, against this same Pittsburgh team at Easterns.1.
The comparison is easy to make, but prognostication is harder. On the one hand, Carolina survived the most dire challenge they've had all season. On the other, they wilted in a big game and looked noticeably rattled doing it. So did North Carolina get the hiccup out of their system, or are they not as dominant as we thought they were?
Of course with Pittsburgh you can ask the inverse question. They just played the best game of their season, one of the best games their program has played in years. Can we expect the same performance tomorrow? There wasn't a new wrinkle that coach Kaczmarek unveiled, or some marked improvement on a particular weakness. They just sort of played…better.
The history doesn't look great for teams that suddenly hit a new level in one bracket game at Nationals when it comes to sustaining that level of play into the next round. UCF in 2013, Wilmington in 2014, Harvard in 2016, Wilmington again in 2017… the recent history of college Nationals is littered with teams who threw a no hitter in semis only to come back to earth in the final.
If Pittsburgh is able to pull off the upset this afternoon, it will be one of the all-time great season long improvements by a team. If you took the name off of their jerseys at Queen City Tune Up in February, you'd be more likely to identify Pitt as a mid-level Regionals team than a National finalist. It was something of an indignity for a program that considers itself to be one of the sport's elites. Slowly but surely, however, Pitt ramped up over the course of the season. By April, the signs of a legitimate contender were budding, and at Easterns they got the signature win of their regular season by handing their impending opponent North Carolina their only loss of the year.
Pittsburgh have improved just over the course of this tournament. They were given a tougher-than-it looked game by bottom seeded Florida State in their first game and lost to Brown on Saturday morning. But the team found a new gear against Washington, winning their pool and securing a bye to quarters. Come Sunday, the team was at its peak. En Sabah Nur dismantled Wisconsin before taking down Carleton in their shocking upset.
So while Pitt did just play their best game of the year, there is evidence that Pittsburgh is improving and may just be peaking at the exact right time.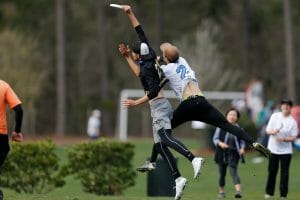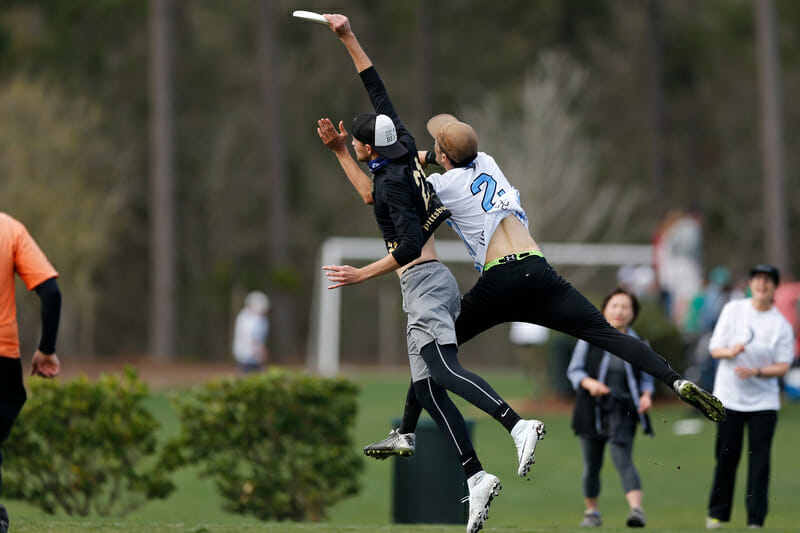 If UNC wants to turn Pitt's peak into a plateau, they will need to plan for Mike Ing. While Ing has likely been on Darkside's radar for years by now, Noah "Big Cat" Robinson showed in the semifinals that he needs to be accounted for as well. With four goals and three assists, he was the most dynamic player on En Sabah Nur's offense. Measuring in at somewhere around six and a half feet, Robinson poses a huge threat in the deep space, which is not something that North Carolina has had to deal with much so far this Nationals.
In neither pool nor bracket play has Darkside's defense had to prepare for a dominant deep threat. If Robinson plays the way he did against Carleton, he could be a real handful for a UNC defense that has limited options for dealing with elite size. Norman Archer is the lankiest player on UNC's D-line, but he has mostly been deployed as a handler cover to make use of his marking ability. If the North Carolina coaching staff wants to maintain that advantage in the handler space, they may call upon 6'5" transfer student Colin Smith to take the Robinson matchup. Smith has been excellent in bracket play thus far but lacks this kind of championship level experience. It will be interesting to see what role coach DeNardis and the rest of the leadership entrust to Smith.
While team glory will be foremost on the minds of the players, there are some individual legacies at stake as well. Both of these teams are filled with players who spent their college careers in the shadow of the accomplishments of their program's history. Whether it was the Thorne/Degirolamo Pitt titles or the Nethercutt-era Darkside teams, those legacies loom large for the current players who now have a chance to win a title on their own terms, a chance to write something into history that puts them in the same rarified air as the heroes they looked up to when they first put on a jersey.
Matt Gouchoe-Hanas could wrap up the Player of the Year award with a dominant performance, and Mike Ing has been working himself into the conversation over the course of the weekend. Today is also a clash of coaching greats. Mike DeNardis at UNC and Nick Kaczmarek at Pittsburgh have both revolutionized their respective programs during their tenure as coaches. Both have coached their teams to championships in the last five years. There hasn't been this prestigious a coaching matchup in the national championship game in quite some time.d
We've expected North Carolina to be in this game all year, and they likely have as well. No one other than Pittsburgh thought that they would make it this far. Few people will have them favored today, but in just a few hours we'll find out if they can continue to prove the doubters wrong.
---
Pitt is 4-3 against UNC since 2014, the rookie season for the teams' fifth year players ↩