UNC's potent handlers punished Pitt.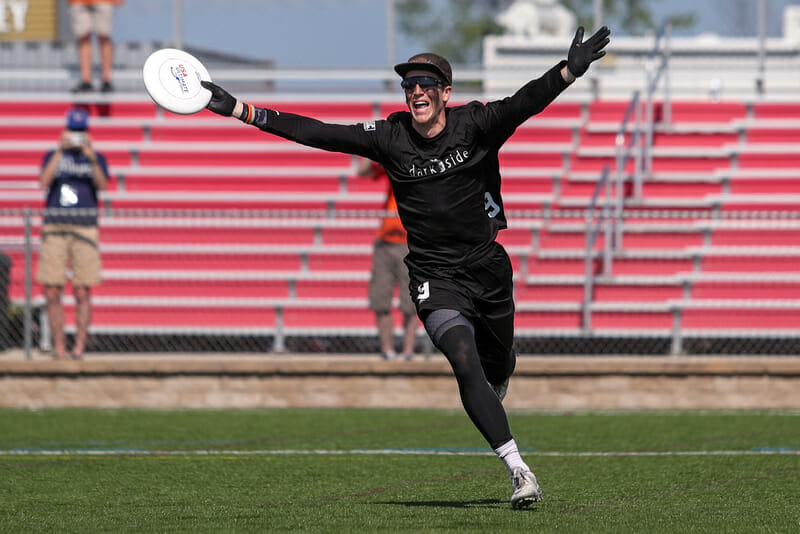 Coverage of the men's division at the 2018 D-I College Championships is presented by Spin Ultimate; all opinions are those of the author. Please support the brands that make Ultiworld possible and shop at Spin Ultimate! 
MILWAUKEE–North Carolina Darkside won their program's second national title with a 14-10 victory over Pittsburgh En Sabah Nur on a hot Memorial Day afternoon. They claimed gold on the same field on which they won the title in 2015. After a frenetic semifinal against Oregon in which they needed a late game comeback to survive, Darkside led the whole way on Monday. Pittsburgh wasn't able to recreate the magic they had on Sunday night against Carleton and, despite a late push, couldn't shake a confident UNC.
With the temperature hovering just under 90 degrees for the opening pull, Pittsburgh's Leo Warren sent a deep backhand into Carolina's endzone. UNC held with an effective, if somewhat nervy, possession. Pittsburgh got within shouting distance of a block on a couple throws, but Carolina was able to change the angle of attack and create enough space for Kai Marcus to toss an assist to Matt Gouchoe-Hanas.
It was a good start for Marcus after a disastrous game in the semifinal where he threw six of the team's 13 turnovers. Pitt would need Marcus to have another off game if they wanted to stop UNC's offense, but he was sharp, putting up three assists and, more importantly, no turnovers.
Pittsburgh came out aggressively on offense, but it became apparent from the first point that they weren't quite in sync. Two missed hucks on their first offensive possession led to a UNC break, and their deep game never improved much from there.
UNC worked to limit Pittsburgh's ability to attack the field vertically by getting the disc out of the hands of Jonah Wisch, no easy feat. The most creative method was rolling out a "box and one" zone, in which they pulled one of the deeps out of their 2-3-2 and had Nathan Kwon stick to Wisch, following him anywhere he went on the field.
It didn't lead to a turn the first time they tried it, but it stifled Pittsburgh's flow. Without a deep game to rely on, some of Pitt's weaker throwers were put in uncomfortable positions. Noah Robinson was forced to work unders, and the big deep threat turfed a flick that gave UNC a shot at a break. Carolina's D-line handlers were able to get upline cuts whenever they wanted and scored on a flip from Kwon to Elijah Long that pushed North Carolina's lead to 6-3.
"We had trouble taking away the no fly zone," said Pittsburgh coach Nick Kaczmarek. "We haven't seen them play that much small ball all season, and they small balled the hell out of us. We made adjustments to take away that small area and getting them to take riskier shots, and our O-line was struggling to do that after a turn."
North Carolina's offense had been perfect for the first quarter of the game, but at 6-4, Pitt's D-line finally started to get under UNC's skin. They generated three turnovers on a combination of blocks and pressure-induced throwaways. With the disc, Pitt's D-line looked a little skittish making throws upwind, but they were confident in Mike Ing. Leo Warren put a huck up to a covered Ing, but, as he did so many times this weekend, he delivered, getting way up for an upwind break that brought Pitt within one.
It would be the closest they got, however. Pitt's heroes were mortal. At 7-5, Pitt faced a stacked D-line from UNC and Ing muffed an open under. North Carolina capitalized with their devastating handler motion, getting up the line essentially at will to give themselves some breathing room heading into the second half.
It just never seemed like Pittsburgh was all there on Monday.
"It was a strange game mentally," said Kaczmarek. "We were giving up uplines, which is something we are typically very proud about not giving up. We just got outplayed at the end of the day. They took what they wanted most of the time."
Even when they had chances to break, they weren't able to capitalize, often for reasons that just indicated they weren't all the way dialed in. A drop on one point, a player accidently laying out blocking his own teammate on another: it just wasn't happening for En Sabah Nur. You could see them actively trying to recreate the magic from the previous night, only to see it fade from memory before their eyes.
"I don't think we transferred our energy from last night as well as we could have," said Pitt's Hafeez Shams. "I think the moment got to us a little bit."
With En Sabah Nur trailing 11-7, Jonah Wisch worked his way free and unleashed a towering flick huck that began to descend towards a pack of players in the endzone. Sunday night, it may well have found a way into one of his teammate's hands, but not in this game, and it was gobbled up by swarming Carolina defenders.
Because the game was being broadcast on ESPNU, mandatory TV timeouts drained the clock and soft cap hit after North Carolina broke to make the score 12-7.
With the finish line in sight, a specter of the Pitt team that tormented Carleton reemerged for a moment, as some uncharacteristic mistakes from Darkside gave En Sabah Nur a spark. A drop from Gouchoe-Hanas right outside the endzone gave Pitt's folk hero Hafeez Shams the spotlight. Shams elevated to catch a floaty swing and, with his defender committed to a bid, was able to slingshot an backhand huck upwind for a break.
"We had a lot of energy in the second half, because we knew it was the last half we were going to be able to play together," said Shams. "It felt really good."
With Shams bringing his sideline and the crowd to its feet, Pittsburgh flew down on the pull and Gouchoe-Hanas put too much float on a centering pass, which two Pitt defenders swarmed. Seconds later, Warren flipped to Dan Goldstein and Pittsburgh had another break.
With the score narrowed to 12-10, the largely pro-Pitt crowd came alive and if you squinted you could see Pittsburgh pulling off a storybook comeback. But Gouchoe-Hanas made sure that this was not Pitt's story.
After two of his mistakes had opened the door for Pittsburgh, he went out to the line facing a Pitt defense with renewed belief and an energy that belied the scorching temperatures. He called his own number, breaking into space on the open side for a gainer, turned, and fired a flat flick into space.
There was a lot riding on that throw. It would either add fuel to the spreading fire of Pittsburgh's comeback or snuff it out. And not only would a miss give Pitt the disc back, but a third straight mistake from Gouchoe-Hanas with a title on the line would forever color his legacy. With the stadium watching in rapt attention, all present absorbing the weight of the moment, the disc started to turn over O/I right into the path of an open Liam Searles-Bohs. He dished to Long, and Long returned it to Gouchoe-Hanas for the goal that ended Pittsburgh's run and secured his place in history.
After Gouchoe-Hanas's score, the energy on the field completely changed. Pittsburgh's comeback was over, and UNC's sideline was calm and confident. Walker Matthews put up a massive pull, one of many he had all game, and UNC's D-line chased down a championship. Nathan Kwon sped down in time to cut of the centering throw and erase Pitt's pull play. After failing to find any holes in North Carolina's defense, Pitt took one last shot at a huck. After hitting on almost everything in the semifinal, they went only 5/14 on hucks against UNC. That fourteenth attempt was a miss, and Darkside had the disc with a full field to go for a title.
After waiting his whole college career for a championship, Long didn't want to wait any longer.
He sent a massive break backhand huck curling outside-in to the endzone. Colin Smith was well covered, but because the throw was perfect, his defender had no chance. "I saw an opportunity to throw the break, and I trusted Colin to make a play," said Long. "I'm definitely thankful that he did." The transfer from Texas A&M hauled in Long's throw, and North Carolina's sideline rushed the field in jubilation.
It was a championship that will allow this generation of UNC players to stand up against the program's past success.
"Winning one means a lot after coming in as a freshman the year after they won a title," said an elated Long after receiving his winner's medal.
For the seniors on the team like Nathan Kwon, it felt like a fitting end.
"It's been building… especially with those two semifinal losses the past two years," said Kwon. "We've got this graduating class who won the 2014 YCC title with Triforce, and now with this, it just feels like a fitting conclusion to one of the chapters of my ultimate career."
Of course, Pitt players would also need to process how they felt about their careers ending, but in defeat rather than in victory. "Last night was a huge high for us," said an emotional Jonah Wisch. "Going into this game and not having a great first half was hard. But second place is something this team should be proud of. From losing our first game to Maryland at Queen City, our D-line couldn't get a single break, to being in the National final — it shows so much growth, and I'm really proud of our team."
Wisch continued on to praise his opponents and found some solace in the fact that he got to experience facing the challenge he had been hoping to take on all year.
"At the beginning of the year I told myself that if we're going to win, we're going to have to go through UNC and I'm going to have to go through Gouch," he said. "Not getting the job done sucked, but I'm glad I can say that I lost to a team that I have friends on and that I can say I'm happy for them that they won."
With a second title in four years, three finals appearances in five, and five straight trips to the semifinals, North Carolina is on one of the greatest runs a college program has ever had. And the scary thing is that this may just be the beginning. With most of their roster set to return for next season, UNC can savor this moment and look ahead to next season confident that they have the talent to repeat as champions.
Despite their name, the sun seems far from setting on the Darkside empire.