The 14 best performing players of the 2018 college season.
2018 All-American 1st Team: Women's Highlights
Ultiworld's 2018 Women's College Awards are presented by the National Ultimate Training Camp and VC Ultimate, as part of their season-long support of our women's coverage. All opinions are those of the authors. Thanks for supporting the brands that make Ultiworld possible!
We are pleased to announce Ultiworld's 2018 D-I All-America teams. These 14 players were selected for their performance in the 2018 college season, looking at both the regular season and the full college Series, including Nationals. Please join us in honoring the best college players of this season.
Also be sure to check out our Player of the Year and other individual awards from the 2018 D-III college season.
First Team
Carolyn Normile (Pittsburgh)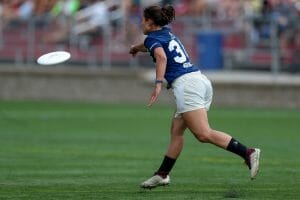 Normile brought an exceptional level of skill and understanding to the field this season, overflowing with throwing prowess and vision that powered Pittsburgh to their best finish in program history. Her highlights were innumerable and her impact on games was evident virtually every time the 2018 Player of the Year took the field. But Normile also brought an important energy to Danger, a blend of poise and intensity that said "Everything is going to be alright…I'll make sure of it." Her confidence and drive were a beacon for a team aspiring for reach beyond its previous boundaries. With that combination of ability and leadership, Normile was a lock for 1st team.
Jenny Wei (North Carolina)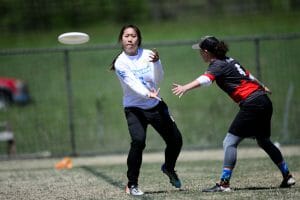 We knew that Jenny Wei was going to be a huge impact player from the beginning of this season and she did not disappoint. There were very few games where Wei did not clearly look like the best player on the field, and her diverse skill set meant she could play every position for UNC. The most terrifying part of Wei's game is that she still seems to have room for growth. Considering that she's already one of the best throwers, defenders, and deep threats in the women's division, it's time to start asking what her ceiling truly is. While it seems that she's in for a long and illustrious club career, we still want to appreciate how lethal she was this year. Wei was a walking highlight reel all season. Few other players can make that claim.
Jaclyn Verzuh (Dartmouth)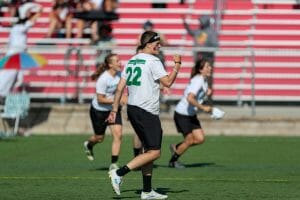 Jaclyn Verzuh's role on Dartmouth changed this year, and she didn't have to make as many Sportscenter-worthy plays in order to help her team win another title. Even in a new, more conservative role, however, Verzuh left little doubt this season that she's one of the best players in the country in either division. You never want her on any team other than your own. Verzuh's field sense helps her find and create the perfect space at every moment in a point, drawing a defense's full attention anywhere she moves. This season, not only did her beautiful throws make her a dangerous midfield facilitator who could, on a dime, explode into the deep space and crush dreams, she also opened up opportunities to highlight the talents of her teammates. What more could you ask for from a superstar?
Julia Butterfield (Stanford)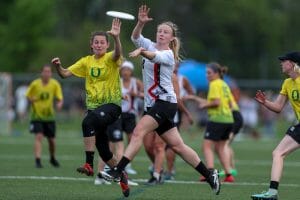 Over her five seasons with first Notre Dame and then Stanford, Butterfield has honed her raw power and speed into a full ultimate package that includes big throws, quick footwork, and an acute ultimate IQ, particularly on defense. Butterfield anchored Stanford's deep space this season, either taking the toughest downfield matchups or playing deep deep in their zone defenses. On offense she could play any role on the field, and her 10 goals and 13 assists at Nationals offer just a taste of this star's on-field impact.
Caitlyn Lee (Dartmouth)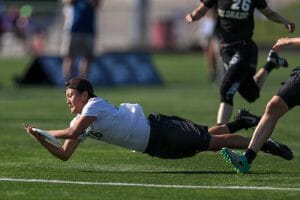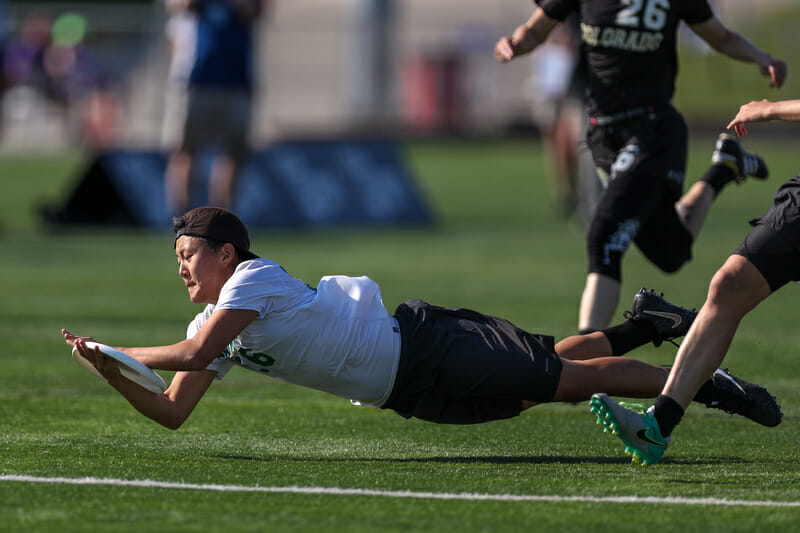 Lee's ascendence this season is made all the more impressive considering the players who joined her on the field every game. We always knew the depths of Dartmouth's talent, but Lee rose out from the ranks with her dynamic throws and boundless energy. Lee was an active fire hazard, burning her marks and lighting up the field with scorching throws. Nothing was quite as demoralizing to a defense as having Lee score multiple times in the endzone with the same play, and yet that happened all season, against every opponent. In the Nationals final, Lee outplayed every defender Colorado threw at her, and scored over half of Dartmouth's 15 goals. That's just a small glimpse of her otherworldly performance in Milwaukee. There's an argument to be made that Lee was Dartmouth's best player this season. She certainly made the case for it at Nationals.
Dena Elimelech (UC San Diego)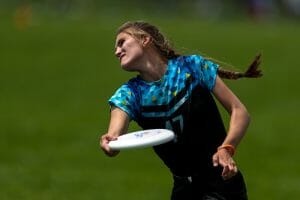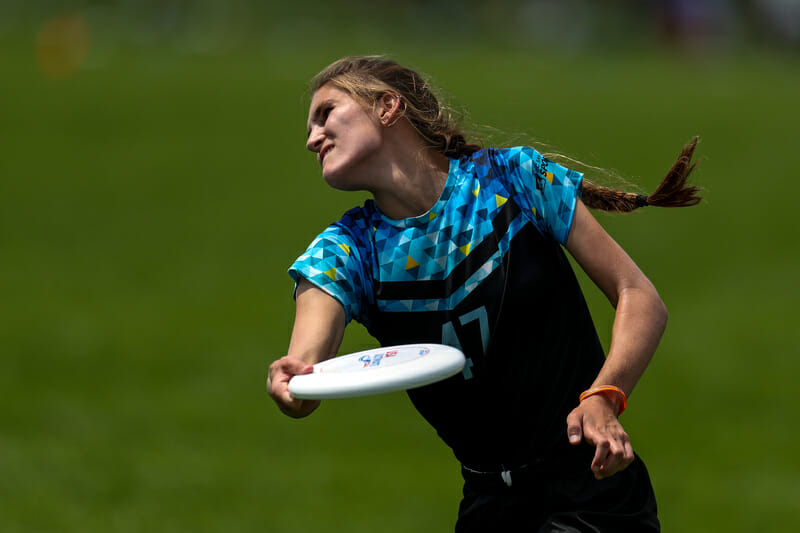 Attempting to explain the impact Elimelech had on the women's division this season would undoubtedly end up as a disservice to the UCSD senior. Elimelech burst into the POTY conversation after UCSD won the Stanford Invite in dominant fashion. No team seemed ready to deal with her supernatural athleticism and unending endurance. None of the other All Americans on this list saw as much game time as Elimelech. UCSD's versatile star played almost every point for the team, and was critical to their success all season. She would fit into any position that the Psychos needed and was a skeleton key for the UCSD offense, unlocking the field in a way that few other players could. On defense, Elimelech's size, speed and field awareness could shut down huge swaths of the field on any given point, frustrating handlers and exhausting cutters. When UCSD played person defense, their opposition had to accept that they were essentially down to six players, it's as simple as that.
Ellen Au-Yeung (British Columbia)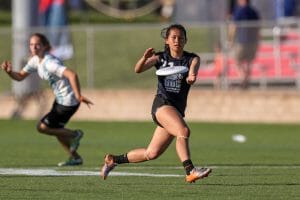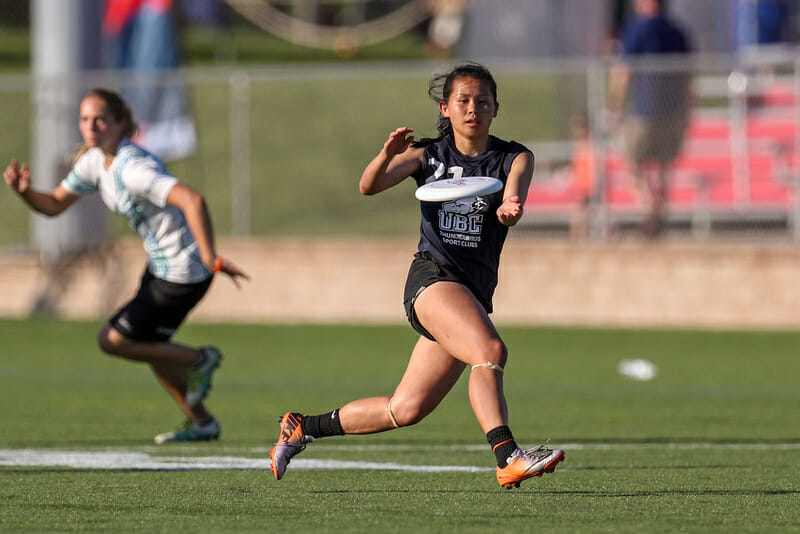 One of the division's most dynamic two-way threats, Au-Yeung was a terror downfield on both offense and defense. Her force of will was palpable in some situations, manifesting as a combustible first step and incredible ability to get off her feet in a snap. That lightning-in-cleats quickness allowed Au-Yeung to win isolations on both sides of the disc, tussling with some of the division's best and going pound for pound. She played the game big — big hucks, big catches, big blocks — and her impact was sized accordingly.
Second Team
Ashley Powell (North Carolina State)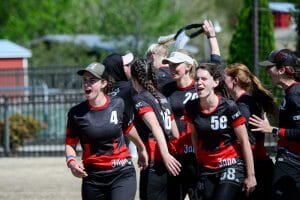 There were two players at Nationals who threw for over 20 assists that also had a positive assist to turnover ratio. Powell managed that feat (33 assists to 27 turns) while also throwing over 60% of her team's goals. Oh, and she scored four, which brought her overall goal responsibility to 71% for NC State. Powell exploits on offense earned her Offensive Player of the Year honors as a result. If Player of the Year were an award for the player most important to their team, then Powell might have won that instead. She was a lights-out offensive force all year, and put together one of the most impressive throwing seasons in recent memory.
Julianna Werffeli (Dartmouth)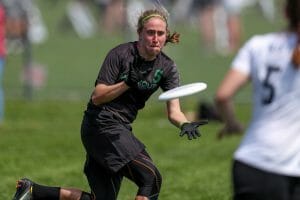 The other player to top 20 assists and have fewer turnovers than assists? Julianna Werffeli. Werffeli continued to be her impossibly consistent self in 2018, virtually never making a mistake and helping her talented teammates to play their best around her. Her 15 turnover weekend at Nationals is incredible considering how many times she touched the disc. Her 141 touch, three throwaway game against Stanford was bonkers, but also perfectly emblematic of the type of player Werffeli has been for Dartmouth. She doesn't make as many highlight reel plays as some of her teammates — though she certainly manages a fair few — but she is the eternally dependable vehicle that drives her team forward. This year the destination was a second consecutive national title.
Shayla Harris (Stanford)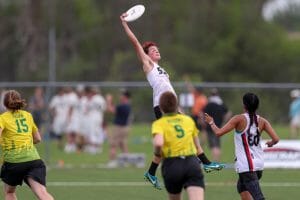 It's possible that Shayla Harris played every point of this season for Stanford,1 so ubiquitous was her presence. Harris took tough matchups for Stanford in every game they played, and even after playing ten points in a game, Superfly could still count on her to run down a huck at full speed. But labeling Harris as only a defender or speedster ignores her capable deep throws, her agile mark, and her astounding vertical. Harris is as complete a player as any in the division, a Swiss army knife of a contributor that allowed Stanford to rotate through a variety of gameplans by plugging her into any role to execute.
Claire Trop (Dartmouth)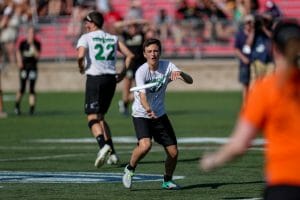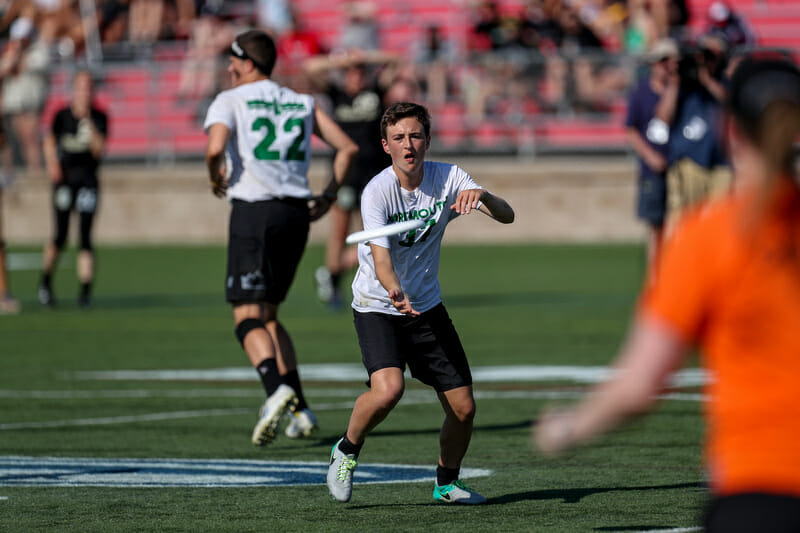 Trop may have put together the best freshman season in the history of the division. It's truly staggering that she led the division in +/- at Nationals — both in total and on a per game basis — and second place wasn't all that close. Trop's mammoth stat line may stem in part from Trop often drawing opponents' third or fourth best defenders, but make no mistake: Trop's speed and skill earned her most of these goals regardless of who marked her. Truly, Trop was an absolute terror for Dartmouth this year. Her combination of athleticism, skill, and defense made her one of the most impactful two-way players in the division. She didn't just benefit from her teammates creating matchup issues, she was one of those matchup issues herself. What a future lies ahead for this rising superstar.
Ella Hansen (Oregon)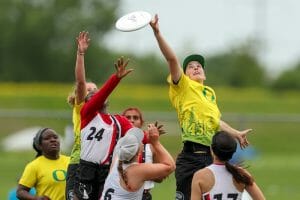 If you're looking for a perfect mold of a modern central handler, Ella "One Throw" Hansen ticks all the boxes. Hansen has a knack for making zones look meaningless and poaching defenders look foolish. She had the third highest assist tally at Nationals with 27, which is a testament to how easily she could find her receivers in the endzone. Of the teams that made quarters, no other team scored off hucks as often as Oregon, in no small part due to Hansen's playmaking ability. But Hansen wasn't just one of the best pure handlers in the division, she was also one of the best defenders. She racked up 11 blocks at Nationals and was even more effective for Fugue during the regular season. With such a small roster, Oregon relied heavily on Hansen to make big plays in almost every game. She consistently delivered.
Kelsey Bennett (Colorado)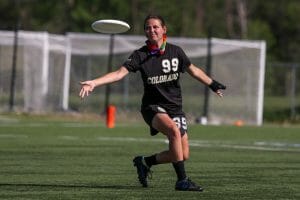 The star of Colorado's surprising run to the national final, Bennett was an assist machine in Milwaukee. She ended the weekend with 31 helpers, which was good enough for second most in the division. Bennett displayed an impressive hucking ability at Nationals, but the most impressive part of her game this year was her break throws. She rendered many a mark virtually pointless, and that ability was an invaluable tool for her team's offense. Bennett shouldered a huge load in the Colorado backfield this year and lived up to that role in a big way, particularly at Nationals. Without her, Colorado certainly would not have found the same magical Nationals success they did this year.
Laura Gerencser (Texas)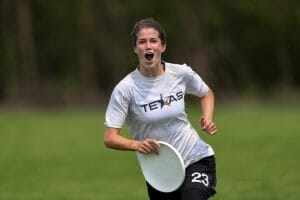 One of Texas' primary handlers in 2017's national runner-up campaign, Gerencser carried over her elite throwing ability to this season, while also emerging as a dangerous downfield cutter. Gerencser's athleticism and height made her a nightmare to cover downfield when she decided to leave the backfield, and she was used to great effect in both spaces in the Texas offense. In Milwaukee, she led Melee in goals and finished second in assists. She also was a tremendous defender, putting her quickness and length to use with her shutdown marks. Gerencser's well-rounded, complete game helped her finish an impressive fourth in the division in per-game +/- at Nationals. Had Texas been able to make it further into the bracket, she likely would have found herself on the first team this year.
---
Not really, save your email Scott ↩