The two favorites made the final, but look deeper and you'll see plenty of surprises.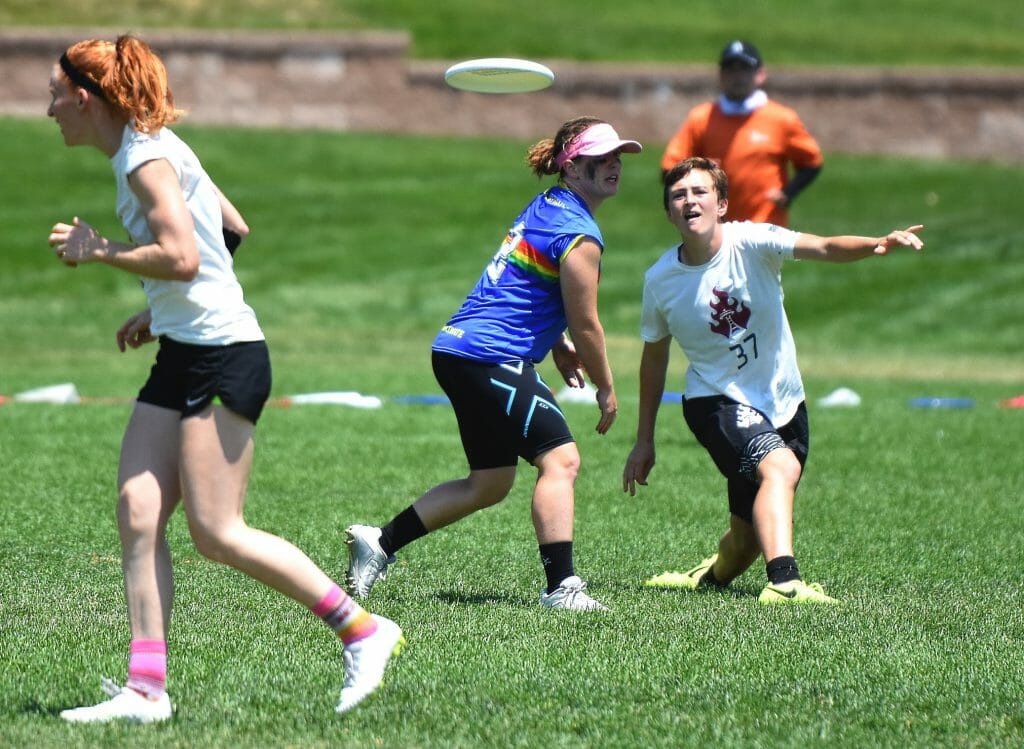 Ultiworld's coverage of the 2018 Women's Division is presented by VC Ultimate; all opinions are those of the authors. Please support the brands that make Ultiworld possible and shop at VC Ultimate!
BROOMFIELD, Colo. — The action at the Pro-Elite Challenge gave us our first look at many of the best women's teams in the nation. Despite some teams declining to attend the tournament as they prepared for Worlds, the tournament was still packed with high-level talent. There were big bids, huge hucks, and double game point victories. And for the first time in PEC history, a 15th seed made semis.
With the abundance of talent on display and 44 full games played, it can be difficult to track everything that went down. So if you want to catch up on everything important that happened, we've got you covered. Here are the seven main takeaways from the Pro-Elite Challenge.
1. Riot's Sarah Griffith leads her team to a TCT victory one last time.
By now, Sarah Griffith's move to the Bay has been well covered. Despite spending most of her ultimate career with Riot, Surge will be taking her talents to Fury as soon as WUCC is finished. This gave her one last chance to earn a victory with a team she's played with for over a decade.
Riot started the tournament with three convincing wins over Austin Showdown, San Diego Wildfire, and Columbus Rival.  Those three teams all played well, but in each game, Riot would build up a lead early and close them out without too much trouble. The talent gap is undeniable.
Surge was extremely impactful in all three games. Her athleticism and field awareness gave her a number of run-through and aerial blocks, which Riot quickly turned into breaks.
In bracket play, Griffith matched her Saturday performance with an equally dominant showing on Sunday. Riot ran roughshod over Nightlock in quarters, allowing the San Francisco team only two holds in the second half. Raleigh Phoenix seemed to give them their first sign of trouble in semis, going up two breaks early in the first half. But even while Riot was down, Surge was up. She tore past whichever defender was matching against her and always seemed open when Riot needed to get a pass off. She was instrumental in bringing the Seattle team back to close out the first half on a three-point run. Once Seattle realized that players like Griffith, Jaclyn Verzuh, and Molly McKeon couldn't be stopped, they quickly took over the game. Phoenix scored only one point in the second half; Griffith scored two on her own.
Winning 12-11 over Molly Brown at the Pro-Elite Challenge was the perfect ending for Griffith's USA Ultimate season with Riot. While she wasn't able to dominate the game in the same way that she did against Phoenix, Surge still had an impressive final. She earned two crucial blocks. Time will tell if she ever returns to the team, but if this is the end, at least she left them with one final TCT title.
But she's not done yet: there's a World Club Championship defense coming up next week.
2. Whether teams liked it or not, the altitude was a huge factor.
You wouldn't be able to tell just by watching a livestream or following online, but the altitude was a major contributor to how things played out in Broomfield. While it can be hard to quantify how much it mattered, every team was quick to acknowledge the effect it had on their game. "When you have to play in this type of heat and altitude, fatigue sets in quickly," said Robyn Wiseman. "I know we struggled with overthrowing our receivers late [on Saturday]."
The altitude didn't just affect teams late in the day: it was a factor from the offset. From the first pull, teams were overthrowing their receivers in the thin air and burning out on long points. Timeouts became a crucial factor in games, giving players a chance to catch their breath and regain some energy.
If altitude is ever doubted as a factor, consider this: six teams across three divisions made it to the finals in Broomfield. Four of them were from Colorado. Home-court advantage doesn't always apply in ultimate, but it does in Denver.
3. Start getting excited for Northeast Regionals today
One of the most pleasant surprises from the weekend was the impressive run New York BENT went on this weekend. Just looking at their pure wins and losses doesn't accurately reflect how well they played. Every pool play game was tight. Against Nightlock and Scandal—two of the best teams in the nation—BENT only lost by two breaks and played tight with their opponents right to the finish. New York's roster is still very young, and that played to their advantage on Saturday. With most teams in their pool still calibrating with the altitude, BENT went out and used their energy to hunt down blocks and outwork their competition.
Unfortunately, their youthfulness also had its downside. BENT was unable to finish games as strongly as they started. Despite finishing with a solid 3-3 record at the tournament, BENT had chances to win their games against Scandal and Nightlock, too. In both games, BENT was up early in the second half and couldn't close out while they had the momentum on their side. "We have a really raw, young team, and we don't need to ask them to fight, they just do," said captain Luisa Neves.
BENT's success is good for the Northeast but also could throw the region into chaos. Brute Squad will surely take the region's autobid, but after that, there are four highly competitive teams that will have to fight tooth and nail to earn their own bid if they want to feel safe at Regionals. Boston Siege, Toronto 6ixers, Quebec Iris, and New York BENT will all be vying for their chance to make it to San Diego. If one of them doesn't earn a bid, things get very interesting.
4. A healthy Molly Brown might be indomitable.
No team this weekend took control of their games quite like Molly Brown. The Denver squad ground down their opponents in pool play and had an abundance of raw energy that put their opponents on the back foot. Molly Brown would emerge from pool play having allowed only ten points by their opponents combined. The team with the next best record, Seattle Riot, allowed more than double that. Until they met Riot in the final, Molly Brown's plethora of talent easily overcame all opponents.
Unfortunately, Molly Brown had to use their roster depth more than they hoped. "Unfortunately, we never just have one type of injury. Sickness, concussions, shoulder problems. All sorts of injuries. Collectively we've lost too many. We're going to do anything we can to get healthy," said coach Joe Durst.
In the build-up to Worlds, the injuries and missing roster players had to be discouraging for the team. Large contributors like Nhi Nguyen and Megan Cousins (who is studying in New York) were out from the beginning of the weekend and were joined later by Maggie Chen on Sunday. Perhaps the most crushing injury of all befell Hannah Leathers, who went down with a knee injury in their game against Scandal. It was later confirmed to be an ACL tear, a disastrous injury only made worse because she had just returned from labrum tears on both hips. The Pro-Elite Challenge was her first tournament back.
These injuries have weighed heavily on a team known for its optimism and positivity. Molly Brown came out aggressively in their game against Riot, but it's hard to be fully engaged when your teammate has just suffered a season-ending injury less than an hour before. To make matters worse, the hard cap went off seconds before Riot scored to take a 12-11 lead, ending the game and denying Molly Brown a chance to retaliate.
Mentally, these two blows must have been hard to handle. That doesn't mean Molly Brown cannot find some motivation from it.
"Losing to Riot today was the best thing that could have happened," said Durst. "No sports psychology here, just a fire for Worlds. Gives the team a chip on their shoulder."
5. Scandal's roster has changed, but their potential has not.
With the loss of 11 veterans, Scandal came into this season with some looming questions hanging over them, the most pressing of which was how competitive the team could be without players like Sandy Jorgensen and Jenny Fey suiting up. It wouldn't take long for that question to be answered. A spotless record in pool play and a win over Raleigh Phoenix to clinch third place at the PEC showed that Scandal was picking up right where they left off.
Where once Scandal was very reliant on a few key pieces to earn them wins in tight games, now coach Alex "Dutchy" Ghesquiere uses a much deeper rotation in tight games. To hear him tell it, it's all about playing to your strengths.
"This year we're equally distributing our roles, relying a lot on our depth," he said. "We're building our offense according to the talent we have. Using their strengths as best we can."
Scandal may not have as many world-class players, but their young talent is certainly stepping up into larger roles. Keila Strick, fresh off a gold medal with the U24 USA women's team, looked particularly strong as Scandal's initiating cutter. Her performance was matched by Lisa Kowalski in the backfield and Lindsay Soo's defensive capabilities.
Scandal's building a much younger core, but don't mistake that for an inexperienced one. Can you still call it a rebuilding year if Scandal seems poised to finish in the top six in the nation yet again?
6. Phoenix outperformed all expectations.
Raleigh Phoenix wasn't on anyone's radar coming into the tournament, but it's safe to say they left with all eyes following them. Phoenix easily had the best tournament of any team, relative to their ranking and expected finish. While they did manage to land in a pool where most of their competition was rebuilding after losing key contributors, you cannot take away much from their 3-0 record. Making the semifinals against Riot was just the cherry on top. Raleigh outworked most of their competition throughout the weekend and put themselves on the map as a top ten team for the 2018 season.
That's not to say the team doesn't have room to grow. Raleigh's inexperience showed late in games where teams would creep back into contention after Phoenix rolled them in the first half. Heist almost pulled off a comeback in quarters, despite trailing by two breaks or more the entire game. Phoenix also lost their lead against Riot in semis. The young team had managed to go up 6-4 over the eventual tournament champions, but they blew the lead by halftime. A 13-7 loss to Scandal in consolation also shows how far the team still has to climb to be looked at as a truly elite program.
Still, if Raleigh can avoid these late game slumps against top competition, their ceiling is as high as any team outside the top four. It's clear that top college performers like Jenny Wei and Ashley Powell are finding a rhythm as club players. The team still has a lot to work on, but their future is bright.
7. The Southwest is still no closer to that elusive 3rd bid
With Fury all but assured a bid to Nationals and Nightlock looking well-positioned to earn another, two teams from the Southwest entered into PEC hoping to lock up a 3rd bid for the region. Both LOL and Wildfire finished 2017 just outside of bid range–17th and 18th, respectively. To earn a third bid for the Southwest, one of them will likely have to crack the top 14 or 15 (thanks to autobids).
Unfortunately, the other teams at the Pro-Elite Challenge weren't cooperating. The two teams finished with a combined record of 2-10. It's not as if they were without chances. Wildfire lost twice on double game point and had another close game against Rival that looked like it could have swung in their favor. LOL also played their tournament with a bit of a handicap: the Bay Area team came to Broomfield with the smallest roster of the tournament, and it clearly affected them at the end of close games. LOL could hang tight with any team for the first half, but most often finished the game down three or four breaks.
Wildfire may be lurking at the back end of the rankings thanks to wins over Underground and Schwa in consolation, but they will still have work to do later this season. Margins will be thin.
Top Tweets
https://twitter.com/PhxUltimate/status/1016084108173283330
https://twitter.com/PhxUltimate/status/1016222276172124160
https://twitter.com/RivalUltimate/status/1015391922209189888
https://twitter.com/RivalUltimate/status/1014185989068095488
https://twitter.com/traffic_ulti/status/1015694598566391808
https://twitter.com/ChicagoNemesis/status/1016491001442168835