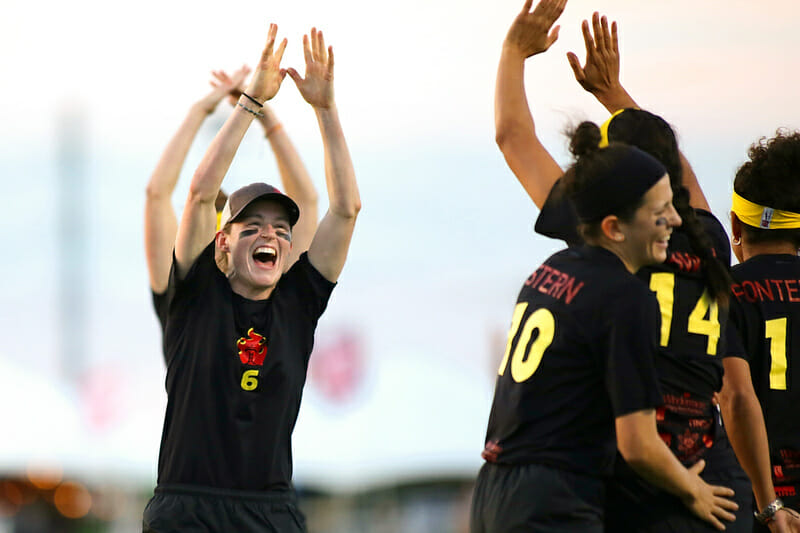 Sarah 'Surge' Griffith will be lining up on both sides of one of the sport's great rivalries this season, playing with Seattle Riot through WUCC before joining San Francisco Fury through the remainder of the club season and Series.
Griffith is moving to the Bay Area later this summer and was not going to be able to commute back up to Seattle through the rest of the season. While Griffith did not appear on Fury's initial roster1 and is listed without special designation on Riot's, both teams confirmed that Surge will be making the switch post-WUCC.
"We feel fortunate to get a chance to compete for another World Championship with Surge in July," said Riot coach Andy Lovseth. "Surge has brought an incredible work ethic and competitive drive which has made such an indelible impact on Riot over the past decade. While we will miss playing with her once she leaves Seattle, we are delighted for our friend and where the world takes her next. We love her and she will always be part of the Riot family."
Griffith has been one of the world's best players for years, twice earning gold medals with the United States at the World Games and earning All-Club 1st Team honors four of the past five years. The Michigan product is Riot's second longest tenured player,2 having competed with Seattle's top women's team since 2008.
"What matters most to me is people understanding that I love Riot with all my heart — I've grown up on Riot, and this program and I have shaped each other in a lot of ways," said Griffith. "I'm just trying to enjoy my last season with Riot and am focused on that, not what happens after."
While she won a WUCC gold with Seattle in Lecco four years ago, Griffith is still in search of her first USAU Club Championship and will be joining a squad that has won six titles in the years she has been active with Riot. Returning most of the roster that captured the 2017 championship, Fury already looked like a strong contender to repeat; adding Griffith for the Series will only further solidify those expectations.
---
which was specified as Worlds only ↩

behind only Alyssa Weatherford ↩