Lots to learn from Colorado Cup!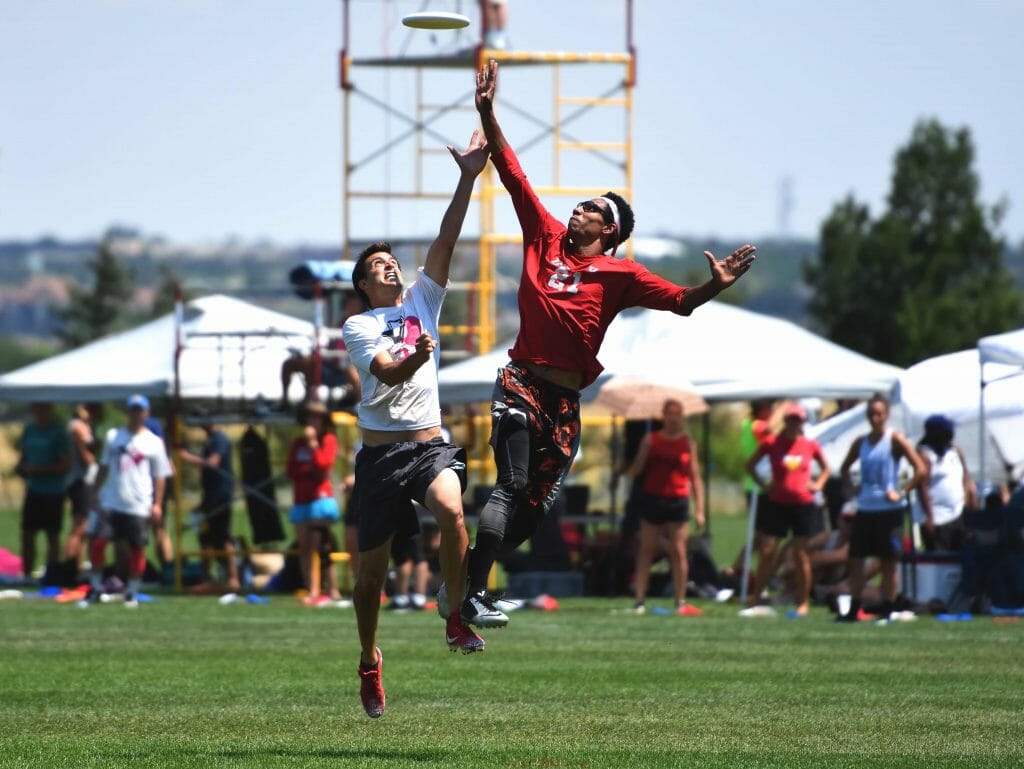 Ultiworld's coverage of the 2018 Mixed Division is presented by Universe Point cleats; all opinions are those of the authors. Please support the brands that make Ultiworld possible and shop at Universe Point!
BROOMFIELD, Colo. — Early season tournaments are notoriously poor barometers for how the season will unfold, and when you add the altitude and heat effects from this year, the 2018 iteration of the Pro-Elite Challenge was no different. That said, Denver Love Tractor left their mark on the first tournament of the 2018 Triple Crown Tour, winning 12-10 over South Central rival Fort Collins shame. Polished offense and new pickups got Love Tractor on track after a slightly shaky Fort Collins Solstice performance, and put the mixed division on notice for this season. So what did we learn?
1. Love Tractor is for real.
In the past, Denver Love Tractor has seemed like a one-man show. Captain Jack McShane was everywhere for the team on offense, often catching the disc every other throw and willing the team to Nationals. This year is a whole new game.
McShane is still an offensive dynamo, and he showed a remarkable ability to keep defenders off-balance with his tempo changes and massive array of break throws. Whenever Love Tractor seemed to slow down, he took over and kept the team moving. The entire roster stepped up with him, though.
New pickup Jesse Roehm fit right in. Coming over from Johnny Bravo, he was one of the primary initiating cutters for Love Tractor's vertical offense regardless of the opponent. He made long, decisive cuts that opened up the offense for big gains against Minneapolis Drag'N Thrust in their semifinal matchup. Drag'N tried all sorts of defenders on him, including Brian Schoenrock. Each time, Roehm found space to keep the offense moving. His connection with McShane was clear all weekend, with each one bailing out the other from high-stall situations.
When Roehm was defended, Meg Henderson stepped up instead. She found space underneath against her defenders with ease to add balance to the Love Tractor offense. When her defenders shut down those under cuts, she turned on a dime and took off deep. Against shame in the final, Henderson showed off how to box out defenders in the end zone to clean up floaty hucks and outwork her defenders for easy continue throws.
Hilary Walker impressed as well, providing a tall deep threat to stretch the field for throwers like McShane and Michael Lun. She pulled down huck after huck, often giving Love Tractor a chance to set their patient end zone offense and get easy holds.
After their final victory, McShane called out the depth of the roster as a difference-maker on the weekend. "We trust every player on the team to make any throw we need or any cut we need," he said. "There isn't a player on our squad who we need to sprint and get the disc from, or we ask to have a narrow role."
It certainly showed in Colorado. The core of this team, plus their impressive new pickups like Roehm and Stanford's budding star Hallie Dunham, have the Denver squad in great position to push into the top tier of the mixed division. Keep an eye on this team at the US Open in August. With more time to get their systems tuned, and with a few additional pickups joining, Love Tractor is in the right place to surprise the teams coming out of a long WUCC schedule.
2. Fort Collins shame continues to defy the naysayers.
Shame took a knock at their hometown tournament last month, dropping games to Love Tractor, Boise Lochsa, and Denver Mesteño en route to a fifth place finish. While they won't tell you they had something to prove, they certainly played like it this weekend. Jake Juszak is still the hub of this team, serving as both a dangerous deep target and throwing threat. He's a matchup every mixed team needs to contend with, and few have answers for.
Shame have a few top notch pickups of their own, too. Nick Lance jumps over to the Mixed Division this year, bringing his arsenal of unconventional throws and release points with him. For a team that loves busting deep as much as this Fort Collins group, adding yet another big thrower to the mix is bad news for the rest of the division. Cutters Aubree Dietrich, Joe "Smash" Anderson, and Vinny Fiacco want to turn each game into a track meet, and from how they played this weekend, they will win their fair share of those races.
"Athletic" sells shame quite a bit short. This team can match up with anyone in the Division. Combine this with the altitude effects their opponents were feeling, and it's no surprise that they ended up in the final. Even though they ran out of gas a bit in their matchup against Love Tractor, they proved to be a cut above the rest of the field in Colorado, able to put games away quickly and stay fresh in the 95+ degree heat.
By now, everyone should know that shame isn't going away, and they're more than willing to remind opponents what they can do if they aren't respected as such. They look ready to challenge Love Tractor for the crown in the South Central.
3. There's a long road ahead for Steamboat, Metro North, and Public Enemy.
Coming into the Pro-Elite Challenge, Cincinnati Steamboat, Connecticut Metro North, and Dallas Public Enemy were three teams facing the prospect of a rebuilding year. With 17, 14, and 16 new players, respectively, the teams faced a major test in Colorado to see how well they have gelled so far this season. The verdict? While they showed flashes, it will be an long uphill climb to get back to their peaks.
Steamboat had the toughest weekend, going winless while looking completely out of sorts. Brittany Winner was doing a ton of work, and their first half against Minneapolis No Touching on Saturday showed they could still compete with perennial Nationals qualifiers, they couldn't keep the positive performances going. With players like Tim Settles and Ryan Gorman still in the mix, they still have plenty of time to pull it together, but the Great Lakes will likely be a one-bid region, and this weekend leaves the door open for another team to leapfrog Steamboat.
Connecticut Metro North emerged from Colorado with a pair of wins in the consolation rounds but never looked like a threat to come out of pool play as the top seed. Losses to Seattle Birdfruit, shame, and San Francisco Mischief to start the weekend set them off on the wrong foot. Picking up wins over Pittsburgh Alloy and Public Enemy will help a bit, but in the hyper-competitive Northeast region, they are in for a fight to the end.
Dallas Public Enemy look most likely to turn their fortunes around. Led by the excellent center handling of Dani Runzo, Public Enemy were consistently competitive in their games despite going 3-3 overall and barely losing out on point differential to miss the bracket. Runzo kept the disc cycling through the offense, consistently getting open for resets. Connor Olson made strides from last year and looks like a strong downfield threat. Cara Utesch also cut well, and Dallas can take comfort in knowing they have a young core which will keep fighting for points. It will be worth watching to see what kind of progress they make in the next month leading up to the US Open.
4. Blackbird is reloading, not rebuilding.
San Francisco Blackbird had just as much turnover as the teams above, losing 15 players from last year. However, this is still a team that knows exactly what it needs to do to stay in games and come out on top. After a shaky start to the tournament, where they needed some late game heroics against Public Enemy to sneak into the bracket on point differential, they pulled themselves together to beat New York XIST on double game point after lightning created an overnight delay for prequarters. Blackbird then capitalized on mistakes by Boston Wild Card to win convincingly and push into the semifinals.
For a team at their first tournament as a unit, we were impressed with how quickly Blackbird made adjustments and pulled together just enough to make a deep run in the bracket. With Mac Taylor playing on the O-line and operating more within the system, they have a dynamic star who can take over games and also create opportunities for teammates. His connection with fellow Revolver alum Ryo Kawaoka was clear to see, as the two combined for goals and resets throughout the weekend.
Briana Cahn and Sally Mimms were great downfield, using smart positioning and well-timed deep cuts to reel in huck after huck. They were the release valves when teams clamped down on defense and forced the handlers to move side to side instead of upfield.
Speaking with coach Bhavin Parikh, he was quick to shut down any notion of a rebuild. "This year is more of a reloading year," he said. "We picked up a lot of new players, but they know how to prep themselves for a game and for a tournament."
This was readily apparent against XIST post-lightning delay. The team took a full hour to warm up and prepare for the game, and that preparation helped them get the three breaks they needed to win the game. Chalk this up as another year where one writes off Blackbird at their peril. This team knows how to win.
5. Wild Card: a tale of two teams.
On Saturday, Wild Card looked untouchable. After a bit of a struggle early against Madison NOISE, the Boston team dialed in their offense and looked untouchable on day one. Coach Mike MacKenzie called out adjusting to the altitude as the biggest challenge in the first game. "On both sides, you saw a lot of throws where people would try and put shape on [the throw] and it just held the original shape," he said. "I think we started to calm that down, recognized that was the case, and that some of those shots were going to be harder. I thought we did a good job getting open. We don't need to take those shots; we could take what we were given and grind out points on those two big runs to close out each half."
However, if Wild Card were solidly in control on day one, they were anything but to start day two. Plagued by drops and confusing throwaways, they fell to an 8-3 deficit to Blackbird and were never able to recover, eventually falling 12-8. Not having standout handler Ian Engler didn't help their cause, but this was still a team boasting All-Club 2nd teamer Hailey Alm, Matt Heath, and standout newcomer (and 2018 Donovan Award winner) Tamar Austin.
Mental errors sank Wild Card in the quarterfinals. A compressed schedule and lack of team events certainly hurt. "It's a really condensed beginning of our season with the Boston Invite two weeks ago, and two members of the team getting married last week," said MacKenzie. "We only had one 2018 team event in awhile, and with WUCC coming up, we won't have a 2018 team event for even longer. It's a weird season but we can build through August to get prepped for Pro Championships."
The long layoff between WUCC and the Pro Championships in September should be just what Wild Card need to get back on track. Expect this team to contend for a bid in an even more crowded Northeast region.
6. Mischief underwhelms in Colorado.
Mischief came into the Pro-Elite Challenge considered to be one of the contenders for the tournament title. Much was made of their off-season pickups, particularly VY Chow. Unfortunately, Chow spent the entire weekend on the sidelines nursing an injury, and the Mischief offense suffered for it. Too often, the handlers would hold the disc for long stretches, waiting for a cut that either never came or wasn't expected. The O-line looked stagnant throughout the weekend, and the propensity to hold and huck at high stall counts led to breaks from teams across the board.
Obviously, missing one of the top initiating cutters in the division hurts. The San Francisco team's D-line offense looked good, as they had more license to get out and run, but the O-line struggled all weekend. It was unclear if they were dealing with chemistry issues or just with where to have people play, but a team listed as one of Ultiworld's preseason powerhouses looked shaky, despite a 4-2 record.
With San Francisco Revolution in two weeks, followed by the Elite-Select Challenge in August, expect Mischief to improve once all their pieces are in place. However, the early look was concerning.
7. 4W:3M is the norm, not the exception.
With the new gender ratio rule in effect, this was our first chance to see how it would affect play at the elite level. The verdict? Teams were much more likely to play with four women when they had the opportunity. Many teams played that ratio on defense whenever they could. Minneapolis Drag'N Thrust called that ratio as often as it could against Love Tractor, and Denver returned the favor many times. Drag'N Thrust captain Brett Sullivan said, "[We've see] a lot of four women play this year. In that last game, we probably played more four women points than four men. It was cool to see."
Thinking back to previous mixed Triple Crown Tour tournaments, few teams outside Philadelphia AMP and Seattle Mixtape played with a 4W:3M ratio on the field. This new "end zone decides" rule had a cascading effect. Teams expected to play more 4W:3M points, which led to a more even ratio split on team rosters, and that caused teams to call more 4W:3M points during games. While some teams still were prone to playing "bro-ball," it looked like touches were more evenly distributed.
Some film review will be needed to confirm that anecdote, but the new rule may help to improve the gender inequity in mixed Ultimate.
Top Tweets
Last, but certainly not least, some of the more fun and/or too real tweets from this weekend:
https://twitter.com/bird_fruit/status/1016078747949076481
Regarding the above, Birdfruit went 2-4 this weekend, but all of their losses were decided by exactly one point!
https://twitter.com/CatOrBag/status/1015745597603794944
https://twitter.com/notouchingult/status/1015652188847202304
https://twitter.com/notouchingult/status/1015650611218604032
https://twitter.com/XIST_Ultimate/status/1015621016213708805
https://twitter.com/pghalloy/status/1015639973603749889