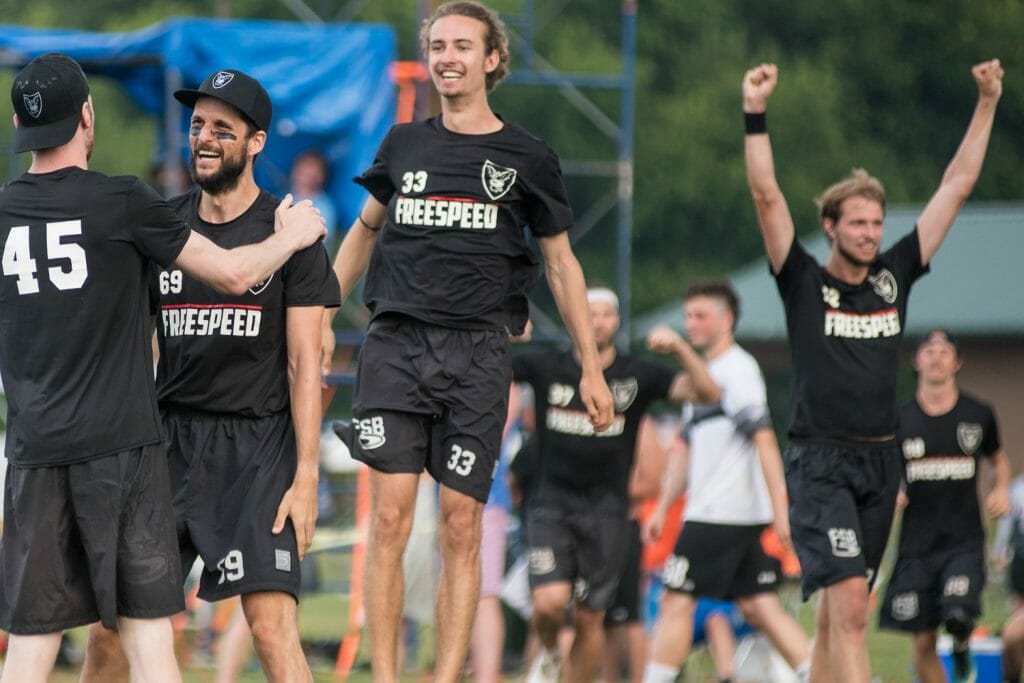 For the most part, Sunday was a standard affair: everything basically went down as expected, with the odd pre-tournament question getting answered. Here we break down day one in the Men's Division.
Group A
Nothing particularly out of the ordinary here, as reigning champions Revolver (USA) walked through their international opposition. Fenix (MEX) struggled to find their feet, falling to Hot Chilly (AUS) and Euforia (COL). Mooncatchers (BEL) had a rough opening trying to breathe life into their Frankenstein squad against Revolver. The main event of group A was the Belgians' match-up against Euforia. Despite taking half 8-7, Moon couldn't react to the Colombian's line adjustments, allowing Euforia to put themselves in a commanding group position tomorrow. The decider for a slot in the top power pool will come when they face the Australians tomorrow.
Group B
While not blowing their opposition out of the water, Doublewide (USA) comfortably went 2-0 today. Chevron Action Flash (GBR) sit atop Group B by the virtue of points difference and their ability to handle PELT (IRE) and Relámpagos (DOM) by substantial margins. In the battle for third place, Relámpagos (DOM) are the only team with a win, coming over Otso 15-13. Chevron will be eyeing up Doublewide hungrily, though that may be more than they can chew. Relámpagos are relatively safe for now, leaving PELT and Otso to stare down the reaper tomorrow.
Group C
Iznogood (FRA) and FWD>> (AUT) fell into a Ring of Fire (USA). Though FWD>> managed to soothe their burns with a 15-11 huck-laden win over central European rivals Family (GER). In an open race for second, Ranelagh (IRE) have stretched their necks ahead of the pack. Recovering from 5-2 down against Izno to go 12-5 up showed the Dubliner's skill (the 15-10 final score reveals their potential for complacency). They were able to dismiss Family 15-9 at the end of the day to finish off what was an impressive statement of their potential later in the week. Pre-tournament form would give the edge to Family tomorrow, but today's performances say the French are not done yet.
Group D
This one almost had a deviation from the seedings. Despite going 2-0, Colony (AUS) look among the most vulnerable of the top seeds at WUCC. ThebigEZ (AUT) had a strong opening half against Colony, but couldn't replicate the performance and fell 15-8 to Freespeed (SUI) later the in the day. Tchac (FRA) were able to fly past FreezzzBeezzz (BEL) in the morning and punched Colony right in the mouth on the showcase field, taking half 8-6 (when they really should have taken it 8-4), but they couldn't hold on in the second half and fell 15-12 to an impressive Australian comeback. The final game of the day saw Freezzzbeezzz lose to Freespeed in a close battle, 15-13.
Group E
Now things get a little interesting. Clapham (GBR) and CUSB (ITA) beat Shanghai Chuchai (CHN) and Sokol (RUS), respectively, in the morning setting up a presumptive afternoon battle for the top of the group. CUSB were evidently more engaged as they blasted their way past the six-time reigning European champions 15-10. The Brit's trademark second half resurgence was suspiciously absent from this affair (along with some players). Elsewhere, the group was predictable. Chuchai and Sokol both went 0-2, with the Chinese looking the more likely to win their match-up tomorrow. Comunidad El Oso (COL) carry wins over Chuchai and Sokol into tomorrow, along with a proven adeptness for effective adjustments and wide sweeping play, granting them potential upset status against the established European powers.
Group F
Goat (CAN) looked comfortable in their opening games, beating Warao (VEN) and Ragnarok (DEN) comfortably. Heat Haze (JPN) provides an interesting match-up for the Canadians, looking comfortable taking wins over Ragnarok and KFUM Orebro Frisbee (SWE). Or at least looking as comfortable as the best Japanese teams tend to do when their opposition can't stop inside breaks. Warao won on double game point against Orebro in a game that could define both squads tournaments, especially when you consider Ragnarok have gotten the harder games out of the way and will be in the mood to end worlds tomorrow.
Group G
In the battle of around vs. inside breaks, Bad Skid (GER) won out over Nomadic Tribe (JPN) 15-13. This crucial victory, along with an early morning win over Daoine Kumay (TPE), puts the Germans at the top of the group. Nomadic Tribe were more successful in their opening game, utilizing quick breaks and perfectly timed hucks to dispatch Devon (GBR). Wildcats (NZL) also went undefeated, with wins over Kumay and Devon (GBR), setting up a tantalizing match-up against the Japanese.
Group H
The final pool has a clearly defined top and bottom, with some nice muddy ground in between. General Strike (CAN) dominated, beating Long Donkeys (RSA) and Flying Angels Bern (SUI). Long Donkeys sit at the bottom due to suffering a second loss to Juggernaut (AUS). Now things get unclear. Crackerjacks (SIN) lost narrowly to FAB 15-13 and beat Juggernaut 15-14 to close out the day. This puts a deadly impetus on the Aussies tomorrow, as a commanding win over the Swiss could still earn them second place.