Finding La Fotta.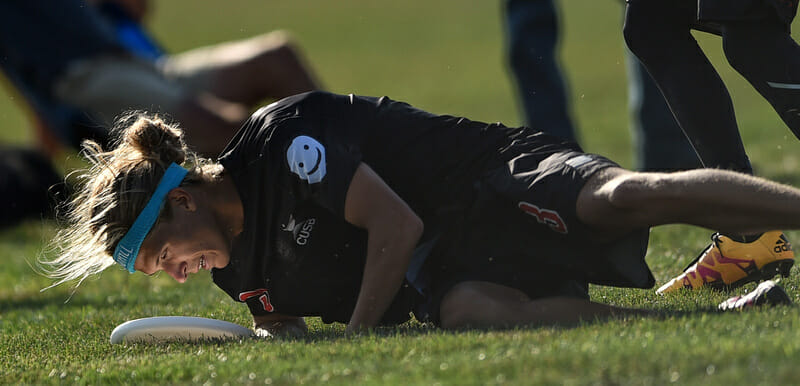 Throughout WUCC, we will be "embedding" with select teams and telling their stories with daily updates about their journey, history, and more. We call it Inside Break.
Ultiworld's coverage of the 2018 WFDF World Ultimate Club Championships is presented by VC Ultimate; all opinions are those of the authors. Please support the brands that make Ultiworld possible and shop at VC Ultimate!
In Italian, CUSB's team name La Fotta 1 translates to "the desire" or "the desire to." For captain Bruno Mine, the team name means "the desire to play, the desire to work hard, the desire to be the best team." This desire and will to get better is at the core of the CUSB program, reaching down from the Under-10 teams to the city's top squad. At the heart of this desire is program founder Davide Morri, who, for the past decade, has built CUSB from the ground up with an unwavering passion for the sport.
Sitting down with Morri, I had two questions for him: the how and, more importantly, the why. When I asked him, he laughed, "I wanted to build a program just like those of the top football clubs." Starting around a decade ago and using those club academies as a model, he offered local primary and high schools his services, going into PE classes teaching ultimate and offering a sporting opportunity after school.
"I wanted to give students opportunities to live well and stay away from drugs," he said.
As the first generation of players rose through their education, so did the CUSB program. U17, U20, and U24 teams were established, friendly rivalries were built between club teammates on their winter league teams, and intensive workout and practice routines were created. A similar system was built for girls and women in the city and is now beginning to reap the same success on the European scene. Ultimate is a yearlong activity in Bologna, and Morri is constantly recruiting players and calling them individually to bring them further into the community onto higher level teams or as coaches.
"We initially lacked coaches but the genius of this is that the U17s coach the U12s, the U20s coach the U17s, the U24s coach the U20s," he said. "Each group coaches and is coached by players in the program." The benefit of this is, as Morri explains, "it creates a train of [player's thinking] 'I want to be like him'" about the players above them. "Once players reach 18 years old, we push them hard to become coaches within the lower schools," he added.
Now the train is out of the station and is only looking to speed up, all with Morri at the helm.
But this passion, the one that built ultimate in Bologna from nothing, can precipitate more negatively on the field. An intense player and coach, the hot-headed nature of the man Bologna calls "Supremo" was on display in CUSB's second game of power pools yesterday. With a late break, the Italians were within striking distance against Ring of Fire and Morri came down on Jon Nethercutt. A matchup that had been physical but tame for most of the game now became militantly aggressive. Morri bumped Nethercutt when he caught the disc, stepped in his way, and made a momentum-halting travel call on a routine upline give-and-go.
Ring offensive coach David Allison spoke with Morri after the game. "I basically told him he changed how he was playing during that stretch and trying to rattle our players with his calls and physicality which is not ok," he said. Allison, who has known Davide for a long time, knows about his passion. "He wants to win and is a competitor at heart, but sometimes that passion gets the better of him," he said. When CUSB forced a throw just out of the reach of Nethercutt in the reset space, Morri rushed to the disc to fast break but fired it out of bounds, adding to the frustration on the Italian side.
Heading into their prequarters matchup, Mine knew the team needed to refocus on playing together. "I'm frustrated," he said. "Davide's frustrated. We're all frustrated and are going to talk it all through. We'll be fine and'll bounce back tomorrow." The CUSB post-game huddle was clear: the team would have to return their focus to their play. "Because that's when we are our best," said Mine.
But they were unable to bounce back as they had hoped. After failing to punch in two break opportunities in the first point of their round of 16 game this afternoon, they quickly fell behind to Nomadic Tribe (JPN) who's amoeba zone was too tough a puzzle for the Italians' offense to solve. And just like that first defensive point, the whole squad looked out of sync, lacking the fire and sharpness of the day before. Stuck in an emotional lull, the team trailed at half 8-5. Using the intermission as a reset, CUSB had their energy temporarily restored, rattling off three straight with two assists for Morri. But that was the last gasp for a team lacking their fire. The Japanese broke twice more and took it 14-11. They lacked "la fotta" when they needed it most.
Playing their best with a fiery spirit is a double-edged sword for CUSB, because even though that competitive fire can bring them to within striking distance of the second best team in the world and lead their U24 men's squad to a remarkable run, it can tear them down to their lowest lows. They bleed for Bologna and wear their hearts on their sleeves. But this desire can often spell failure if they are too high or too low. Too high and they find themselves left with Morri yelling at his teammates about respect after throwing a crucial turnover. Too low and they find themselves down 6-2 in the prequarters of a World Championship.
Even though the Bologna club is knocked out of this World Championship, expect to see them tearing across European events in the near future and Italian teams succeeding at international events as the program continues to grow. But to get there, and to be champions, they will need to mature. Champions don't always need to be fiery to win. Champions don't curse out their teammates in big moments. Champions don't need to cross the line to triumph in big games.
CUSB certainly has the talent and athleticism to be champions. And, in time, they may well get there because they have something no champion is without: La Fotta, the unadulterated desire to be the best.
---
The term Fotta can also translate to a term considered profane, and the team was asked to drop the phrase for WUCC 2018. The team maintains that's not their intention. ↩