An international classic headlined the rounds of 32 and 16 on Wednesday.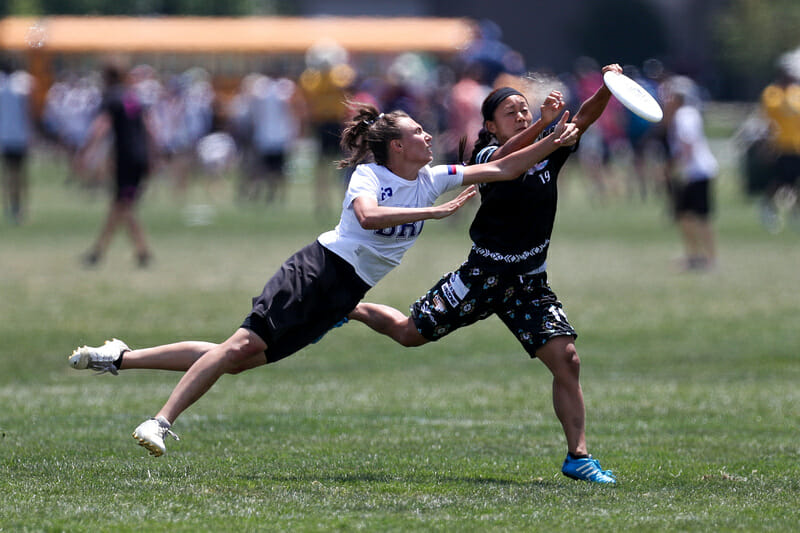 Ultiworld's coverage of the 2018 WFDF World Ultimate Club Championships is presented by VC Ultimate; all opinions are those of the authors. Please support the brands that make Ultiworld possible and shop at VC Ultimate!
After three days of pool and power pool play, bracket play of the WFDF 2018 World Ultimate Club Championships finally began on Wednesday. Four rounds of elimination games began at 9 a.m. and the drama started right away.
No. 9 seed, and second ranked Japanese team, UNO, were knocked off by no. 24, and fourth ranked Japanese team, Swampybarg 15-12. In the same time slot, Iris (CAN) came back from an 8-6 halftime deficit to YAKA (FRA) with a 9-4 second half run to win 15-12.
Traffic (CAN) defeated ZUF (SUI) 15-9 and Atletico (FIN) beat CUSB Shout (ITA) 15-11 to win the other prequarters in that round. The other round of prequarters didn't provide any upsets like the first did. Ellipsis (AUS) beat AeroSoul (COL) 15-11; MUD (JPN) topped Mantis (AUT) 15-7; Iceni (GBR) knocked off Fusion (CAN) 15-11; and Brilliance (RUS) breezed past FABulous (SUI) 15-6.
Fortunately, the prequarters rounds had more in common with that first round of the day than the second.
Brilliance played HUCK (JPN) in quarterfinals, and the two combined to produced one of the most dramatic series of events at the tournament. Both sides were evenly matched for the entirety of the game, with both offenses claiming the advantage over the opposing defenses for much of it. Both teams exhibited tremendous throwing talent and downfield athleticism, and provided plenty of fireworks.
When a spirit timeout was requested by HUCK at 11-11 is when a great game turned into an unforgettable spectacle. The HUCK players were concerned about continuous travel calls against Maiko Hara and a few other calls during the game, and wanted to sort things out with their counterparts. In the discussion between the two sides' spirit captains to determine whether a full spirit timeout was necessary, Brilliance's coach accused the HUCK players of wanting the spirit timeout simply so they could rest. The Russian spirit captains didn't see a need for a spirit timeout, either, as they saw no problem with the travel calls, but they were willing to defer to the game advisers who both believed there should be a timeout to solve the obvious issues between the two sides.
After the break to get on the same page, the fireworks returned to the field, with both teams trading highlight reel play after highlight reel play. The game went to double game point, and the two teams scratched and clawed through a lengthy multi-block point, with Brilliance looking like the more likely side to score for most of it. HUCK was eventually able to hold for the game. The game had everything imaginable in it and will live in the memory of everyone who watched it for a long time.
The other remarkable prequarter game was played between Molly Brown (USA) and Iris (CAN). Molly started slowly and made too many execution errors, allowing Iris to go on a four goal run to take half 8-6. The scoring run was extended to six for the Quebec club when they took the first two points of the second half. Molly Brown did grab one break back shortly thereafter, but Iris still held a sizable lead when they scored to make it 12-9.
Unfortunately for the Canadian side, that was the last time they scored. Molly rattled off six in a row to avoid the shocking upset bid and keep their tournament alive. Claire Chastain tossed four second half assists, with seven total along with a goal. The team hasn't looked their best at times this week, and that was certainly the case for much of the game against Iris. But they were able to survive to see another day, and that's all the bracket is about.
Results from the rest of prequarters were very straightforward, surprisingly so in the Riot (USA) vs Traffic (CAN) matchup. Riot has been the most dominant team at this tournament so far, but Traffic is one of the top programs in North America and Riot's 15-3 win was a shocking scoreline. Ozone (USA) was nearly as dominant against Swampybarg (JPN) in their 15-5 win. Revolution (COL) eased past Iceni (GBR) 15-7, Brute Squad defeated Ellipsis (AUS) 15-10, and Fury (USA) defeated MUD (JPN) by the same scoreline.
Wednesdays results set the final eight teams alive for medal contention and did so with some absolute thrillers. Five American teams are left, and they're joined by one team each from Colombia, Canada, and Japan. With any luck, the remaining bracket games will provide a few games as thrilling and memorable as Wednesday's bracket play.