The quarterfinals are set, and while every team has only to win the same number of games to medal, their paths to this point were less even.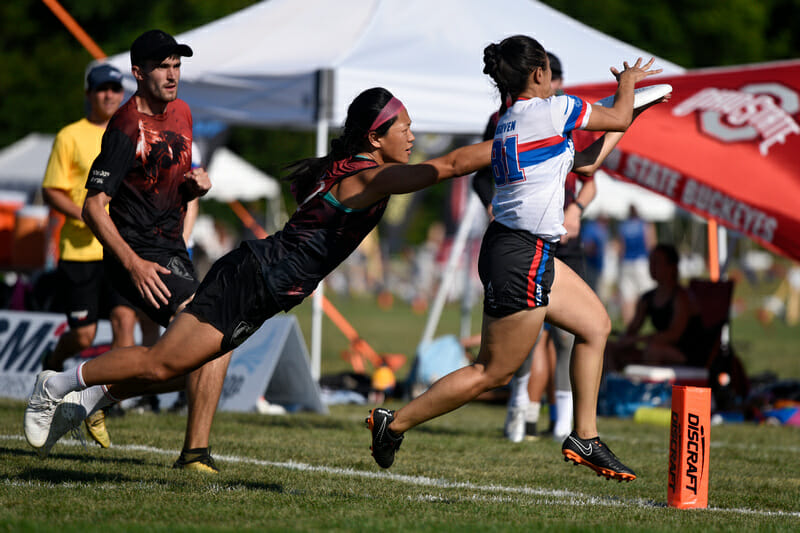 Ultiworld's coverage of the 2018 WFDF World Ultimate Club Championships is presented by VC Ultimate; all opinions are those of the authors. Please support the brands that make Ultiworld possible and shop at VC Ultimate!
Today was the watershed day in the mixed division, with two rounds of knockout games whittling the 32 remaining teams down to a final eight. Here we look into the coming quarterfinals and how the teams got there.
Mixtape (USA) vs Slow White (USA)
This game is an inevitability everyone saw coming, despite the best intentions and attempts of the rest of the world. Mixtape made short work of Smog (GBR) in their round of 32 game before coming up against Smog's northern islandmates, Black Eagles (GBR). For a brief moment at the end of the first half, the Scots dared to live their dream with a three point run to tie the game at 7-7. However, it was a short lived thrill as Mixtape took half and broke to start the second, never looking back from that point on.
Slow White have looked vulnerable on previous days but seemed to have left their bad habits on the other side of Tuesday. They defeated Macondo (COL) and Friskee (AUS) with relative ease today, winning both games 15-6, led by four assists and two goals from Tannor Johnson on the day.
GRUT (NED) vs Wild Card (USA)
So, who ordered the spice? This particular matchup is a rerun of the opening game. Wild Card won that game 15-14 with a three point comeback. In the following days, GRUT have lived a Rocky movie, falling initially before slowly remembering who they are as inspirational music swells in the background. Their performance today reflected the reemergence of their confident, huck-laden style. They handled the lightning quick surprise pool winners, Mulatto Pilipinas (PHI), 15-9 before taking down Pie Wagon (AUS) 15-10.
Wild Card have spent their time since the opening game beating back all the challengers who mistook their reliance on an opening day comeback win for weakness. In the morning, they defeated the clinical Shinshu Loose (JAP) before taking down the fiery Voltaje (COL) in prequarters, both by the scoreline 15-10. Maxwell Rick racked up eight assists in the two games, while veteran handler Robin Meyer contributed four goals and four assists.
BFG (USA) vs Crash (CAN)
BFG have looked like one of the strongest teams in this division all week long. Today followed that trend for the Seattle squad. They took down Sesquidistus (FRA) 15-8 in the round of 32, before moving past Anchor (CAN) comfortably 15-6 to book their place in the quarterfinals. Kieran Kelly tallied 10 points over the two games to lead the way for the Americans.
Crash had a more trying path. Their morning match was against the frequently underestimated and previously unknown Asian side, Chuckies (SGP). The Singaporeans have announced themselves, but couldn't overcome Crash, falling 15-10. In their prequarter, Crash were only just able to outmuscle the powerful Marvellous DC (NZL) 15-14. This marked the second universe point loss to a Canadian side at WUCC for the Kiwi's.1 Crash have shown an aptitude for digging deep when things get dirty. They'll need to pull BFG into the mud if they are going to get past the sizable American outfit.
AMP (USA) vs Hässliche Erdferkel (GER)
Tournament favorites AMP have done nothing this week to dissuade the assumptions surrounding them coming to Cincinnati. On Wednesday, led by Linda Morse's five goals and one assist, they continued their dominance with a 15-3 win over Urosoul (COL) followed by a 15-9 victory against Colorado (GER).
Hässliche Erdferkel had a more exciting route to the final eight. They faced domestic rivals Sugar Mix (GER) in the round of 32. The extensive history between the squads made this a familiar affair on foreign soil. Fortunately for Erdferkel, the surroundings were all that was new, as they yet again overpowered the Stuttgart side, winning 15-12.
In their prequarter match,2 Erdferkel faced off against Cafe de Luida (JAP). In a beautiful clash of styles Erdferkel were able to scrape past the Japanese 15-14. Starting on defense on double game point, Erdferkel were able to take the final remaining place in the quarterfinals thanks to a Japanese overthrow and some determined downfield cutting. While their offense looked strong, Erdferkel are tailor-made to move through Cafe's pensive zone. They'll need to be much quicker tomorrow to penetrate AMP's far more invasive brand of defense.
---
They lost 15-14 to Anchor in pool play ↩

and what was probably the most spirited game I'ver ever witnessed in my life ↩