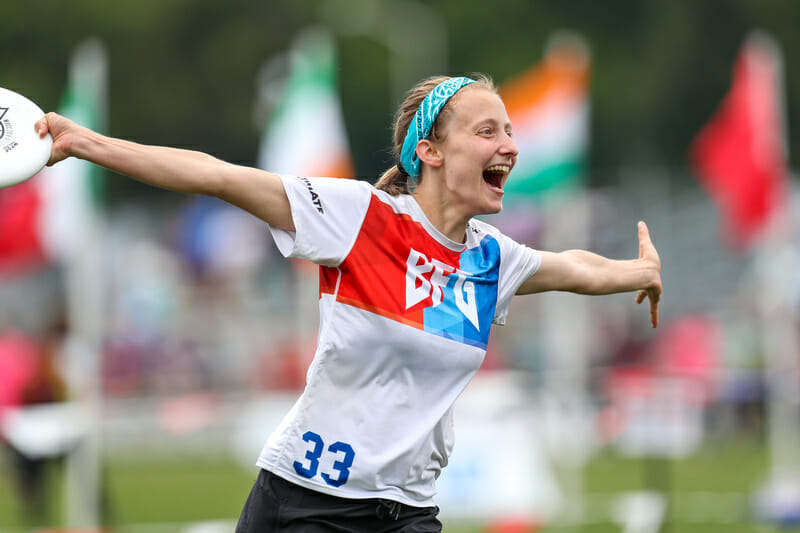 Ultiworld's coverage of the 2018 Mixed Division is presented by Universe Point cleats; all opinions are those of the authors. Please support the brands that make Ultiworld possible and shop at Universe Point!
After topping Boston Slow White 15-11 in the World Ultimate Club Championship final two weeks ago, Seattle BFG has only continued to grow stronger. BFG looked dominant throughout their 15-9 rematch win over Slow White1 in the US Open mixed semifinal on Saturday afternoon, building an early lead and expanding it in a second half in which their offense was never broken.
The two teams operated in very different fashions. BFG's O-line took a lot of deep shots to one-on-one matchups downfield. Olivia Hampton, a Slow White captain, noted that they had seen this play style from BFG at WUCC only two weeks prior and had been expecting BFG to operate in a similar way this time around. BFG did not disappoint, trusting the athleticism of their downfield targets to save possession on some contested hucks.
Despite Slow White being prepared for that style, they were largely unable to stop BFG's dominant downfield athletes. Kieran Kelly was a particularly high-frequency deep target and reeled in two hucks for scores. Alissa Soo was also an important downfield player for Seattle, scoring twice in the second half off well-timed continuation cuts. Seattle's D-line offense was more methodical, hitting up-line cuts and inside breaks, resulting in a high conversion rate on break chances.
Slow White favored a possession-oriented, high-percentage offensive scheme, but took deep looks when open or when their small-ball set stagnated. The favored look involved working the unders through several speedy women, notably Caitlin and Leanne Go. Handlers Vicki Chang and Alex Trahey were also impact players, moving the disc with a wide variety of break throws. While Slow White had some success with this strategy, BFG's tight handler defense, spearheaded by veteran handler defender Mario O'Brien, made getting the requisite resets difficult and often forced Slow White to look deep instead. Slow White's deep looks were less successful, largely a result of Leah Bar-On Simmons and Andrew Hagen, who both notched multiple downfield blocks.
Hampton remained positive in the wake of the loss. She pointed out that the US Open, as a mid-season tournament, was an opportunity for her team to build synergy and confidence as they work toward Nationals in the fall. She said that the Slow roster is full of first-year players this year, many of whom are still in college, and that a high-pressure game like this one is a great way to bring new players into the system and to prepare them for the pressure of the postseason. Several of Slow White's younger stars — like Tess Johnson and Marcel Oliart — made some big plays during the weekend.
BFG also sees the US Open as a growth tournament. Andrew Hagen said that individual growth was the primary goal for the team this weekend, and that they were providing lots of feedback for individual players. While Slow White came in with notes on BFG's tendencies, BFG did not prepare specifically for the matchup. Speedy handler Tommy Li said that the team's goal was always to play their own game and focus inward, noting that BFG tries to play within the guidelines of its team words: "a team is no one." Li explained that this means that BFG relies on every player on its roster to contribute, both on defense and offense. The team's adherence to their mantra was evident in this game: fifteen goals were scored by eleven different players, and no player scored more than twice.
BFG will go on to test their athleticism against Philadelphia AMP in the Mixed final tomorrow, while Slow White will be take on Minneapolis Drag'n Thrust in the third place game.
---
It's worth noting that Slow White has a notably different roster this weekend, given that they took their 2017 team to WUCC. ↩