Fury's defense controlled the game, helped by an efficient O-line.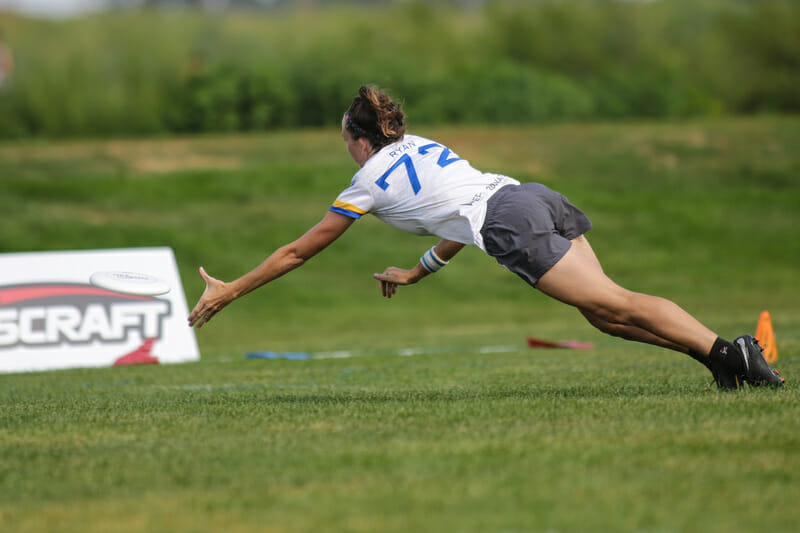 Ultiworld's coverage of the 2018 Women's Division is presented by VC Ultimate; all opinions are those of the authors. Please support the brands that make Ultiworld possible and shop at VC Ultimate!
Fury looked like a completely different team as they took the field today after only a two week turnaround from a disappointing World Ultimate Club Championships. The reigning national champions made easy work in the 2018 U.S. Open semifinals as they sprinted past DC's Scandal to a 15-4 victory.
Fury came into the game undefeated and, bouncing back after a disappointing WUCC quarterfinal defeat by Brute Squad only two weeks ago in Ohio. That recent upset seemed far from their minds during this game however, as they took advantage of quick transitions and high pressure defense that stifled Scandal's handlers into making poorly executed throws and decisions.
Fury's captain, veteran handler Alex Snyder, spoke about the team's mental game and how that has helped their transition from club Worlds to this weekend.
"We tried to focus on us, focus on the mental toughness and bringing our best game from start to finish," Snyder explained. "That's been a key to our mental focus; starting every game where we want to be, fired up, supporting each other and ready to hit the ground running."
They hit the ground in full sprint, holding quickly to start the game with a backhand huck going up from Maggie Ruden to Sarah 'Surge" Griffith for the layout and the goal. From there, Fury's tight defense put Scandal on the back foot and they took advantage of fast turns to go on an unanswered four breaks. San Francisco's defenders smothered their checks, taking away Scandal's deep looks and initiating options, and tightening up throwing windows. Marika Austin, Cree Howard, and Griffith were virtually inescapable.
Snyder spoke about the impact that Griffith has had so far on this team, crediting her for the turn around she made from playing WUCC with Riot only two weeks ago to arriving this weekend and finding her role quickly.
"On the field her contributions are many but I think what's often overlooked is her off field contributions. The fact that she showed up this weekend to this tournament and fit in seamlessly […] I think that it's a testament to her high quality as a player, that she can just come in and be part of this team. I'm sure it's a real challenge for her but she's done a fabulous job and it's a pleasure to have her," Snyder explained.
Scandal found some footing late in the first half and held twice in a row to get themselves onto the board. Fury however, stormed right back, never taking their foot off the gas, as they swiftly broke to take half. They followed that by extending their lead to 10-2 out of the break.
"Going into this game we knew Scandal was going to be a good, young, fast team," said Snyder. "They always have some interesting junk looks and interesting offensive looks so we knew they were going to make us think as well as make us work and they definitely did that."
In the second half, Scandal showed more improvement and went three for three on their deep shot opportunities. Lindsay Soo, who had been quiet in the first half, got herself involved by putting up a huck for the goal and striking deep two points later, elevating to bring down a trailing throw.
Scandal made Fury earn the last couple points of the game, but Fury were effortless throughout the match. Their O-line only turned over the disc once and their suffocating handler defense dominated all day long.
Scandal worked their way into this match up against Fury by taking down Ozone in the last round of pool play. Scandal faced other tough games in this weekend and despite the loss to Fury, they are adamant that there is still a lot of room for this team to grow.
"These teams [Fury and Brute Squad] started their season a month and a half earlier than us," said Scandal captain Keila Strick. "We are working to peak at the right time and they might burn out a little by then […] it's an optimistic way to look at it."
"Fury is a phenomenal defensive team, they gave us the highest pressure of this tournament so I think that made us have some execution errors. One on one we beat ourselves a little bit and we did have some good deep looks but we could have had more, we just have to learn from here," Strick continued.
Scandal has now made two straight semifinal appearances first at the Pro-Elite challenge in July and now here at the U.S. Open. They are a team with potential to improve and will be looking to grind their way into big games as we move into the postseason. But they played each of the three teams in attendance from the top four, and were pancaked by both Fury and Brute Squad.
Fury moves on to face Brute Squad in a rematch of the WUCC quarterfinal two weeks ago. For Fury, this is a chance for redemption and another step on route to their season goals.
"Our eyes are set on repeating as national champions and we're going to be very unsatisfied if we fall short of that goal," said Snyder. "Our eyes are on that prize and we're working every weekend, every day, towards that goal."