The women's semifinals are set for tomorrow.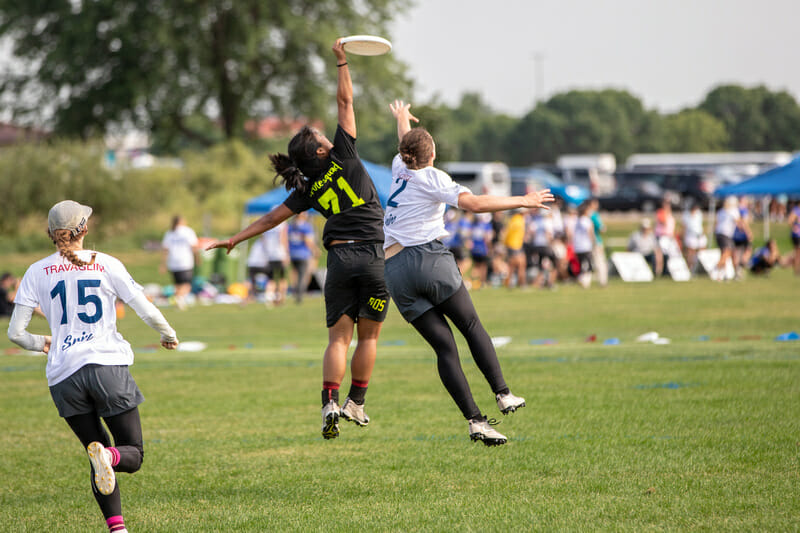 Ultiworld's coverage of the 2018 Women's Division is presented by VC Ultimate; all opinions are those of the authors. Please support the brands that make Ultiworld possible and shop at VC Ultimate!
Another rainy day marked the second day of pool play at the US Open. The top two teams continued to dominate, but day two of the tournament provided far more excitement and surprising results than did Friday.
Scandal Grabs The Result of the Day
With five rounds of pool play in the books, the semifinals are now set, and with one surprise among the final group. San Francisco Fury, Boston Brute Squad, Denver Molly Brown, and Washington DC Scandal make up the final four. Scandal, of course, is the surprise, having upset Atlanta Ozone in the final round of pool play on Saturday morning.
Entering the game, both teams were 3-1 and each had suffered their loss to the same team, Brute Squad. But Scandal's loss was a 15-3 drubbing, while Ozone's was a far more respectable 15-10 defeat. Ozone also entered the weekend as the higher seed and were the favorites to make semis before the game. But a combination of intermittent rain, wind, and Scandal's defense gave Ozone serious problems. Scandal won with a fairly comfortable 12-8 scoreline in the end, though the first half was largely back and forth. Breaks into half and two breaks out of half created a 10-6 lead after the teams had played evenly for most of the first half. Ozone were never able to cut into that lead and Scandal held out the rest of the way to the 12-8 win.
The win capped off a remarkable turnaround for Scandal, as that 15-3 loss to Brute was their first game of the tournament. Captain Kristin Franke said that the team's performance in that game was a result of the team not being in the right mental space. "I think in the first game we came in a little sleep deprived," she said. "We had people who hadn't made their flights and just didn't come in with the right kind of mental energy and intensity or grit and mental toughness. We went down a couple breaks and had a little bit of a struggle after that."
But she said that the team steadily improved with each game after that and put together their best performance in the must win game. "One of the things that we have prided ourselves on this season is 'Kaizen,'" said Franke. "That's been one of our values, which is to stay improving bit by bit as we go along, so every game we are looking to improve a little bit more each half. And so we recognize that we are a very new team, we have a lot of new faces, and it's putting together a lot of chemistry things and figuring out peoples roles and how those can work together best."
For Ozone, the game was only part of a rough day. They needed a late comeback to win over Minneapolis Pop in their early morning game, and they dropped their consolation game to Nightlock 14-13. After a solid enough Friday, their Saturday performance came up well short of expectations.
Quick Hitters
Fury and Brute Squad both continued their breezes through field. Fury had a combined scoreline of 30-6 against Black Widows and Boston Siege. Brute Squad's games weren't quite that lopsided, with a 15-9 win over Rival and 15-6 win over Pop, but they were still never challenged. Both teams appear to be headed for the final, without having really faced a true test to this point.
Molly Brown, on the other hand, had a bit more up and down day. They won both their games, but their 15-10 scoreline against Siege was closer than expected. The Molly offense lacked efficiency in the rainy first round and had to grind out holds. But later in the day, they ran away from Nightlock, winning 15-4. They play Brute Squad in semis, and they'll need to avoid the sloppiness that plagued their play in the first half of the day on Saturday.
Rival had a rough run through pool play. With their 0-2 Saturday, they finished at the bottom of Pool B with an 0-5 record. They did beat Siege 15-10 to open consolation play, but this weekend has not been a good one for a Rival team that looked like a potential quarters contender before the start of the season. They need to clean up the unforced errors with the disc if they are to get closer to that perceived potential. They did show a glimpse of it today, hanging with Brute Squad for a few points, and getting a break in the second half. But they have to find far more consistency than they've shown to this point of the tournament to be competitive at this level.