The huddle can be a powerful, helpful place. It can also be a confusing, disorganized one.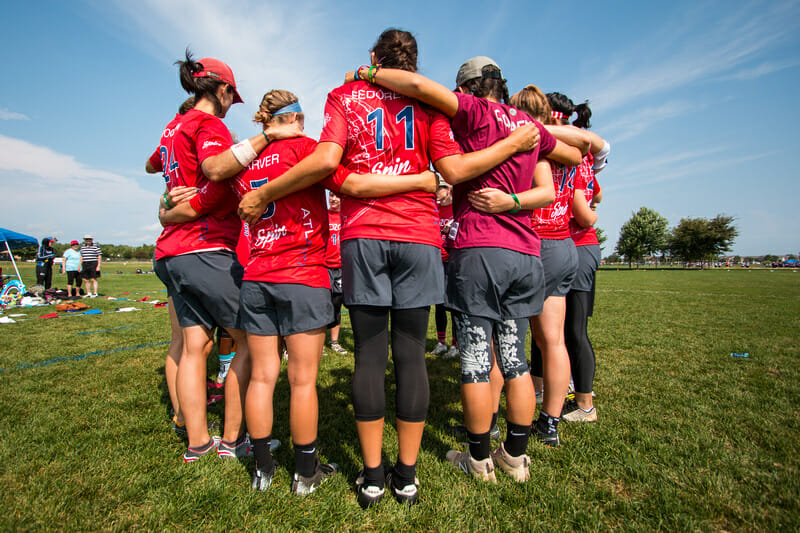 Tuesday Tips is presented by Spin Ultimate; all opinions are those of the author. Please support the brands that make Ultiworld possible and shop at Spin Ultimate! 
There are few things in Ultimate which test your effectiveness as a communicator like the huddle. You've called a timeout and have precious seconds to gather your players and deliver information. The plan is then put to immediate use and your players' success in employing the information you've delivered is displayed for all to see.
Did your players execute the plan effectively? If not, taking an analytical look at your effectiveness as a communicator and teacher can help align on-the-field performance to your strategic vision.
Let's focus on the details of how to best deliver information to the seven players on the field. For tips about strategy calling timeouts, check out Brummie's advice. All of my advice is based on an educator's approach to effective teaching which I've translated for use on the ultimate field here.
The plan is to call the timeout, formulate a plan, gather quickly, communicate the plan, check for understanding, repeat instructions, and allow for performance.
General Approach
Your overall approach to the huddle is important. Generally, timeouts are called during situations that call for adjustments to strategy or style of play. This puts pressure on those players on the field because they might have the impression they are doing something wrong that you, as a team leader or coach, needs to stop and correct.
Regardless of your players' performance, an effective huddle begins with a positive attitude. Your players know what's going on, there's no need to scold them. If you call a timeout and begin "fixing" the situation by pointing out everything they've done wrong that got them to this point, you're setting yourself up for an ineffective huddle.
Years in the classroom have taught me that no one, no matter their experience level, enjoys learning when they're made to feel bad. Your job in this situation is to teach. You have a plan, and you've got to find a way to communicate it effectively so that it can be understood and then carried out with relative ease.
Great teaching does not begin from a place of negativity. Especially in high-pressure game situations, your players will be looking to you to model the calm confidence you'll need from them on the field. Think about your body language and the tone of your voice. It's okay to be intense, but make sure your energy is focused on communicating to your team clearly. Now is not the time to yell at your players, or throw a pep rally. Take a moment to get into the right frame of mind to teach your team effectively.
1. Formulate a Plan
It's important that you embrace your leadership role and make a decision about what to do next. You may know exactly what to do the moment you called the timeout, but, if you called the timeout and now need to figure out what to do, formulate the plan away from the team. Nothing invites confusion and wastes huddle time like beginning the huddle by asking, "What do we want to do?" You're going to get several solutions that you have to sort through and the timeout is over before you know it. Also, nothing shatters confidence like your team watching you brainstorm a plan in front of them.
It's okay if you're not sure what to do. It's okay if your plan doesn't work. This can all be addressed after the game. The plan here is to call a huddle and effectively communicate a single plan of action in a minute or two. None of this can happen efficiently if you haven't made an executive decision.
You must also keep in mind that your huddle needs to have one focus. Trying to squeeze in a lot of information will confuse your team, especially if they are less experienced. As your team becomes more experienced, you can increase the amount of information presented in the huddle effectively. We tend to focus on the last bit of information we were presented with. The problem here is that in an unorganized timeout the tendency is to talk about the most important topic first, then rattle off three or four other less important instructions. This can affect performance because your players are more likely to focus on those last things you've said rather than the primary goal you've established.
Keep your plan simple and give it a single focus so that your players can be confident in what they need to do to achieve the goal you've established.
2. Gather Quickly
This is a small detail but it's worth mentioning as the movement of players to the huddle can be a factor in the effectiveness of your instruction. If players take too long to huddle you're losing valuable time. That being said, avoid the temptation to fuss at players to hurry into the huddle as it can start the huddle off on a negative note. If you have the opportunity for team practices, work on timeout and huddle procedures during practice.
3. Communicate the Plan
You have a plan, all your players are huddled, and it's within reason for some of them to wonder why a timeout was called. Start your huddle by explaining, simply, why you called the timeout. "I called a timeout so we could huddle and set up our end zone offense."
Before you launch into the plan, take a short pause. This gives your players an opportunity to catch their breath and focus on listening and learning from you. This technique also serves as a cue for the chatty players to finish their side conversations before you present important information.
Next, state the overall goal of the plan which will provide a natural transition to the plan itself. "We need this break and we just didn't have our cutters set up down field. Here's what we're going to do."
Now is the time to explain the specific play you want to set up. As you explain the plan, make sure that you give specific instructions for all seven of your players on the field. It's typical for a play to be called and only a few names be mentioned, and this generally works fine for a more experienced team, but less-experienced players may be confused if they're not told exactly what to do. Once you have finished explaining what each person should do, you need to make sure they understand.
4. Check for Understanding And Repeat The Instructions
There are several ways to do this, but one of the easiest is to simply ask one of your players to explain the plan. This may seem repetitive but there are clear advantages to this technique in that it gives your players an opportunity to think about the plan themselves and take ownership of their roles in the plan. Hearing the plan again also gives your players an opportunity to pick up details they may have missed the first time you explained the play. As the leader of the huddle, avoid correcting the player who is now speaking unless they are totally wrong. Small deviations in the explanation, as long as they are correct, may help other players understand better than you originally explained.
Now the plan is in place and it's time to put it into action.
5. Allow for Performance
If you are an off-the-field player or coach who led the huddle, it's important that you step back and allow your players to execute the plan on their own. This shows that you trust your team and it keeps the positive tone you established in the beginning of the huddle because you aren't yelling instructions across the field as the disc is being checked in.
If you were playing when the timeout was called and led the huddle, transition back into your role as a player. This transition can be difficult, especially if you don't have full confidence in your plan, your communication of that plan, or your personnel on the field. Take a few seconds to breathe, relax, and think about your responsibilities as a player for the ensuing play. Once everyone is set, avoid the urge to coach while you play. Show that you trust your teammates to do their jobs by allowing them the freedom to perform.
Keep in mind that their ability to execute your plan is a direct reflection of your effectiveness as a communicator. This concept may seem counterintuitive, but it is at the core of great teaching and communicating. If the plan wasn't executed correctly, rather than focusing on the failure of the players, a great teacher focuses on improving their performance communicating that plan and how to improve it in the future. As you improve in your ability to lead an effective huddle, the performance of your players in executing your plans will also improve.
Got a strategy or coaching concept you've been aching to write about? Ever wanted to contribute your own Tuesday Tips? Pitch your ideas to [email protected].