A big international addition for the Canadians.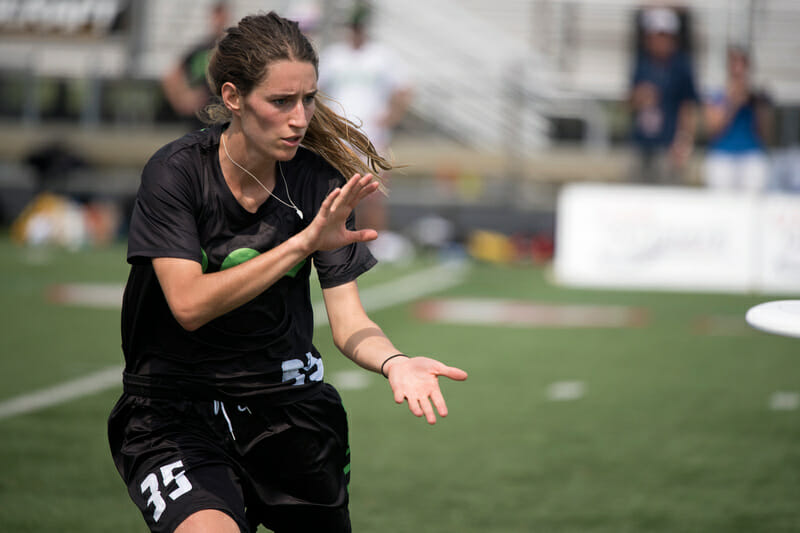 Ultiworld's coverage of the 2018 Women's Division is presented by VC Ultimate; all opinions are those of the authors. Please support the brands that make Ultiworld possible and shop at VC Ultimate!
Toronto 6ixers are adding Australian national team player Cat Phillips to their roster for USA Ultimate's club National Championships, the team announced in a cryptic tweet Wednesday morning. Phillips has been at the top of the Australian game for years, playing on every iteration of the Australian national team, as well as for Ellipsis, the top club team in the country. She most recently played on the world stage with Ellipsis at the 2018 World Ultimate Club Championships, where she logged eight goals and a team high 25 assists. In addition, Phillips plays Aussie Rules Football professionally with Melbourne Football Club in the AFLW.
The move has been made as an effort to bolster 6ixers' chances of making semifinals at USAU Nationals in October. "Since our roster is shaping up to be semis contenders, we thought some extra firepower would be the extra push we need," said 6ixers captain Jordan Meron. "We feel stronger than ever and we are ready to challenge the top teams. Bringing Cat on board means we are adding another elite thrower to the mix, but also just a phenomenal athlete who can dominate the air space. Cat has the kind of skill set that will bring out the best in her teammates and allow them to perform at the top of their game."
Phillips cited her long term friendship with Meron as the impetus for deciding to play with the Toronto club and also expressed a long standing desire to play in USA Nationals.
Phillips won't join the team until the Wednesday prior to the start of Nationals, so time to integrate herself with the rest of the team will be limited. But Phillips feels as though she can work from afar to foster a smooth transition with her new squad. "There's heaps of footage of the 6ixers available and lots that I can learn from back home, so we're confident that I'll be able to slot in once I arrive," she said.
That slot will be as a handler on the team's D-line, according to the team's coach Carla DiFilippo, who expressed her excitement at the opportunity to plug in such an experienced and talented player into her team. "We feel that the possibilities are wide open for Cat on 6ixers, but it makes the most sense for her to play on our D-line," she said. "We have no doubt she will add even more pressure to opponents' offenses and when we earn a turn, she is a confident and talented player on offense."
Phillips says she is looking forward to the unique opportunity that picking up with 6ixers will bring. "I haven't played on a team that I'm not leading for quite a long time, so I'm personally really excited about being able to turn up and just play," she said. "I'll have quite a different role on this team to what I'm used to, so I'm looking forward to challenging myself and being able to contribute to the team in different ways."
It's the second time in as many seasons that one of the Phillips sisters has joined a team for USAU Nationals. Cat's older sister, Michelle, played with Madison Heist last season at the tournament in Sarasota.
RELATED: We Are Not Twins — The Story Of The Phillips Sisters
Cat, though, says she would love to play with 6ixers in the future, not just this year. "I would love to play with them on a longer term basis," she said. "The main issue for me would be fitting it in around my Australian Rules Football commitments, but if I could make it work I definitely would." Phillips' addition to 6ixers, particularly if it is for multiple seasons, should be a boon to an already quickly rising club.
In just their third year of existence, 6ixers are currently 9th in the USAU club rankings, and they made quarterfinals at WUCC back in July. They finished tied for 9th at last year's National Championships in their first-ever appearance at the tournament.