The first day of the west coast showdown had no shortage of surprises.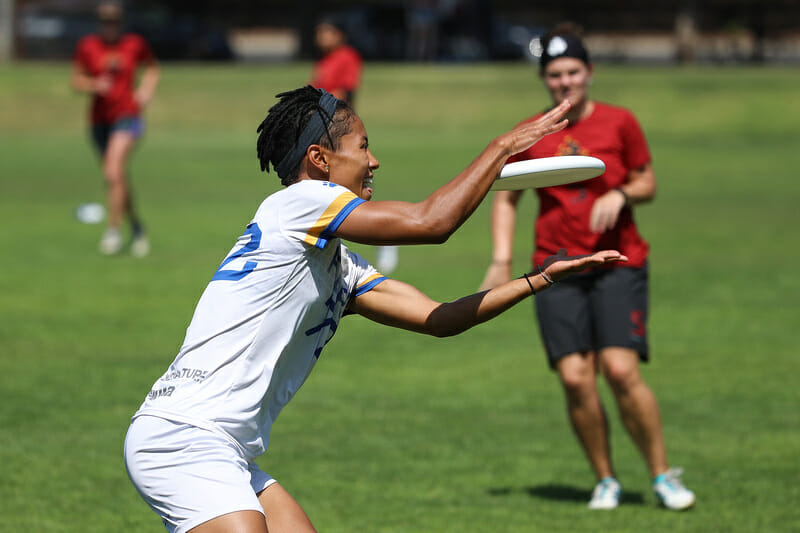 Ultiworld's coverage of the 2018 Women's Division is presented by VC Ultimate; all opinions are those of the authors. Please support the brands that make Ultiworld possible and shop at VC Ultimate!
Additional reporting contributed by Nina Horowitz and Maika Isogawa.
PALO ALTO, CA — It wasn't unreasonable to assume that there were two cohorts of teams at Bay Area Invite: the title contenders and those battling for bids. But after Saturday, those lines have been blurred by surprise performances. We have notes on day one for each of the seven teams ranked in Power Rankings.
#1 Seattle Riot Deals With Two Tough Losses
Coming into this tournament, Riot only had one loss this entire season – a 13-7 June loss to Fury during Eugene Summer Solstice which they avenged in bracket play the following day. But the Bay Area Invite provided them with tougher competition than they were expecting. They nearly lost on double game point to Nightlock in their first game of the day, and then were dealt a 15-13 upset by Traffic thanks to some beautiful offense by the Canadians. After both of those unexpected games, the team was shaken as they prepared to face San Francisco Fury.
Having earned relatively straightforward wins against Schwa (15-6) and LOL (15-5), Fury was well-rested and ready to take on Seattle Riot in their biggest challenge of the day. Fury was missing Anna Nazarov, but otherwise had almost a complete roster and seemingly boundless energy. Riot, on the other hand, was missing several athletes, including Alyssa Weatherford and Claire Trop, who just won gold medals at U20 Worlds and will be back to compete tomorrow. After a first point break for Fury, the teams traded back and forth until Riot broke to make it 7-6 in their favor. But Fury held on the next point and then broke the point after with a goal from Sarah "Surge" Griffith, closing out the half up 8-7.
As the second half wore on, Riot's struggles became more apparent. Fury handlers worked the disc patiently down the field, utilizing swings and break side looks to reopen space before continuing to march upfield. On defense, they played close on the handlers and punished even the smallest misthrows or drops. Riot tended to rely heavily on Jaclyn Verzuh as a high stall deep option. While the look was sometimes successful, Fury was able to shut Verzuh down as the game progressed and showed a willingness to be physical on both under and deep cuts.
Riot attempted a zone defense late in the game, but the lack of wind made it unsuccessful. Fury had defensive success using a variety of straight-up match-up defense, poachy junk looks, and effective switching to throw off Riot's offensive flow. By the end of the game, they had earned another set of breaks and the final score was 15-12 in their favor. This came as a huge relief to Fury, who had struggled against Riot earlier this season and are hoping to put the last few pieces of their strategy together with the club series approaching. Riot, on the other hand, has some serious work to do before they face Molly Brown tomorrow morning.
Coach Rohre Titcomb expressed regret at the way the games turned out. "One improvement today was that we generated a lot of turns with our defense, but we had some challenges on offense converting some of them," Titcomb explained. "One of our big goals for the entire season has been to continually improve and continually fight to get better and learn from our mistakes… We didn't adapt enough to change direction against tight defense and [our opponents] played really nice person defense."
Tomorrow is a new day for Riot, and Rohre says it's all about mental toughness. "When we go do it, great things happen! I think we didn't come out with the tenacity that we have earlier in the season, and we gave teams a glimmer of hope and they executed well," Titcomb said.
Facing 3-0 Molly Brown first will be a challenge, but Riot certainly has what it takes to beat them and hold on to the top spot in the rankings. "We like to have a lot of different options on D and I think being able to have good focus and energy to execute the full realm of tools we have is something I would like to see as a coach," added Titcomb. "Losing is fine as long as you learn from it. We need to be compassionate but push ourselves to execute."
It was a perfect day for Fury to show their dominance in front of a home crowd, and spirits were high at the end of their third straight win. "It's nice to come out and execute a lot of the things we've been working on," said coach Matty Tsang, with a huge smile.
Katie Ryan, who was injured but spent the game enthusiastically cheering on her teammates from the sideline, echoed those same sentiments. "Coming out against Riot, you feel like it can go either way, [but] we're trying to treat this as a way to build towards the rest of our season, so it's good to see that what we've been implementing is paying off against a really really good team," she said. When asked what specifically the Fury athletes had been working on, she said they have focused on their side stack and are trying to practice some "switchy" defenses as well – both of which looked effective throughout the day.
A major game-changer for Fury at this tournament was Sarah "Surge" Griffith, a member of the 2017 World Games gold medal-winning team and the 2018 WUCC champion Riot roster. Despite any mental challenges Griffith may have faced playing her former team for the first time, her athleticism and field sense shone through and she was a valuable addition to Fury on both sides of the disc. She opened up their deep space on offense and shut down critical players on defense, scoring the break goal to take half 8-7 and throwing another beautiful huck for a break that put Fury up 12-9 late in the game. She was then wide open to score the 13th and 14th Fury goals, and got a block and threw the assist for the 15th and final Fury score of the game.
Coach Tsang expressed elation about this new Fury: "[The team is] super fortunate to have Surge, she's definitely a phenomenally skilled player – but also as a teammate, she brings more than just what people see on the field. She's fantastic."
Fury faces Traffic and Underground tomorrow, but their biggest threat will come from their game against the Molly Brown. If both teams are 4-0 heading into their 11 AM showdown, it will be the de facto Bay Area Invite championship game.
Molly Brown was the only team other than Fury to go 3-0 this Saturday. In their first game, Molly Brown took control of the first half, complementing their poachy defense with several nice offensive hucks and patient offense. Molly Brown ran away with the game, 15-6. The second game against Nightlock started off hot. The teams traded points, but Molly Brown pulled ahead to take half. From there, Molly Brown's fine-tuned plays withstood young Nightlock defensive stars Michelle McGhee and Shayla Harris, as Molly Brown took the game 15-8.
In a battle of 2-0 teams, Molly Brown faced Traffic in their final game of the day. Again, the teams were neck-and-neck, trading points. But Molly Brown pulled ahead for half 8-6. Despite big bids and close catches from Traffic, Molly Brown wouldn't let the game get any closer. Key players Jesse Shofner and Lisa Pitcaithley helped move the disc moved smoothly for Molly Brown and the game ended 15-11.
Molly Brown won each of their six halves of the day by at least two goals. They did so without five players, including offensive stars Claire Chastain and Liza Minor. Chastain returns tomorrow, just in time for showcase matchups against Riot and Fury.
Nightlock battled to double game point on their first game of the day against #1 Seattle Riot. On their home turf, Nightlock brought a full roster this weekend – and it showed. After falling behind 6-2, Nightlock came back swinging. Notable offensive players Iris Leung and Patricia Anderson kept Riot on their toes. On defense, Shayla Harris generated multiple blocks. Nightlock received on double game point and had two chances to win it, but the game ended 15-14 in favor of Riot. Nightlock captains Kira Lou and Eliza Chang said: "I don't think we've [ever] played that well against Riot but we weren't playing our strategy as we wanted to. We know that we can play better from here. One of the most exciting things about today was seeing growth at both the system and the individual level."
Their second game against Molly Brown was a different story. Nightlock started out on fire, but lost their steam after trading a few points. They had a hard time dealing with Molly Brown's rigorous attacks, and they lost 15-8. Nightlock's final game of the day against Schwa went to hard cap. Nightlock fell behind part way through, but the team's unbreakable spirit and impressive grit led to a 13 -11 victory. Tomorrow, Nightlock will have an easier slate with Underground, LOL, and Traffic.
After a 15-3 destruction against Oakland LOL, Traffic faced Riot, who was just coming off a one point game against Nightlock. Both teams battled with slick offense and agile defense, trading points through multiple turnovers. Riot's Stephanie Lim generated great blocks throughout the game, but nothing could stop Traffic's determination. The Canadian team made smart plays, choosing when to play conservatively and when to play risky. Traffic's efficiency on away shots, often led by Catherine Hui and Jennifer Kwok, earned them a 15-13 upset against Riot. "We came back strong in the second [half]… it's not the same Riot we're going to play in the fall but I'm glad our team was able to step up," said Traffic coach Matthew Doyle.
In the last game, Traffic faced off against Molly Brown. They traded points, but after Molly Brown took half, Traffic fell behind. Terri Whitehead played well for Traffic, but in the end they lost Molly Brown 15-11. It will be interesting to see if Traffic can keep up this momentum moving into Sunday. They have big games against Fury and Nightlock tomorrow.
#21 Portland Schwa Plays Some Much Needed Close Games
After a difficult 15-6 opening round loss to Fury defined by drops, unforced errors, and poor O-line defense, Schwa may have been feeling pessimistic about the possibility of retaining their strength bid. However, the O-line quickly put the past behind them. In Schwa's 15-13 win over regional rival Underground, Schwa did not get broken, recording 11 clean holds in their 14 offensive points. Mariel Hammond drummed defenders, as she would regularly record multiple yardage gaining touches per point. Schwa's only break came at 10-9 on a Shea Brennan bookends.
Schwa's ensuing 13-11 close loss to Nightlock keeps the Portland team in the bid picture. However, Schwa will have big tests tomorrow against Riot and Molly Brown. If they can keep those games close, the Northwest will likely receive a third strength bid.
While Underground won 15-9 over LOL, a loss to Schwa and a blowout loss to Molly Brown won't get the Seattle team any closer to a strength bid. They'll have to play extremely well against powerhouses Nightlock, Traffic, and Fury in order to be even considered for a bid, or else they'll have to upset either one or two teams at regionals in order to return to Nationals.
Want play-by-play updates on all of the action? Tune into @Ultiworldlive on Twitter tomorrow for full coverage of the most important games throughout the day.
Maika Isogawa is #50 on Superfly, Stanford's women's ultimate team. After traveling around the world performing for Cirque Du Soleil, she joined Frisbee – the world will never be the same. Catch her on Instagram (@maikaisogawa).
Nina Horowitz is a graduate student from New York who spent her glory years with Williams College La WUFA and her illustrious fifth year with the Boston University Lady Pilots. She is now enjoying retirement with Stanford Experiment. She has written for the New York Rumble, the Boston Whitecaps, and the San Francisco FlameThrowers. You can follow her on Twitter @NinaAUDL – or you can follow her extremely cute seventeen-year-old pet chinchilla on Instagram @mabel_the_chinchilla. 🙂