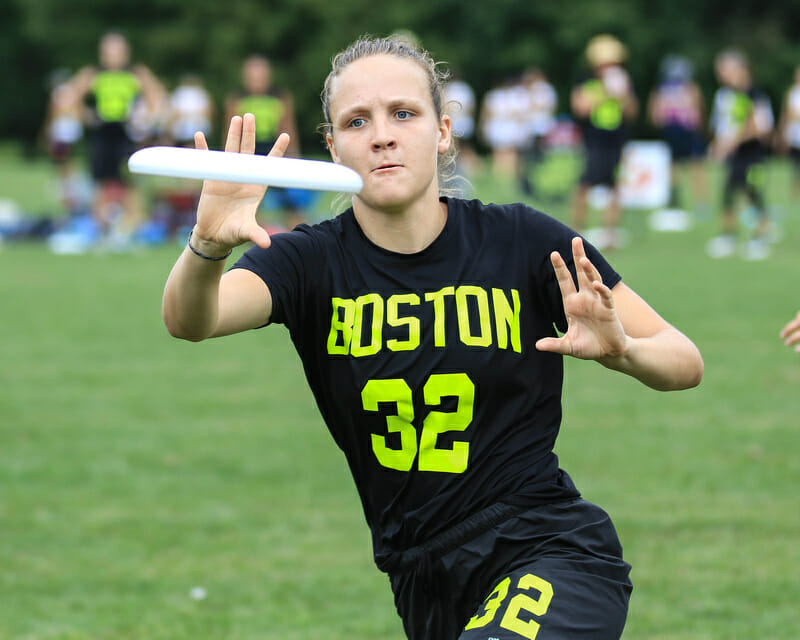 Ultiworld's coverage of the 2018 women's division is presented by VC Ultimate; all opinions are those of the authors. Please support the brands that make Ultiworld possible and shop at VC Ultimate!
Bracket play of Pro Championships demonstrated the difference between the top teams at the tournament and the teams in the second tier. No game was closer than 15-11, and the average margin of victory across the pre-semis and semis was nearly seven. Brute Squad and Scandal clearly proved to be the two best teams in the field and earned their places in this morning's final. Here's how their path to the championship game played out.
Pre-Semis
Atlanta Ozone 15-10 Madison Heist
A 6-0 run through halftime secured a comfortable 15-10 win for Atlanta Ozone over Madison Heist in the pre-semis.
Ozone scored the opening two points before the teams settled into trading out to 5-3, Atlanta. Ozone's defense ratcheted up as they blew the game open with an unanswered three break run into half and three more to extend the lead to 10-3.
"This tournament was the best offense that we've played all season," said Ozone coach David Berendes.
Heist did fight back, getting to within three at 12-9 after Robyn Wiseman hit Amelia Cuarenta for a break. Ozone, though, answered back with a hold and a break and moved on to the semifinals to face #1 seed Boston Brute Squad.
Toronto 6ixers 15-5 New York Bent
Toronto 6ixers were too much offensively for Bent to handle, and they took advantage of a struggling Bent deep game as they ran away with their pre-semi game. 6ixers did an exceptional job of attacking both sides of the field out of their vert stack, and Bent simply couldn't keep up with them. Anouchka Beaudry exhibited an impressive ability to break the mark and swing to both sides of the field, and their downfield cutters were in sync to keep the disc moving quickly. Jordan Meron was uncoverable downfield.
After taking half at 8-4, 6ixers nearly shut Bent out in the second half, getting the score to 14-4 before Bent were finally able to scratch out a hold. The Bent offense struggled to cope with the pressure from 6ixers, but they also forced a lot of looks downfield that turned into easy turnovers. 6ixers were able to rotate through three lines without ever missing a beat. They were deeper than Bent and won in every facet of the game. Their win moved them on to semis where they would face Washington DC Scandal.
Semifinals
Boston Brute Squad 15-7 Atlanta Ozone
After showing some possible signs of vulnerability in their final pool play game, a 15-11 win over Grit, Brute Squad promptly demolished any ideas of them suffering an upset in semis. They jumped out to a 6-1 lead over Ozone and held that advantage to an 8-3 halftime lead. They then broke on on the first two points of the second half to go up 10-3, allowing them to largely coast the rest of the way.
Brute Squad has been a class or two above the rest of the field this weekend, and that didn't change in their semifinal. Their defense has been oppressive, and their offensive talent is higher and deeper than every team they've faced. In Ozone head coach David Berendes's words, "The Brute offense is very disciplined. It looks a lot like what we want our offense to look like."
It was a challenge for Ozone to look exactly how they wanted offensively or defensively, missing many of their most important members of the roster. While that means it's difficult to accurately judge how good Ozone will be from this weekend, it shouldn't take anything away from Brute's ascendency in the game.
They've been the best team in the division this season, and they've certainly been the best team at Pro Championships. They face one final test now in Scandal, the other undefeated team of the tournament. Right now, though, Brute Squad looks unplayably good.
Washington DC Scandal 15-11 Toronto 6ixers
Scandal proved they were one of the top two teams at this tournament with their semis win over 6ixers. Scandal took advantage of 6ixers mistakes and minimized their own and were deserving of their fairly comfortable final scoreline.
6ixers broke on the first point of the game, but that did not portend how the rest of the game would go for their defensive unit. They got just two more breaks the rest of the game, and one of those came at 14-10 with the game already out of reach. The Scandal offense proved to be a tough riddle for 6ixers to crack, and when they did get turns, they weren't as efficient as Scandal was at punching in breaks.
After getting broken on that first point, Scandal scored the next three goals to go up 3-1. They broke again for 5-2, and then again to take half 8-5 after surrendering a break to 6ixers at 6-4. Two more breaks at 10-7 and 12-8 put the game away for Scandal in the second half.
Amy Zhou and Lindsay Soo helped lead a defensive unit that impressed not only with their defensive pressure but also with their offense going the other way. 6ixers were unable to match that pressure or that efficiency: it was the difference in the game.
While Scandal's defense was impressive, 6ixers forced the issue at times on offense, too, committing unforced turnovers that contributed to Scandal building their lead. 6ixers' coach Evan Phillips thought that those errors were due to fatigue. "When you get tired, your mind is sort of the first thing to go," he said. "I think that started to show early in this game. I think their minds went first and we sort of lost our systems a little bit. [We were] looking to score in one pass instead of five."
Scandal, though, not having played a pre-semi like 6ixers did, seemed to be able to score with any number of passes. They were successful in the long game as well as in the shorter and intermediate areas of the field. Jessie O'Connor and Kath Ratcliff were impressive in the handler space, and Keila Strick, Casey Gorman, Laurel Oldershaw, and Kelly Ross formed a cutter core that was too formidable for 6ixers to stymie. Scandal's D-line got the team the lead, but their O-line did a commendable job of preserving it.
As a result of the win, Scandal continued their undefeated run through the tournament so far. They will play Boston Brute Squad in the final on Monday, in what will easily be their toughest test so far. But regardless of what happens in the final, Scandal put together an impressive and complete performance in their semifinal win over 6ixers.