We can only hope for a game as good as last year's.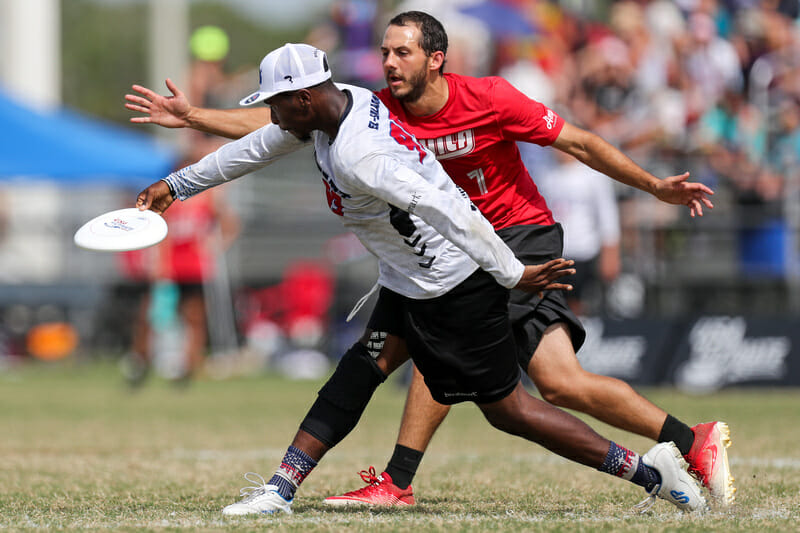 The dust has settled on two exciting semifinal matchups, and Philadelphia AMP and Seattle Mixtape are, once again, the final two teams standing. Seattle escaped a tough Boston Snake Country team 13-12 in a tight, clean game with few calls. Philadelphia escaped from a regional upset from new rivals Washington DC Space Heater 15-14 in a game that was, charitably, not as clean.
In the end, we get a rematch of the 2017 championship game, with two teams that had relatively little turnover compared to the rest of the division. While both teams boast some new pieces, the core is still in place for both squads, and we're in store for another hard-fought championship.
Head to Head: 1-1 (AMP won in pool play at the Pro Championships 15-13, Mixtape won in semifinals at the Pro Championships 15-11)
How They Got Here:
AMP 2-1 in Pool A (44-29), def. Boston Slow White in prequarters (14-13), Minneapolis Drag'n Thrust in quarters (15-7), Washington DC Space Heater in semis (15-14)
Mixtape 2-1 in Pool C (37-32), def. San Francisco Polar Bears in prequarters (15-9), San Francisco Blackbird in quarters (13-11), Boston Snake Country in semis (13-12)
Line: Pick
Game Time: Sunday, Oct. 21 at 10:00 AM Pacific
How To Watch: ESPN3
***
AMP Look to Avenge Last Year's Disappointment
AMP comes into this rematch with some of the wildest results of any team in the field. After a double game point loss to San Francisco Blackbird dropped them to the second spot in their pool, Philadelphia had to fight through a maze of tough opponents. AMP outlasted Boston Slow White in prequarters for a DGP win, surprisingly demolished Minneapolis Drag'n Thrust in the quarterfinals, and barely beat regional rivals Washington DC Space Heater in another DGP thriller to push into the final. This is exactly the matchup AMP was hoping for.
"There is no other team we would rather play," said Nico Lake. "We love them. They love us. They are a really talented team. It's going to be a really fun game."
While AMP had a bit of turnover from last year's championship game appearance last season, Carolyn Normile, Raha Mozaffari, and Anna Thompson still run the show. Thompson is looking healthy again for the first time this season, recovering from a back injury sustained at WUCC just in time to play at Nationals. Normile is once again looking like a Player of the Year candidate, flashing big throws, aggressive defense, and sharp cutting to power all parts of AMP. Mozaffari continues to impress year after year, and she provides yet another handling threat for Philadelphia. Elsewhere, Calvin Trisolini is making a case for himself as one of the best handlers in the division, and Lake is the reliable bailout who allows the offense to attack in creative ways.
On defense, Ben Pelleg is still making plays on defense, threatening on the turn and providing the heads-up handler defense to disrupt opposing offenses regularly. Luke Ryan is a go-to defender for tough downfield male cutters, chasing the tallest cutters and harassing them with his superior quickness. Expect Ryan to take on the Brian Stout matchup against Mixtape, while Pelleg will likely harass Mark Burton in the backfield.
When this team is at its best, it has Normile and Nicky Spiva launching deep throws to receivers like Thompson and newcomer Sean Mott. Pelleg holds down the defensive end, and his reliability allows Ryan and Natalie Bova to hunt blocks. Watch out for Spencer DeRoos to make an impact defensively as well, with his willingness to put his body on the line to earn a block. If AMP has a weakness, it's a lack of cohesion on the opposing goal line. The team can move so fast that cutters and handlers aren't always on the same page, leading to surprising turnovers. Those turnovers almost sank the team against Slow White, and if they don't clean up their efficiency in the red zone, Mixtape has the speed and big throws to capitalize.
Mixtape Can Defend their Crown in Repeat Fashion
Seattle also had a bumpy road to the final, losing big to Space Heater in their pool play matchup and needing to fight back from deficits in each of their bracket games. Throughout the bracket, though, we could tell that Mixtape was starting to find their stride. The team's defensive intensity improved throughout the week, and the offense's efficiency stepped up to match. Flashing the variety on offense that helped carry them to the championship last year, Seattle switches amongst offensive structures with remarkable deftness. With so many downfield weapons, Mixtape has the potential to run away with any game, as long as the handlers don't get trapped. Snake Country had success pushing Mixtape's handlers to the sidelines, poaching the throwing lane, and forcing the cutters to stay deep. If AMP can bring that same defensive strategy to bear and account for Mixtape's newly improved O-line defense, AMP might have the edge they need. Seattle will look to keep the disc moving and isolate their downfield athletes.
On offense, everything starts with Mark Burton. He leads the team with 19 points and is the safety valve for the offense whenever they need to make something happen. His throws can stretch or shrink the field as needed and can put defenses on the back foot immediately. Brad Houser is Burton's constant partner in crime. We've seen Houser stay in the handler set more often than in previous years, but he still has the athleticism to strike from that spot and catch deep goals on less vertically-focused handler defenders. Claire Revere is finally healthy, and combined with Abbie Abramovich and newcomer Brian Stout, downfield defenders have nowhere to hide. Especially with the Mixtape focus on downfield isolation.
Defensively, all eyes are on Khalif El-Salaam's health. Missing the semifinals with an Achilles injury, he was hopeful that he'd be ready to play in the final against AMP. If he's healthy, expect him to take the Nicky Spiva matchup, but Evan Klein could ably fill that role as well. Bert Abbott is still recovering from her rib injury from the Pro Championships, but she looks on track to have an expanded role in the final. Newcomer Reed Hendrickson has stepped up his defense throughout the tournament, leading Seattle with eight blocks and playing the target role on a turn. And finally, Ari Lozano's defense stands out in pressure-filled moments, exemplified by her stop against Snake Country. Look for her to shadow Carolyn Normile or Emily Shields.
What Will Happen?
These are two evenly matched teams, and finding an edge is tough. Mixtape has some incredible athletes, but AMP has the systems to stymie that edge. Conversely, Mixtape has brought more defensive intensity to take the disc away from their opponents, while AMP had trouble earning blocks for much of the tournament. It might be too much to hope for yet another double game point thriller like last year, but given the teams we've got, don't rule it out. Either way, we're in in for another pitched battle in the history of these two teams.