Ultiworld's 12 Days of College Ultimate are presented by Spin Ultimate; all opinions are those of the authors. Please support the brands that make Ultiworld possible and shop at Spin Ultimate!
It's time to unwrap some presents as we introduce the 12 Days of College Ultimate. Through December 21st, we will be releasing one gift per day, though don't count on getting any partridges in pear trees: it's all college ultimate. From highlight videos to player chatter to a giant bracket, we've got a little something for everyone.
On Day 3 of the 12 Days of College Ultimate, it's only right to celebrate the small yet passionate community of Division III. Since 2010, USA Ultimate has hosted the division as a chance to let smaller schools shine and form their own network, filled with rivalries and a chance to come together a play it out for the D-III title each year. In honor of the 2019 season marking the 10th D-III title, we've put together some statistics about the '7500 Club' (after which we named our podcast) for the community to enjoy. We've added some commentary to some numbers and choices that we've made. Hit us up with your own favorite stats below!
State of D-III Nation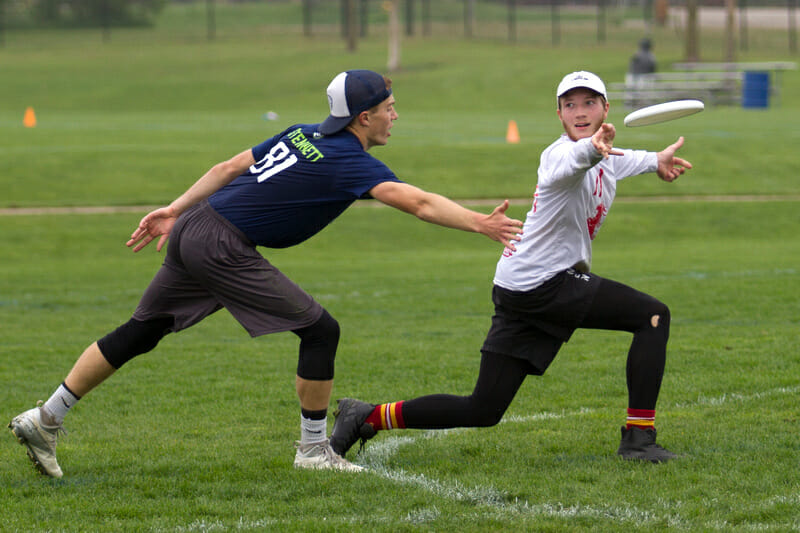 Number of teams with valid rosters in 2018: 93 (Women's) / 153 (Men's)
Every year the number gets larger, and we get excited for who's going to surprise and delight us when it comes to the post-season (and start quoting our writing back at us at Nationals and online). Can we break 100 women's teams this year? We certainly hope so. And if your school doesn't have a women's team yet, check out the resources USAU has available to do just that (in addition to all of the quality Ultiworld content to work with out there).
Largest region in 2018: Ohio Valley – 19 (Women's) / Ohio Valley – 27 (Men's)
Shout out to the Ohio Valley for producing the largest regions in both divisions! The crazy thing is that both of these numbers could be even bigger, with multiple D-III eligible schools in both divisions still choosing to take the Division I path. We trust that they'll see the light soon and join the camaraderie of Division III.
Smallest region in 2018: Southwest – 2 (Women's) / Southwest – 4 (Men's)
We need to figure out a way to grow the Southwest. Are there just not enough D-III schools in the region? What notable schools are missing? Do we need to round up rosters and hand-deliver them, cross-country road trip style, to USAU headquarters ourselves? Surely there's something we can do as a community to help this region grow–Southwest, let us help you.
Furthest distance between schools: Colby College to Occidental College, 3149 miles 
We calculated this by using Google maps to calculate the furthest drive in miles between two schools that had valid rosters in 2018. What do we have to do to see Colby play Occidental? Maybe it's time to expand our brand from podcasting to tournament hosting, halfway in between somewhere in Nebraska or Iowa.
Nine Years of Nationals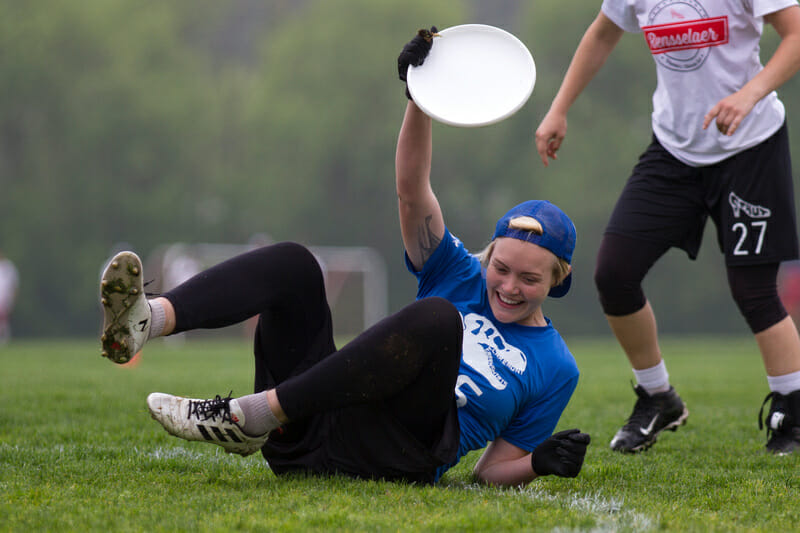 Longest Nationals Attendance Streak: Claremont Colleges Greenshirts (2011-2018, active) tied with Valparaiso Chicks Hucking Discs (2010-2017) [Women's] / Georgia College Disconnected (2011-2016) tied with Claremont Braineaters (2011-2016) and John Brown Ironfist (2013-2018, active) [Men's]
It's common for schools to have a star player or strong class that carries them to multiple Nationals appearances, but these programs all have streaks that stretch across multiple graduating classes. For a division that's so young, it's impressive to see schools building programs that churn out top-end talent on an annual basis to represent their regions. While the Greenshirts are in a bit of an easier bid situation as one of just two teams in the region, that they've managed to walk away placing tied for 7th at Nationals or above in five of those eight years is quite the accomplishment; so is Valparaiso's streak for surviving the college region redraw after 2010. Will the Greenshirts and John Brown Ironfist keep their Nationals streaks alive this season?
Winningest Region Since 2010: North Central – 4 titles (St. Olaf Vortex – 1, Carleton College Eclipse – 3) [Women's] / New England – 3 titles (Middlebury, Bentley, Bryant one apiece) [Men's]
Should the D-III Women's Nationals title be renamed the Northfield Cup? Certain North Central teams appear in agreement. In the Men's Division, the depth of the New England region comes through, as the region totes the most National titles while also having no repeat champions. It's no coincidence that multiple New England teams are in attendance every year, and we'll surely see multiple New England teams in attendance down in College Station this May.
Personality Contest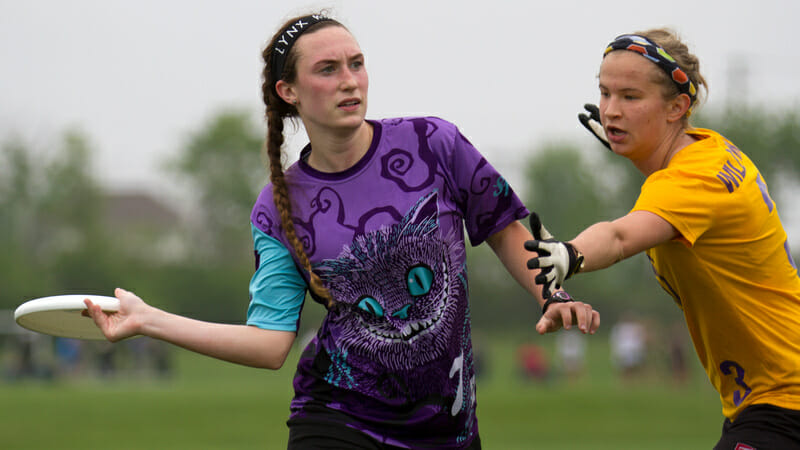 Best Women's team name: Swarthmore Warmothers
Not only does it inspire fear in the hearts of their rivals, but it's an anagram of their school name; one's brain can only process so much awesomeness at one time. (Sorry, Swarthmore Men's team, but 'Earthworms' isn't nearly as awesome an anagram as Warmothers).
Best Men's team name: Oberlin Flying Horsecows
This team name is the quintessential ultimate team name. It is the perfect blend of goofy and intimidating, with a simple logo that looks awesome on jerseys. However, what puts this name over the top is the amazing story for how it came to be. I could never do the story justice, but luckily the team has put it in their own words. 
Best Women's Twitter in 2018: Mount Holyoke Daisy Chain (@MHCDaisyChain)
Between the memes, engaging with other teams, a strong collection of pictures of sideline ultimate dogs, and the consistent-without-drowning-followers-in-scores tweeting through even the fall season, this account hits the sweet spot in ultimate Twitter.
Best Men's Twitter in 2018: Carleton GoP (@goprocks)
If I were the type of guy whose affection and admiration were easily bought, this award would have gone to the guys on Missouri S&T (@miner_threat), who adopted the hashtag #DoIt4MikeBall this fall season. I'm not sure what I did to deserve this strange honor, but it's noticed and appreciated. However, the throne for best D-III Men's twitter is currently held by Carleton GoP, and I don't see them relinquishing the crown any time soon. Not only do they provide ample updates during tournaments, but their odes to our Division and trolling of their D-I peers is very much appreciated.
Best Women's jerseys at 2018 D-III Nationals: Georgia College Lynx Rufus (Darks)
A stalwart classic in the division, the Lynx Rufus dark jerseys (above) have an unmatched cool factor. The pop of teal against the swirling purples and full-chest-width grinning Cheshire Cat lets teams know exactly who is coming for them when lining up for the pull. And a whole squad of them? That was, in my humble opinion, money well spent and a sublimation jersey done right.
Best Men's jerseys at 2018 D-III Nationals: Carleton GoP (Whites)
I hate giving the guys on GoP back-to-back compliments, because it means I'm reinforcing their behavior and will never get a serious interview from them, but it's hard to ignore the hilarious random reference they went with for their white jerseys (below) last season. Playing on the classic "Thank You" takeout bag, the GoP white jerseys caught me off guard and made me laugh out loud (and convinced Sam to shell out for one of her very own). Well done.