Do these teams match your expectations?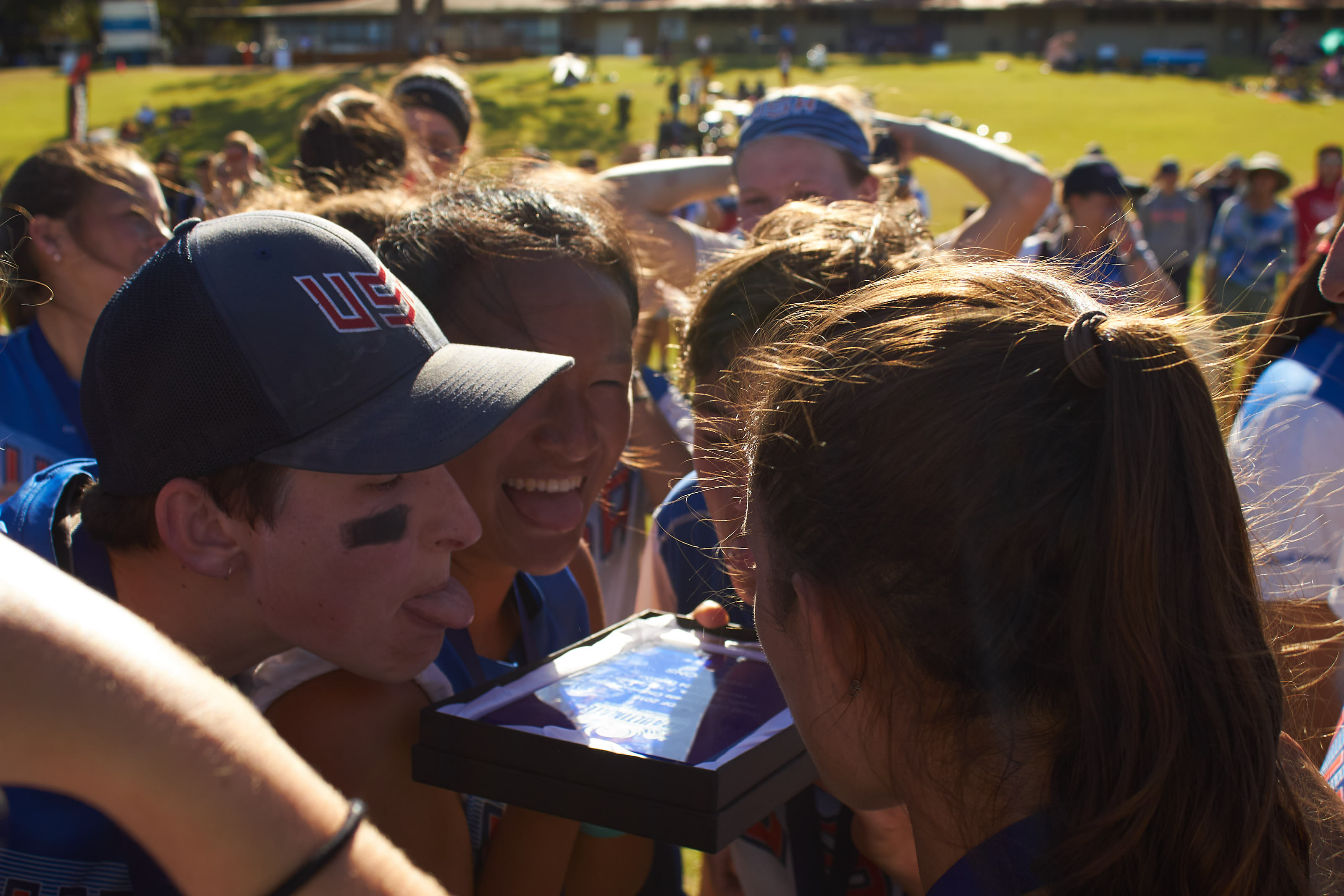 This afternoon, USA Ultimate announced the Under-24 National Teams that will represent the United States at the U24 World Championships this summer in Heidelberg, Germany.
Out of over 200 players that tried out, 74 players made the team across the three Divisions — 24 in Men's, 26 in Mixed, and 24 in women's — which includes 15 returning players from the 2018 teams that swept gold in Australia.
Here are the rosters for each of the Divisions:
Men's Division
| Name | City, ST | College |
| --- | --- | --- |
| Christian Boxley | Bowie, MD | Georgetown |
| Chance Cochran | Arlington, VA | Tulane |
| Xander Cuizon Tice | Seattle, WA | Oregon |
| Henry Fisher | Durham, NC | Carleton College |
| Mac Hecht | Newton, MA | Brown |
| Rick Hennighausen | Davidson, NC | North Carolina-Wilmington |
| Tannor Johnson | Lexington, MA | Massachusetts |
| Cole Jurek | Shoreview, MN | Minnesota |
| Dillon Lanier | Chapel Hill, NC | Carleton College |
| Will Lohre | Golden, CO | Oregon |
| Elijah Long | Chapel Hill, NC | North Carolina |
| Leandro Marx | Portland, OR | Oregon |
| Walker Matthews | Durham, NC | North Carolina |
| Nate Pettyjohn | San Luis Obispo, CA | Cal Poly-SLO |
| John Randolph | Seattle, WA | Brown |
| Dylan Salzman | Denver, CO | Middlebury |
| Tim Schoch | Northfield, MN | Carleton College |
| Ted Sither | Arlington, VA | Oregon |
| Eric Sjostrom | Helena, AL | Auburn |
| Eric Taylor | Durham, NC | Carleton College |
| Jasper Tom | Palo Alto, CA | Carnegie Mellon |
| Nick Vogt | Edina, MN | Wisconsin |
| Cole Wallin | Minneapolis, MN | Minnesota |
| Sol Yanuck | Chapel Hill, NC | Carleton College |
Mixed Division
| Name | City, ST | College |
| --- | --- | --- |
| Isabel Arevalo | Atlanta, GA | Carleton College |
| Steven Benaloh | Seattle, WA | Washington |
| Stan Birdsong | Atlanta, GA | Carleton College |
| Mia Bladin | Seattle, WA | Harvard |
| Helen Eifert | Flagstaff, AZ | Northern Arizona |
| Rocco Essex-Linehan | Norwich, VT | New Hampshire |
| Joe Freund | Arlington, VA | Virginia Tech |
| Matt Gouchoe-Hanas | Chapel Hill, NC | North Carolina |
| Brett Gramann | Austin, TX | Massachusetts |
| Michael Ing | Bryn Mawr, PA | Pittsburgh |
| Brittany Kokinos | Madison, WI | Wisconsin |
| Julia Kwasnick | Palo Alto, CA | California-Santa Barbara |
| Lindsay McKenna | Malvern, PA | West Chester |
| Anders Olsen | Rochester, MN | Emory |
| Clea Poklemba | Corvallis, OR | - |
| Ashley Powell | Raleigh, NC | North Carolina State |
| Mary Rippe | Carrboro, NC | North Carolina |
| Kyle Rutledge | Irving, TX | Northwestern |
| Liam Searles-Bohs | Durham, NC | North Carolina |
| Alissa Soo | Seattle, WA | Whitman |
| Anna Thompson | Kirkland, WA | Pennsylvania |
| Alan Villaneuva | USAF Academy, CO | Air Force |
| Luke Webb | Amherst, MA | Carleton College |
| Joe White | Wyoming, OH | Carleton College |
| Megan Wilson | Medford, MA | Tufts |
| Anne Worth | Chapel Hill, NC | North Carolina |
Women's Division
| Name | City, ST | College |
| --- | --- | --- |
| Maddy Boyle | Eugene, OR | Oregon |
| Shea Brennan | Portland, OR | Portland State |
| Carly Campana | Kirkland, WA | Carleton College |
| Abby Cheng | Lititz, PA | Oberlin |
| Dena Elimelech | Burbank, CA | California-San Diego |
| Stacy Gaskill | Golden, CO | Colorado [2019] |
| Ella Hansen | Seattle, WA | Oregon |
| Shayla Harris | Covina, CA | Stanford |
| Abby Hecko | Seattle, WA | - |
| Samiya Ismail | Renton, WA | Western Washington |
| Kelli Iwamoto | Hacienda Heights, CA | California-San Diego |
| Sarah Kim | East Lansing, MI | Northwestern |
| Kate Lanier | Chapel Hill, NC | Carleton College |
| Caitlyn Lee | Superior, CO | Dartmouth |
| Kiera Lindgren | Centennial, CO | Colorado State |
| Michelle McGee | Berkeley, CA | Stanford |
| Ari Nelson | Millburn, NJ | Northeastern |
| Renata Pepi | Amherst, MA | Bard College |
| Cara Seiber | West Chester, OH | Ohio State |
| Linnea Soo | Seattle, WA | Whitman |
| Claire Trop | Seattle, WA | Dartmouth |
| Julianna Werffeli | Somerville, MA | Dartmouth |
| Yuge Xiao | Berwyn, PA | Columbia |
| Angela Zhu | Somerville, MA | Dartmouth |