The excitement of the college season is upon us; let's enjoy the ride!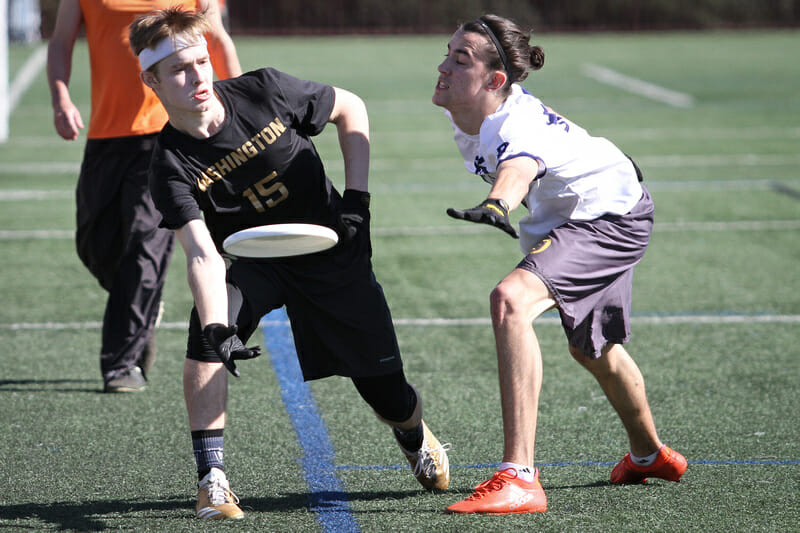 Ultiworld's 2019 college coverage is presented by Spin Ultimate; all opinions are those of the authors. Please support the brands that make Ultiworld possible and shop at Spin Ultimate!
The college season kicks off on the West Coast as a host of teams (and a handful of snow-dwellers flying west) gather in Santa Barbara for their first competition of the spring.
Tournament Profile
Date: January 25-27
Location: Santa Barbara, CA
Weather Forecast: Sunny and pleasant, highs near 70
Top 25 Teams: 6
Filming Schedule
These games will be available online next week for Ultiworld Full and Plus subscribers.
Friday
7:30 PM: Cal Poly SLO v. BYU
Saturday
8:00 AM: Victoria v. UC Santa Barbara
3:00 PM: Washington v. Southern California
5:00 PM: Dartmouth v. UT Dallas
Sunday
9:45 AM: Quarterfinal
1:15 PM: Final
---
1. Washington Is The Clear Favorite
The #7 Washington Sundodgers enter the weekend as the favorite looking to defend their SBI crown. The Sundodgers bring back the majority of their team from last year, which finished #6 in USA Ultimate's rankings. Derek Mourad is the big name to watch and will take over as the on-field and emotional leader of this team following the graduation of Steven Benaloh. When asked for a season prediction, Mourad said, "Expect a big year from me." All eyes will be on the junior star as he leads the Sundodgers into a new era. Manny Eckert takes over as the center handler and will have the keys to drive the offense and take a lot of shots downfield. Lucas Chen and Chicago transfer Jeff Zhao have also impressed the Sundodgers leadership and will play big roles downfield. High profile freshman Gabe Port will make his debut, giving us a chance to see how he fits in with the club's rotation. With coach Mark Burton and his playful approach returning, Washington will look to take home some hardware while developing a burgeoning squad.
2. Cal Poly SLO Looking to Make Amends 
#11 Cal Poly SLO SLOCORE is the other team that will be a trendy pick to win the tournament this weekend. 'CORE returns most of their main contributors: Jeremy Dolezal-Ng, Caleb Merriam, and Nathan Pettyjohn are the biggest names already on the roster, and they have their sights set on returning to Nationals after last season's hiatus. Merriam, a captain, said that the team is looking forward to building on last year's experience. After a full year integrating new systems and improving player development with coach Cody Mills, Cal Poly is focusing on ingraining good habits and continuing to improve in their second year under the same systems. That process starts this weekend. An impressive rookie class headlined by KJ Koo, Calvin Brown, Jake Thorne, and Emmet Holton will need to quickly get used to the college division; the sooner SLOCORE can integrate and rely on their talented rookies, the better their chances of pulling out a tournament win and building the necessary depth and chemistry to challenge for the regional title. The rookies may get some extra burn, as the team's troubling injury trends have not yet subsided; Dolezal-Ng and Pettyjohn have both had to miss preseason events.
3. Who will Challenge the Favorites?
#20 Stanford looks to be in the best position to upset Washington or SLO after stealing SLOCORE's bid last season, and keeping the majority of its regional championship team — save for Callahan winner Gabe Hernandez. In addition to rock solid center handler Nick Hirning and deep space predator Mike Becich, look for Phillip Cathers and Nico Rodriguez to step into larger roles this season to help carry the team. "I expect players throughout our entire roster to grow on and off the field from now through the postseason in terms of skills and intelligence, and we're looking forward to both the growing pains and successes that come with that process," said captain Kevin Tien. While the focus might be on player development, Stanford has the talent to upset one of the favorites.
Which team is the best of the rest? #23 Southern California Lockdown has been a team on the rise the past few seasons. Will they be able to lockdown a spot in the national conversation with an impressive opening weekend? Known for their zone defense and the athleticism of stars Sam Cook and Wyatt Paul, USC could flummox weaker teams at the beginning of the season and use that experience to develop their team into a regional threat over the course of the season. "Our offseason pickups will help build depth-something [USC] has struggled with in the past," said Cook. Adding a line of athletic rookies and Claremont transfer Hill Balliet (who attended U24 tryouts) will help Lockdown be able to keep their legs fresh for meaningful games on Sunday.
Western Washington Dirt, featuring the talents of Aldous Root and Daniel Mah, looks likely to play some close games against good teams, but they do not have the top end firepower to seriously challenge the top tier. A strong showing in Santa Barbara will be important to earning another bid for their region, a bid they'll need unless Dirt thinks it can knock off Oregon or Washington at Regionals.
4. First Impressions Matter for Potential Surprise Teams
Every year it seems that there is a team who comes out of nowhere to impress early in the season. UT Dallas Woof is a hot darkhorse candidate after their impressive 2018, during which they won their conference after an outsized showing at Centex. But they aren't the only team looking to break through. #17 Colorado State also won their conference last year before fading at Regionals; without exposure at Nationals, their two-year hype train has certainly slowed, but they have plenty of experienced players who know what it takes to win tough games. #25 Victoria comes to Santa Barbara Invite after their first ever Nationals appearance last spring. While losing household name Ben Burelle doesn't help, the Vikes have sophomores Dawson Pasin and Devon Thompson, both with experience playing for Furious George. Handler Sean Bennett rounds out a UVic top end that is dangerous to underestimate.
5. Will the Cold Weather Teams be Able to Compete?
Michigan State, UConn, and Dartmouth are all flying in for a weekend of sunny skies and temperatures above freezing, all of which are in short supply in their home cities. These teams have not had as much outdoor practice time as their warm-weathered counterparts, and will likely look less polished than the rest of the field. Using weekends in January to run more open lines and give less experienced players reps against quality teams might mean fewer wins (and maybe even some double digit losses), but will help each team get a head start on the rest of their regions, who are waiting for some frozen fields to thaw out or are stuck practicing inside. Dartmouth is likely the only one of these teams that might be concerned about the bid situation come late March, which takes some pressure off of these clubs.
6. How Will Teams Approach their Season Opener?
While this is an official spring tournament, many teams are still in the player development phase of their seasons. With so many intra-region matchups, especially between Southwest teams, it is possible that some teams are saving their best tricks for a few months in hopes for an upset bid at regionals. On the other hand, a team with a well established identity and polished sets could punch above their weight and use a strong first tournament as the catalyst for a surprising season. Nearly every one of these teams has something to prove. For many rookies, this is the real start to their college careers, while for seniors and 5th years, this is the beginning of the end.