Weather dampened the weekend, but there's a huge one on the horizon!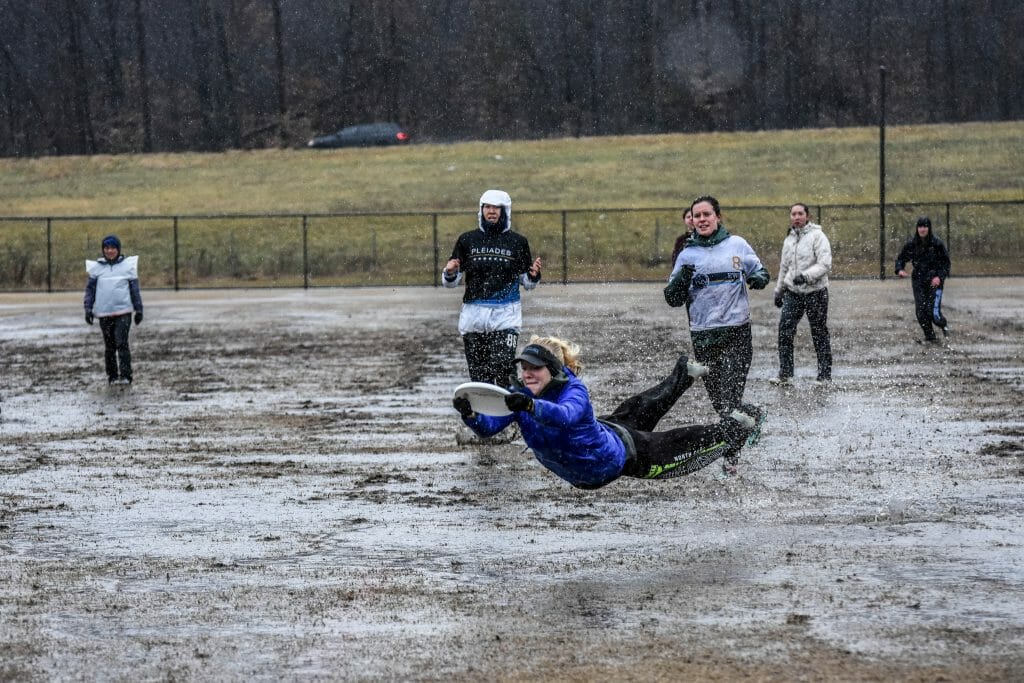 College Update during the 2019 season is presented by Spin Ultimate. Please support the brands that make Ultiworld possible and shop at Spin Ultimate!
During the spring season, we will publish a bite-sized weekly recap of the action across the College Division. This will serve as a supplement to our standard tournament reporting and will offer a high-level look at the latest happenings and the biggest stories of the week.
Want your tournament listed here? Submit a recap of what happened right here.
Men's
D-III: Oak Creek Challenge, Denver Round Robin
Brandeis Tron very nearly went through Oak Creek Challenge undefeated, compiling a 6-1 record en route to the final. They blew out all of their Pool C competition. Their path through the bracket proved a bit more challenging, as they played closer games with West Chester and Princeton before reaching the championship bout. There, they matched up with Liberty, who won Pool A Saturday, and lost 9-8. The strong showing for the once powerful Brandeis squad positions them as a top squad that will be no pushover in their region.
Colorado School of Mines torched the competition at Denver Round Robin, a small one-day event. Still, after a brief three games at Stanford Open where they went 1-2, Entropy is probably happy to get back on the line. And adding four more wins to their resume can't hurt.
Quick Hits
Liberty University defeated Brandeis 9-8 in the final of the Oak Creek Challenge in Virginia Beach. Liberty was the no. 9 seed and went undefeated in pool play. It was only a couple of years ago that Brandeis advanced deep at D-III Nationals, so this is a nice win for Liberty.
At Chucktown Throwdown, UNC Charlotte went undefeated over a small field. They overcame Appalachian State, handing them their first defeat in the final 12-9.
Minnesota-B may have lost to Wisconsin-Lacrosse by one, but they did win Ugly Dome with a 4-1 record, earning a six point victory over fellow 4-1 team, Wisconsin-Eau Claire.
Colorado School of Mines cruised to an undefeated victory in the one day Denver Round Robin. They even bageled their own B team. Merciless.
Showcase Series: William & Mary 15-11 James Madison (Virginia), Rainout (Atlantic Coast)
Cancellations & Postponements: Dust Bowl, Bring the Huckus
Women's
Ohio State Wins Weather Nightmare At Commonwealth Cup
#2 Dartmouth forfeited the final to #9 Ohio State due to travel arrangements, declaring Fever winners of Commonwealth Cup with an asterisk. Field conditions and weather gave players more questions than answers in Martinsville, Virginia. #3 North Carolina and #7 Pittsburgh lost in the semifinals to Ohio State and Dartmouth, respectively. Reports vary on the decision making that led to the adjustments in schedule, but Dartmouth forfeited the final due to flight schedules.
There was nearly four inches of rain in the natural grass fields and temperatures neared freezing during pool play on Saturday. The field crew decided to let the teams play despite borderline unsafe conditions. Saturday showed the resilience and determination of the players, but where do you draw the line to preserve the safety of the participants?
For more on Commonwealth Cup, check out our Tournament Recap.
D-III: Commonwealth Cup, PLU Women's BBQ
Weather had a large impact on the ultimate of the last weekend, but resiliency from all teams shown through in low scoring games and tight contests. On the East Coast, Commonwealth Cup gave the first showing of Oberlin Preying Manti, who won their pool and prequarter game, before putting up a respectable five points against Dartmouth in their quarters matchup loss. Catholic Nun Betta went 3-3 and Elon Wild Rumpus went 1-5 elsewhere over the wet and cold weekend.
On the West Coast, Pacific Lutheran's home tournament PLU Women's BBQ brought the D-III Women's Northwest region in for lots of competition. Portland UPRoar continued their strong 2019 showing, winning the tournament in a final match 12-7 against Lewis & Clark Artemis. To make the final, Artemis spent their energy in a high-spirited match against UPS Clearcut, trading leads and big plays throughout the round to win 14-12. Portland made solid work of Pacific Lutheran Reign in their semifinal match, winning 13-5.
Quick Hits
Lewis & Clark surprised Puget Sound in the PLU Women's BBQ semifinals. But they were upended by Portland in the final 12-7, who improves to 8-3 this season.
Showcase Series: William & Mary 15-2 Mary Washington (Virginia), Rainout (Atlantic Coast)
Cancellations and Postponements: Bring the Huckus, Atlantic Coast Showcase, Joint Summit1
Looking Ahead
It's finally time for Stanford Invite, the unofficial midpoint of the college regular season. But this is one of the busiest weekends on the college calendar, including the rescheduled Bring the Huckus and the new D-III showcase event, FCS D-III Tune Up.
---
We think. ↩