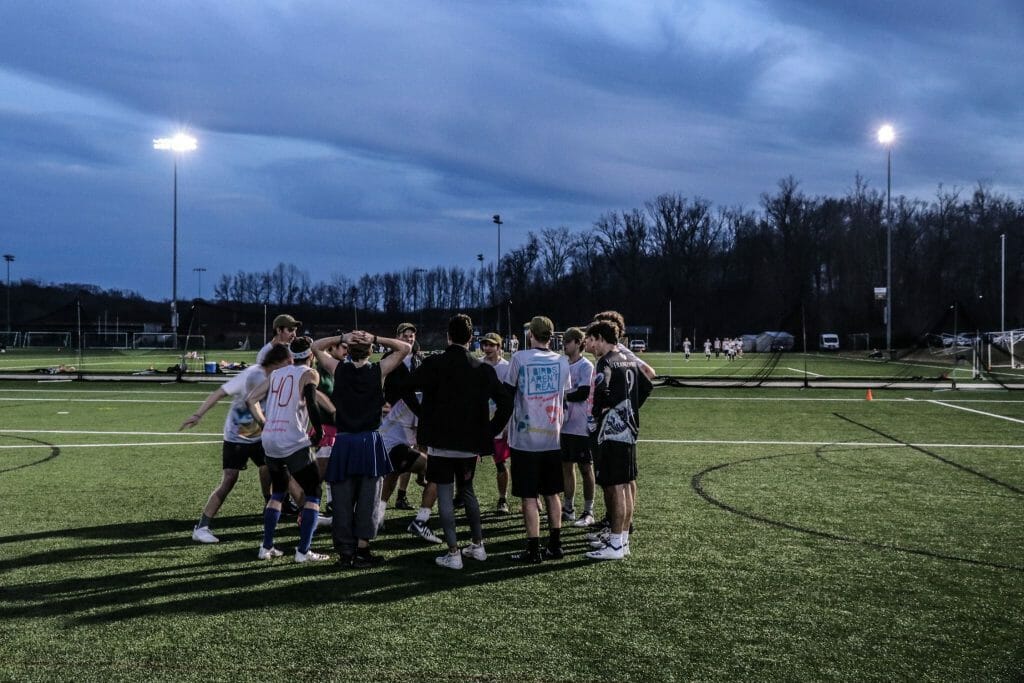 Ultiworld's 2019 college coverage is presented by Spin Ultimate; all opinions are those of the authors. Please support the brands that make Ultiworld possible and shop at Spin Ultimate!
The Saturday night showcase game between Middlebury and Air Force at FCS D-III Tuneup was the highlight of a weekend that saw plenty of close, high-level matchups between some of the best teams in Division III. In perfect conditions under the lights, then-#2 Middlebury edged out #1 Air Force 14-13 in a game that featured big performances from rookies and veterans on both squads. The Pranksters came away with the win and a decisive case to be the number one team in the country in a game that tested the depth, skill and athleticism of two of the nation's best.
Middlebury started the game in about the most Prankster way possible. After a big block by Kai DeLorenzo on a huck to Noa Chun-Moy, Jack Landrigan1 spiked the disc without recognizing that his first point of contact was not in the endzone. Air Force held on following Middlebury's Lisa P moment to take a 1-0 lead. Air Force would get a chance at the first break of the game on the next point, when Matthew Frierson nearly pulled down a great sky over two swarming defenders but couldn't quite secure the disc with his right hand.
On the ensuing Air Force offensive point, a high arcing inside out backhand from Alan Villanueva to Chun-Moy was eaten up by a lurking Kevin Strenski to kick off an impressive defensive performance from the Middlebury sophomore. A few throws later, star freshman Leo Sovell-Fernandez (remember this?) answered the other way, notching the first break with a smooth inside out forehand to Daniel Grubbs-Donovan. Up 3-2, Middlebury got another chance at a break when DeLorenzo accelerated into a run-through block on Matthew Moshea, but Villanueva immediately got Air Force back in control with a layout block on an attempted reset pass to Sovell-Fernandez.
The teams traded holds all the way to half. Air Force failed to convert two more break chances and, on the point to take half, came millimeters away from a third. Moshea challenged a huck to Strenski, launching his huge 6'4" frame into a bid. Strenski came down with the disc and, a few throws later, Middlebury took half 7-6. Moshea later found out that he fractured his elbow on the play — impressive that he was still able to contribute on more points during the second half.
Air Force's D-line finally delivered on the first point out of half. An odd turfed swing pass to no one and a layout block by Chun-Moy finally allowed Air Force to tie the game at 7-7.
The body of the second half was both an offensive showcase of both team's athleticism and, for Kevin Strenski, a moment to truly take over as a star under the lights. At 8-8, Strenski prevented Air Force from breaking to get on serve with a gigantic sky over Chun-Moy and a layout clap catch on a subsequent huck the other way. Strenski's four goal rampage only abated when he cramped up on a D point.
Chun-Moy was also dominant for Air Force downfield despite dealing with tougher defensive matchups like Strenski. He accounted for three goals during the second half, including one which completed a small comeback to allow Air Force to tie the game at 11 after trailing 11-9.
While the performances of Chun-Moy and Strenski headlined the 'third quarter' of the game, the home stretch spotlighted another of Middlebury's rising stars. Sovell-Fernandez was an integral triple threat for the Pranksters, and when the time came to tighten up and execute on offense, LSF delivered both downfield as a receiver and in the backfield as Middlebury's center handler.
With the game tied at 12 before the cap horn sounded, Middlebury and Air Force would play a game to 14. Middlebury received the disc and an inside flick to Strenski gave Middlebury an almost uncontested 13-12 hold.
The same could not be said on the following point for Air Force's offense. Villanueva easily hit Chun-Moy down field with a beautiful outside-in flick, but after pump faking a blade to the break side, Chun-Moy decided to throw it, and it sailed over the head of his intended receiver. After working the disc to just past midfield, Middlebury burned a timeout and was just a missed layout in the end zone away from a break to win. A drop by William Cooper for Air Force gave Middlebury another chance to break for the win on a short field, but Michael Dulat earned the disc back with a layout block on a reset pass, and a few throws later, Villanueva streaked upline to collect the 13-13 goal past a bidding DeLorenzo.
But the Pranksters would ultimate claim glory. Air Force came down forcing hard flick but failed to generate any significant backfield pressure as Middlebury simply swung the disc to Sovell-Fernandez, who sent a huge backhand to senior Asher Lantz. There was nothing Michael Dulat could do as Lantz summited for the game winning goal. Unfortunately, it was a pyrrhic victory for Lantz, who ruptured his achilles on the landing.
There was no fluke to Middlebury's performance, just a solid, well-executed game plan minus one of their stars. That's pretty impressive for a team competing in their first tournament of the season and a testament to the quality of Middlebury's talent and the skill level of their players. All of this was accomplished with just a small roster of fourteen players.
"Air Force is athletic, but so are we. They're intense, but so are we. They're smart, but so are we. They're well coached, but so are we," said Dylan Salzman post game.
The performance of Middlebury's stars, particularly their underclassmen like Strenski and LSF, was emblematic of the caliber of players Middlebury has been able to bring into the program the past few seasons. The loss of Lantz is certainly a blow but not necessarily an insurmountable one with the talent Middlebury has on hand.
"Having those kinds of players is super fun because guys like [Kevin] Strenski are willing to be a part of our process," said Salzman.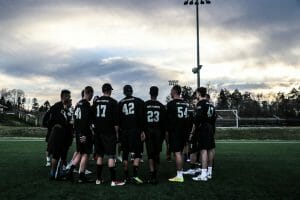 As for Air Force, the test of playing Middlebury exposed some key weaknesses that they will have to address if they wish to compete for a title in May. They struggled to generate turnovers consistently, and many of their break opportunities came from unforced errors by Middlebury rather than from Air Force's defensive pressure. It seemed at times that Air Force was content to sit back and let their athletes go out and try to make plays rather than apply systematic defensive pressure in the way that Middlebury did. Villanueva was susceptible to holding on to the disc well into the stall count waiting for a downfield option and, especially during moments of in the first half, didn't seem to appreciate the kind of athleticism Middlebury had on hand with players like Strenski and DeLorenzo lurking.
Air Force's struggles to convert breaks may have been more of a reflection of their choice to run fairly open lines on defense, but when compared to the performance of Middlebury's youth, Air Force couldn't quite get the same sort of contributions as the Pranksters.
"I think we have a ways to go," said head coach Carl Chan. "Middlebury is very disciplined and very athletic. We know that the bar that they've set with Salzman on the sideline is very high and that's what we have to work towards, to be ready for."
The fact that Air Force was able to comeback twice and hold all the way to double game point is itself pretty promising, but for now, the balance of power has shifted away from Air Force into the hands of Middlebury.
The game under the lights was the highlight of the tournament and will probably go down as one of the best of the year in the division.
Footage of this game is available in the Ultiworld Video Archive for Full and Plus subscribers.
---
We think. Middlebury refuses to identify the player in question. ↩