The bid picture is heating up down in Florida!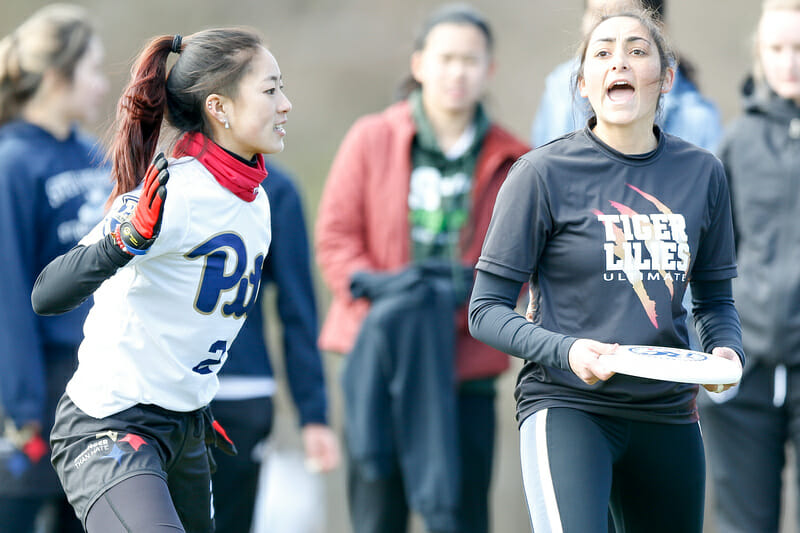 Ultiworld's 2019 college coverage is presented by Spin Ultimate; all opinions are those of the authors. Please support the brands that make Ultiworld possible and shop at Spin Ultimate!
It's a bit of a down year for both divisions at Tally Classic 2019. Still, there will be plenty of teams worth keeping an eye on in both the women's and men's tournaments. The women's side features several intriguing teams coming to the defining points of their season, while the men's side plays host to a bevy of Southeast regional implications. It's always a fun weekend at Tally, and these are the story lines that should drive the most excitement over the course of the tournament.
Tournament Profile
Date: March 16-17
Location: Tallahassee, FL
Weather: Low 50s to low 60s
Top 25 teams: 0 Women's // 1 Men's
Competition Schedules
Women's
Is Clemson a top 25 caliber team?
This is the first time since 2014 that the women's division at Tally Classic hasn't featured a single ranked team. There are a couple of teams that could possibly work their way in with a strong showing this weekend. As one of only two teams coming into the tournament with a winning record, Clemson has to be the top of that list. Only three teams in the country1 have played more sanctioned games than the Tiger Lilies this spring, so we already have a pretty decent sense of how they stack up. They hold a 4-1 record against the tournament field, the lone loss a 9-7 defeat to Florida at Queen City Tune Up.2 They still lack any marquee wins on the year, and it's tough to say if Tally represents an opportunity to gain any, but they should at least get to play a handful of teams in the 30-50 range of the rankings.
Clemson has just two losses since the end of January, and they are the only team in the field that has won a tournament already this season. It's their first time playing in over a month, though, so continuing that momentum may be a challenge. Rachel Conway and Hannah Cash will be two of the best players at the tournament, and if Clemson is to win the tournament, they'll need those two to play well. The team employed a huck and play zone tactic at Queen City, and while the weather should be kinder this weekend than it was in Charlotte, that style of play could still be successful this weekend against teams that don't have strong backfields.
It will be a prove it weekend for Clemson. If they can avenge their loss to Florida and win the tournament, they would shore up their status as one of the better depth teams in the Atlantic Coast. If they do all that with blowouts all along the way, then perhaps they could enter the Top 25 conversation as well.
Can Florida generate some momentum?
The two-time defending Southeast champions are firmly in the midst of a retooling year. It's not fair to fully brand it as a rebuilding season, since Florida still are in contention to make Nationals again thanks to a down year for the region, but they've definitely experienced some growing pains this season. Their schedule has also been far tougher than any of the other teams in attendance, though: they hosted Florida Winter Classic in January, before trips to Queen City and Stanford Invite. Despite their 8-12 record, they're the 1B favorites to win the tournament this weekend, and would probably be the outright Vegas favorites, considering they already have a win over Clemson this year.
A rough Stanford Invite did end with a glimmer of hope, too. They beat UC Davis and Whitman in consolation play, just their third and fourth Sunday wins all season. But it does mean they come into the weekend on a bit of a high note, and with a great chance at winning three consecutive games for the first time this year. This weekend will be a big one for Florida, as they begin to switch from early season development to shaping into the team they'll be come Regionals. A strong performance at Tally would go a long way to building the team's confidence and momentum as they prime themselves for the Series.
Will anyone emerge as a regionals threat?
Beyond Clemson and Florida, it's difficult to see another team winning the tournament. But there's still plenty for teams to work for. Kennesaw State — the only other team to come into the weekend with a winning record aside from Clemson — and Florida State both hope to be factors at Southeast Regionals. KSU has the one-person wrecking crew known as Mia Griner, the grad transfer from UCF, and they've clobbered some of the lower level regional teams this season. This weekend will be their first chance to play teams with higher aspirations in the Southeast, starting with Florida State in the second round of pool play.
FSU has been sliding in the wrong direction the last couple of seasons, but they still have experience on the roster via the likes of Lindsi Allman and Natalie Dix. They're a team that has struggled to play up to their potential, but they do have players who've played in a game-to-go just a couple of seasons ago and who have logged major club minutes. They're capable of a big weekend at their home tournament, and it could be helpful in trying to rebuild confidence as they hope to get back on track at regionals this year.
Harvard has been a regular top four finisher at New England Regionals the last several seasons, and if they the region is able to hold onto all three bids it currently holds, then continuing that trend would make them Nationals contenders this year. They've only played one tournament so far this season (Queen City) so it's difficult to tell whether they'll be in place to compete for a top four regional finish again this season. We should get a better idea this weekend, particularly in their final pool play game against Florida.
Men's
How will UCF follow up their Warm Up performance?
Tally Classic will be our first look at #8 Central Florida since they took Florida Warm Up by storm. They looked like the real deal in making it all the way to the final, grabbing a win over Carleton and a pair of wins over Texas along the way. But they still have plenty of doubters who label their Warm Up performance a fluke. The skepticism is fair, considering how their 2018 season played out, but this weekend should be an opportunity for UCF to prove their Warm Up performance was who they really are, and not an aberration.
At Warm Up, UCF found success on the back of their solid backfield, anchored by Austin Gaines and Andre Bordelon. They did a nice job of maintaining possession and providing a base to allow Adam Vinson to handle some of the more technically demanding work offensively. They also boasted an impressive, athletic defense that showed no fear in the air, led in spirit by the high-flying Austin Koffarnus.
This weekend will be a different challenge for UCF, though. They're now the favorites and there aren't any powerhouses for them to play up to. They'll be the favorite in every game they play and they'll have to set their own standard against teams looking knock them off. It would be a real surprise to see them drop a a game in pool play, or miss out on semis, but they really should win the whole tournament. If they do so in convincing fashion, then there won't be many left who doubt UCF's status as a Nationals-caliber team.
Does Alabama hang onto a bid?
One of the biggest developments of last weekend was idle Alabama rising up to 18th in the rankings. At the moment, that's good for the last strength bid and pits the Southeast at three Nationals bids. Alabama doesn't have any Top 25 wins yet, but their only losses since the end of January have been to North Carolina, North Carolina State, and Ohio State. Wins over Carnegie Mellon, Maryland, LSU, Texas Tech, and Texas State have all been valuable in the rankings algorithm, and are indicative of a team that should have a strong showing this weekend.
Less than seven algorithm points ahead of Southern Cal in 19th and with Wisconsin not far behind them, every point will matter for Alabama this weekend. They don't stand much to gain from pool play, with their highest ranked pool play opponent being 68th ranked Tennessee. They'll likely need max point wins throughout pool play, may need the same in quarters, and then, finally, they may face an opponent or two that they can gain some points against. It's a tough ask; maintaining that level of intensity all tournament long, while waiting so many games to see another ranked team is really difficult. But that's what it will take, along with an upset or two once they make it to semis, if they're going to hold onto the bid for the Southeast.
What motivations play out in Pool B?
There's plenty of postseason implications in play in Pool B, as well. Auburn, currently holding a bid for the Southeast with the 15th spot in the rankings, tops the pool as the overall no. 2 seed. Auburn has their own famous history with the rankings and under-performing in the regular season, but they've also performed very well at this tournament in the past. With Alabama in such a precarious position and Georgia pretty far back after a rough go at their home tournament Classic City Invite last weekend, it would behoove Auburn to play well enough to hang onto that bid.
Florida State, the second seed in the pool, is one of the teams that has the most to gain from the Southeast having multiple bids. They are out of the running for earning a bid, but at CCI, they looked like a team that will be dangerous at Regionals. Will they use this opportunity against Auburn to prepare for a potential game to go in April? Auburn is certainly one of the most likely teams they would face in such a scenario. Or does the thought that a comfortable win for Auburn might be the best case scenario for them as far as maximum regional bids goes?
To be fair, that question tends to be one the media asks far more often than it ever seems to be a motivating factor for teams once they take the field. And Florida State will probably fancy themselves as dark horse semis candidates, whether they beat Auburn in pool play or not. But there's no denying that this matchup holds a lot of implications for how Southeast Regionals will shape up.
---
Cal Poly SLO, California, and UC Davis ↩