There might be a way to make it work.
BYU Men's Head coach Bryce Merrill tweeted last week the idea of having a single "Northwest Regional" tournament spread out over two Saturdays in place of the current two weekend Conference/Regional format that exists today. This is the first proposal that passes almost every criteria that both BYU and the ultimate community have created:
To advance to Nationals, a team only has to compete on Saturdays. Sunday would be solely reserved for consolation games if teams want them.
There is no built in competitive dis/advantage for any team as they are all competing under the same conditions.
It doesn't require teams to miss class for Friday games or travel (any more than already exists).
It isn't a massive cost increase for teams as both the current and proposed formats require teams to travel to two in-region events for the postseason.
It doesn't fundamentally alter the tournament structure we are familiar with as it would use an (altered) format that is already in the format manual.
If you have never scrolled all the way to the bottom of the format manual, there is a section that spells out what to do when there are 17-24 teams at an event. While these formats aren't used often today, it was common to see huge sections prior to the college and club restructuring. If we took last year's results and used it to model what this would look like, what you get is something that is very feasible.
There were 21 D1/Dev teams that competed in the Northwest Men's Series (10 Cascadia and 11 Big Sky), and they were competing for three bids to nationals. Using the 17-24 teams, 3 advance format gets you this setup: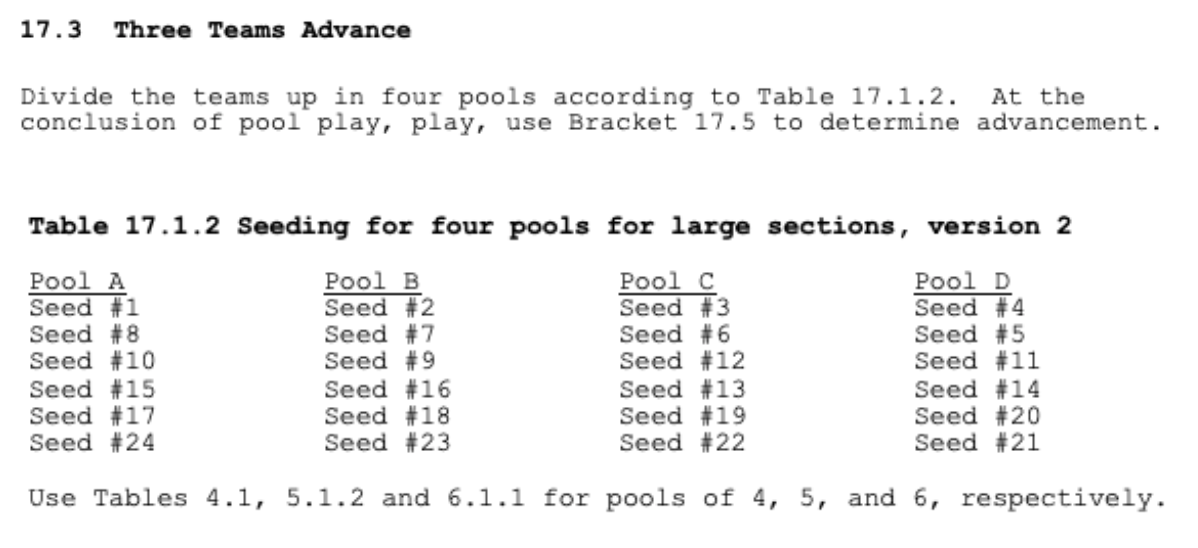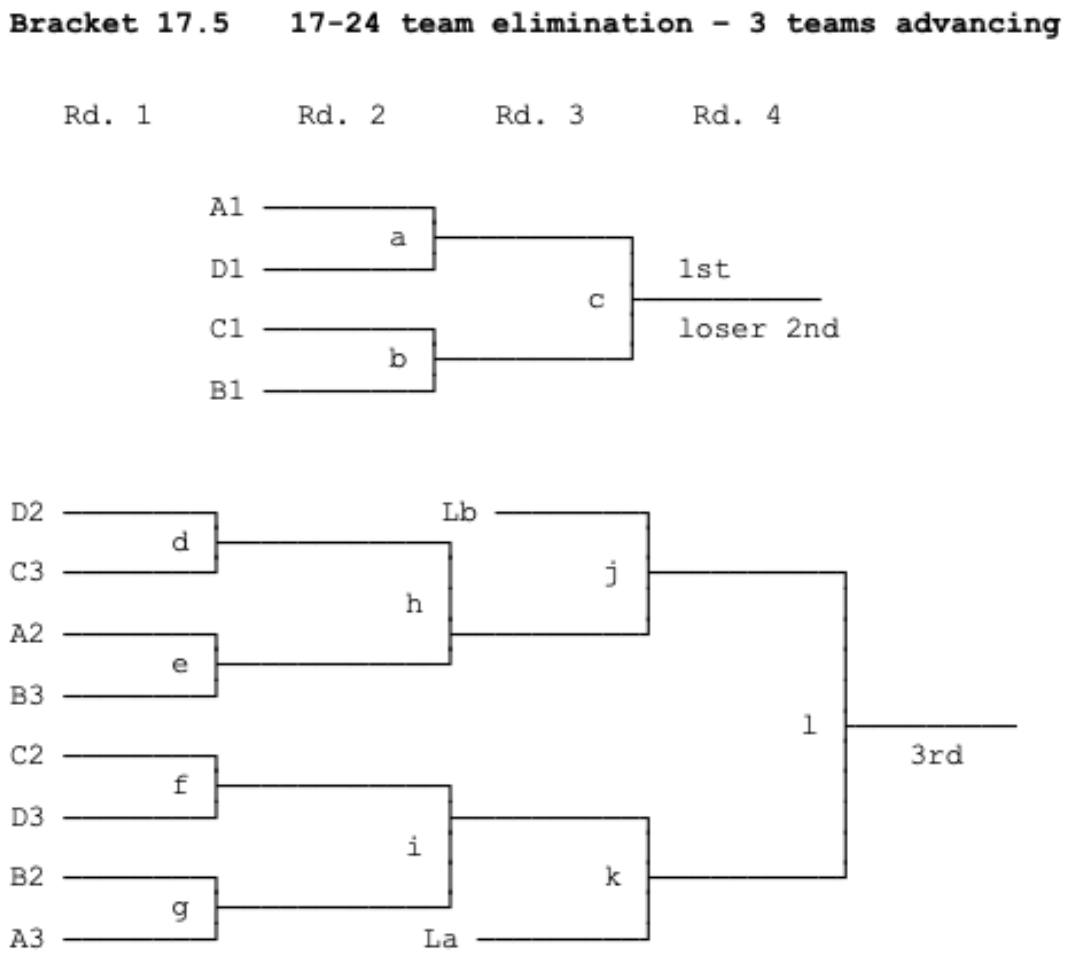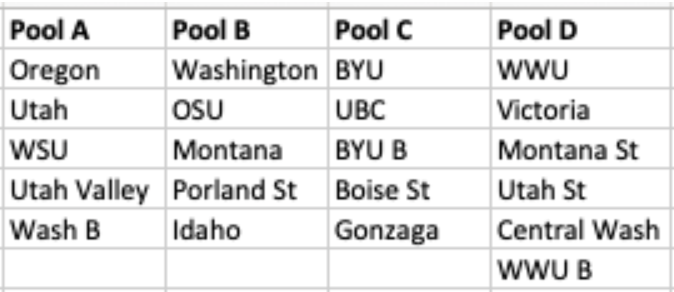 Since there were only 21 teams participating, Pools A/B/C would have had 5 teams while Pool D would have had 6. Assuming BYU isn't in a pool of 6 (they wouldn't have been last year based on seeding), some games could be moved to Sunday if the teams and TD agreed to it.
It is here that I would like to point out one benefit of only playing meaningful games on Saturday: you can space out games all day and into the night because teams aren't worried about getting back to their hotel to rest for Sunday. Rounds can be longer and less affected by caps, and teams will have more time in between games to recover and move fields.
The second weekend would have been a high quality bracket with completely fresh teams. While I can appreciate a team that can grind through the backdoor bracket because of their depth, this format is more similar to the College Championships compared to the current Regional formats. Teams that finished 4/5/6 in their pools would have a consolation setup available to them on the second weekend if they wanted to travel. Of the bottom nine teams seeded above, only one of them actually made Regionals in 2018.
While the BYU Women's team hasn't quite reached the level that the men's has, this format would also work for the Northwest Women's division. There were 16 teams in the series last year, so the format outlined above would just need to scale for the number of teams participating.
When putting this together, I did notice some obvious drawbacks:
The Men's Division is already at 21 teams. Anything over 24 teams would make things much harder, and we might be back to square one.
There will be a reduction of games scheduled for teams. Oregon won the region in 2018 with the shortest path available to them at 12 games, but could do that in only six games under this new format. Mid-tier teams like Oregon State and Utah would see a reduction of 11/12 games to seven.
There is a high chance that many of the teams eliminated on the first Saturday do not travel for the second weekend, so teams wanting to play more games may not have many opponents. However, almost all of those teams aren't currently making it to Regionals.
Even with longer rounds/byes, five games in a single day for pools of six are going to make for a long first Saturday. Below is how I would schedule it with 5 games to 13.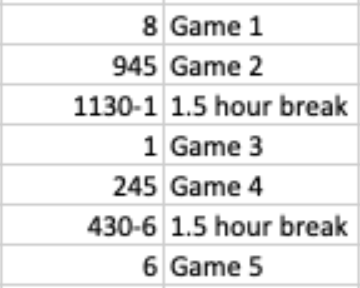 The Regional Director would have to find two field sites capable of handling these events and will likely want them to be on different sides of the region. Salt Lake City <-> Seattle is a 12+ hour drive through the mountains, so there will likely be some flights involved for teams.
Northwest Regionals seems to have found a home in Walla Walla, WA, because it is central enough that every team can drive there, so it could be possible to just do both weekends in the same place to make sure no one has to fly, but that can be demanding on a local disc organization that might not have the volunteer base needed to do two events two weeks apart.
Conclusion
I think the above proposal is a workable solution that allows BYU to compete for a spot at Nationals. However, until USA Ultimate alters the College Championships format in a way that would allow BYU to finish the event, there is no reason to shift from Conferences/Regionals to this two week combined event. I personally think the current Nationals 20 team format over four days is the best one that exists (RIP Club power pools). I don't see USAU giving up their Memorial Day championship time slot on ESPNU just to accommodate a single team.