Sebbi Di Francesco was a top prospect, but he's missed the majority of his college career.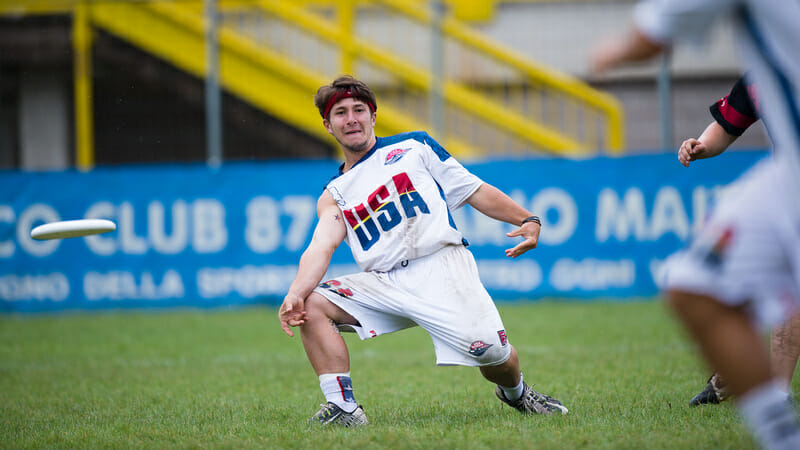 Ultiworld's regular season college coverage is presented by Spin Ultimate; all opinions are those of the author. Please support the brands that make Ultiworld possible and shop at Spin Ultimate! 
It was the summer of 2014, and Darren Wu had just won Canada a U20 Boys World Championship.
With the double game point loss still fresh in their psyche, the USA men accepted the silver with hollow smiles, packed up their things, and boarded a plane back to the States and a new school year. Many were about to kick off the next chapter of their lives in college: two — Nathan Haskell and Sebastian "Sebbi" Di Francesco — at the University of Georgia.
One of the top recruits in the country, Di Francesco had been playing ultimate since seventh grade. He'd been coached by heavy hitters like Tiina Booth (NUTC), Dylan Tunnell (Grady High), and Michael Baccarini (Paideia Camp and YCC), and already had more big game experience than many of his new Jojah teammates.
His new team, meanwhile, had finished 2014 on a disappointing note1. But with the return of most of their major contributors and a crop of new, uber-talented first years, 2015 was looking to be an up year for the program.
"My expectations for my freshman year were exceptionally high," Di Francesco, now a fifth-year senior, says. "With the additions of myself, Riley Erickson, and Nathan Haskell, plus the fact that Sam Little, Tyler Haskell,2 and Elliott Erickson were on the team had me expecting we would compete for a national title."
While Jojah didn't end up winning the National Championship in 2015, they nevertheless had an extremely successful spring. They finished with an overall 23-13 record and a return to Nationals was a return to form for a historically strong squad. For his part, Sebbi was major part of the Jojah D-line, commanding the backfield on a turn and using his elite lateral agility to shut down opposing handlers. He finished Nationals with four goals and six assists, inside the top six on the team for each. With Haskell, Little, Parker Bray, and newly-appointed captain Di Francesco returning for 2016, Jojah headed into the offseason with oodles of optimism for the future.
But that optimism, at least for Sebbi, was short-lived. In the fall of 2015, at the Classic City Classic — Georgia's home tournament — Di Francesco caught a goal, hopped in celebration, and came down oddly. He limped to the sideline knowing something was wrong.
"There was a lot of bone bruising, which is exceptionally painful. I could also hardly walk afterwards," he remembers.
A trip to the orthopedic surgeon and his worst fears were realized: a torn ACL. His sophomore season, at least on the field, was over. Over Christmas of 2015, Di Francesco went through a quad tendon repair, performed at the Emory University Orthopaedic & Spine Hospital. He almost immediately began physical therapy at Horizon Physical Therapy in Athens, aiming for a return the following season. Of course, as a captain, there were still plenty of ways to help Jojah off the field, and he dedicated himself to that pursuit.
Although he was stuck on the sidelines along with co-captain Parker Bray (who suffered a PCL tear late in the spring), Di Francesco's deep ultimate knowledge and leadership helped Jojah to their most successful season in recent memory. After winning their pool (and beating number one seed UMass along the way), Georgia had the ill-fortune of running into the red-hot Harvard Redline in quarterfinals. Despite their best efforts, Jojah was unable to stop the Mark Vandenberg/John Stubbs freight train. Harvard eked out the victory on double game point, 14-13.
After a summer of hard work, Di Francesco was ready for the fall season of his junior year.
"I was finally cleared to play at around the ninth month mark post-surgery," he said. "My physical therapist was always impressed with how quickly I was recovering. They said I was three months ahead of schedule numerous times throughout my recovery. I was happy to come back quickly."
Unfortunately, his knee once again had other ideas. At the same tournament (CCC), on the same field, in the same corner of the endzone, Sebbi's graft snapped. After nine months of rehab, of dreaming of a triumphant return to the field, the exact same injury ended Di Francesco's season in an instant. This time, his orthopedic surgeon reconstructed his ACL with a patellar tendon graft. His timetable for return? At least a year.
Crushed, Sebbi decided to spend the spring of 2017 focusing on school and getting some space from the team. Both physically and mentally, he needed a break.
RELATED: Sidelined — Injury, Grief, and Trauma
The Di Francesco-less Jojah, meanwhile, took a step backwards. Despite sublime play from Parker Bray and Nathan Haskell, the team simply lacked the depth to compete with the country's best. After a middling regular season, Jojah lost lost big to Auburn in the game-to-go at Southeast Regionals.
When he returned the following fall for his senior year, Sebbi wasn't there as a player frothing at the mouth to get back on an ultimate field. He made the incredibly difficult decision not to rejoin the team, instead opting to continue focusing on school and getting his knee as close to 100% as was now possible. Compounding the difficult decision was one of Sebbi's would-be Jojah teammates: his younger brother Drew, an accomplished youth player in his own right, was entering his freshman year at UGA.
Despite the departure of both Bray and Haskell, Jojah 2018 surprised many by making a triumphant return to Nationals. While Sebbi was ecstatic to see his former teammates success, he wasn't experiencing the FOMO you might expect from someone in his position. Instead, he was enjoying the oodles of free time he had without ultimate occupying his schedule.
"It was nice to have a break from frisbee. I've been playing since 7th grade and this was the only time I'd ever taken a full year off… I focused on having fun and making new friendships outside the frisbee community. I was blessed to attend a number of music festivals that year, which proved to be just as exciting and fun as playing for Jojah."
Of course, the siren call of ultimate isn't so easily resisted.
Back for a fifth year at Georgia, Sebbi decided to give his final year of college eligibility all that he, and his body, could. But once again, his season was in jeopardy before it even began.
"In the summer, I was casually playing basketball with my brother and cousin. After an aggressive block on my drive to the hoop from my brother, I landed awkwardly on my left leg. This resulted an acute medial meniscus tear in the ACL-repaired knee."
While relieved to find out it wasn't a third ACL tear, it was another setback to his return. Knowing time was running out on his college career, he quickly underwent a medial meniscus repair and launched headfirst into six more months of physical therapy. Finally, he was cleared to return to Jojah for the first time in two years.
Of course, that would be too easy, right? His first practice back, Sebbi went to change directions to defend an upline cut and felt his knee give out. Another trip to the doctor and he discovered his repaired meniscus re-tore. Luckily, another option with a shorter recovery time was available to him.
"My orthopedist felt it best to do a partial meniscectomy to remove the damaged section, since a second repair was likely to fail," he said. "I spent three more months in physical therapy– my shortest and easiest recovery to date."
Throughout the injuries, throughout the recoveries, and even throughout the sabbatical, Sebbi's drive and competitiveness never wavered. He knew that, perhaps through sheer willpower alone, he'd see the field again. And, finally, after more than three years, Sebbi Di Francesco made his return to the Jojah squad this spring. Initially, the captains were a bit apprehensive about working in a new player with as much experience and knowledge as Sebbi — he was, after all, a captain at one point.
"When he informed us that he wanted to return to the team and sport, I had a lot of concern about what his roles would be on the field and as a leader off the field." captain John Ross Ingley remembers. "But when we talked with him about it, he relieved any questions I had by telling us he wanted to be an offensive handler and did not want to have an explicit leadership role on the team. He just wanted to be able to play for the team again."
While Jojah hasn't had an incredible season (by their standards), they have a chance this weekend to snatch their regions single bid to Nationals from a resurgent UCF. They have yet to play each other this season, but Di Francesco likes Jojah's chances.
"Every year I've been on the team we have gone to natties," he said. "I don't intend to break that streak on this last go around."
As far as his knee is concerned, Sebbi has accepted it for what it is. He trusts the many doctors and physical trainers he has worked with over the last three years and is not fretting over the on-field minutia.
"The most dangerous parts for me are changing directions and jumping and landing," he explained. "I focus hard on my form in warmups and hope that it translates to the field. When you're playing, you don't have time to think about your form, so I play exactly how I used to play before the injuries…No one can tell me why I've had so many injuries. Doctors and physical therapists say I've done everything I can to prevent them."
"I know the risk I am taking by playing, but I'm not one to let fear of injury hold me back. I'm also honestly too focused on winning to think about re-injuring myself."
At one point in time, Sebbi liked to shoot and shoot often. He was a firm believer in high-risk, high-reward ultimate, a mentality ideal for the D-line. And that's how he made his bones: playing tough defense and then looking for the big throw on a turn.
Sometimes it worked, sometimes it didn't.
He takes less shots now, but that's by design. Jojah doesn't need him in that role. Instead, he acts as a reset handler on their offensive line, providing a capable foil to the more dynamic handling of junior Mack Hodges. Is he still one of Jojah's stars? Not really, no. The injuries and the resulting time away have seen to that.
But for Di Francesco, this season isn't about personal glory. It's about being a part of a tight-knit team, rather than being apart from it. It's about getting out on a field and running again with his teammates. But most of all, it's about playing some ultimate for the first time in four years.
---
Despite the region having three bids and Georgia making the final, the tournament format meant that a team couldn't qualify for Nationals by losing. Jojah had to win one of their next three games to make Nationals: they failed to do so. ↩

both Little and Haskell just won a Club Championship with New York PoNY ↩