Georgia looked the best they have all season at the right time.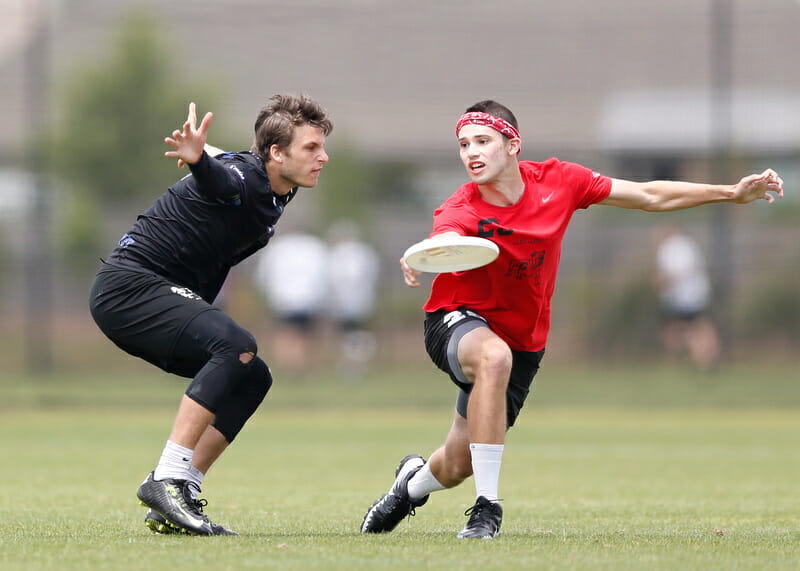 Ultiworld's Men's Division college coverage is presented by Spin Ultimate; all opinions are those of the author. Please support the brands that make Ultiworld possible and shop at Spin Ultimate! 
The men's division at Southeast Regionals never fails to disappoint. The region's lone bid was stolen, there were upsets, comebacks, and several teams' seasons ended on double game point. The one unexpected thing was that the weather was really nice. Let's crack into the most important developments from the weekend's action in Foley.
Georgia Confidently Marches Through The Bracket
#21 Georgia looked like the team we expected them to be in the preseason: the best team in the Southeast. They cruised through their schedule to the final, not giving up more than six points in any of their pool play games. They conceded 11 against Florida, but the win was never in doubt. They beat LSU 15-7 in semis, and the 15-12 final scoreline against UCF is deceptive; they built a 14-9 lead before a couple of fluky turnovers very late in the game.
Georgia's defense was athletic and oppressive, and their offense looked better than it had all season. Heading into the final, they felt like the favorites. They did give up some breaks in the final against UCF, but their depth, and the efficiency they played with over the course of the weekend, allowed them to look fresher much deeper into the game and pull away in the second half. Georgia doesn't have any real superstars, but they got solid performances from two-plus lines worth of players, and that was more than any other team could come up with an answer for.
They did catch a couple breaks in bracket play, catching teams that were physically and emotionally exhausted. Their semis opponent (LSU) and final opponent (UCF) were both coming off of double game point games when Georgia faced them, but UGA maximized that advantage by dispatching their opponents quickly in their own games. They always looked like the fresher team, and that was the difference between them and UCF in the final.
"They were the best team we played this weekend. They played with intensity. It was obvious they were tired," said senior Hunter Cutts after the UCF game. "We knew coming in that we were fresh, much fresher than them. We had a game plan going into this weekend, we were able to execute it and really rest a lot of our top guys. And just watching their guys play both ways the entire game, and knowing they'd just been in five consecutive dog fights, where I came into this game feeling the best I've felt this weekend ready to play, and that edge, we knew we had it, and it continued throughout the game."
Southeast Regionals are supposed to be a gauntlet. And they were, but Georgia was able to use that to their advantage, rather than suffer through it. While they breezed past teams, all of their rivals were giving it everything they had just to stay alive. Said coach Henry Siebentritt, "All day today, being able to crush a team, go the next sideline, and see a universe point [from our ensuing opponents] in both cases fired us up."
Georgia was more than just the fresher team in their games, though. They looked better than they had all season offensively. The offense looked more in sync and less grindy than they did during the regular season. At times they looked unstoppable, using the whole width of the field to attack helpless defenses. "We're rising at the right time. It's what we were building for," said coach Parker Bray, who'd had his own Jojah career ended on the same field his team defeated UCF on two years prior.
"We came in with one job and it was to take that bid. No one was getting in our way this weekend. We dominated," he continued. "We were deeper. Other teams were having to run through the top guy, we didn't cross anyone over until the very last game of that regional final. No one played both ways up until that point."
Cutts thought the team did a better job of sustaining the moments of offensive fluidity they'd flashed at different points in the season. "We played six games this weekend, and we really played about 11 and a half solid halves," he said. "That's what we boiled down to as the season was progressing. It's like, we know the team that we can be, we know the people that we have, it's just about sustaining that for longer periods of time, and finding it on our own, and obviously we found it."
According to Cutts, the team came into the weekend with confidence, and that confidence manifested itself in Georgia's impressive performance. "We've seen what we can do, and I think there was a lot of belief on this time, and it was our time. Don't get it wrong. The algorithm says what it said at the end of the season. That was our bid. We came in thinking, this is our bid, we're defending our bid. And we were there to do that was the mentality, and it never wavered."
UCF's Dream Season Comes to a Close
With Georgia stealing their bid, it meant that #12 Central Florida's turnaround season came to an early end. They were the best team in the region all season long, but they couldn't match Georgia's depth in the final. Rather than taking their impressive turnaround from missing Regionals altogether last year to Nationals, they were left wondering why this Georgia team hadn't played as well sooner in the year and earned a second bid for the region.
Where UCF will maybe have some regret is the amount of points they played earlier in the weekend. All of their pool play games were tight. They had to come back from 7-3 halftime deficit against Georgia Tech. Emory played them to 7-7 with long, laborious points, before UCF quickly rattled off four in a row to end it. Kennesaw State played them close the whole way, again with long points, to an 11-9 final score. The Dogs of War went undefeated in pool play, but it was obvious they were getting every opponent's best game, and they weren't playing well enough to put them away quickly. They also played Alabama to double game point in semifinals.
Those points caught up with them against Georgia. "When we looked at their scores from yesterday, and saw that they just blew out every team, we were a little concerned thinking if we met them in the finals," said head coach Michael Taylor. "Today we felt a little bit better. I think maybe the latter part of the second half, those long games definitely kinda caught up to us because we were forced to play kill lines more."
Even though they came up short of Nationals, UCF still had plenty to be proud of. They defied expectations all year, and few would have predicted they'd end up within three points of a Nationals berth before the season. "We know what we did, and we're still very proud of it," said Taylor. "We have a lot of guys that this was their last game…You could tell the mindset's changed this year, because right away guys were talking about how good this year was and how much fun it was to play this year and that their final year meant something special. I couldn't say it any better."
Other Quick Observations
LSU won back to back double game point games in prequarters (against Emory) and in quarters (against Auburn) to make semis. They were unable to hang with Georgia in their semifinal, but with a team comprised of so many underclassmen, their weekend has to inspire hope for what they're capable of in the seasons to come, particularly considering the win over Auburn featured a comeback from a 9-6 deficit. LSU has a history of letting emotions derail their Series aspirations, but twice coming out on top against two veteran laden teams when their season was on the line feels like it could be a landmark moment for a young and maturing team going forward.
Alabama was an impressive side on the weekend. They fended off a late comeback attempt from Florida State to win on double game point in quarters, and then took UCF to double game point in semis. With just a few seniors on the team, they could be one of the top teams in the region again next year.
Auburn didn't have the magic they've shown at Regionals in years past, even with Hank Womble blasting a DJ set between points on the sidelines. They couldn't solve LSU's second half zone until it was too late and their run of four straight Nationals appearances came to an end. Eric Sjostrom, who was a key part on each of those four teams, is now gone, so it will be interesting to see where the Auburn program goes from here.