What do you think of these pools?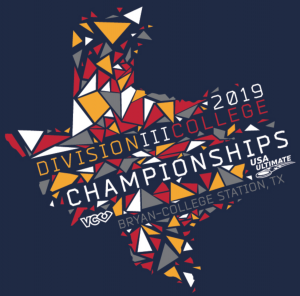 With Confregionals and Regionals in the books, we now have the full field of teams and the latest rankings update from USA Ultimate. It's time to start thinking about what the seeding and pools might look like for Nationals.
Please note that we do our best to follow USA Ultimate's guidelines for seeding: USAU's post-Regionals rankings are very heavily weighted, head-to-head wins matter at the margin, and historic success is considered. Generally, we try to avoid regional matchups where possible.
Here's a look at what we expect the pools will look like in College Station, TX.
Women's Division
| POOL A | POOL B | POOL C | POOL D |
| --- | --- | --- | --- |
| Bates (1) | Truman State (2) | Williams (3) | Puget Sound (4) |
| Wesleyan (8) | Portland (7) | Oberlin (6) | Middlebury (5) |
| Lewis & Clark (12) | Mount Holyoke (11) | Carleton Eclipse (10) | St. Olaf (9) |
| North Georgia (13) | North Park (14) | Occidental (15) | Mary Washington (16) |
The only variation from the USAU rankings is flipping St. Olaf and Carleton Eclipse. Eclipse owns the season series with a 2-1 record, but Carleton's wins came by just one and three points in the beginning of March. St. Olaf's win was by five at Regionals, and as the North Central champions, they should flip with Carleton.

After being ranked second at the end of the regular season, Bates managed to leap Truman State to take the top overall seed after a dominant showing at New England Regionals.
Men's Division
| POOL A | POOL B | POOL C | POOL D |
| --- | --- | --- | --- |
| Middlebury (1) | Air Force (2) | Carleton GoP (3) | Bowdoin (4) |
| Michigan Tech (8) | Bryant (7) | Colby (6) | Richmond (5) |
| Missouri S&T (12) | Hamilton (11) | Portland (10) | Luther (9) |
| Franciscan (13) | Claremont (14) | Berry (15) | Valparaiso (16) |
A couple of teams had to be flipped from what the algorithm thinks to avoid Regional rematches in pool play. Richmond and Colby were flipped to avoid a New England rematch in Pool D, and Missouri S&T and Hamilton are flipped to avoid a South Central rematch in Pool B.

It looks weird for the 3rd place team from New England to be behind the 4th place qualifier, but Colby owns the H2H against Bryant. The algorithm has Colby 23 rating points ahead; if H2H and the algorithm both go against regional finish, then regional finish should be trumped.

While moving Missouri S&T down to avoid the SC rematch instead of up creates a loaded Pool A, S&T can't be flipped the other direction because Portland has a H2H win.

Bryant fell the most after their performance at Regionals, falling from 2nd to 7th in the algorithm, while Bowdoin rose the furthest, jumping from 13th to 4th. Bowdoin's blowout win over Bryant in a 2nd/3rd placement game ended up having a huge impact on seeding.