Belgium dominate at their home tournament!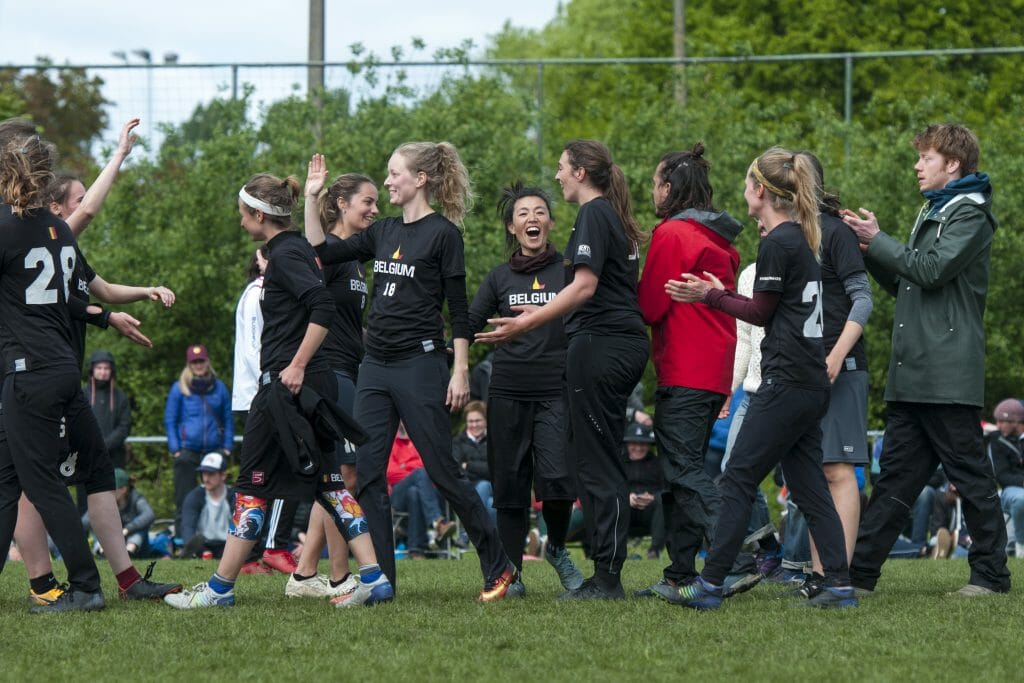 Ultiworld's coverage of Tom's Tourney is presented by VC Lookfly; all opinions are those of the author. Please support the brands that make Ultiworld possible and shop at VC Lookfly!
Some of the top women's national and club teams descended on Bruges last weekend's Tom's Tourney. The Belgian national team won the tournament, defeating the Irish pickup team, Deskeagh, in the final. Here are some of the major storylines from the weekend.
Belgium Blow through the Bracket
Belgium were, simply put, the strongest team at Tom's. After handling pool play easily, including an 11-8 win over France, they suffered a double game point loss to Deskeagh in power pools before moving onto the bracket. In quarter finals they let Switzerland come back from a two point deficit to bring it to double game point but managed to put the game away on a solid offensive hold.
In semis they faced CUSB Shout, who were the EUCF champions from 2018. The teams traded holds until 4-4 before Belgium went on a defensive run to make it 7-4. From there Belgium were able to trade out to take the game 11-8 as their offense line finished a perfect semifinal with zero breaks. Their offense was very evenly distributed but the handling from Charlotte Peters and cutting from Ella Cromheecke stood out this game. Noémie Dekoninck also picked up some stats on defense and helped to keep the energy up on this Belgian squad throughout the match.
In the final they had a rematch against the Irish pickup team, Deskeagh. Deskeagh capitalized on a missed throw from the Belgians to break on the first point, but that would be their only break of the whole game. Belgium went on an early run to make it 3-1. Belgium went on to win the game 14-9. Deskeagh tried everything to slow down the Belgian women including zones, poach and match defenses but just as in the semifinal, the Belgian offense was just too solid. On defense Belgium opted to throw different zone looks at the Irish which almost always contained Lisa Celis or Laura Malisse as a deep deep. Belgium would force Deskeagh into a lot of swing passes before baiting a deep throw to one of their tall defenders where they almost always forced the turn. Celis would often follow things up by blasting incredible hucks into space to finish off the Belgian breaks. She was absolutely on fire this game and will be very difficult for other European women's teams to deal with if she can keep building on this early season performance. While Belgium cruised through most of the competition here, we have yet to see how they will fare against some top women's teams like Russia, Germany and Finland who have yet to show themselves on the tournament circuit this season.
Deskeagh show Irish Strength
Deskeagh were a surprise to many at this tournament. They were seeded last in their initial pool and while they took a loss to Switzerland, they progressed through power pools. Deskeagh then cruised through power pools and quarters and semis before losing to the Belgians in the final. They had a play hard, party harder approach to the tournament but still managed to come out on top of every game except for the final against a red hot Belgian squad. Deskeagh had seven Irish national team players on the team and players like EuroStar Sarah Melvin and Leanne O'Neill showed how strong the Irish women's scene is this year. If they can perform this well as a party team with a shallower roster then the full squad with full focus will definitely be a team to watch out for at the EUC. Look for the Irish Women's team to show more of what they have at Windmill later this year.
CUSB Shout Underperform Expectations
CUSB Shout came into this tournament as the clear first seed. With their EUCF victory and Italy Women's win at the Bologna Invite, not many would have expected a fourth place finish for this team. They were missing captain and EuroStar Laura Farolfi at this tournament, but they did have the likes of Anne Ceschi, the Scazzieri sisters and Greta Melega as well as a slew of the deep talent that has become synonymous with Bologna in recent years. They did look good throughout the tournament after an early scare in their first game where they went down 8-7 to the Dutch National Team before making a late run to take the game away 12-10. They actually played quite well against Belgium in the semifinal as they just conceded two breaks all game, but were unable to get any breaks of their own. While they had enough playmakers on the field to compete, Farolfi's absence left the team with a little less fire as their lower energy levels and less confident body language were not what many are used to when seeing Italy's best on the field.
Shout's loss to Germany U24 in the third place game was, perhaps, the most surprising result. In this game, Germany's star captain, Levke Walczak, had already left to start her campaign with the German Mixed team at the European Beach Ultimate Championships in Portugal. However, without her there, the young Germans seemed to actually play better as other players stepped up really well in her absence. Meg Goldbuch, Mareike Förster and Lena Schäfer were particularly impressive in this game as Germany fought their way out of an early deficit to take the game on double game point 8-7.
National Teams raise Questions
EUC silver medalists, Swtizerland just barely took the 5th place game 8-7 against the Amsterdam Ultimate Club who were missing their top player Floor Keulartz to an ankle injury in that match. The Swiss lost to Amsterdam in power pools 12-7 when Keulartz was still healthy. The Dutch national team, lead by EuroStar Paula Baas, had quite an impressive weekend taking 9th place after forfeiting their prequarter due to lack of players from injury and EBUC commitments. The French women's team had a good start to the tournament but after they lost their prequarter game to Bristol Ultimate,1 they seemed to have a collapse as they dropped down to the last place game which they managed to win to take 15th at the tournament. This was especially surprising after they just lost out on a third place finish by one point at an arguably more competitive Bologna Invite earlier this season. These three national teams all had results that many wouldn't have predicted and it will be very interesting to see how these teams continue their season towards the EUC in July.
---
Which included a 35 minute point at 3-3. ↩