Some known entities and some newcomers to face off in the Women's division in Vienna!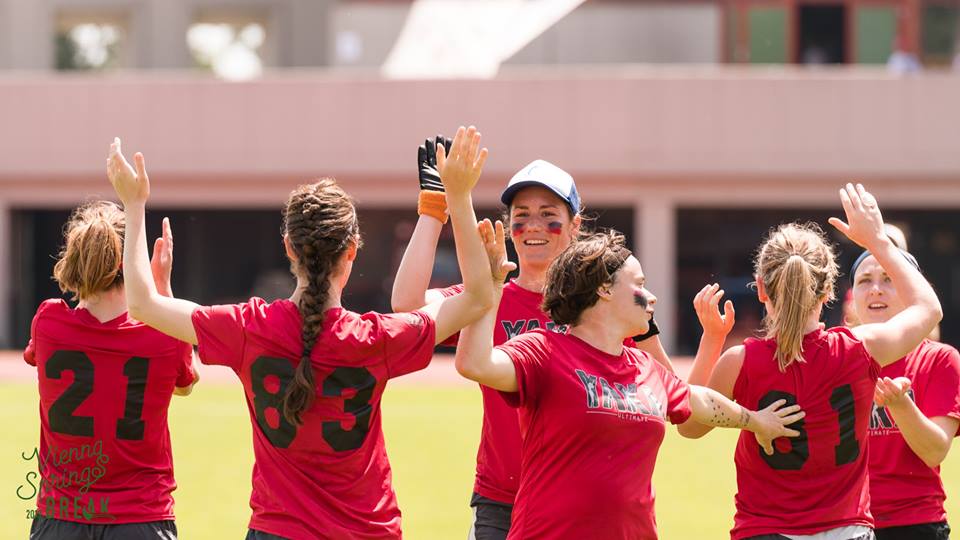 The women's division at Vienna Spring Break this weekend will be the opening tournament of the club season for some European women's club teams. There will be a mixture of teams preparing for the EUCR as well as new, young, and fearless teams looking to join these elite clubs and trying to challenge them. Let us take a closer look at what we can expect at VSB 2019.
Tournament Profile
Date: May 18-19, 2019
Location: Vienna, Austria
Weather: High of 19 C°, Wind 7-11 km/hr
Women's club teams: 16
Livestream: fanseat
Pool A: Iceni, BOX, EastBlock, GoHo girls
Pool A has the strongest team on board according to last year's EUCF results. Iceni (London, UK) have a long history of consistent performance and plan come to Vienna to perfect their disciplined offense and hard defense. They will be missing some key players this weekend due to national team duties, so their talented rookie cutters Ruth Kilsby and Charlie Ellis downfield will have a chance to shine.
Iceni could be challenged by the organizing team Box (Vienna, Austria). Unlike in the past two years, this year Box is coming strong into the season aiming for EUCF. They started off this season with a win at the Sky Bowl in Switzerland. Their very strong individual players attended WUCC and EUCF last year as pickups on various teams.1 Together with young junior talents such as cutter Flora Scala and the leadership of their veteran power and the Austria women's national team coach Eva Chuchma they have a good chance to significantly outdo their sixth place from last year.
Vienna Spring Break is the peak of the season for East Block (Bohemia, Czech Republic). Coming from different towns in the eastern region of Bohemia it might be difficult to outplay teams which regularly practice together. Nevertheless, expect some big plays from Karolína Zubatá and Tereza Čermáková coming straight from the EBUC in Portimao, Portugal to support their junior teammates.
For GoHo girls (Stuttgart, Germany), this will be already the third tournament of the season after Sky Bowl and Hello Stockholm. That could be an advantage for them on the field, however, they will be meeting new teams for the first time and they want to mainly focus on their tactics and preparation for German nationals.
Predicted winner: BOX
Pool B: YAKA, Bristol Women, Red Bulle, Chicas Munich
Poll B will launch the tournament with a streamed game YAKA vs. Red Bulle on fanseat.
YAKA (Paris, France) placed second at the last year's edition of VSB but did not send a team for the EUCS as their main focus was on WUCC. This year the core of the team led by Alline Mondiot is ready to explore the European scene, fight their way through the southern region and make a comeback at the EUCS after a year-long break.
Bristol Women (Bristol, UK) are the current UK champions, though they had a 10th place finish at the EUCF last year. This year they want to focus on building new connections within a selection of their wide roster of 44 women rather than aiming for top standings. Simultaneously they want to get their team ready for the UK nationals and finish off with EUCF.
The EUCF champions CUSB are sending their young less experienced team Red Bulle (Bologna, Italy) consisting of junior players between 18 and 21 years of age. Red Bulle have only been playing together since 2017 but with the high quality Italian junior program, we will certainly witness some new talent. Players to look for on the field are Emma Castellani, Giulia Cristofolini or Gaia Sdruscia.
The German runner-up Chicas (Munich, Germany)2 will have a new roster after their tryouts last March. With a new line-up, they get a chance to improve their next to last place from last year's VSB.
Predicted winner: YAKA
Pool C: Mantis, Seagulls, Prague Devils, Yalla
Pool C can potentially bring the most surprises. The teams we know have gone through some changes since last season and a new team is making an appearance.
Mantis (Vienna, Austria) are bringing their key players such as the reliable handler Kathi Meissl and other national team players such as Silke Delafortrie or Carmen Krail. However, after their extremely successful last season at EUCF and WUCC they are in the process of rebuilding and they are planning to integrate some new players and deal with some key departures. While they will be missing some key players from last season, watch for a new young star player Sophie Bretschko originally from Catchup Graz, who just joined the Viennese team.
Building a strong team base is starting to pay off for the Seagulls (Hamburg, Germany). With 46 women on their roster, they managed to send two teams to the German Nationals three years in a row. Vienna Spring Break is one of the preparation tournaments on their way for gold at the nationals this year.3 Even though they will be missing a star player Levke Walczak, captain Svenja Pruns and some other national team players,4 they still have enough depth to perform in Vienna. They are bringing Maria Seewald5 and Laura Olivieri who will provide the team with solid experience.
Prague Devils (Prague, Czech Republic) is one of the unpredictable teams in this pool since they are coming with a mixture of their own players and pickups from other teams. The decision makers in the game will certainly be the "old"6 Prague Devils players: captain Lucie Jarolímová and Hana Lesáková, who is also on the Czech national women's team. Their goal is to surpass their ninth place finish from last year.
The dark horse of this tournament will certainly be Yalla (Israel). Collecting women from all over the country, it is extremely difficult to organize enough practices and build a roster of players with the same level of commitment and willingness to travel to Europe to tournaments. As the first ever Israeli women's team to compete abroad, they are humbled but determined to take on some elite European clubs. Their unique playing style will be their secret weapon against teams they have never faced before. Some players to look for on the field will be the fast cutters Yael Nachum and Inbar Haviva and a small agile handler Maya Perry. Yalla might surprise their opponents with hucks from a Premier Ultimate League, Atlanta Soul player Leah Tsinajinnie and crazy bids and hand blocks from Rachel Winner.
Predicted winner: Seagulls
Pool D: Troubles, SYC, Terrible Monkeys, LilliPuc
Some pregnant female player here and there skipping one season might seem irrelevant to mention, however, there are four key players from the Troubles (Warsaw, Poland) squad giving birth this summer instead of leading the stats. The bronze medalists from EUCF 2018 are currently working on a long term goal of building a strong team for the WUCC 2022. While organizing open practices in Warsaw they manage to maintain regular practices for their experienced core players. The goal for Vienna Spring Break is to integrate rookies into their play and make some new connections on the field. The captain, Grazyna Chlebicka, has a wide range of throws and is backed up by Ewa Bańbula-Dyda and Ola Marszalek in the cutting space. They are coming to scout the European teams and explore their chances for this year's EUCS.
Another London based team, SYC (London, UK), will bring a breath of fresh air to the list of well-established Central European teams. After many practices together and with a new set of coaches and captains, the SYC women cannot wait to bring some spicy tactics to challenge their opponents. With some more experienced players absent on international duty, the team wants to put emphasis on the less experienced ones and try to gel with their newcomers on the field.
Terrible Monkeys (Prague, Czech Republic) have a team age average lower than 20 years old. They are dropping the European series this year so their main goal for this tournament is to gain experience playing against foreign teams and prepare for their national championship. Despite the fact they are mainly coming to have fun at Vienna Spring Break, their opponents should not underestimate their main cutter Tereza Havelcová and their strategic 3sb pickup Eliška Zikešová.
LilliPuc (Paris, France) will be practicing for the southern regionals, which they have never managed to pass. According to last year's results, their chances to fight down the tournament's front-runners are rather low.
Predicted winner: Troubles
---