How Saturday's action concluded.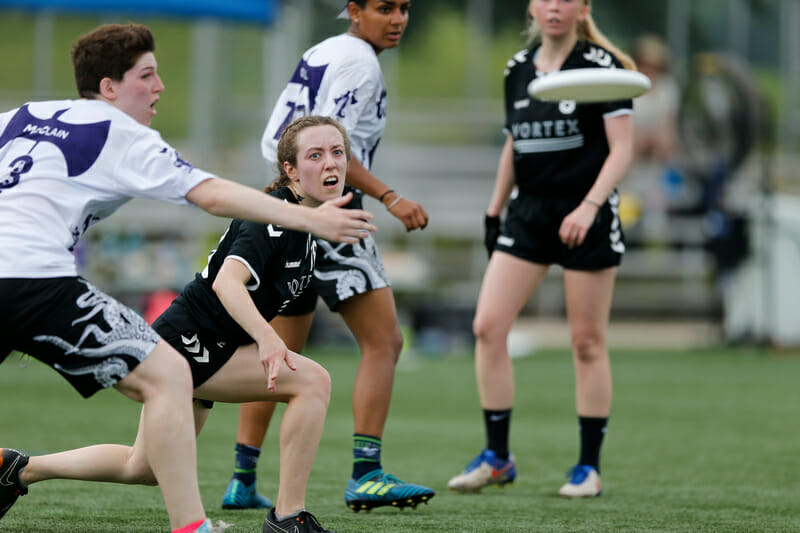 Ultiworld's 2019 D-III College Championships coverage is presented by VC Ultimate, the official gear provided of the Premier Ultimate League.
Following an intense day of competition at the D-III College Championships, the eight teams that survived pool play but failed to win their pools took the fields for prequarterfinals that would decide if they would remain in championship contention. Teams were pushed by one another and the fatigue of the hot and humid day. In such high pressure and challenging situations, four teams found success while remaining four were relegated to consolation play.
North Park Rides the Wind for a Win over Williams
In a stunning upset, no. 14 North Park Allihopa defeated no. 3 Williams La WUFA 10-9 to advance to quarters.
In a blustery game, both teams had to work hard to make the upwind points count. North Park received to begin the game, and stayed break-less through 2-2, until Williams punched in a goal to go up 3-2. They extended the score to 4-2, causing North Park to take a timeout and regroup. A few holds from each team continued until 5-3, when North Park kicked it into gear and ground out three scores in row to lead 6-5.
A big component of that was the tweaks and reinforcement of the North Park zone, buckling down on making Williams work only through their handlers to bide time on a bad pass or block opportunity. Those opportunities let North Park put their Great Lakes-earned experience with the wind out on display. The Allihopa zone was run not only for its ability to get turns and put North Park back on offense, but out of necessity. "We only came in with 12 girls this weekend, so we tried to save some legs," said coaches Cameron Hodgkinson and James Sykora. It benefited them as several scores came for Allihopa off of huck looks—with bids and layouts aplenty.
Williams also played with grit, with signature Caroline Weinberg layouts and blocks from the hands of Casey Phalen. "We had a couple really unfortunate drops in the end zone," said Williams captain Caroline Weinberg. While typically playing cleaner and shorter offensive points, those mistakes allowed North Park to huck and force a brutal work effort back down the field.
After the 6-5 break, Williams held North Park to back-and-forth offensive points, but the damage was done. North Park received going downwind at 9-9 and hit the deep shot to a cutter against tight Williams defense. Williams was shell shocked, having lost the two break buffer to go down on double game point. North park ecstatic to make it to their first quarters appearance as a program.
"I dont think many people expected us to do much and at this point we're playing with house money, so we're going to go out and have fun this weekend," said Hodgkinson about the impending match against Middlebury.
From their match against Williams, expect to see big offensive production from Erin Staurseth and Maggie Johnson (combined for six assists) and Ellie Manderfeld (three goals).
For Williams, the loss is a hard end to a tournament they entered with high hopes. "We have 9 seniors which makes this all a little more disappointing," said Weinberg. But the future is bright with the younger team members rising up. This includes players like Casey Phalen, Sofie Netteberg, and Elsa Bjornlund who combined for four goals and one assist.
Similarly North Park's long term future looks bright with the contributions of younger players like Manderfeld (a softball player playing in her first tournament of the season) and Kajsa Meyer. But their more immediate future will be an opportunity for them to keep playing and looking to make it big against all odds.
-Sam Echevarria
Puget Sound's Depth Overwhelms Wesleyan
Puget Sound was very impressive in their 12-7 victory over Wesleyan that was never in doubt. An early 6-1 lead for UPS gave them a cushion that allowed them to play more comfortably in the back portions of the game. Considering the team was without their seniors and star freshman Ally Constantino, the depth they showed was impressive.
"A lot of people are stepping up. People are playing D-line that only played O-line all semester, they are stepping into handler roles," said captain Bethany Llewelyn after the victory. "There's a lot of toughness required to do that, but I feel like we're meeting that challenge."
They still had Emma Piorier, whose 1G/1A/3D line undersells how dominant she was. She constantly generated intense pressure in her matchup and earned a mountain of yardage for UPS. Cutters Claire Zabel and Arshia Gill made some big plays, but there were a lot of valuable contributors in purple.
"They came down with a lot of stuff and contested a lot of throws, so things that might have been easy for us to get in other games, they pushed a little harder on that," said Wesleyan captain Lily Gould.
Vicious Circles were also playing shorthanded, with a small set of reserves only exacerbated by the absence of star Sydney Taylor-Klaus, who left before the round began to travel to her brother's graduation. Wesleyan struggled to deal with the heat and had little left in the tank for a team as good as Puget Sound.
Gould and Shira Yeskel-Mednick probably led Wesleyan in touches, but Ray McCann's energetic presence and tough catches by Sophie Lesjak were invaluable. McCann could frequently be found coming off of the field after a hard point only to immediately employ her voice to try to fire up their ailing sideline.
But even after Wesleyan found their footing, Puget Sound remained in control. 10-6 was as close as it got as Puget Sound closed it out with their defense, playmaking, and superior depth.
-Keith Raynor
St. Olaf Rookies Lead Vortex Past Lewis & Clark
Vortex earned a spot in the quarterfinals with a prequarters win against Lewis & Clark, powered by the superb St. Olaf freshman and a strong (albeit short) burst of second half play. Anna Mulhern and Anna Clements were forces to be reckoned with; Mulhern tossed eight assists, while Clements earned four goals.
The game opened up a bit when Vortex notched three straight to go up 5-2. After a grueling point ended with a Lewis & Clark hold, both teams found some rhythm and played a few clean points to trade. Artemis fought back just before the break, scoring three straight to tie the game at 7-7. But Clements found the end zone for the first of three consecutive goals by the rookie. With the cap on, both teams traded, which was enough to send Vortex to the quarterfinals and keep the hope of a repeat title alive.
-Keith Raynor
Portland Earns Big Lead in Comfortable Prequarters Win
Portland got an emphatic bracket win to close our their day against Occidental in prequarters. They opened the game with a 7-0 run, an impressive team effort where seven different players scored. Jules Kampe, Kim Dorr, and Jaclyn Wataoka led the way for UProar; Kampe had three assists, one goal, and three blocks, while Wataoka had two assists, two goals, and four blocks.
Occidental was shorthanded after five players left the event to attend graduation. Perhaps that gap in experience led to challenges connecting handlers to cutters; WAC's movement was mostly limited to swings and handler uplines in their vertical stack against Portland matchup defense.
While Occidental was able to generate turnovers, they simply struggled to find any offense ground. Portland will hope to recreate their dominance in their quarterfinal matchup tomorrow.
-Nikki Alvarez and Keith Raynor