We picked the best players at Nationals; you pick the winner.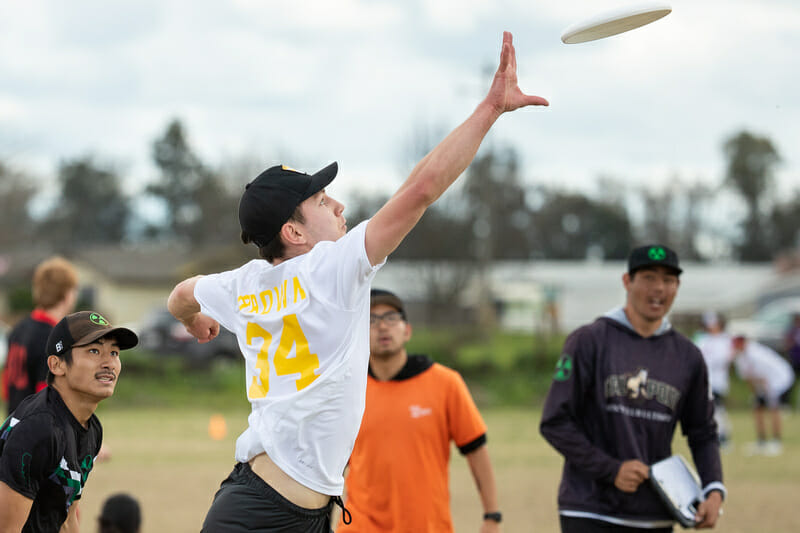 The Ultiworld College Nationals Fantasy Draft is back and better than ever! The core idea of Ultiworld's most fun (and most superfluous?) piece of Ultiworld's Nationals coverage is still the same: draft from the pool of players attending the D-I College Championships in an attempt to form the best functioning team. That means drafting nothing but handlers, no matter how good they are, probably isn't the best strategy.
But we have a slightly different group of GMs picking teams this year. Charlie Eisenhood, Daniel Prentice, and Keith Raynor are all back, but Alix Robbins joins as our fourth this season to put the guys to shame. Just like in the previous years, the readers' job is to chop it up in the comments and tell us why everyone's team is terrible, and vote for which drafter you think selected the best team. Oh, and be sure to check out the draft for the women's division we did, as well.
Rules
Snake draft. Charlie, Alix, Daniel, and Keith pick 1-4, respectively, in odd rounds, and then the order reverses for even rounds.
12 players per team
Two players that will play both offense and defense per team, and ten line-specific players (five O-liners, five D-liners)
Assemble the best possible team that would beat the three others if the two were to play an actual game of ultimate
| | Charlie | Alix | Daniel | Keith |
| --- | --- | --- | --- | --- |
| Round 1 | (1) Matt Gouchoe-Hanas, North Carolina | (2) Michael Ing, Pittsburgh | (3) Mac Hecht, Brown | (4) Elijah Long, North Carolina |
| Round 2 | (8) Liam Searles-Bohs, North Carolina | (7) Leandro Marx, Oregon | (6) Nick Vogt, Wisconsin | (5) John Randolph, Brown |
| Round 3 | (9) Cole Jurek, Minnesota | (10) Nate Pettyjohn, Cal Poly SLO | (11) Xander Cuizon Tice, Oregon | (12) Caleb Merriam, Cal Poly SLO |
| Round 4 | (16) Derek Mourad, Washington | (15) Austin Von Alten, NC State | (14) Ian Sweeney, Cal Poly SLO | (13) Walker Matthews, North Carolina |
| Round 5 | (17) Sean Liston, Cal Poly SLO | (18) Bailey Laberteaux, NC State | (19) Matt Armour, Texas | (20) Lucas Chen, Washington |
| Round 6 | (24) Anders Juengst, North Carolina | (23) Jared Schwallie, Michigan | (22) Sol Rueschemeyer-Bailey, Brown | (21) Dylan Villeneuve, Brown |
| Round 7 | (25) Sion Agami, Ohio State | (26) Hunter Cutts, Georgia | (27) Alex Davis, North Carolina | (28) Ted Sither, Oregon |
| Round 8 | (32) Jeff Maskalunas, Wisconsin | (31) Scott Hearne, Iowa State | (30) Cole Wallin, Minnesota | (29) Jac Carriero, Tufts |
| Round 9 | (33) Alex Tatum, Colorado | (34) Marc Rovner, North Carolina | (35) Myles Cooper, Pittsburgh | (36) Conor Chickos, NC State |
| Round 10 | (40) Vinay Valsaraj, North Carolina | (39) Wystan Duhn, Minnesota | (38) Leo Warren, Pittsburgh | (37) Dilon Whited, Cal Poly SLO |
| Round 11 | (41) Manny Eckert, Washington | (42) Noah Robinson, Pittsburgh | (43) Ben Field, Northeastern | (44) Trevor Lynch, NC State |
| Round 12 | (48) Kai Marcus, North Carolina | (47) Zach Bruan, Ohio State | (46) Kevin Tsui, Pittsburgh | (45) Jake Steen, Washington |
Highlights:
The biggest takeaway from the draft was how small the top end was. Once we got through the first handful of picks, it felt like we were already settling for role players. Turns out when teams such as Carleton, UMass, and BYU aren't at Nationals, it really limits the amount of stars in the field.
All of Daniel's picks after Ian Sweeney were labeled as reaches. His confidence continued to crumble until someone finally said something nice about his selection of Leo Warren in the tenth round. But then he threw away that tiny bit of renewed approval away by taking Kevin Tsui with his last pick, a pick that was resoundingly mocked by everyone in the room.1
Austin Von Alten and Bailey Laberteaux are both great players, but we'd be remiss to not give Alix a hard time about selecting back to back players from North Carolina State, Alix's alma mater. So let's just get it out of the way: Homer!!!
Charlie, upon selecting Vinay Valsaraj and Manny Eckert in the 10th and 11th round, exclaimed "YES! WHAT A GREAT PICK!" Charlie has a history of loving every single one of his picks, and always thinking he picked the best team. But this felt like some extreme over-confidence, even for him. Eckert and Valsaraj are nice players, but only Charlie thought they were the picks that won him the entire draft. Well until…
As we got to the last couple of rounds, an elephant entered the room. Was anyone going to pick Kai Marcus? Charlie, with the final pick of the draft, did end up taking the enigmatic Darkside handler. He then proceeded to claim that Kai would play better defense on Charlie's team than he has for Darkside this season because Charlie "would ask him to." Someone get Mike DeNardis and the UNC coaching staff on the line. Charlie has cracked the player management code once and for all!
The Teams
Two way players in bold
Charlie's
O-line: Matt Gouchoe-Hanas (Handler), Liam Searles-Bohs (H), Manny Eckert (H), Anders Juengst (C), Sion Agami (C), Alex Tatum (C), Vinay Valsaraj (C)
D-line: Gouchoe-Hanas (H), Derek Mourad (H), Kai Marcus (H), Searles-Bohs (C), Cole Jurek (C), Sean Liston (C), Jeff Maskalunas (C), 
Keith: Someone likes the UNC offense, even though he's running two of their guys on defense, too. MGH, Liston, Mourad, and Maskalunas all have demonstrated extensive defensive chops. I'm less bullish on Charlie's offense. If Valsaraj is on a hot streak, he can open up the field for their deep game, but otherwise, I think they might be kind of one note. I guess, when in doubt, you can send Gooch deep.
Daniel: I'm with Keith. I really like the the defense, really don't love the offense. There isn't any size to really threaten deep. Maybe they can work through the squirrely guys all the way down the field, but in a competition like this, I'd want to able to get some holds quickly. I think that problem could have been solved a bit by pulling Jurek over to the O, so maybe Charlie would quickly deviate from his starting lineups if the offense looks a little too sloggy early. He's definitely got a strong D-line though, so if he gets to keep trotting them out there, maybe the offensive issues won't come to fruition at all.
Alix's
O-line: Bailey Laberteaux (H), Wystan Duhn (H), Michael Ing (C), Nate Pettyjohn (C), Austin Von Alten (C), Hunter Cutts (C), Scott Hearne (C)
D-line: Leandro Marx (H), Zach Braun (H), Ing (Mid), Jared Schwallie (M), Von Alten (C), Rovner (C), Robinson (C)
Daniel: Alix waited the longest to get both of her two-way players and I can't really tell how much that hurts her. I do feel like Von Alten is the worst of the eight two-way players, but maybe she makes up for that with two elite specialists in Pettyjohn and Marx. She has some nice bigs, and a fantastic cutter corps on offense, but I think the handler spot is a worry. Laberteaux's and Braun's hucks are going to have to do a lot of the work for her team when they have the disc.
Keith: I'm not in love with the back end of Alix's roster, which I think is the weakest of the group. Ing can carry a lot of the water and to have Leandro Marx anchor a D-line is beautiful. Her offense is going to be able to roof someone on the defense, so they can hunt out mismatches like the Golden State Warriors. But how proven are Von Alten, Braun, Rovner, Hearne, Schwallie, and the general health of 'Big Cat'?
Daniel's
O-line: Mac Hecht (H), Leo Warren (H), Cole Wallin (M), Nick Vogt (C), Xander Cuizon Tice (C), Alex Davis (C), Ben Field (C)
D-line: Sol Rueschemeyer-Bailey (H), Kevin Tsui (H), Matt Armour (M), Vogt (C), Cuizon Tice (C), Ian Sweeney (C), Myles Cooper (D)
Daniel: Okay, I know many of my selections were harshly derided, but this team doesn't look so bad. My offense is going to be a genuine problem for everyone else's defense. Vogt and Field are lethal downfield and Cuizon Tice and Davis are the two fastest players in the division. And the third fastest is on my own defense.2 Hecht's lack of two-way value hurts my defense a little, but he is easily the best thrower in the division and, if Wallin is healthy, he and and Warren are great glue pieces. I definitely don't love my defense a ton, but with Hecht being my first pick, that isn't a shocking development. I have some nice players out there and I think we're gonna get turns, but I do worry that I don't have enough playmaking ability to turn those turns into breaks. Fortunately, with my offense, I should only need one break a game at most.
Keith: There's definitely something tempting about Hecht and Warren bombing to blazers like Cuizon Tice and Davis and finishers like Field and Vogt. If Vogt is really a star-level player at Nationals, I'll be a lot more swayed by this roster. He's shown some takeover moments on the big stage, but I want dominance from him. I'm definitely worried about the D-line offense. Who is the guy on the defense? The two-way guys? Sweeney? I don't know. You tell me.
Keith's
O-line: Elijah Long (H), Ted Sither (H), Conor Chickos (H), Lucas Chen (M), John Randolph (C), Dilon Whited (C), Jake Steen (C)
D-line: Long (H), Caleb Merriam (H), Randolph (M), Trevor Lynch (C), Matthews (C), Villeneuve (C), Jac Carriero (C)
Keith: I think, of all the two-way combos, mine is the most proven as a two-way duo. Randolph and Long have shown themselves to be elite defenders and productive offensive players. I'm also very comfortable sending this D-line out against anybody. Matthews and Villeneuve are shutdown guys asked routinely to do it against the best teams in their division. Carriero is an underrated version of that. Merriam crosses over to SLO and will shepherd the offense with Long. On offense, Sither and Chickos can take shots, Chen and Long can facilitate, and the speed of Randolph and Whited and the size of Steen are going to let us score quickly.
Daniel: This is really a great squad. I totally agree that Long and Randolph are the best tw0-way pair of any team's top two picks. Carriero and Villeneuve were both two guys I wanted to pick but thought I could wait one more round on. It never felt like Keith reached with any of his picks, while I don't think I can quite say that for any of the rest of us. There weren't a whole lot of splashy picks, but he let the draft come to him and built out a well-balanced roster.
Who would win?
Keith: Half of the time, Charlie's team. Marcus, and to a lesser extent, Mourad, are both streaky shooters. Valsaraj and Agami have some of that as receivers. Gouchoe-Hanas brings a lot of consistency to the roster, but managing all of this might even be beyond Captain America's powers. Prentice's offensive weaknesses and Alix's lack of depth feel like that puts Charlie and me a step ahead. If his team is hitting, I think I'd take his. On balance, maybe I take his slightly over mine.
Daniel:  Totally agree that it probably comes down to Keith and Charlie. But I think Keith wins more often than not. Keith's back end is stronger than Charlie's, and I think Charlie's going to have a hard time playing O-line defense when they turn it over. As Keith alluded to, I don't think even Gouchoe-Hanas' metronomic excellence is enough to balance out the streakiness Charlie's team is going to have to fight through.
---
Keith: Andrew Lehmberg still on the board… ↩

Keith: Don't tell Myles or the Pitt guys he's "third fastest." ↩