Bristol get the double win, but depleted rosters leave a lot of questions after Vienna.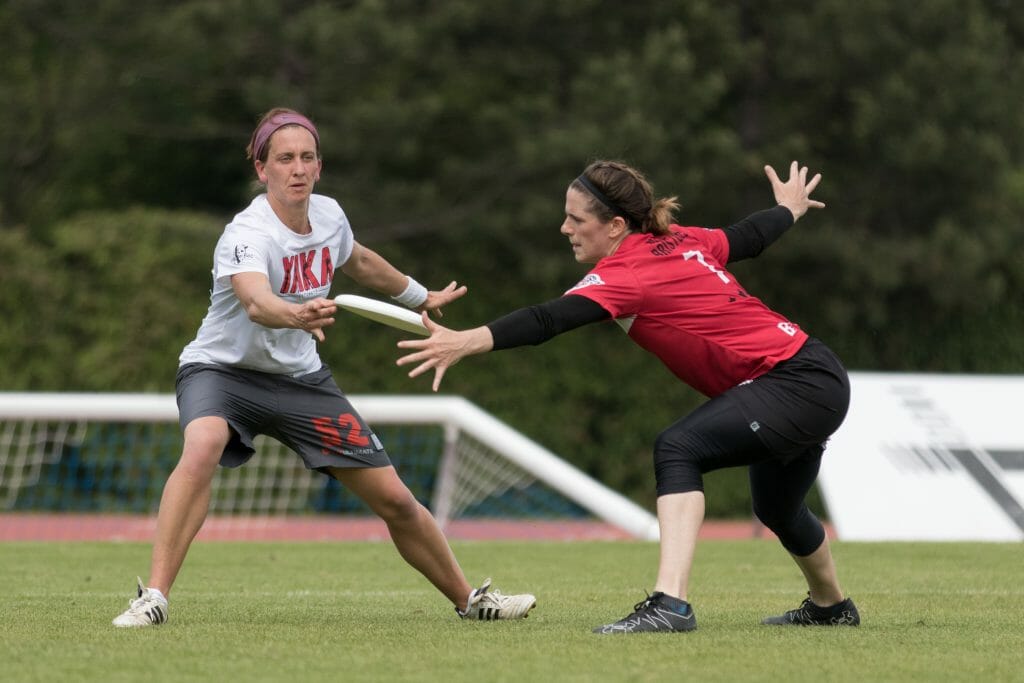 Sixteen European women's club teams played at the windy Vienna Spring Break this past weekend. The majority of teams came with very new and depleted rosters leading to some unexpected results. Below, you will find out about the action that took place in Vienna over the weekend.
Bristol Women Undefeated
The biggest surprise of the women's division were the Bristol Women (Bristol, UK) who finished the tournament undefeated. They were only challenged in their two match-ups with Yaka (Paris, France): once in pool play and again in the final. Bristol played the whole tournament with 17 players chosen from a total of 45-women team roster. Due to a scheduling conflict with their flights, the audience witnessed a crazy moment during the final. After the very beginning of the game, seven players from the Bristol squad ran off the field to catch their rescheduled flight. The remaining ten players, with the support of their coach Mark Davin, managed to get the lead against Yaka and dominated the game to the very end. Both solid handler and downfield performance of Bristol Women engaging every single player on the field was extremely exciting to watch. An unusual connection of the fans with both teams was witnessed during the final. Yaka, with the experienced handler Aline Mondiot and incredible cutter Laura Chagneux-Becker could not turn their offense into scores. Tough defense by Bristol topped with their fearless offense led by the game maker Carla Link helped to push Bristol to a tournament victory. Bristol Women also won the Spirit of the Game award and doubled their success!
Favorites under performing
The early season tournament did not provide any useful insight into the readiness of the top women's European club teams. Most teams came with the intention to start off the season with a new roster and find new connections on the field. Even with these goals, a little bit more was expected from the runner-up from last year's EUCF, Iceni (London, UK). They came with a roster of eleven players because many teammates were participating in the national team training camp and they suffered some unfortunate last minute injuries. They were lucky enough to come second in the pool after a loss against tournament organizers, Box, and reserved a spot in the quarterfinals. Nevertheless, they could not reach any higher and were defeated by their well-known opponent from London SYC. Iceni had to reconcile with the eighth place.
SYC (London, UK) underestimated their pool games and, therefore, had to face a stronger opponent in the quarterfinal – Mantis (Vienna, Austria). This quarterfinal was a very tough one but Mantis, with their unpreventable break throws, took the spot in semis. Another team which did not quite fulfill expectations were Troubles (Warsaw, Poland). Similarly, they seemed in shape at the beginning of the tournament, however, throughout their pool games they did not seem to be able to complete their passes and execute their offense with many new faces downfield.
These teams keep us wondering about their shape for the EUCF because they both certainly have a large base to choose from and their final rosters may be very different from what we saw in Vienna. Troubles will need to fight with their updated roster next week as they compete at the EUCQ to try and qualify for the EUCR later this year.
French power
Both French teams came to Vienna to play for top seeds. Lillipuc (Paris, France) were very determined to outdo their scores from last year.1 In windy conditions that changed every minute, they topped their pool taking down Troubles and SYC along the way. They then beat Seagulls2 in quarters with a five-point lead which put them against their French sisters in the semifinal. Yaka confidently secured their spot in the final and sent Lillipuc to the third-place game. Lillipuc was able to take the lead against Mantis in a tight first half of the bronze medal match. Mantis came back after a strategically called timeout and secured their bronze medal with a final score of 13-10.
Yaka's way to the final was not easy. Coming from the second place in their pool they met Box (Vienna, Austria) in a very even game. Though the game was tight, Yaka were able to take the win on double game point. From there on their up and down journey to the final continued. After proving their qualities of an elite team in the semis against Lillipuc they could not catch their flow against Bristol in the final. They are certainly one of the teams who prepare their roster carefully for the EUCS and will not be afraid to pick up some star players to help them achieve their goals. Spoiler alert: world class Robyn Fennig will be joining Yaka for the EUCS this season after her run with the team last year at WUCC.
Youngblood vs. pickups
The lower half of the tournament consisted of three types of teams. First of all, young teams such as RedBulle (Bologna, Italy) who clearly lacked experience or Troubles with the majority of rookies. Secondly, developing teams such as East Block (Czech Republic) or GoHo Girls (Stuttgart, Germany), who came to gain experience and grow as a team. Lastly, there were teams, which had to fill in their gaps to be able to come and compete as a team. Due to this fact, there was an overwhelming inconsistency in the results. Vienna Spring Break 2019 left all the fans wondering about the rest of the season. Even though there might be some new favorites, traditional European powerhouses have certainly not said their final word.
Final Ranking
Bristol Women
YAKA
Mantis
Lillipuc
Box
SYC
Iceni
Seagulls
Terrible Monkeys
Troubles
East Block
GoHo Girls
Prague Devils
Yalla
CUSB Red Bulle
Chicas Munich
---
And outperform our low prediction on the Ultiworld preview ↩

who were missing some of their star power ↩