In a game of runs, Colorado got the last one to earn a spot in Sunday's quarters.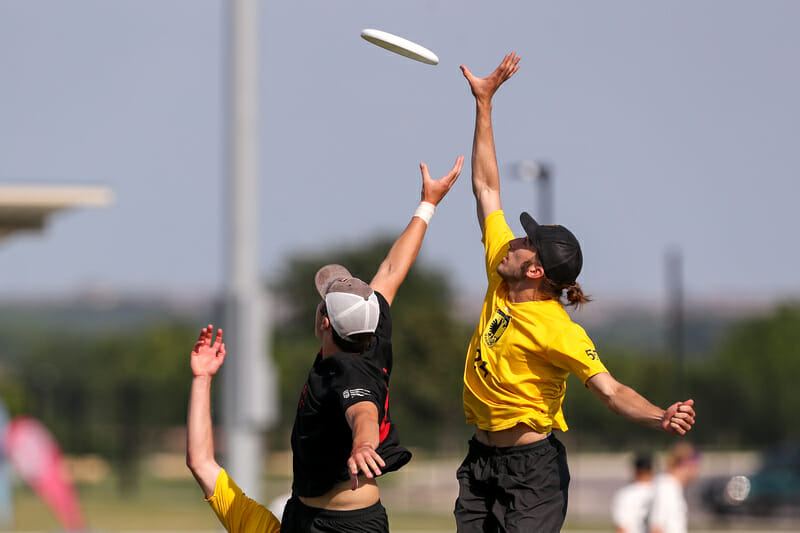 Ultiworld's Men's Division college coverage is presented by Spin Ultimate; all opinions are those of the author. Please support the brands that make Ultiworld possible and shop at Spin Ultimate! 
Georgia came back from every punch Colorado threw at them, but Georgia ran out of time and Colorado never stopped punching.
The two teams entered their prequarter contest going in distinctly different directions. Colorado has just closed out a universe point win over Washington to secure second place in Pool D, and were full of confidence as they took the field for the first point. Georgia were licking their wounds after a 2-0 Friday turned into a dismal Saturday that saw them barely squeak into the bracket. A 14-8 shellacking at the hands of Ohio State in pool play was the exact amount they could lose by and still survive the pool. Jojah were alive, but just barely.
Colorado's confidence translated to their play and Mamabird jumped out to an early lead. An easy downwind hold turned into a difficult upwind break, and suddenly Colorado had a 2-0 lead with a defense ready to tear downwind and add to the total. This was a crucial moment for Georgia, who would need to snap out of their funk and find some confidence of their own if they were going to fight to keep their season alive.
It was a big ask from an offense that had just failed to score going upwind in eight tries, but as they would all game, Georgia pushed back from the precipice. Jason Jones blew free upline and used a big flick fake to wrong foot his closing defender, then shifted all his weight into a massive backhand that tore through the headwind. Brandon Li tracked it in stride and elevated, snatching the disc just before Quinn Finer could close him down for a massive grab a momentum shifting goal. Georgia then got the downwind break to get the game back on serve.
This was the story of the game, Colorado pulling ahead and Georgia finding a way back. Mamabird never fell off the pace, largely because of an effective downwind offense lead by Alex Atkins. With hucks, scoobers, and high releases, Atkins put in efficent holds that kept Mamabird's offense from having to play many long grinding points in the wind, and racked up four assists and a goal along the way. "As long as I can make it catchable for them, I trust my teammates to make a play," said Atkins. "So really there's not much too it for me."
Georgia found some success slowing down Colorado with a long rangy zone, fronted by energy merchant David Petmecky. "They have a really big mark, and don't give any easy flip resets because of the way the flat mark is jumping around and aggressive," said Colorado coach Bob Krier after the game. "We held the ball too long, and it gave us a lot of trouble when we would hold the disc and then try to get those resets. We can't stand there and try to hit your shot in this wind, you need to move it quickly and I don't think we did that very well."
While the zone was effective, Georgia's D-line offense was not. "I think the game plan on us got figured out in that Cal game: run zone against our D-line going upwind and it was going to be hard for our guys. Credit to Colorado for knowing what to do against out D-line offense," said Georgia coach Parker Bray. Angling to get some short field blocks that could make the job easier for his D-line off the turn, Bray elected to scrap the zone as the game moved into the second half.
Another run from Colorado took them into half up 8-5. In a particularly rough stretch, Jones had six turnovers in three points for Jojah, and Mamabird took advantage. The run of breaks was capped off by an eagle-eyed back shoulder read and snag on a huck by Matthew Loughridge. The long grinding points were visibly taking a toll on Georgia, and despite their sideline energy there were several throws that just seemed to have more Mamabird players swarming underneath. "It was an ugly game, but they were coming up with extra energy plays," said Bray. "They were making some effort plays that we just couldn't today."
Georgia wasn't done though, and they had one more big push left in them, spurred on by the team's emotional leader Hunter Cutts. Trailing 10-8, Georgia needed an upwind break and Cutts obliged through the assist. Trailing 10-9 Georgia needed a downwind break and Cutts scored the goal.
This left the score 10-10, game to 12. Georgia got a shot at a break, but a springy layout block by Chris Larson won Mamabird the disc back, and he tossed to Finer for the hold. Colorado could break upwind for game, and after Mack Hodge's early swing pass was judged down by the observers, Mamabird had a short field for the win.
Georgia had been forcing Colorado out when Mamabird was going upwind, confident that their big athletes could make up ground on floating discs. Colorado gradually began putting more edge on their hucks to limit recovery time, and the last throw of the game was a perfectly edged flick over the top from Finer to a waiting Alex Tatum.
Georgia showed gritty resolve to keep themselves back into the game, but at the end of the day Colorado was able to consistently execute at a higher level. "We've had a run since March where we've had lots of close games, lots of double game points," said Krier. "CJ got that layout D to get us the disc back and that was exactly what we talked about in the huddle before that point. I knew someone was going to do it for us, I just didn't know who."