Brown's depth outshone even their star duo.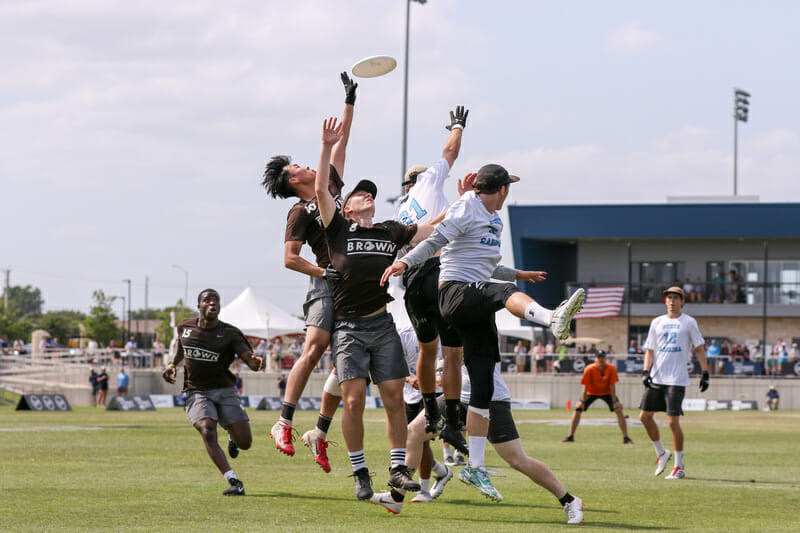 Ultiworld's Men's Division college coverage is presented by Spin Ultimate; all opinions are those of the author. Please support the brands that make Ultiworld possible and shop at Spin Ultimate! 
Brown Brownian Motion won their third national title with the two best players at Nationals on their roster. They had the best thrower in Mac Hecht, and the best cutter in John Randolph, and the pair's dominance was historic. Hecht finished the weekend with 36 assists, 151 more than anyone else in the division, and Randolph put up 30 goals, 12 more than anyone else. But Brown didn't blow out North Carolina in the national final because of Hecht and Randolph.
They both had strong performances against UNC, sure, but the reason Brown won the championship this season was because of the emergence and improvement of the other players on the roster. Players like Solomon Rueschemeyer-Bailey, who was Brown's best player in the game against North Carolina, Ned Dick, Benji Toruño, and Azeez Adeyemi were the reason Brown dominated.
The play from Hecht and Randolph's support staff has been impressive all year long, and a major cause for Brown's step up to true title contenders after their breakout season in 2018. Rueschemeyer-Bailey emerged as a Breakout Player of the Year candidate at Florida Warm Up, where Toruño, Henry Laseter, Alex Liu, and Jack Facey also proved themselves to be reliable cogs on the BMo offense. Adeyemi demonstrated his ability as a momentum swinger for Brown's D-line at Easterns, which was anchored by Dick, and filled out by players like Griffin Kao, Bryan Xian, and Jackson De Campos.
All of those players, who could all reasonably fall under the "role player" moniker, played key roles in Brown's run to a national title. With Rueschemeyer-Bailey, Dick, and star sophomore Dylan Villeneuve sitting next to him, Hecht had high praise for his team's depth. "We knew that these guys were amazing before any of y'all did," said Hecht referring to the three teammates that sat beside him. "These guys are amazing, but it's our whole roster. [They] committed to a specific agenda that we laid out and we told everybody that we're gonna be incredibly competitive, something [coach] Sam [Lehman], Ned, and I have been working on for about four years now. It's a buy-in across the board. These three guys are amazing, they have plenty of star power themselves, but our whole team has star power, and it starts from the bottom and goes all the way to the top."
That's the kind of language you often hear from a team captain, that every player on the team is important. But for the final, at least, Hecht's words rang true. Brown had ten players post a positive Ultianalytics plus/minus2 in the final against UNC, compared to UNC's five. Obviously a team that wins 14-8 is going to have more players finish with positive stats, but you would have been hard pressed to find many people who'd have said that Brown was the deeper team before the final.
The full team effort was all the more impressive considering that Brown was without O-line mainstay Ken Noh all weekend. Noh was critical to Brown's offense during the regular season as a reset handler and mark-breaker. Prior to Nationals, he was arguably Brown's third or fourth most recognizable player. When Noh was injured prior to the start of Nationals, it was a serious worry for the Brown coaching staff. "When Ken got the results to his MRI and he'd torn two ligaments in his ankle, me and Jake [Smart] spent three days just so sad not really sure how we were gonna recover from it," said Lehman. "Sol stepped up into Ken's role in a big way. He was able to do just about everything Ken can do, and also play defense, so this guy, huge credit to him for stepping up in that way."
Rueschemeyer-Bailey was big for Brown all season, and while he certainly stepped up even more in the final games of the season, Lehman credited the team's further depth with his ability to do that. "Leading up to our bracket play we were just able to go with five cutters and two handlers and get contributions from guys who are usually going through a rotation every single point," said Lehman. "[That] allowed us to save Sol in those first couple pool play games, and when it came to bracket time, Sol stepped in and just crushed it."
Rueschemeyer-Bailey led Brown in plus/minus3 in the final with six. He led the team in touches with 504, completed 100% of his passes, tied Hecht with a game-high four assists, and was directly involved in the first break goal of the game, scoring on a pass from Dick. He was modest after the game, saying, "I just kinda do whatever: Possess the disc, don't turn it over, play good defense, throw only backhands. That's about it." The wry smile on his face while saying it indicated that he knew there was a little more to his performance than that. He was Brown's most involved and most consistent player in the most important game of the season.
Dick, in his fifth year on the team, also improved his game this season, and his play helped to mitigate the departure of 2018 D-line leader Eli Motycka. He was absolutely on fire in the first half against UNC, dominating All-American handler Elijah Long, and scoring or assisting on all four of Brown's first half breaks. He set the tone for Brown early against Carolina, as he's done off the field for Brown all year long. "He's the heart and soul of our team," said Lehman of the fifth year captain. "He is one of the hardest workers on the field but he does so much off the field. He's bonded with the oldest guys to the youngest guys on the team every year. He's done the most team bonding activities he possibly can. He's getting lunch with individual players leading up to Nationals because he cares so much about every single player on the team. He's just a really special player and really special leader."
Beyond Rueschemeyer-Bailey and Dick, Brown got positive performances from many of the team's lesser known pieces. Toruño finished second in +/- with his three goal, two block, zero turn performance. Adeyemi had two blocks and zero turns; Facey had two goals and zero turns; and Liu, Kao, and Xian all finished on the plus side as well.
Hecht had four assists and a goal, and Randolph had four goals and an assist, but considering Hecht had just put up seven and one and Randolph had scored 10 goals in their semifinal against Colorado, those numbers were reflective of North Carolina doing a decent job of limiting the super duo's impact. "Their two guys are really good and we put a lot of resources into trying to limit their impact on the game," said Darkside D-line leader Walker Matthews. "[Rueschemeyer-Bailey] is an incredible player and he had a really, really good game. We asked him to do a lot and he did. There are a couple other guys on their O-line that came down with things, especially on that last point. They trusted their guys to step up when their two guys couldn't do everything, and they managed to do that."
Brown knew that they'd have to have more than just Hecht and Randolph if they were to win a championship, and with the leadership of Hecht and Dick and the coaching staff, they were able to build a team that was better than North Carolina from top to bottom in the final. "We have an incredibly deep team and that just means that our defensive side of our team is driving us to be much better at practice," said Hecht. "It means that we also started to gameplan for when we knew that people would start to think about me throwing to John and we knew that we needed to develop options beyond that. And we have a lot of confidence in Jack [Facey], Alex Liu, and Benji Toruño, all three of those guys, and Jackson De Campos and Henry Laseter, those guys are amazing. We knew that it was gonna take a whole line effort and a whole team effort, honestly, throughout the season to sort of develop more than a hero ball trust throw to John offense, which works sometimes, but isn't gonna work against the smartest sets."
The improvement of Brown's depth from last year to this one is why Brown finished the season as the division's best. Role players like Rueschemeyer-Bailey and Dick became stars, while rotational players like Toruño and Adeymi became bigger difference makers. Hecht and Randolph's superstar performances will go down in Nationals history one of the division's best one-two punches. But without the influences of Rueschemeyer-Bailey, Dick, and the rest of Brown's supporting cast, they wouldn't have taken their place as something they'll surely see as much more valuable: national title winners.
---