In a clash of opposing energies, Leadbelly's calm, patient approach paid huge dividends.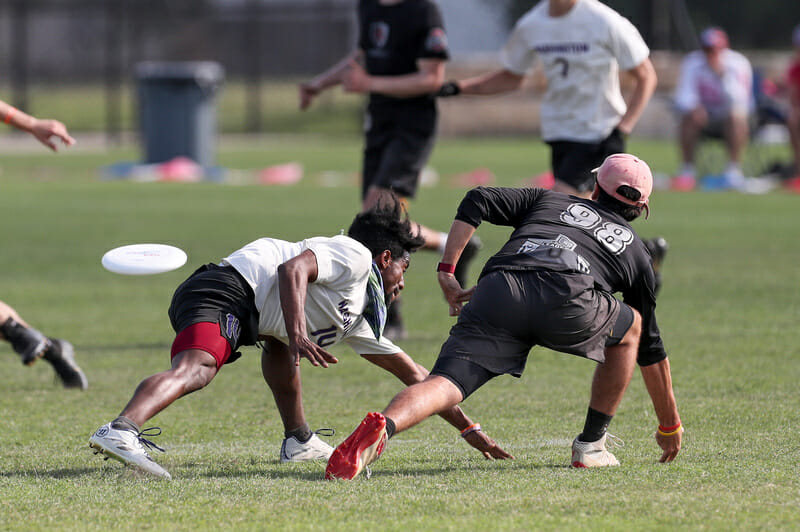 Ultiworld's Men's Division college coverage is presented by Spin Ultimate; all opinions are those of the author. Please support the brands that make Ultiworld possible and shop at Spin Ultimate! 
What a difference a day makes.
After enduring a nervous, winless Day 1 in their first trip back to Nationals since 2007, Ohio State Leadbelly completed an undefeated Saturday with a calm and collected 14-9 dispatching of the Washington Sundodgers to advance to the program's first ever appearance in the quarterfinals.
Leadbelly jumped on Washington early, streaking out to a 4-1 lead thanks to confident handling and some self-inflicted wounds from the Sundodgers. In a preview of what was to become a central theme of the game, the Ohio State backfield cycled through their read progressions, look by look, to find the right decision before Zach Braun sent a long, smooth forehand across the full face of the goal for the game's first point.
In their first O-line opportunity, Washington then coughed up a reset inside their own brick mark, giving Leadbelly a short field to punch in a valuable upwind break. They could not complete the companion downwind break, as Washington's Derek Mourad powered a backhand into the wind, setting up the squad from Seattle to get on the board. Not to be outdone, Leadbelly's sophomore sensation Sion Agami unleashed a forehand bomb of his own to extend the streak of upwind points, before Ohio State finally converted a downwinder, thanks to a big layout block from Mark Luke.
Once they had settled into the game with the lead, Ohio State never looked like they'd cough it up. Every player they sent onto the field looked comfortable executing the team's high-percentage, small ball game plan.
Meanwhile, for all the calm and measured choices made by OSU to build their lead, Derek Mourad was on the other side trying to will his team back into the game with big plays. The Washington junior notched a hand block on Braun, then got him to bite hard on a forehand fake to set up a big breakside backhand huck that earned UW another upwind point. But the early hucking success was a red herring; Mourad tried the same strategy throughout the rest of the first half without completing another upwind deep shot, eventually getting point blocked himself when the OSU defenders stopped biting on his fakes.
By now, the frenetic pace of Washington's offense was diametrically opposed to the slow, deliberate approach favored by Ohio State. The almost casual backfield mastery from Braun and Agami exuded a confidence that spread to the rest of their squad. With Washington actively looking to punt for field position, Ohio State was happy to accept easy possession then patiently cycle through their reads, make the right decision, and deliver a strike. If nothing was available downfield, the handling corps worked amongst themselves, completing dishes to short strike cuts that could have fit inside a phonebooth.
Braun was the unquestioned ringleader, accounting for half of the team's first half assists, none more pretty than the last — after picking up at the brick mark off a pull, he placed a perfectly weighted and shaped downwind huck that rode the wind past the defense before he ran up to collect a reset, then sent a gorgeous crossfield hammer to the back of the endzone. It was the kind of throw that almost everyone else at the field complex — at least those bold enough to even try it — was sailing out the back on Saturday.
The second half was more of the same. Ohio State continued to find success through the patient, methodical work of their handlers, while Washington looked frantic. After a series of quick downwind holds, Leadbelly's D-line dinked-and-dunked all the way up the field to take a commanding 10-6 lead. For the first time all game, the Washington sideline went silent. Worried faces abounded.
The Sundodgers surprisingly broke upwind, in large part thanks to the heroics of freshman Gabe Port, who went way up to come down with a desperate, hanging huck. Not to be outdone, Ohio State sent a huck into the wind on the following point to also hold upwind. Everything was working for Leadbelly.
Braun picked up his game-high sixth assist of the game to Andrew Kramer, who also put together a solid three goal, one assist performance for Leadbelly. Up 13-9 with a chance to convert downwind for the win, Ohio State called time out 15 yards outside the end zone to draw up a play. It took just one throw to close it out, fittingly on an upline cut.
After the game, Washington coach Mark Burton bemoaned his team's missed opportunities to claw their way back, but recognized where they fell short. "Short field turnovers kill you," the Sundodger coach admitted. At the same time, Burton was full of praise for Braun, who had killed them all game. "He can do anything. He's a giant. He's just ridiculous," gushed Burton.
Asked how his squad so thoroughly turned around their fortunes from a disappointing Friday, Ohio State's junior star spoke to the team's prep. "Focus on the little things, it's going to add up. Yesterday, we didn't focus on little things. Today, we said, 'hey, we've put in the work all year, let's put in the work in this warm up and see how comfortable we feel. Everyone felt comfortable and ready to go."
While Ohio State's run to the quarterfinals may surprise some, it isn't surprising to the 25 guys in the Leadbelly huddle. Nor are they scared on their quarterfinal opponent Brown.
"We've played at the top level all year and we think we can hang with them," said Braun. "We're going to go out there and try to prove it tomorrow."