An all-time great offensive performance.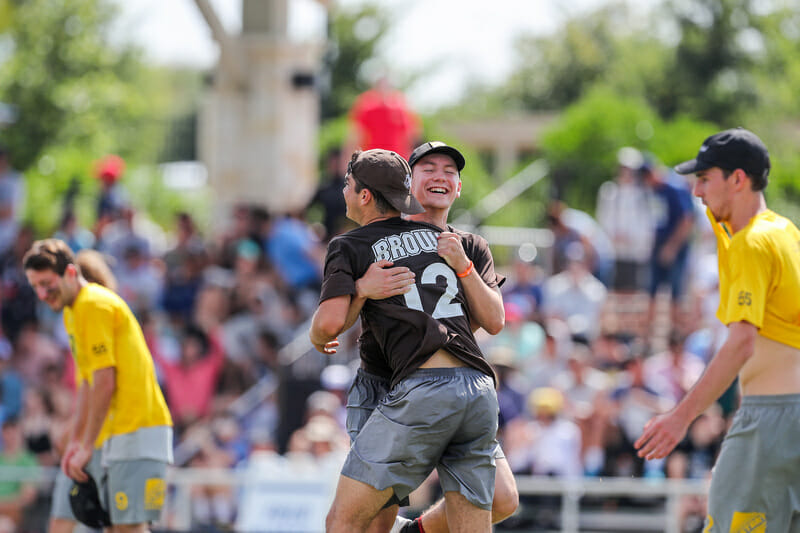 Ultiworld's Men's Division college coverage is presented by Spin Ultimate; all opinions are those of the author. Please support the brands that make Ultiworld possible and shop at Spin Ultimate! 
AUSTIN–Brown continued their dominant weekend with a convincing 15-10 victory over a talented Colorado team in semifinals and will compete in today's final. It will be the decorated program's first appearance since the Josh Ziperstein-led 2005 championship team.
In what was one of the finest individual performances of the weekend, sophomore cutter John Randolph scored seven of Brown's eight first half goals, eventually finishing with 10 on the game and giving him an eight goal advantage at the top of the tournament leaderboard (26).
Both offenses have made their bones at 2019 Nationals with a barrage of confident deep shots. They kept it up at the start of the semifinal. Mamabird huckers Conor Tabor and Quinn Finer connected for the first two Colorado holds, and Mac Hecht showed off the flick huck that is the class of the division.
An Alex Liu drop gave the game's first break opportunity to Colorado. On the ensuing possession, Finer put his team in excellent position with a screaming low flick to Mathieu Agee, then hit co-captain Alex Tatum on a big swing for the 4-2 lead. Brown recovered with a solid upwind point, weaving Ned Dick and Sol Rueschemeyer-Bailey with Hecht — until he found a deep look that he liked.
Trailing 4-3, Brown deployed a cup zone that slowed–and, at times, derailed–Colorado's offense.
"We noticed that Colorado love their deep shots," said coach Sam Lehman, and the zone scheme mostly took that tendency out of the equation. Cup unit Ben Attal, Martin Trouillard, and Talon Johnson boast a collective length and awareness that gum up the best handler sets. Colorado, searching for a solution, tested the deep; they tried to sneak a crossfield pass through the cup. The outcome: two turnovers, two Brown scores, and suddenly Colorado's one break lead turned into a one-break deficit.
Colorado coach Owen Westbrook had nothing but praise for the Brown defense after the game. "They put a lot of pressure on us," he said. "They threw zone and were really disciplined about it in a way that other teams hadn't been so far."
Brown played both of their trump cards in the semifinal. The first was the aforementioned John Randolph. He was white-hot in the first half, getting wide open on every point and contorting his body mid-leap to turn basic catches into scores. Colorado captain Alex Tatum, one of the unfortunates on Mamabird who rotated on to the Randolph assignment, spoke about him after the game as if dazed. "The guy's good…the guy's good," he said.
"We didn't really have an answer for that," said Westbrook.
Hecht pointed immediately to Randolph when asked about the keys to Brown's success. "He's getting open a lot, and I'm throwing to him," he said.
Lehman piggybacked on Hecht's praise to add, "John was clearly the freshest player on the field at all times." Randolph wouldn't hear it. He parried his captain's praise with a cutter's greatest compliment: "Mac makes me look good. Mac's the reason all my catches are like this [clap-catch pantomime]." However you slice it, Randolph could not be stopped.
It's no stretch to argue that Brown's D-line offense was just as imposing. Dick and Rueschemeyer-Bailey could run a handler weave with their eyes closed. Their dance is intricate and unconscious, like a stunt plane on auto-pilot, or Liszt fed through a player-piano. The wind, such a ruinous force across the complex, had almost no effect on them. When the O-line gave up a break in the first half, Brown put the responsibility of the ensuing hold in their hands. No team at the tournament managed to slow them down.
Those advantages combined with a third, perhaps decisive, development in the second half: Brown, having played fewer points on the weekend and spread them around more players, still had legs. Colorado, on the other hand, started to show signs of fatigue. The Mamabird system makes a lot of allowances for taking risks. "We've emphasized taking good shots," said Westbrook. "Every player has the right to take shots within our system when the opportunity arises." The shots Colorado took in the first half, even though they didn't always work out, were system ones. But in the second half, they started to lose their focus, taking risks on strange reset passes multiple times on their own half of the field. Every good team will punish those kinds of mistakes. The breaks began to pile up for Brown, and the game slipped out of Colorado's reach. A Hecht assist to John Facey sealed the victory.
Colorado, despite finishing on the wrong end of a multiple break loss, have to take some comfort for it in the season they put together. To have reached the semifinal round a year after missing out on the tournament entirely is a testament to the foundation of talent and commitment established by the captains and coaching staff. Tatum is out of eligibility, but Mamabird should return a strong core next year, including both Finer and Atkins, with a highly successful season of elite college ultimate under their belts.
Brown are jazzed to have made the final, where they will face North Carolina Darkside. "It's especially great. It's my last ride," said Hecht. Win or lose on Monday, count on Brown to maintain the focus on excellence that has brought them to such heights.
Post-Game Press Conferences